Whose McDonald's Delivery is the cheapest in Hong Kong?
Not all Big Macs are equal. Well, that's when it comes to Big Macs you order online from any of the food delivery apps. They may all seemingly look and taste the same, but when you press the "order" confirm button, they will arrive at different times. More importantly, you will be charged different prices depending on which delivery service you order your Big Mac from.
We take a dive into Measurable AI's Hong Kong e-receipt consumer panel for the market share, average order frequency and order values for McDonald meals delivered to Hong Kong consumers amongst the three delivery platforms.
How Much More Are You Paying when you Order McDonald's Online?
For the sake of convenience (or call it laziness), we are well aware we need to pay more each time we order food online vs frequenting the actual physical restaurant premise. However, most of us aren't aware how much exactly more we are paying when it comes to each food delivery order and the differential between the different food aggregator platforms. Can you guess the mark-up charge for the most popular items from McDonalds?
Take the fillet-o-fish as an example. It is astounding that the mark-up cost is almost as much as the burger itself. That's like 2 for the price of 1! By comparing the prices of some best-selling items, we discovered that users of Deliveroo, Foodpanda and McDelivery pay 8-92% more than those who order the same items at the restaurant physically.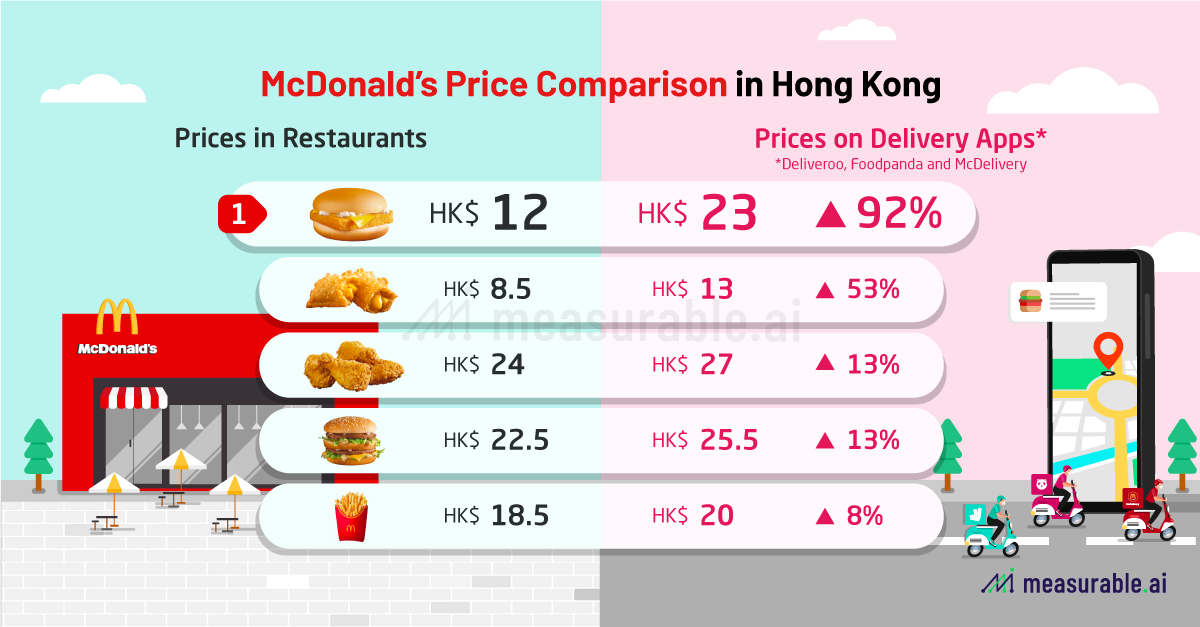 BigMac: Foodpanda, Deliveroo and McDelivery
As an experiment, the Measurable AI team ordered the same "Burger Lover Combo for 1" on all three platforms for a Wednesday lunch and compared the speed of delivery and price across each of the apps.
| | | | |
| --- | --- | --- | --- |
| | Deliveroo | Foodpanda | McDelivery |
| Menu Item (HKD) | 70 | 70 | 70 |
| Delivery Fee (HKD) | 8 | 15 | 20 |
| Service Fee / Platform Fee (HKD) | 2 | 2 | / |
| Total Cost (HKD) | 80 | 87 | 90 |
| Delivery Speed | 26 min | 30 min | 30 min |
*Results are based on orders during weekday lunch hours in Yau Tsim Mong District, Hong Kong
In our experiment, Deliveroo won that day on speed of delivery, cheapest delivery fee and overall price. McDelivery, while it didn't charge a service fee, was the most expensive due to its delivery fee of 20 HKD (which accounts for 28.6% of the price of the meal). Foodpanda sits somewhere in between. The results might be very different when it comes to different combos, order times, and locations.
Digging Into the Food Delivery E-receipts Dataset
How many Mcdonald's orders are delivered via the apps, what is the average spend for such orders and how often does the average McDonald's patron in Hong Kong order McDonald's delivery each month?
We take a look at Measurable AI's e-receipt consumer panel for the delivery companies in Hong Kong to understand what insights they reveal about McDonald's delivery orders.
By monthly order volume, we discovered McDonald's is by far the most frequently ordered on Foodpanda, followed by Deliveroo, and then McDelivery.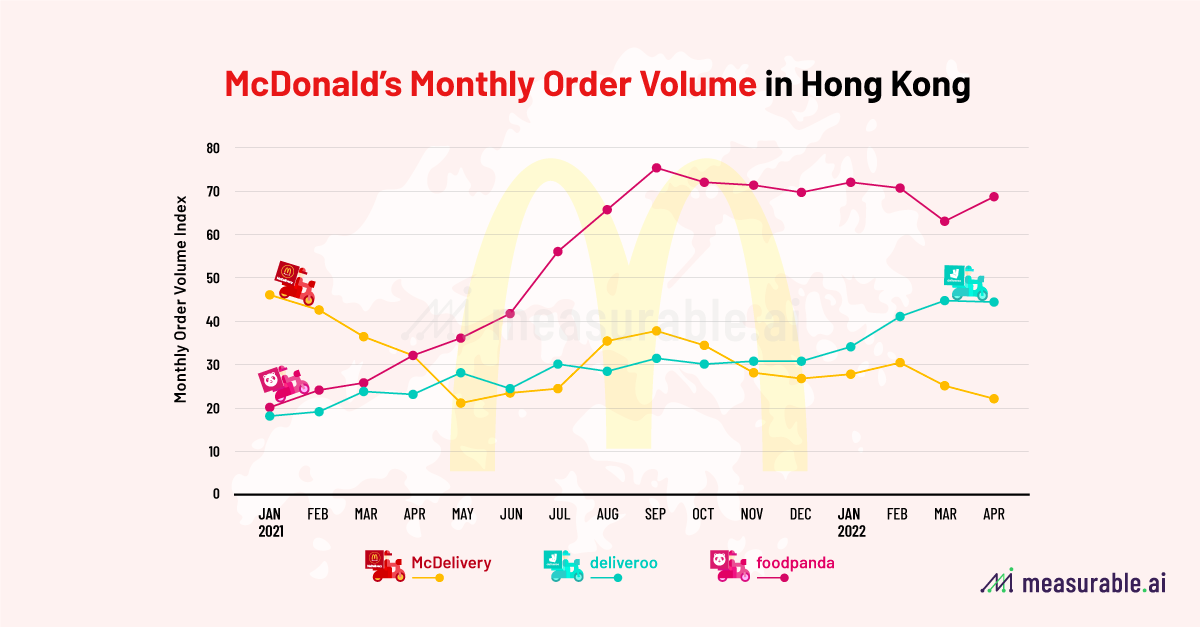 How often do McDonald's consumers in Hong Kong order delivery? Measurable AI's panel indicates that McDonald's most loyal fans are those who use the McDonald's app and pick up — and probably dine in the restaurant themselves. This group tends to frequent McDonald's at up to 3.8x a month. While for other food delivery apps (i.e. Foodpanda, Deliveroo, and McDelivery), the average frequency of McDonald's delivery tends to range from 1.7 to 1.9 x a month as of April 2022.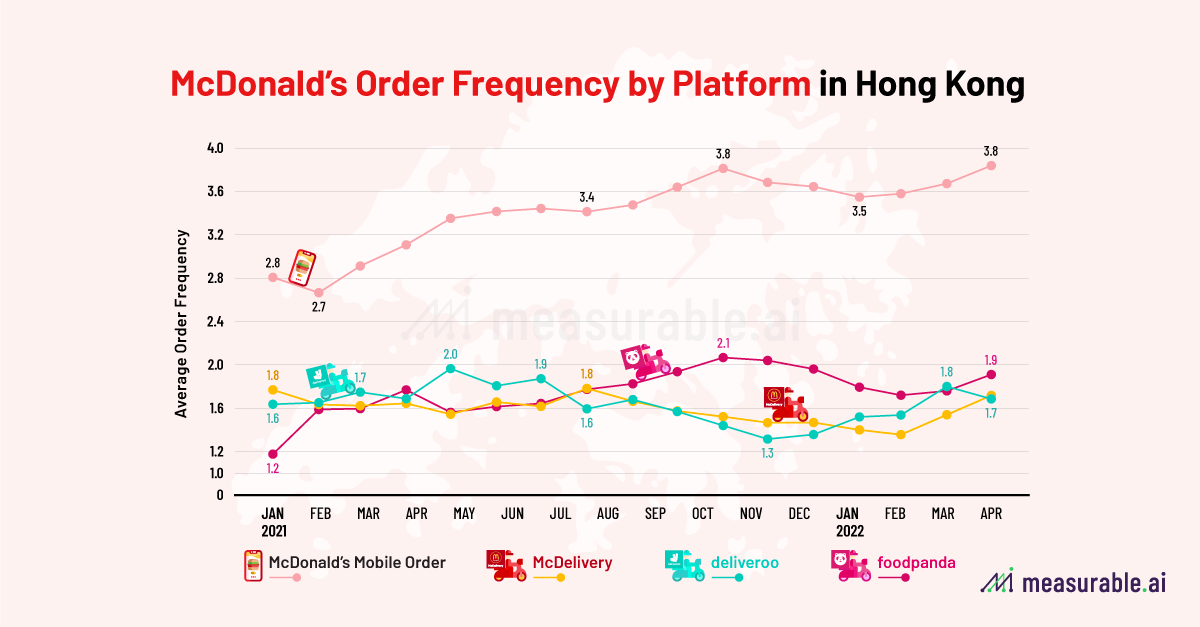 In terms of the average spend on McDonald's delivery orders amongst the three delivery platforms in Hong Kong, for the month of April 2022, Deliveroo users seem to spend the most on a McDonald's delivered meal with an average order value of ~ HKD 162. This is followed by Foodpanda at ~ HKD 122 and McDelivery at ~ HKD 107.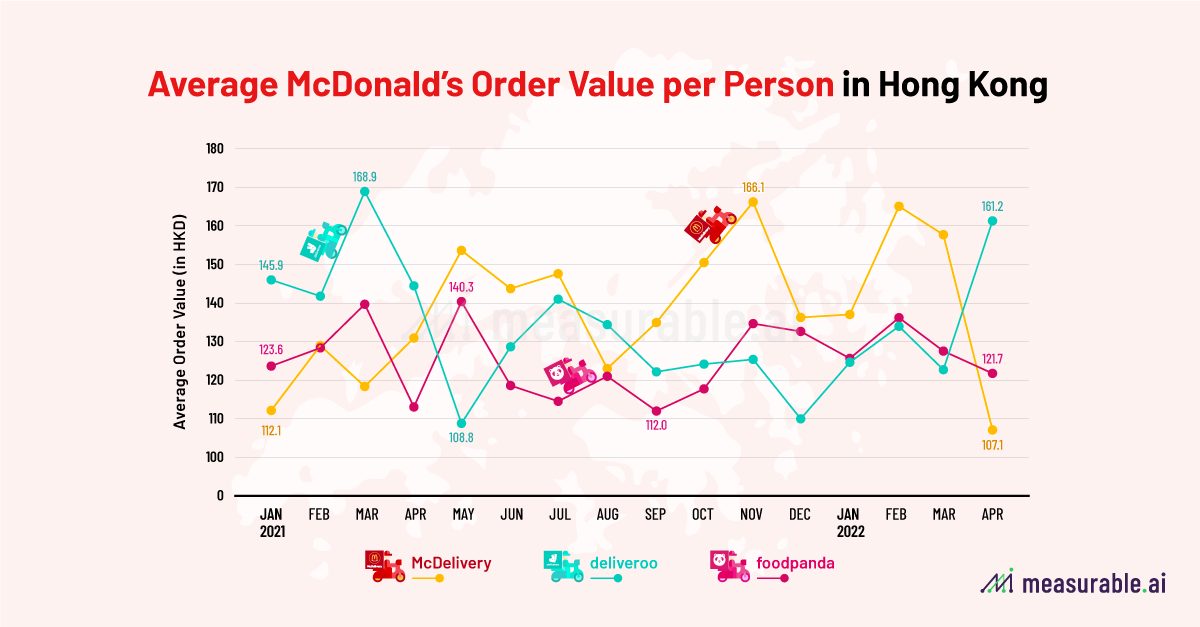 BigMac's Overlap Between the Three Players
We took a closer look at our dataset to see which of the three delivery players was best at attracting the most loyal McDonald's fans.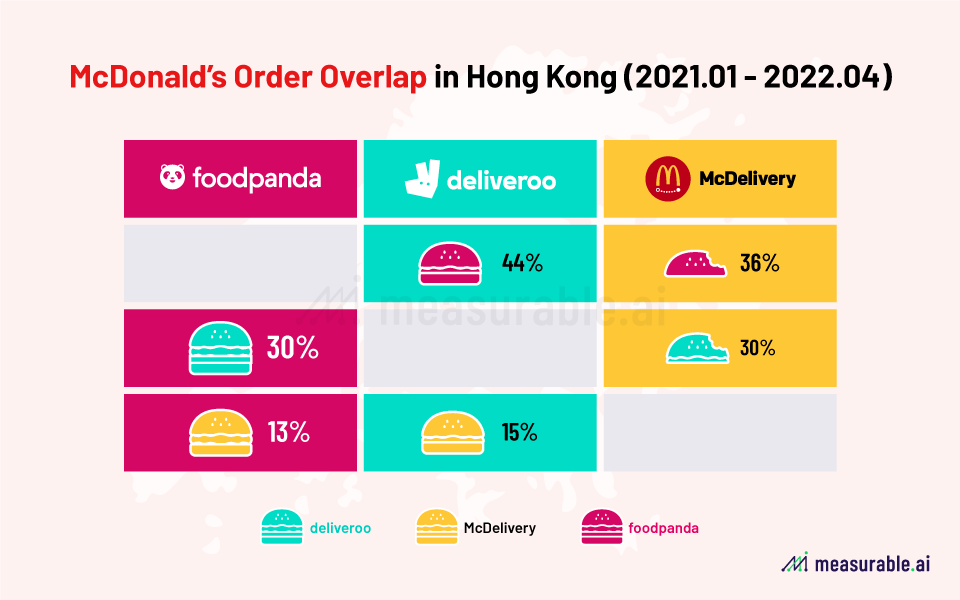 Among all Foodpanda's McDonald fans, 30% of them were also tinkering with Deliveroo for McDonald's meals and 13% resorted to McDelivery. More or less similar to Foodpanda, 15% of Deliveroo's users also use the McDelivery app for McDonald's meals. Meanwhile, 36% and 30% of McDelivery app users will also use Foodpanda and Deliveroo's services for McDonald orders.
McDonalds Market Share on the Delivery Apps
Lastly, based on Measurable AI's data, as of 1Q22, among the variety of restaurants on both platforms, McDonald's manages to account for around 4.7% of the market share by order volume on Deliveroo and 3.7% on Foodpanda.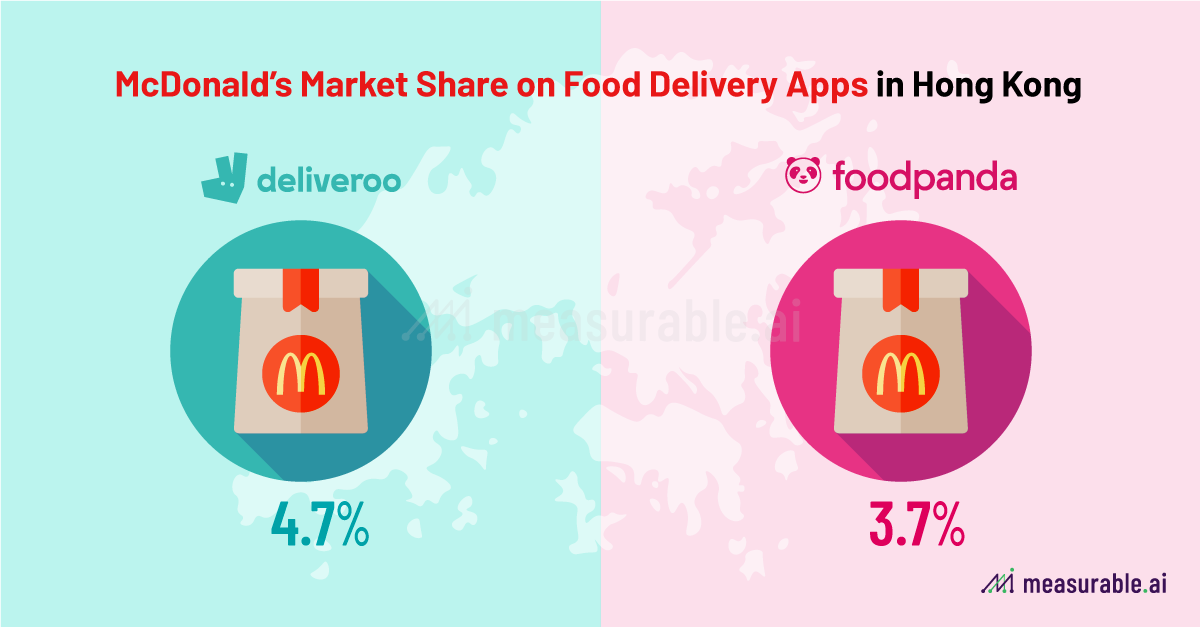 Like what you read or want more up-to-date figures? If you are interested in our consumer insights, feel free to check out our previous articles in our Data Insights blog. Or don't hesitate to contact us [email protected].
Previous articles we have authored unveiling insights on the food delivery markets in other regions:
Zomato vs Swiggy – Who Leads the Food Delivery Race in India?
The SouthEast Asia Food Delivery War in Brief
McDonald's the Most Loved on UberEats and Foodpanda in Taiwan
About Us
Michelle Tang is a Managing Director at Measurable AI who specializes in digital marketing and strategic partnerships with a passion for data analytics and consumer intelligence. She enjoys research and storytelling with insights derived from Measurable AI's very own e-receipts data.
You can reach her at [email protected].
Measurable AI is the leading granular e-receipt provider for consumer intelligence in the emerging markets with a core focus in South East Asia, Middle East, India and Latin America. We cover the digital economy with the major sectors being ride hailing, food delivery, e-commerce and digital payments.
*The Content is for informational purposes only, you should not construe any such information or other material as investment advice. Prior written consent is needed for any form of republication, modification, repost or distribution of the contents.