The SouthEast Asia Food Delivery War in Brief 
In 2022, main players in the Southeast Asia food delivery market remain Grab, Foodpanda, Gojek, followed by Deliveroo, Shopee Food, and new joiner Airasia Food. This insight article will provide you with a quick overview of the Southeast Asia on-demand food delivery market across metrics such as market share, consumer spending analysis, and user overlap in Singapore, Malaysia, Indonesia, Thailand and Philippines – all calculated based on Measurable AI's latest transactional data.
At Measurable AI, we build and own a unique consumer panel and are the largest transactional email receipt data provider for the emerging markets. We are well regarded for our comprehensive dataset across the digital economy, particularly for our insights into the food-delivery industry.
SINGAPORE's food delivery market is quite crowded with four players competing with each other. Grab still tops its base market with over 50% of the market share by sales, followed by its head-to-head competitor Foodpanda who owns around 37% of the market share in the past 16 months (2021 Jan to 2022 May). The remaining market is taken by Deliveroo whose share hovers around 10%. New joiner Airasia Food is also running in Singapore at the moment, whose volume hasn't really taken off yet.
In MALAYSIA, Foodpanda and Grab share the majority of the market share, with potential threat from new joiners as Shopee Food and Airasir Food. We look deeper into these two companies by consumer behavior with Measurable AI's granular transactional e-receipts data.
Both Foodpanda and Grab have successfully won loyalty users through the pandemic. Our data shows that for a long time, Foodpanda's new users (whose first order is within a year) contributed more orders than the loyal users (who have been actively ordering since a year ago). Until last June when Malaysia was undergoing a severe wave of Covid, the loyal users' spending started to grow exponentially – thus contributing more sales to Foodpanda than its newly joined users for the first time in September. Since January 2022, Foodpanda's loyal users have already contributed more than its new users. Similar trends happened to Grab, whole loyal users' spending surpassed new users' back in 2021 April, and still do until now. By market share, Grab's share by order volume is smaller than Foodpanda in Malaysia, but has been slowly catching up in the past year. Grab's monthly order volume has grown a lot by around 60% since January 2021, as of May 2022.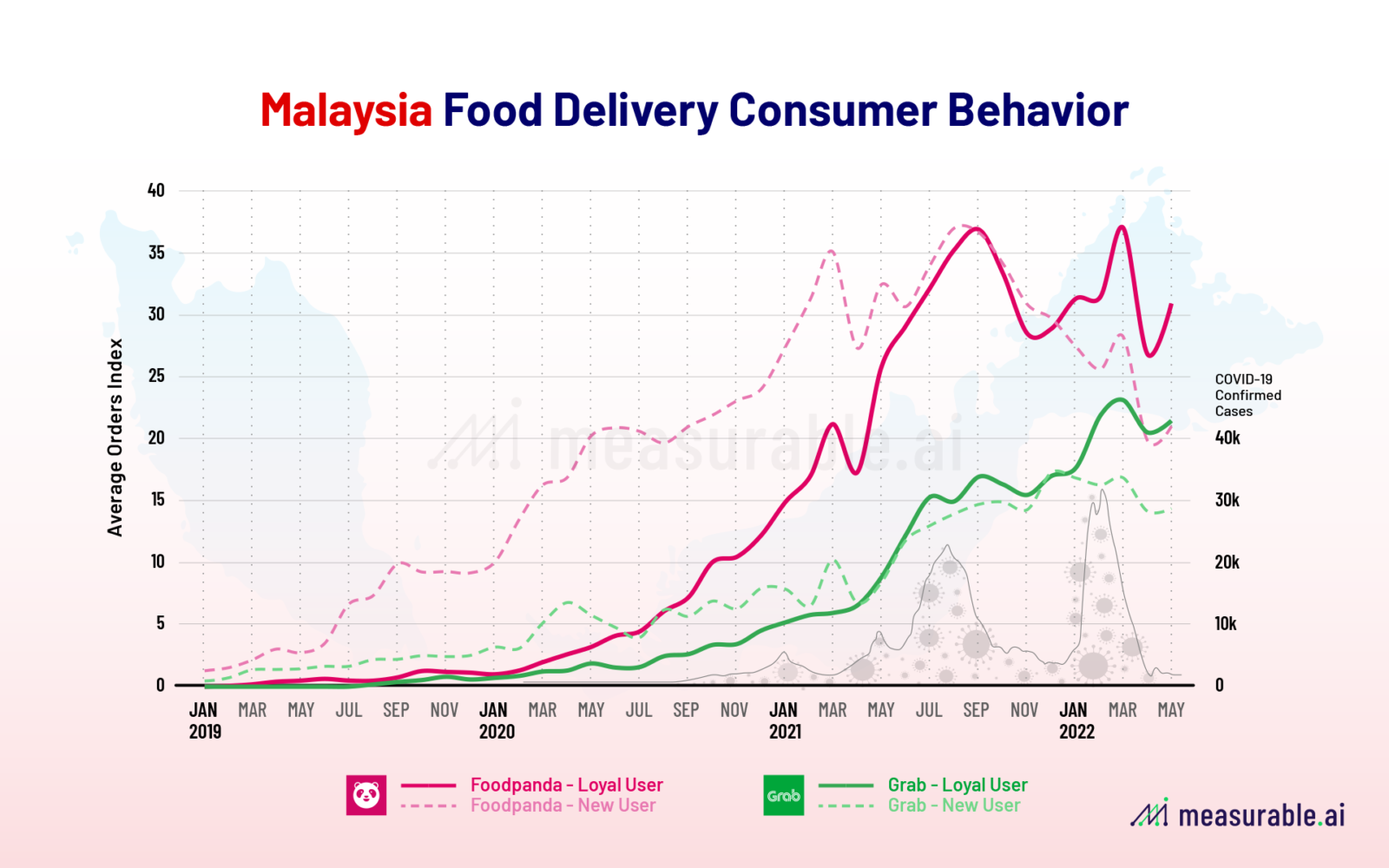 INDONESIA is the main battlefield for Grab and Gojek in both food delivery, and ride-hailing. Other than these two, online grocery has also been a potential product the two companies are competing with. According to Measurable AI's unique e-receipts data panel, on both platforms, the ratio of food versus online grocery orders is around 5% in the latest quarter this year. On Grab, the Average Order Value(AOV) of online grocery in Indonesia hovers around 8 USD per order (during 1Q22). While for Grab's online food delivery, the AOV has been quite stable at around 5.6 USD for the past 16 months.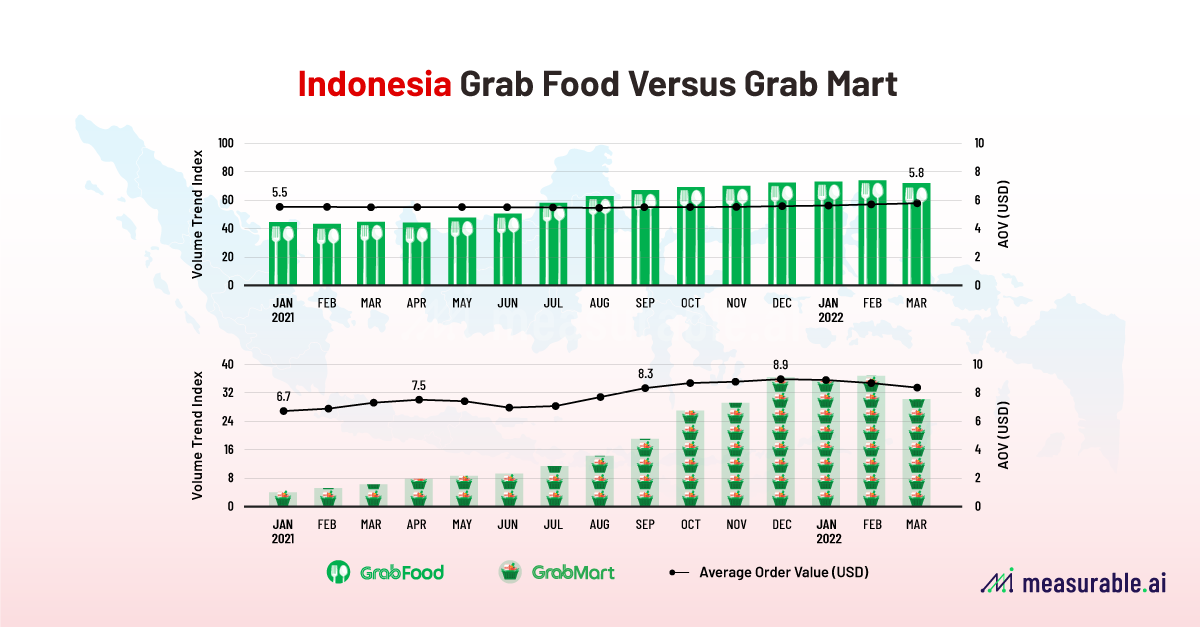 Grab is gaining momentum in the PHILIPPINES food delivery market, whose market share by sales grew from around 40% to around 50% in the latest months in Q2, 2022. In the Philippines, other than the on-demand food delivery platforms as Grab and Foodpanda, other players in the fast food industry are also reckoned to be potential competitors.
In our former report on the Phillipines food market share, McDonalds and the famous local fried chicken brand Jollibee take up around 6% of the total market share in terms of monthly order volume. In terms of average spending, Grab's AOV in the Philippines hovers around 615 Philippine peso per order, which equals around 11.75 USD. Foodpanda users spend around half the amount per order at around 365 peso per order (6.97 USD).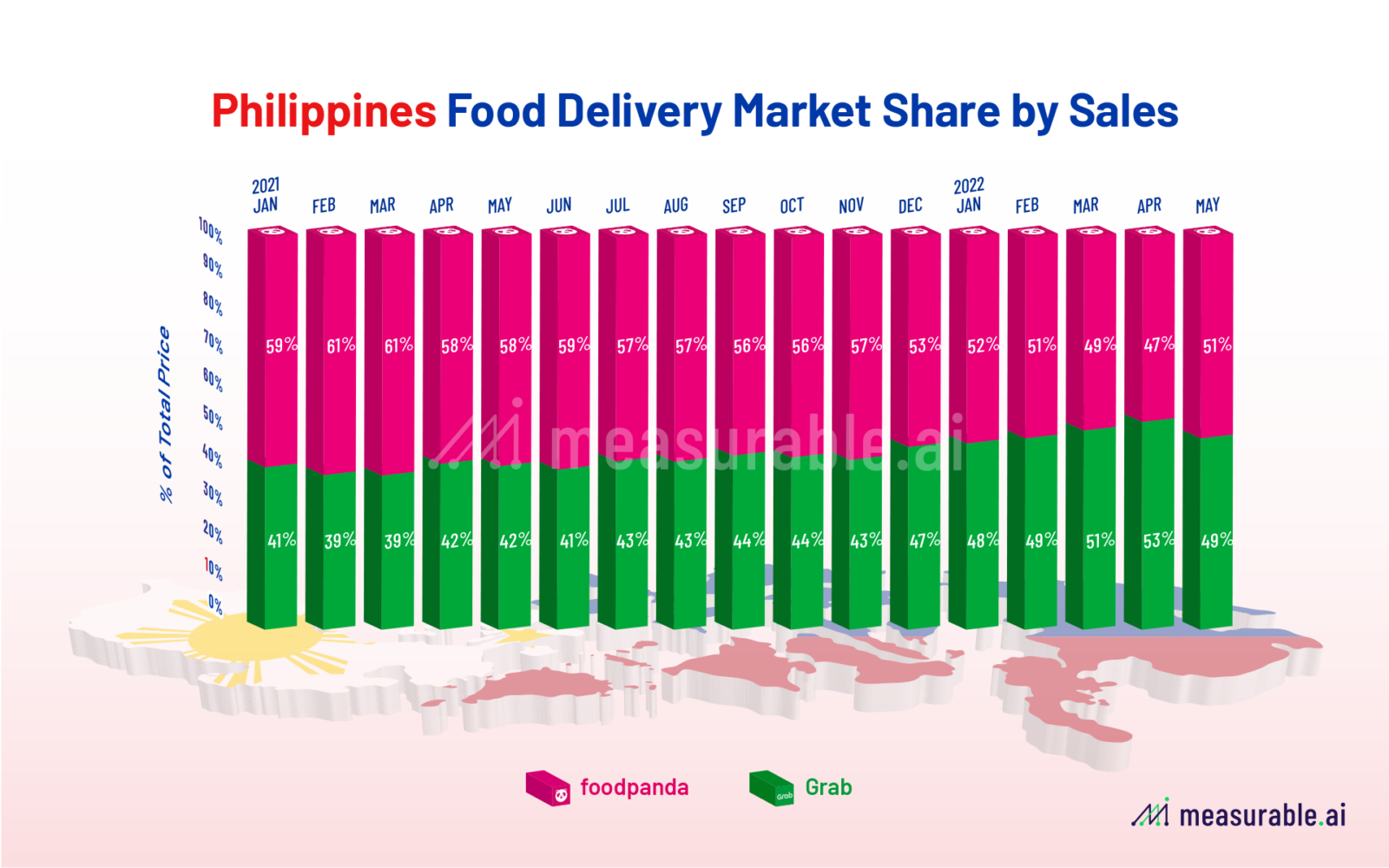 Let's look into user overlap metrics in the THAILAND food delivery market: According to Measurable AI's transactional data, around 45% of Foodpanda consumers only shopped on Foodpanda, and 37% only at Grab. 17% of the users choose to order on both platforms in the past 12 months (from 2021 May to 2022 May). In terms of consumer spending, Grab users on average spend more each order over 6 USD, while Foodpanda's AOV hovers below 5 USD. Other than Foodpanda and Grab, other players in the food delivery in Thailand are Lineman, and Airasia Food (which Measurable AI will soon cover).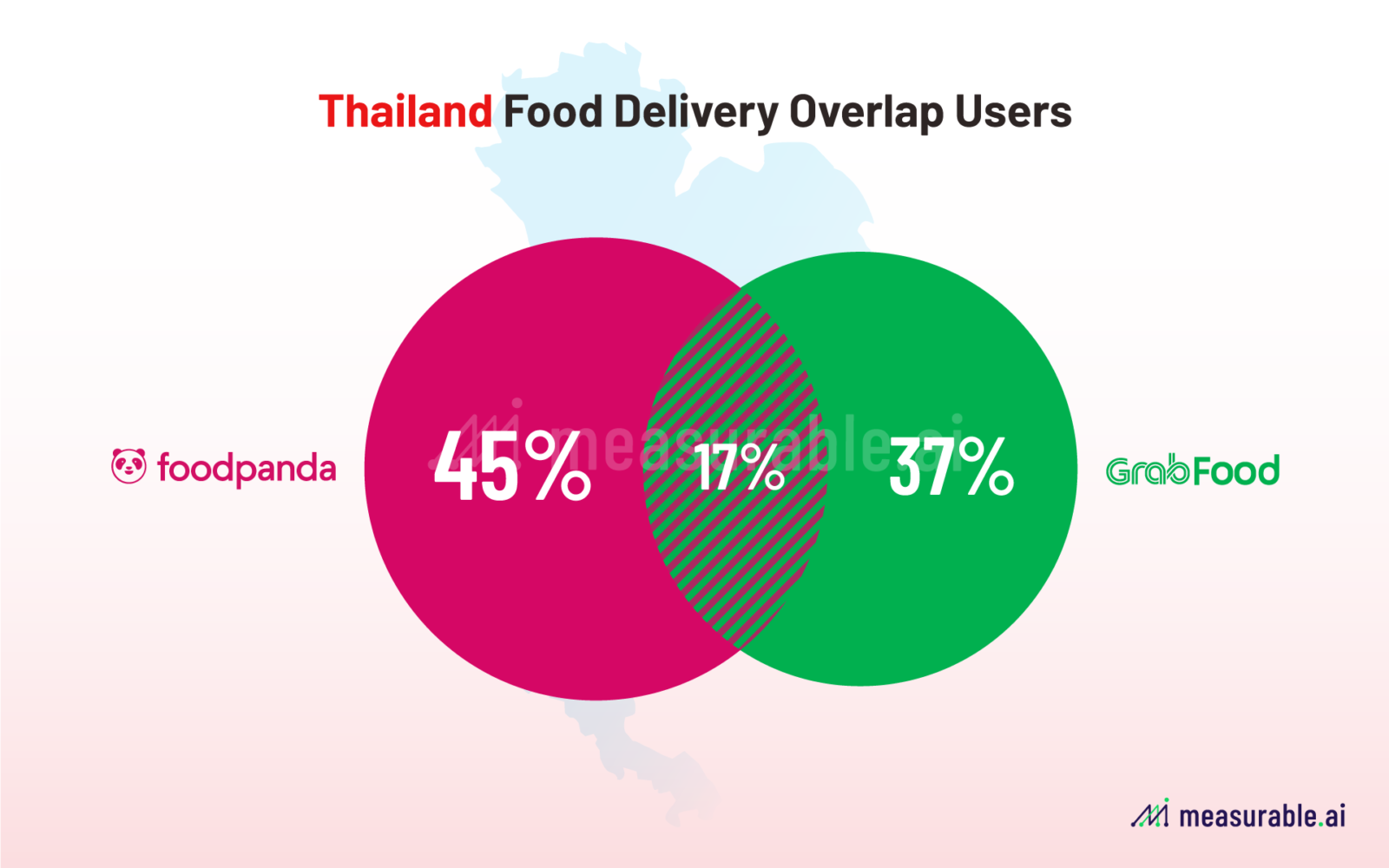 In the Southeast Asian food delivery market, there has been some stabilization in the competition for the past year and half. However, major players in this market also run different sectors of business and may experiment with new business models in the future. It's hard to tell how this industry will evolve in the future. Keep up-to-date with the industry changes by subscribing to The Data Insights newsletter or follow the Measurable AI insights blog.
Interested in finding out more about the ride-hailing sector? Talk to us for more detailed, transactional datasets on the ride-hailing industry in more markets. Contact [email protected].
ABOUT US
Charlie Sheng is a serial entrepreneur, and a dedicated communicator for technology. She enjoys writing stories with Measurable AI's very own e-receipts data.
You can reach her at [email protected]
Measurable AI is a leading alternative data provider for food-delivery, ride-hailing, and e-commerce in emerging markets. Covering Southeast Asia, Latin America, India, Middle East and more.
*The Content is for informational purposes only, you should not construe any such information or other material as investment advice. Prior written consent is needed for any form of republication, modification, repost or distribution of the contents.