Philippines Food Delivery Market Share: Who Delivers More Coconuts
With the grand and young population, the Philippines digital economy is emerging to be one of the fastest growing among its peers in Southeast Asia and is touted to become the next asia tiger economy. Previously, we've shared the food delivery landscape in many markets across southeast asia (read latest here). This time, we're going to look deeper into the competition between Foodpanda and Grab in the islands of Philippines. Who's winning and what's the latest score?
At Measurable AI, we build and own a unique consumer panel and are the largest transactional email receipt data provider for the emerging markets, delivering both aggregated and raw data.
We look at the food delivery market share by two different measures: revenue and order volume. In terms of revenues, we use the metrics "totalPrice" (which is the dollar amount of each order before discounts and promotions). Based on Measurable AI's very own transactional dataset, Foodpanda has been leading in the Philippines in 2021, owning averagely around 58% of the market share by revenue. This advantage became a bit smaller in the latest quarter of 2022: as of March 2022, Foodpanda's market share by revenue dropped to around 49% against Grab at 51%.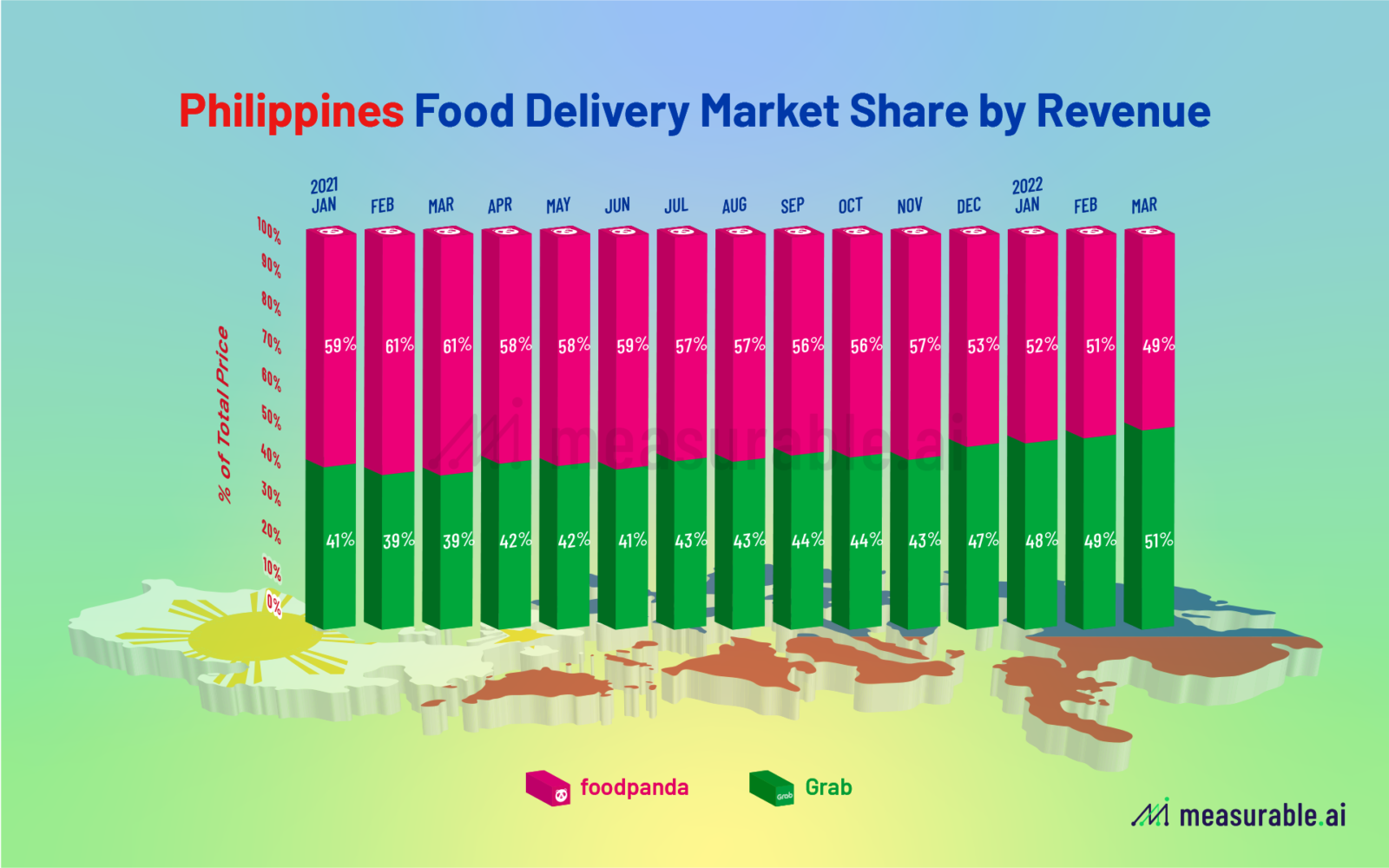 Other than Foodpanda and Grab, food delivery veterans fast food chains are also in this game. Though most are also available on third party food delivery apps, some fast food chains still run their own delivery apps and take care of the orders themselves. In the Philippines, McDoanlds and the famous local fried chicken brand Jollibee on-demand food delivery orders take up around 6% of the total market share in terms of monthly order volume.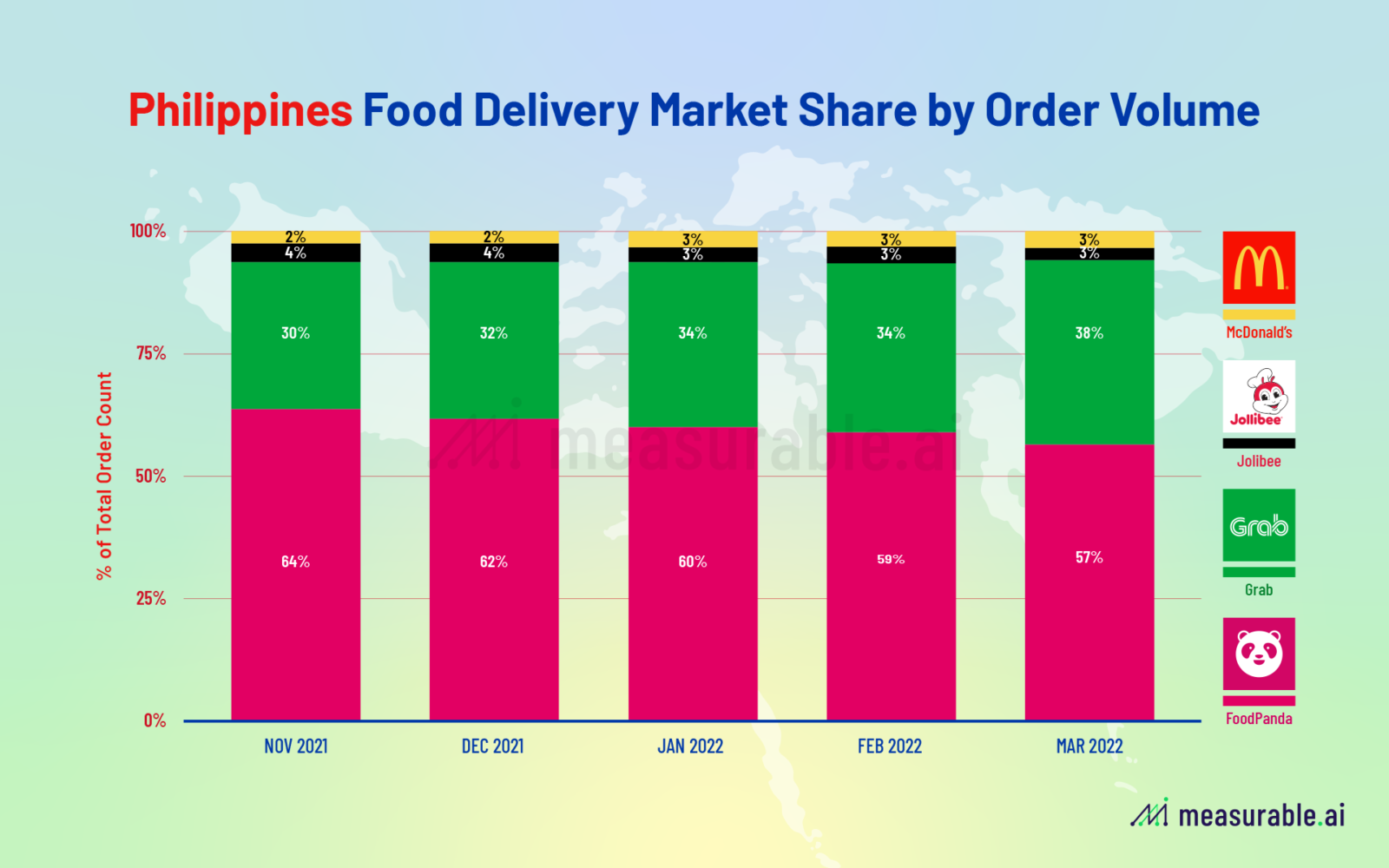 According to Measurable AI's e-receipts data, Foodpanda owns more order volume in the Philippine market, though with a lower average order volume than its competitor Grab. On average, Grab's AOV in the Philippines hovers around 615 Philippine peso per order, which equals around $11.75 US dollars. Foodpanda users spend around half the amount per order at around 365 peso per order (USD$6.97).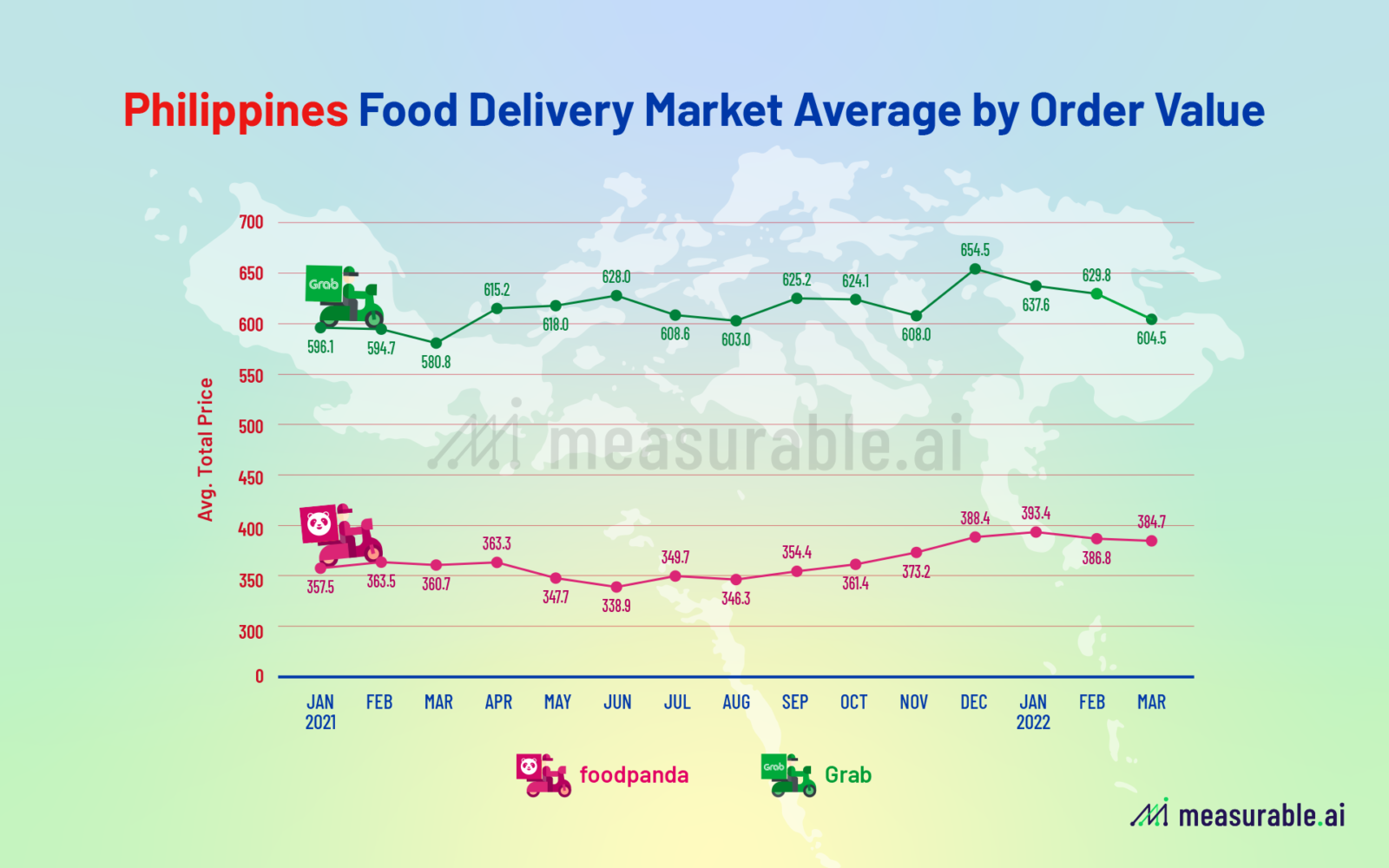 As mentioned in the earlier paragraph, the competition for Foodpanda versus Grab has been changing recently in the Philippines. As the pandemic gradually comes to an end, how will this food delivery war go?
Follow Measurable AI's insights blog or subscribe to our newsletter to learn more about the food delivery market intelligence based on real-time transactional data.
Talk to us for more detailed, transactional datasets on the food delivery industry in more markets. Contact [email protected].
Read previous food delivery reports here.
ABOUT US
Charlie Sheng is a serial female entrepreneur, and a dedicated communicator for technology. She enjoys writing stories with Measurable AI's very own e-receipts data.
You can reach her at [email protected]
Measurable AI is a leading alternative data provider for food-delivery, ride-hailing, and e-commerce in emerging markets. Covering Southeast Asia, Latin America, India, Middle East and more.
*The Content is for informational purposes only, you should not construe any such information or other material as investment advice. Prior written consent is needed for any form of republication, modification, repost or distribution of the contents.