Food Delivery Wars in the UAE
Talabat Winning Market Share and Loyalty by a Mile
When it comes to the food delivery aggregators in the Middle East, ever wonder who is catering to the Emiratis' hankerings in the United Arab Emirates? Or curious to find out how much does the average UAE consumer spend on each of the major food delivery services? What about the frequency in which they are ordering food delivery services across or from each of the food delivery apps and which dishes are the most popular for the Middle Eastern palate?
Intrigued? Read on to find out more.
The Food Delivery Landscape in the Middle East
According to Statista, revenue in the UAE online food delivery segment is projected to reach US$2.18bn in 2022 with an expected annual growth rate of 6.33% (CAGR 2022-2026), resulting in a projected market volume of US$2.79bn by 2026. The number of online food delivery users is expected to amount to 5.5m by 2026 with a user penetration rate of around 44.5% in 2022.
Now, let's dive deeper into Measurable AI's granular e-receipt consumer panel in the Middle East to see what insights we can unearth when it comes to online food delivery in the UAE.
First, as a broad overview, the main food delivery players in the UAE are Talabat, Careem Now, Zomato (owned by Delivery Hero and operated by its subsidiary Talabat Middle East) and Deliveroo. Can you guess which player is the most loved amongst the Emiratis?
When it comes to market share (calculated based on order volume), our panel reveals that Talabat is leading by a clear mile with Deliveroo coming in as the runners up, followed closely by India's Zomato (which was acquired by Delivery Hero in 2019).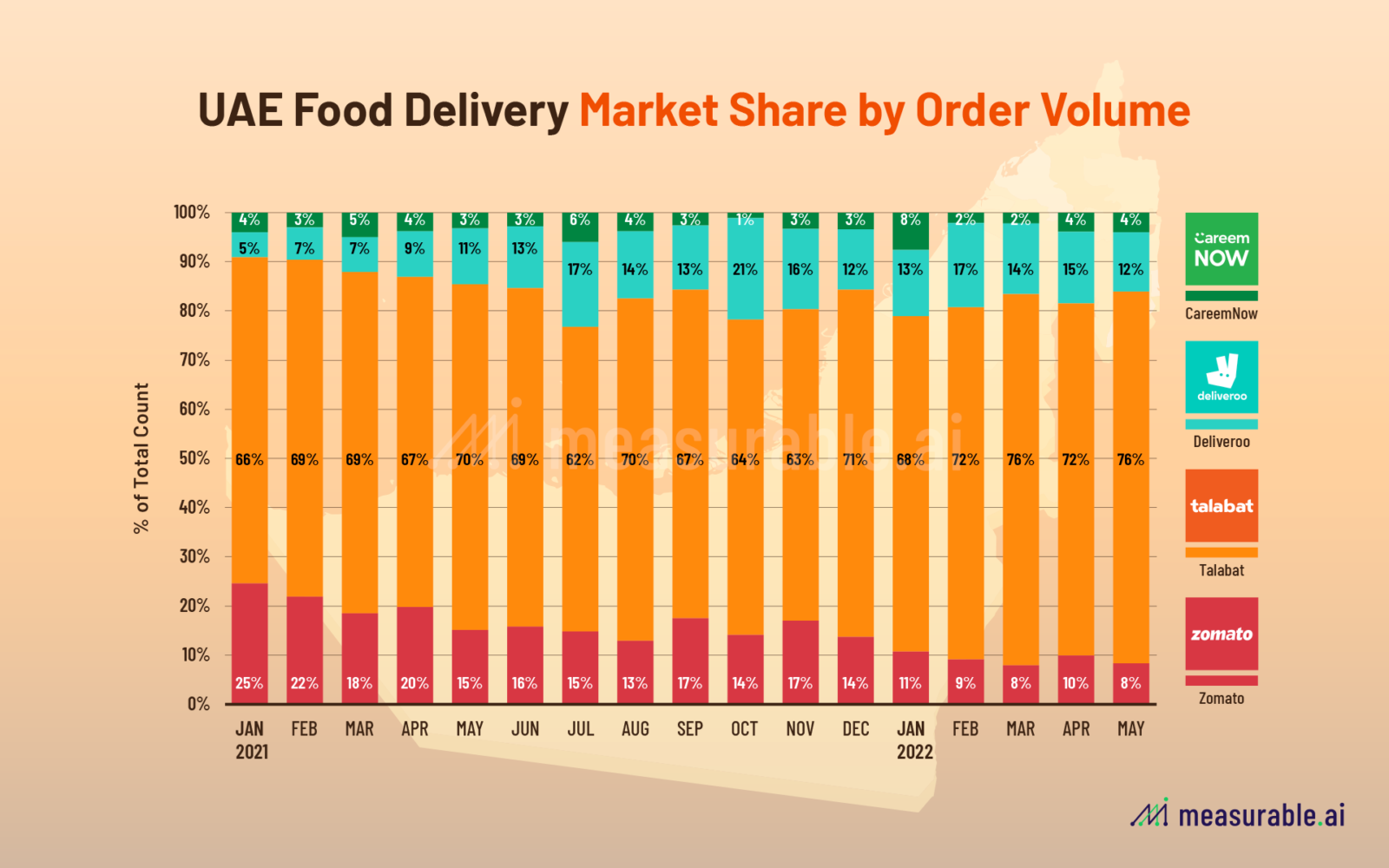 Which Food Delivery App Attracts the Bigger Spenders?
While Talabat dominates in terms of market share (by order volume), Deliveroo seems to attract the bigger spenders when we look at the average order value per receipt.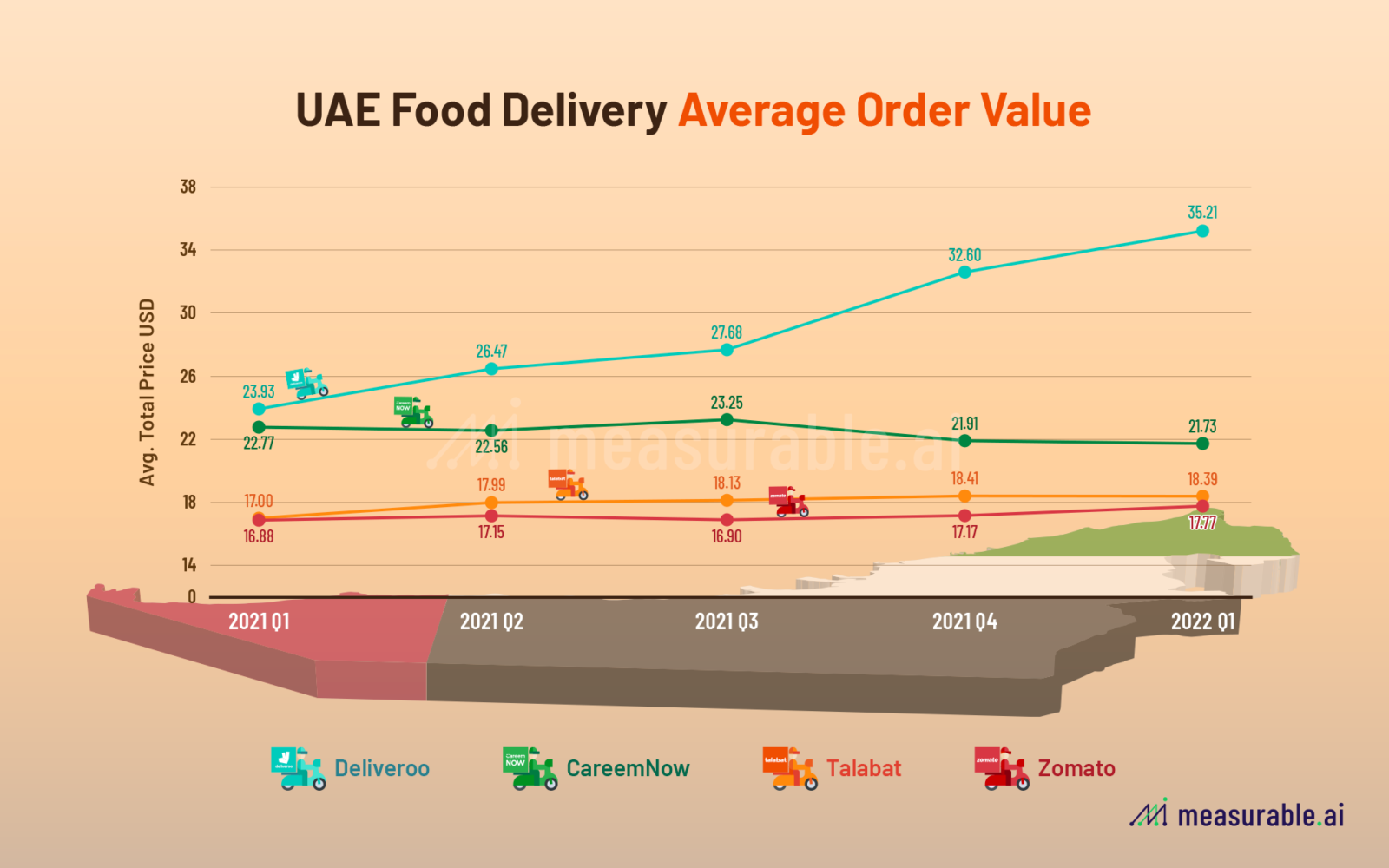 Diving into our granular dataset of Deliveroo deeper, it looks like the merchants that account for the biggest order amounts (i.e. more than 100USD in total) per Deliveroo's receipts this year to date are Le Pain Quotidien ('LPQ'), Tashas To Go and Projeto Acai.
What are they most likely to order from LPQ? Seems like a lot of Emiratis' love the vegan chickpea omelet (46 AED / 12.5 USD).
What about Talabat? What are the Emirati's ordering from the most popular food delivery app in the UAE?
While Deliveroo seems to cater for the higher end type of restaurants, the most popular restaurants which deliver on Talabat seem to be the popular fast food chains KFC, and McDonalds, followed by Pizza Hut and Burger King. Our dataset also revealed popular usage of Talabat Mart, Talabat's own grocery delivery service.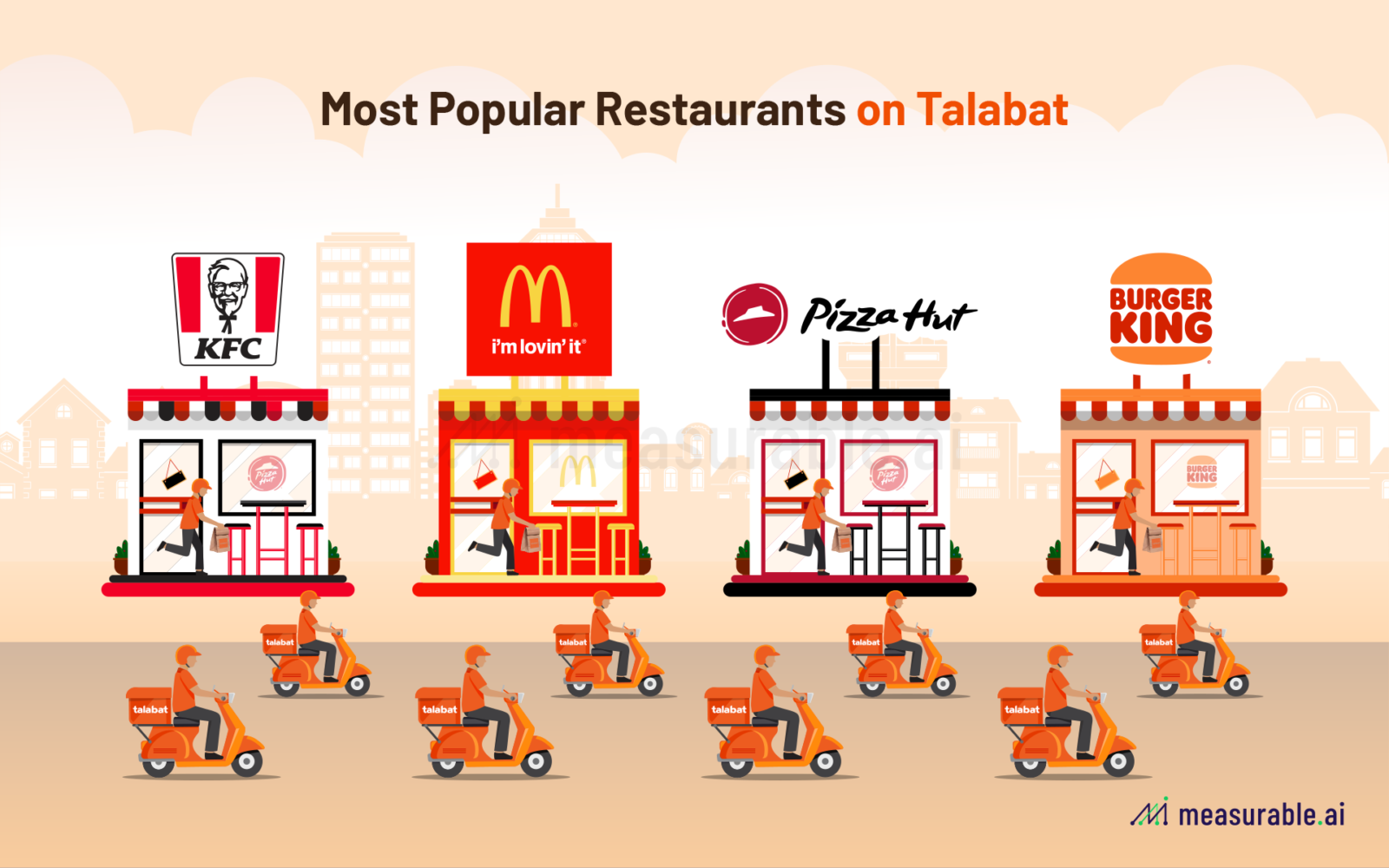 Preferred Payments Methods for Talabat in the UAE
When it comes to payment methods, zooming in on Talabat alone (given its popularity), our data reveals credit card still remains the preferred payment method YTD (i.e. 44% of Talabat users from our panel choose credit card), followed by cash (29%).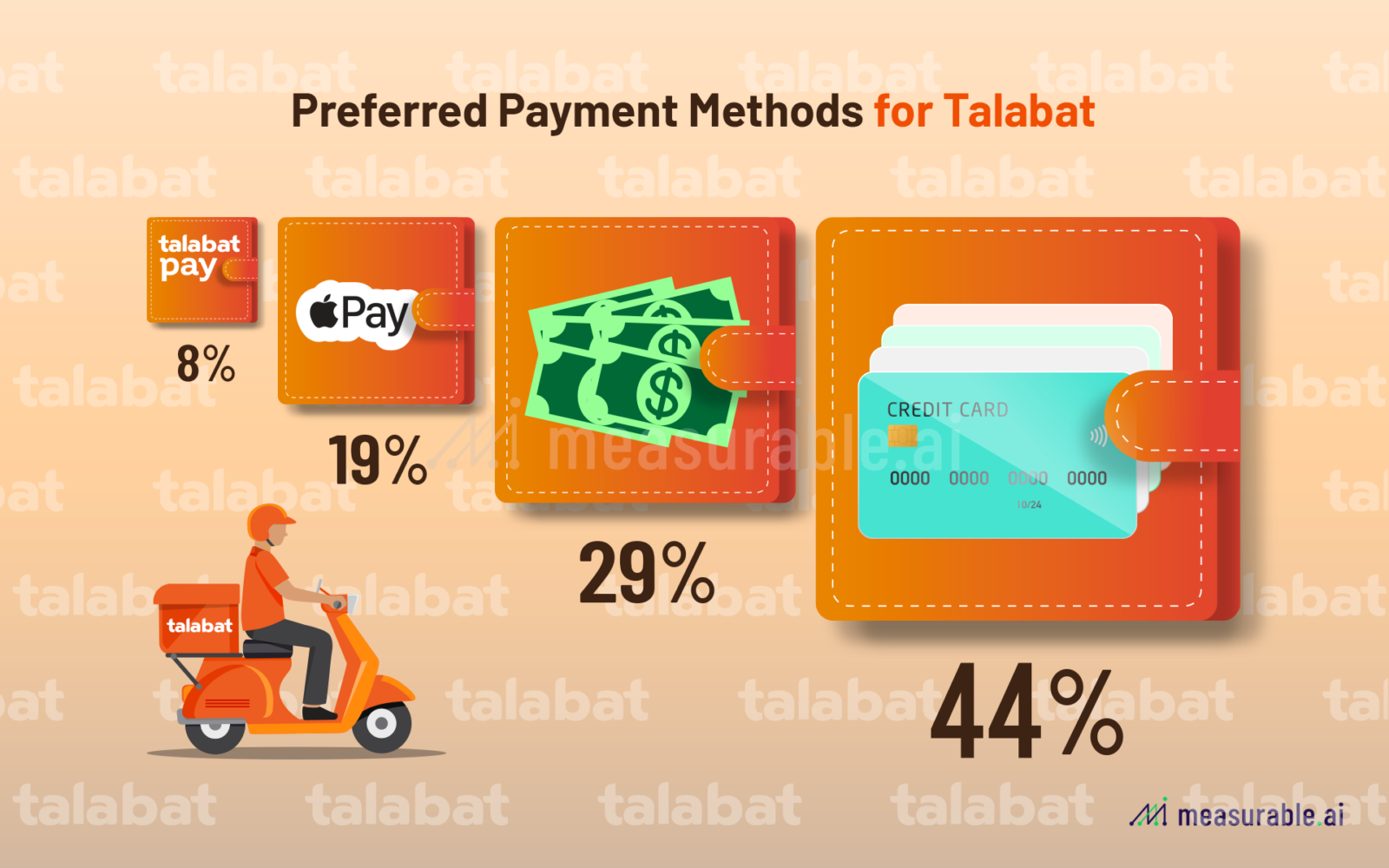 Delivery Fee Comparison Amongst the Four Food Delivery Players in the UAE
Now, let's take a look at delivery fees across the four players. From our panel, the delivery fee amongst the four players have been hovering within the range of 3.67-6.98 AED (1-1.9 USD) mark on average for each order. Deliveroo seems to be the only player that has lowered its delivery fees since the 2H21 to remain competitive.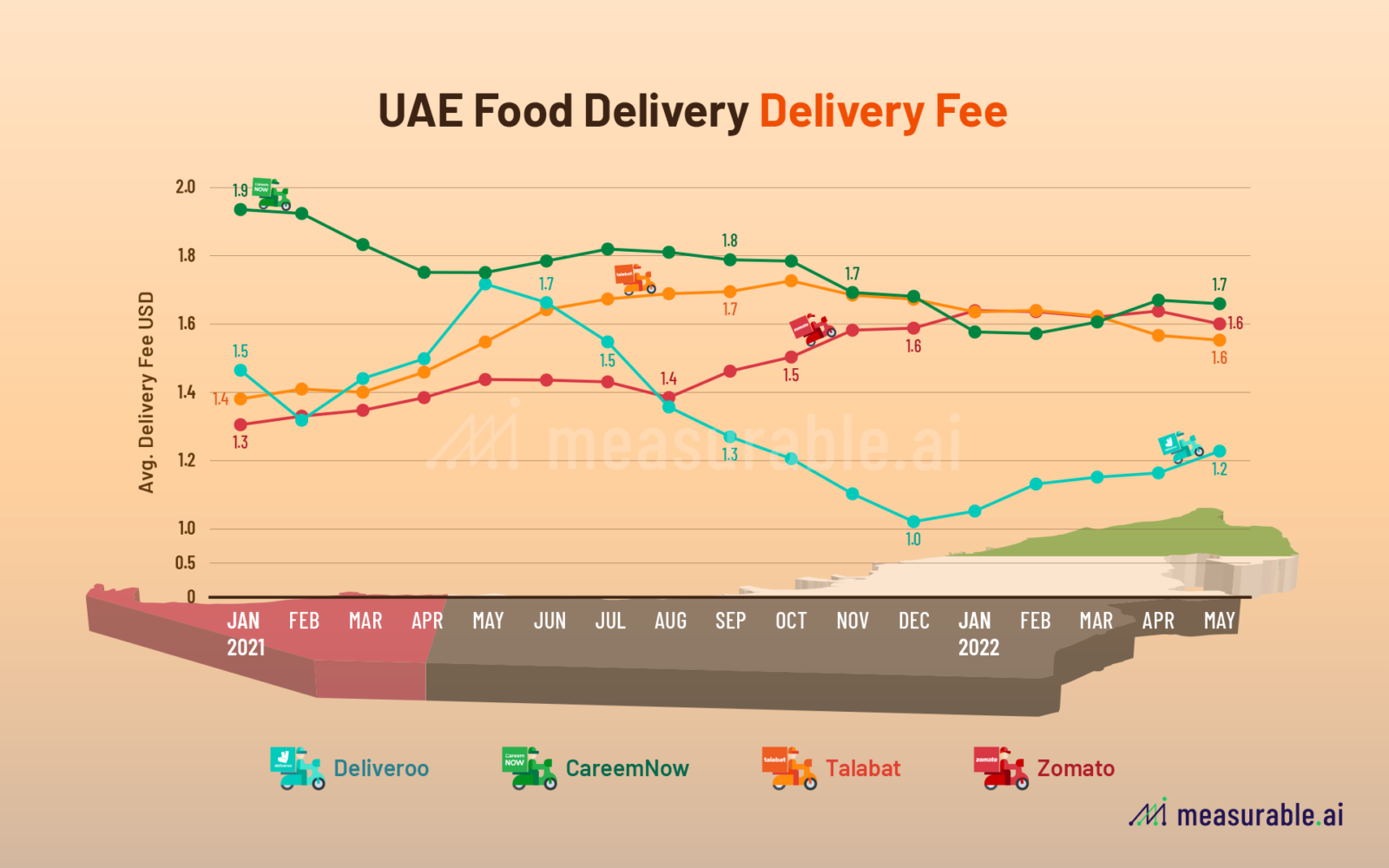 Note that this data only captures those paying a delivery fee for each order (so excludes instances where delivery fee is waived).
Talabat Wins in Terms of User Loyalty
Last but not least, user overlap. Measurable AI's granular dataset also enables us to see how much each food platform's customers also utilize the services of its competitors. From our UAE panel, we can infer that Deliveroo's users are a big fan of Talabat, with 55% of Deliveroo users also ordering from Talabat.
The reverse case does not necessarily apply however. Flipping the coin, our data reveals that only 15% of Talabat users also order on Deliveroo (do they not like to order the LPQ vegan chickpea omelet? :p ).
Amongst the four players, we can deduce that Talabat's customers are the most loyal to the delivery apps services.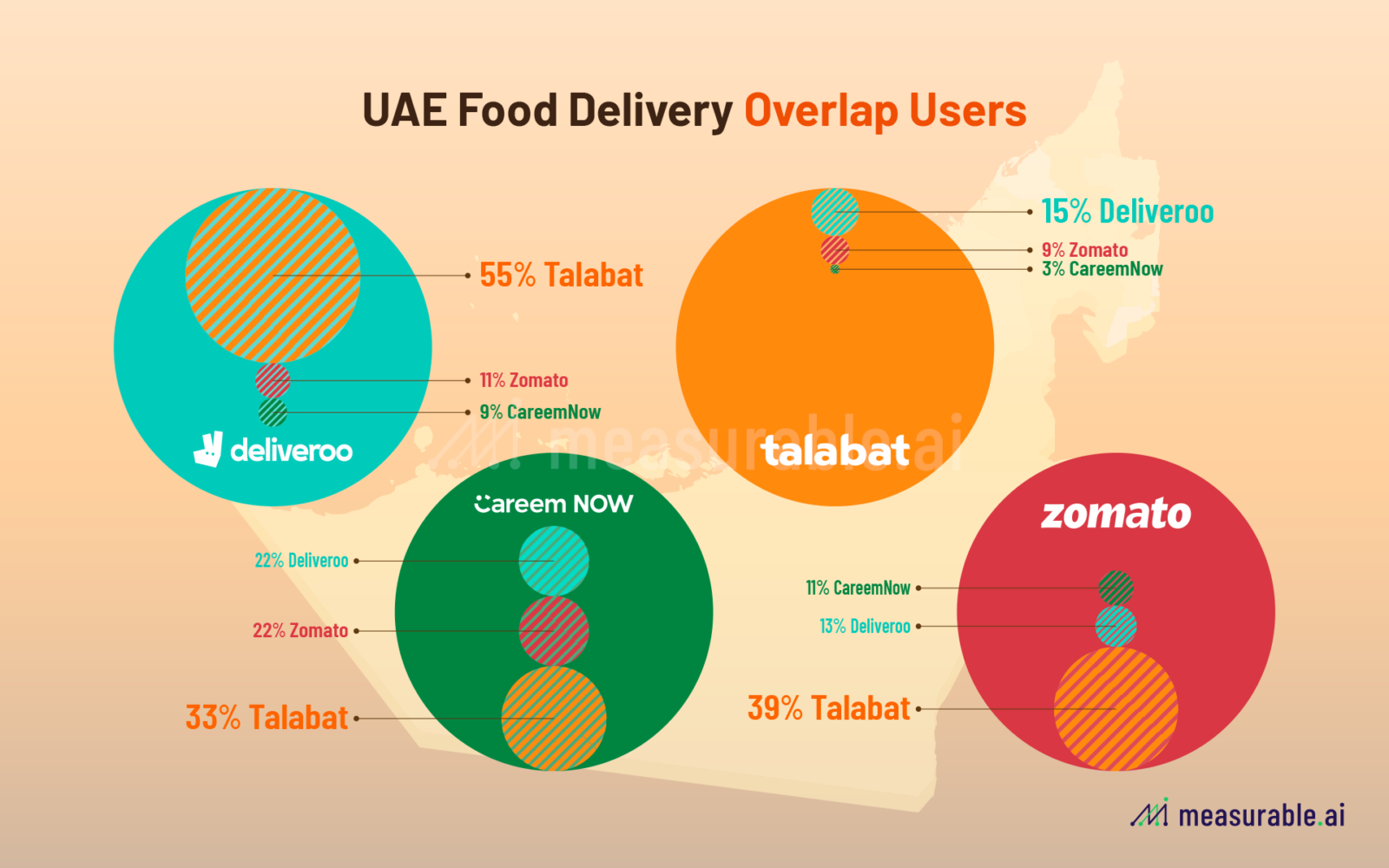 Interested to see which of the four players reaps the most orders per week from their existing clientele or how often new users are enjoying their services? Contact us at [email protected] to receive our granular insights or request access to our unique datasets.
Also, don't forget to check out Measurable AI's other Insight articles for sectors relating to the new digital economy. Since we are on the topic of food delivery, some of our other articles pertaining to this competitive sector are:
ABOUT US
Michelle Tang is a Managing Director at Measurable AI who specializes in digital marketing and strategic partnerships with a passion for data analytics and consumer intelligence. She enjoys research and storytelling with insights derived from Measurable AI's very own e-receipts data.
You can reach her at [email protected].
Measurable AI is the leading granular e-receipt provider for consumer intelligence in the emerging markets with a core focus in South East Asia, Middle East, India and Latin America. We cover the digital economy with the major sectors being ride hailing, food delivery, e-commerce and digital payments.
*The Content is for informational purposes only, you should not construe any such information or other material as investment advice. Prior written consent is needed for any form of republication, modification, repost or distribution of the contents.