The Rise of Food Delivery Market in the Middle East
When it comes to consumer behavior under the pandemic, nothing has been too different all around the world now. The war among food delivery companies that we have seen in many regions is also happening in the Arab world. According to Measurable AI's transactional e-receipts data, the overall food delivery market in the Middle East has doubled its revenue size in 2020.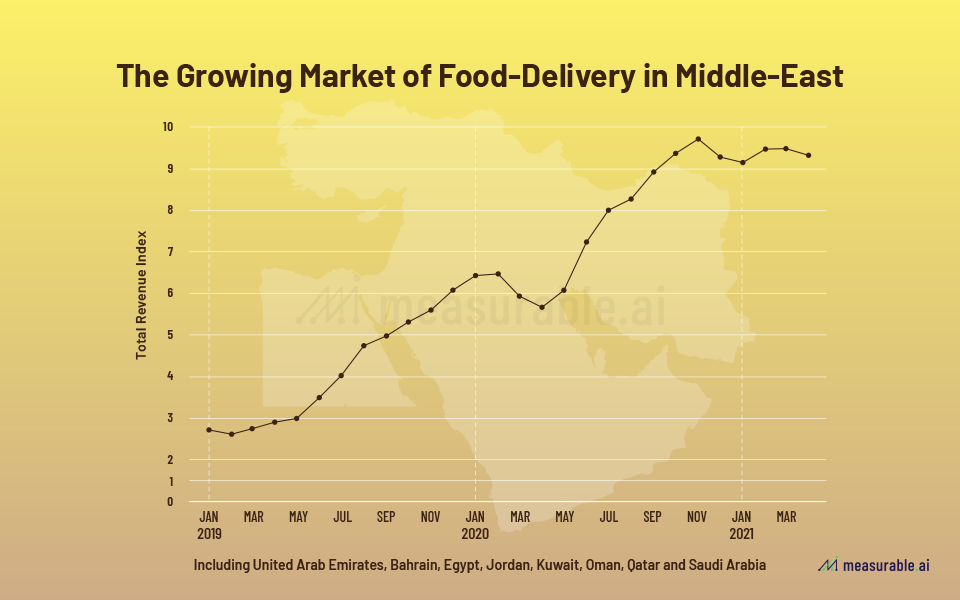 Food Delivery is the New Oil
We chose a few representative countries with high levels of food delivery penetration, and the rate of growth is astounding. Saudi Arabia has the highest growth rate of food delivery revenue among all countries in 2019-2020, ranking first in the Middle East with over 170 percent. Furthermore, the UAE, Bahrain, Kuwait, and Qatar are experiencing double-digit growth in food delivery revenue.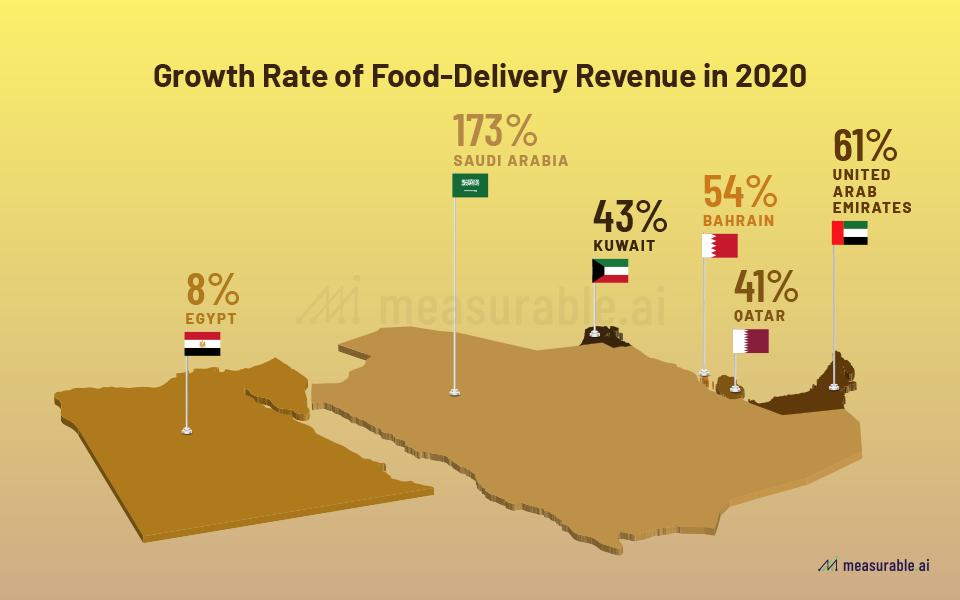 The two pie charts below show changes in the market for food delivery revenue from the Middle East between 2019 and 2020. Talabat (owned by DeliveryHero) is a market leader, accounting for 69% and 55% of the Middle East market revenue in 2019 and 2020, respectively. It's worth noting that another player Mrsool has also benefited significantly from its rapid market expansion in Saudi Arabia. UberEats, on the other hand, announced its exit from the Middle East market in May 2020, handing over to local player CareemNow.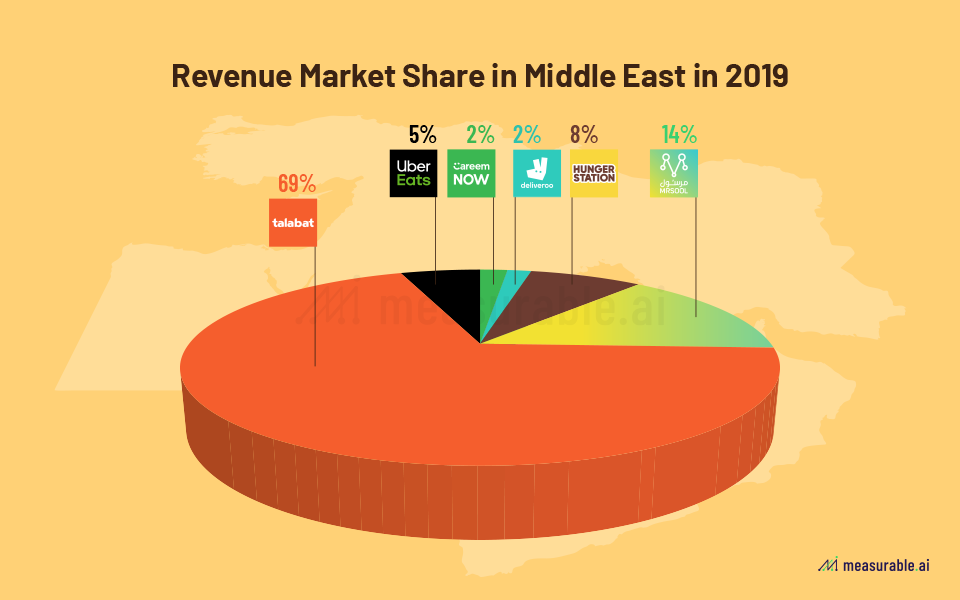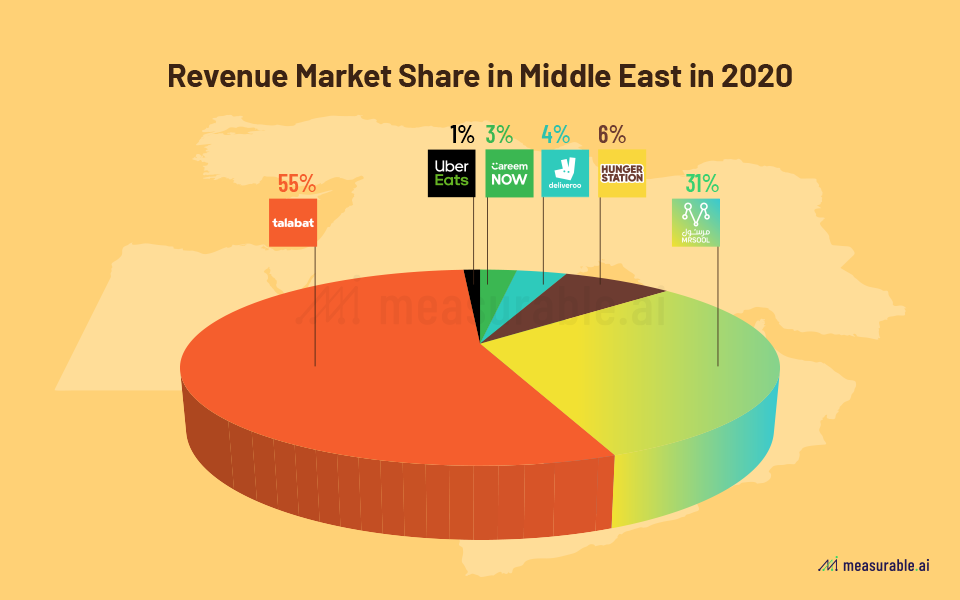 Let's move to specific metrics of consumer behavior in the food delivery market in the Middle East. The following table below shows the market distribution of merchants, as well as their average order price and delivery fee. In most countries, Talabat's order price and delivery fee are relatively low when compared to other merchants. Mrsool, however, charges a higher order price and delivery fee in Egypt and Saudi Arabia than other players, reaching as high as US$5.7 per order in Saudi Arabia.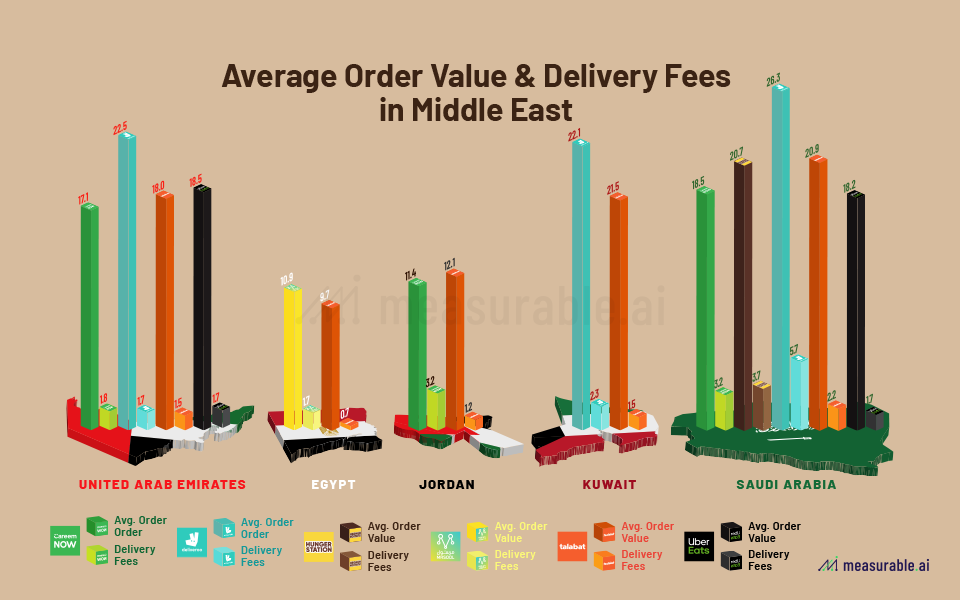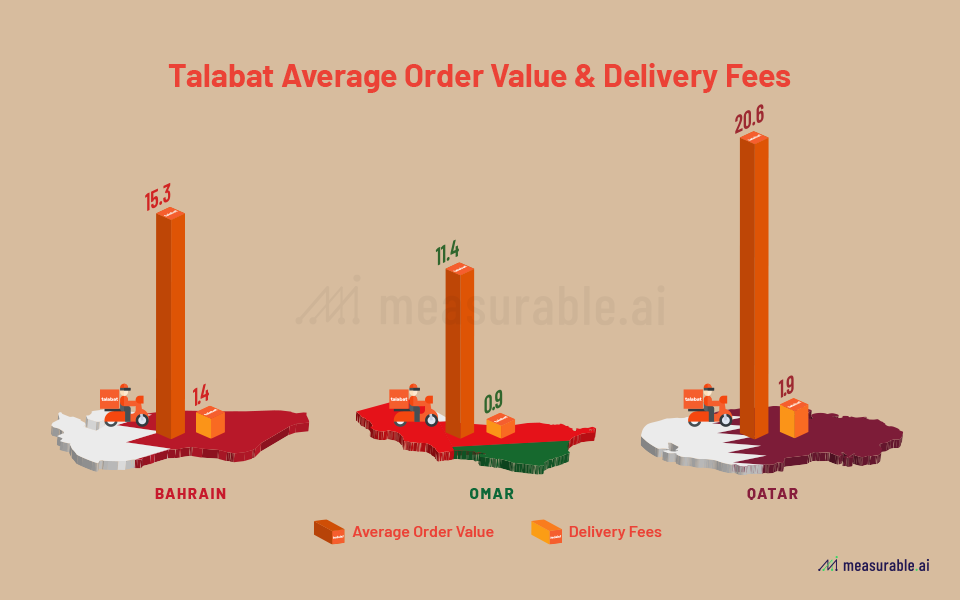 Looking into Saudi Arabia and UAE
Following an examination of the Middle East market as a whole, we want to take a closer look at two markets: Saudi Arabia and the United Arab Emirates.
Mrsool, HungerStation, and CareemNow all had good growth in Saudi Arabia in 2020. Mrsool's order revenue in 2020 is more than five times that of 2019.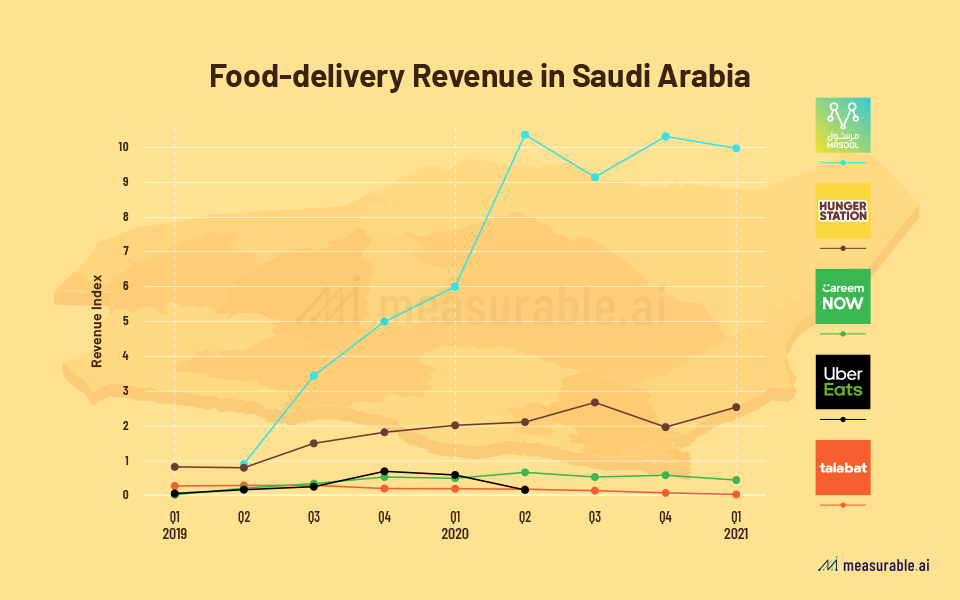 Its market share has risen from 59 percent in Q3 of 2019 to 77 percent in Q1 2021. Following Mrsool, the runner-up player HungerStation has consistently occupied approximately 15% of the market since 2019 Q4. CareemNow only maintained a small cut of the market, but it's still active.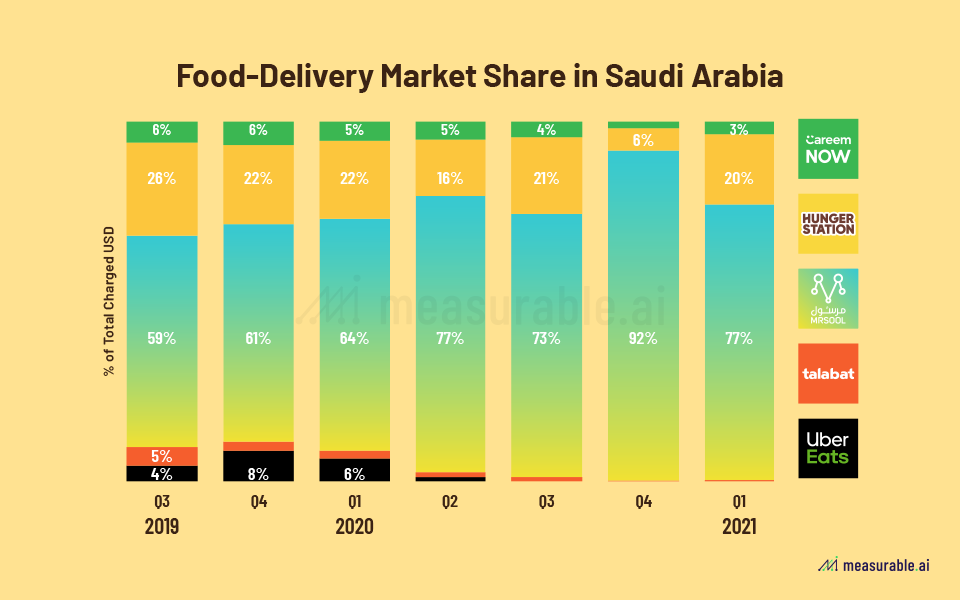 In the United Arab Emirates, Talabat, Deliveroo and CareemNow have all achieved revenue growth during the past 2 years. Talabat's YOY growth in 2020 and 2021 is extremely high, due to a rise in average order frequency and customer volume. Deliveroo in UAE has also seen rapid success, steadily establishing itself in second place since 2020 Q2.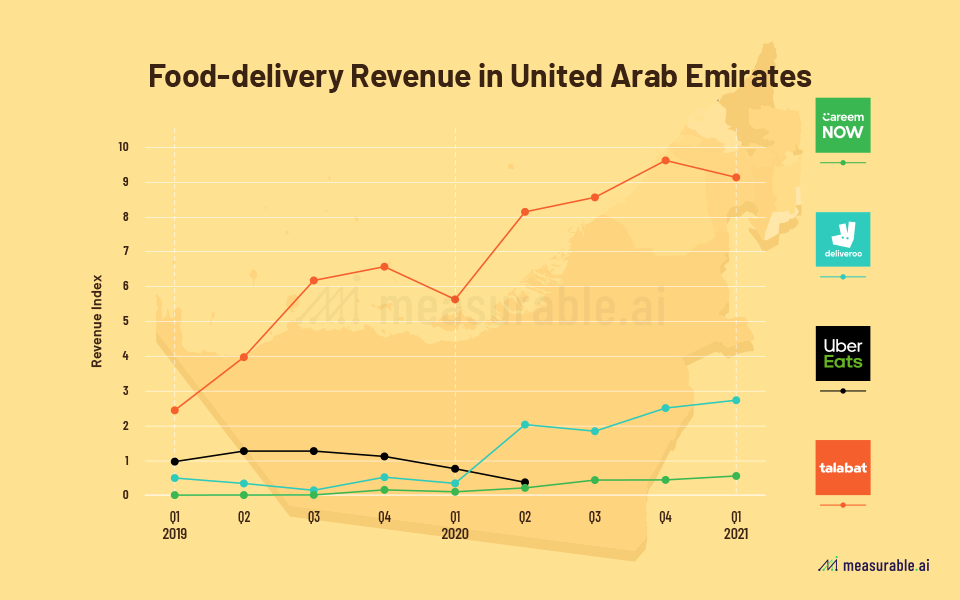 Talabat steadily occupies about 76% of the market. However, in recent months, Deliveroo is gradually expanding its market occupation.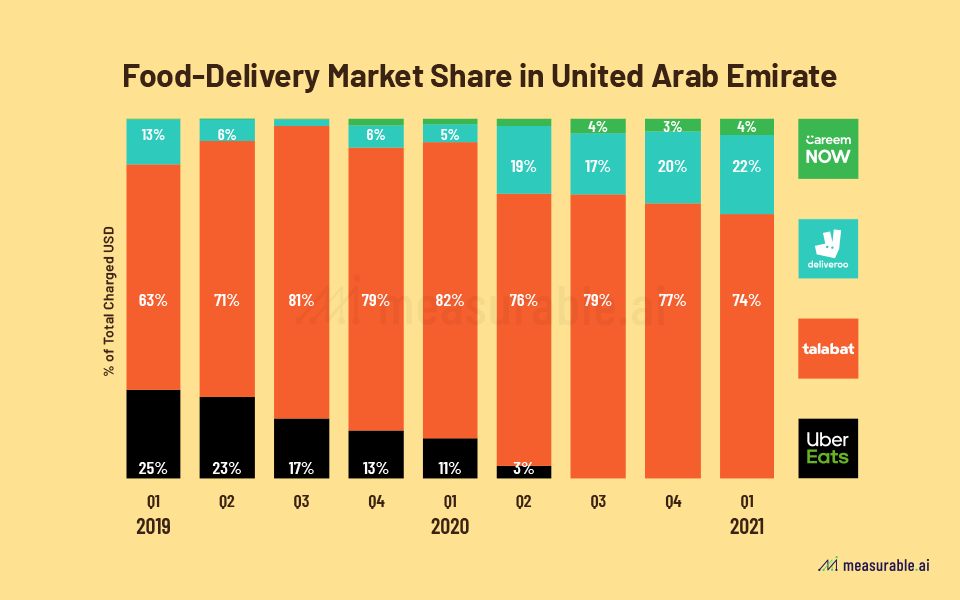 By Charlie Sheng, Jocelyn Yang and Kitty Cheung
Talk to us for more transactional datasets on food delivery industries in more markets.
ABOUT US
Measurable AI provides actionable consumer insights based on millions of consumers' transactional records for the emerging markets.
Jocelyn Yang is a data analyst with a background in economics and blockchain. She enjoys using Measurable AI's unique transactional e-receipts data to generate consumer insights for the emerging markets.
*The Content is for informational purposes only, you should not construe any such information or other material as investment advice
Prior written consent is needed for any form of republication, modification, repost or distribution of the contents. Please contact [email protected]