Gojek vs Grab Market Share Report 2022 Q1: Ride-hailing
Before the impending IPO of GoTo Group, it's about time to update the latest market share of Southeast Asia's biggest super apps: Gojek and Grab.
At Measurable AI, we build and own a unique consumer panel and are the largest transactional email receipt data provider for the emerging markets, delivering both aggregated and raw data. In our previous article, we reviewed the market share of Gojek and Grab's ride-hailing business across the year of 2021. Our results indicate a close score between the two rivals, with Grab leading by a slight advantage in total revenues in Indonesia last year.
Let's take a look at the latest market share changes in 1Q22 in ride-hailing revenues. For this market share analysis, we will be mainly looking at the ride-hailing market share in Indonesia, Gojek's biggest market, and Singapore, home to Grab. Thanks to the granularity of Measurable AI's e-receipts data, we can dive deeper into the company's mobility product offering.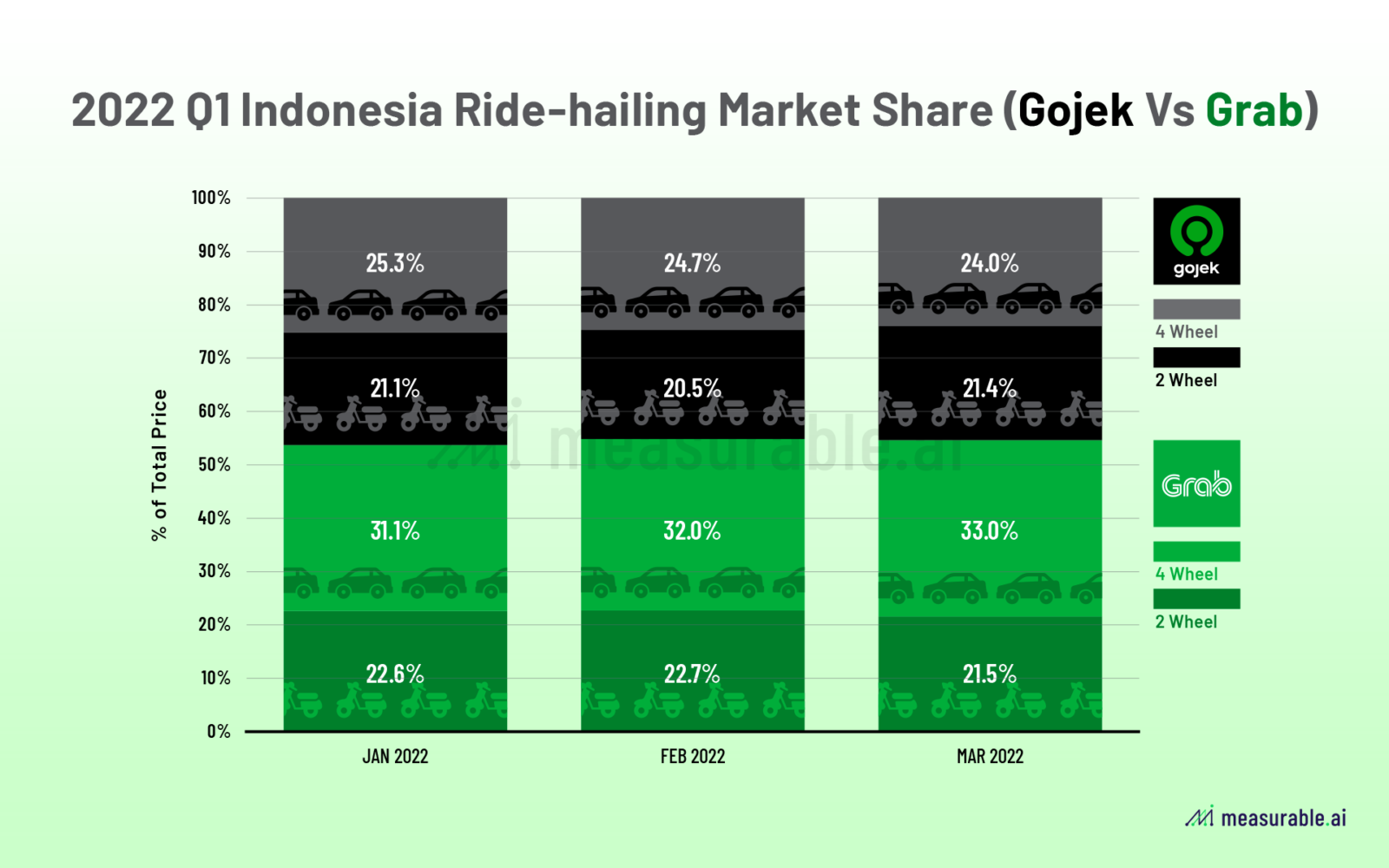 In Indonesia, Gojek's four-wheel rides constitute around 25% of the market share, which is similar to what we saw in the last quarter of 2021. Grab's four-wheel share dropped slightly from 35% to around 32%. In terms of two-wheel rides, in Q1 the two apps share the market evenly. In terms of average user spend, on four-wheel rides Gojek users on average spend a bit more than Grab's users.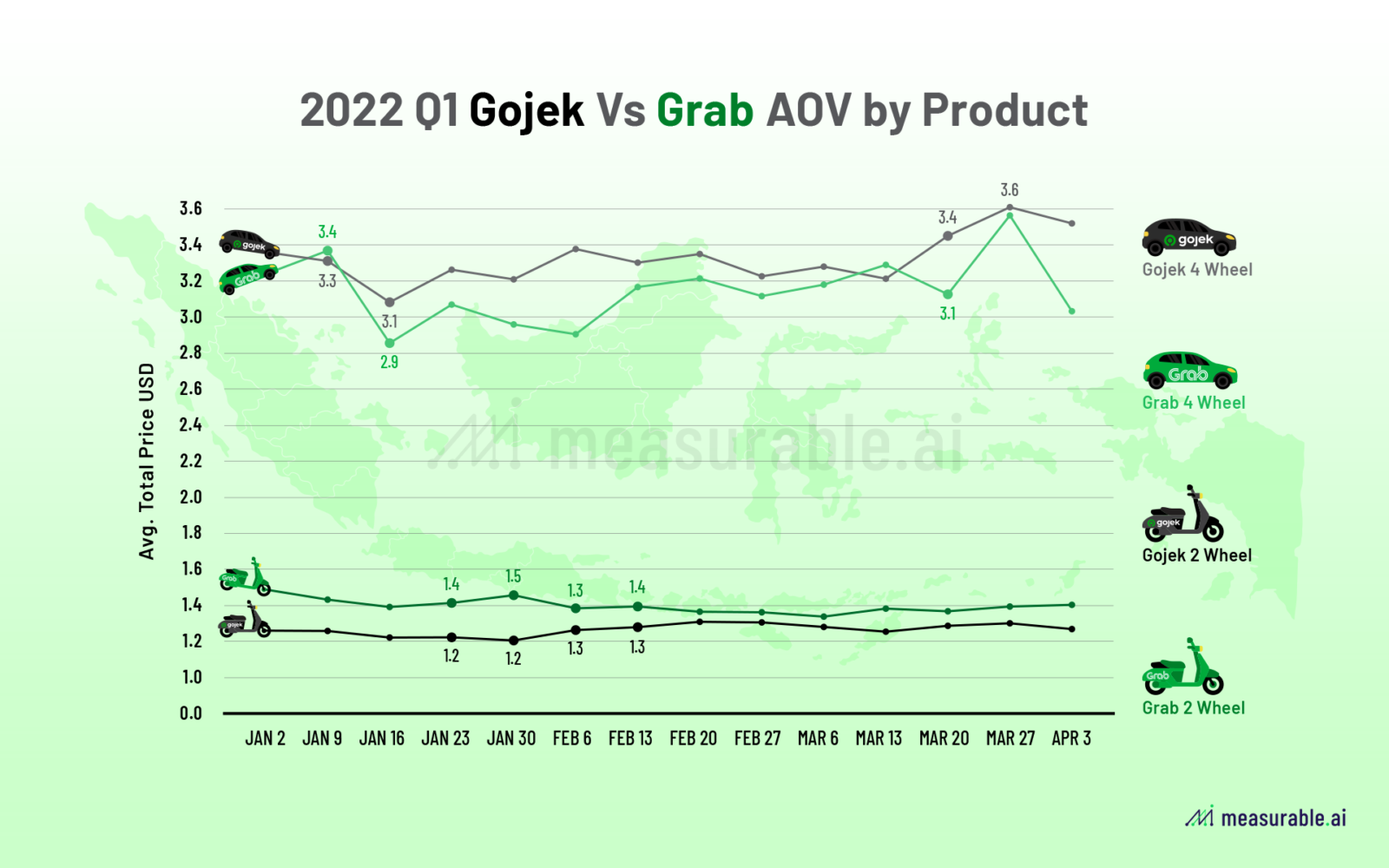 In Singapore, in terms of order volume, Grab shares half of the ride-hailing market share while Gojek ranks as the runner-up with around 17% of the market share. Among other players, Singapore's local taxi tycoon CDGTaxi owns around 15% of the market, followed by local ride-hailing apps Tada (10%), and Ryde (6%).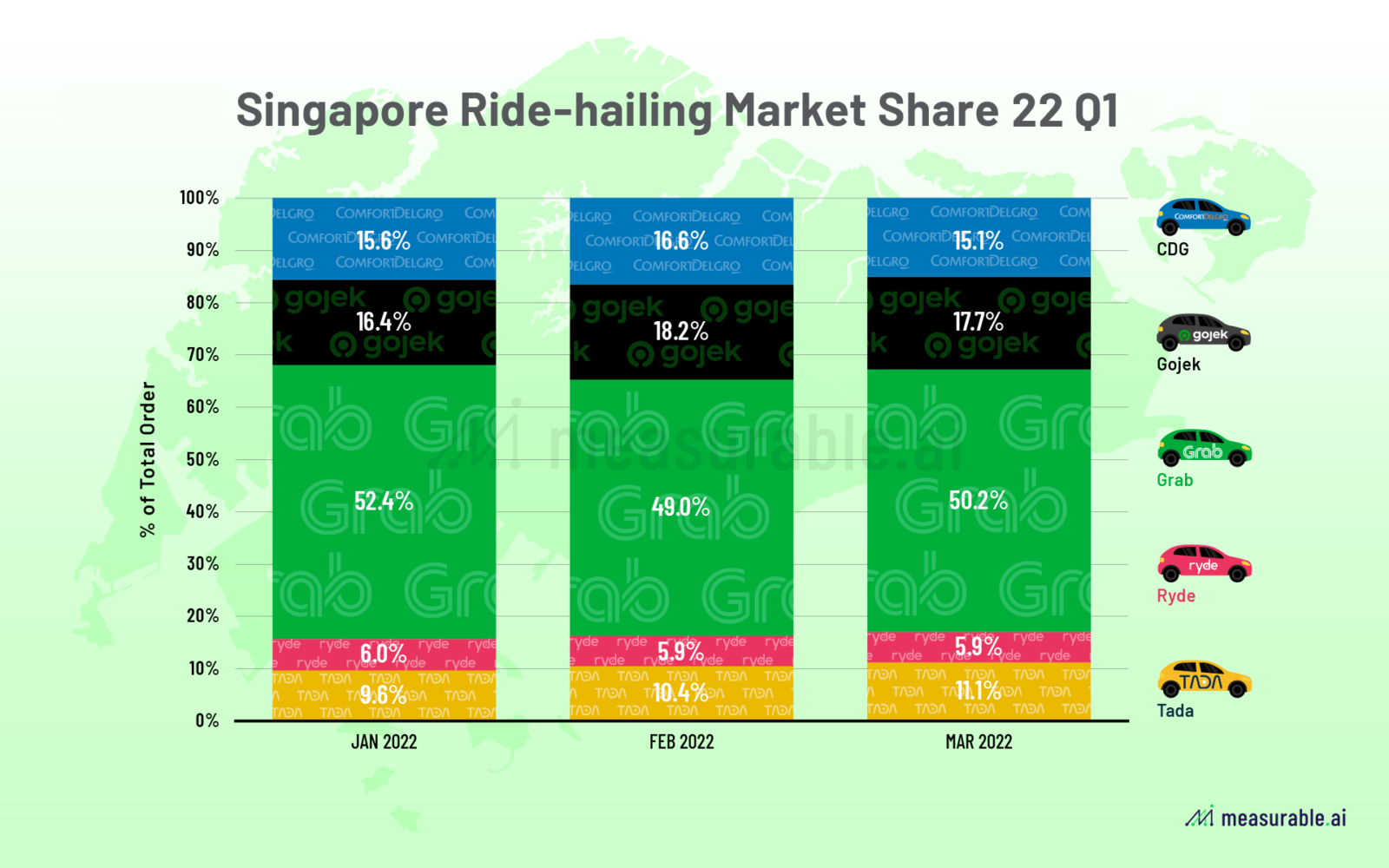 Although Grab and Gojek started as ride-hailing services, they both have grown into super apps that own multiple sectors and services of themselves. For Grab, food delivery now takes a much bigger percentage of its total GMV. Based on Measurable AI's e-receipts data, in 2022 Q1, food delivery now makes up around 74.5% of Grab's Mobility + Delivery services (Grab's fintech business is not included). For GoTo group, who contributes around 2% to Indonesia's GDP, e-commerce now takes up over 60% of its total addressable market (source).
In the past two years, both companies benefited from the drastically growing demand of online food delivery amid the pandemic. As the world shifts from a pandemic to an endemic, two questions arise: (1) will the endemic behavior ensue?, and (2) will Gojek and Grab witness a rebound of their other main business, ride-hailing?
Gojek and Grab still remain head-to head competitors in Southeast Asia despite their different focus of market and sector. We'll continue monitor the competition of these two super apps along the way. Talk to us for for more interesting alternative datasets on ride-hailing markets. Schedule a demo at [email protected]
Read previous articles on Grab and Gojek:
Ride-hailing Race in Indonesia: Gojek versus Grab
A Grab Explainer: FoodDelivery, Rideshare, and More
Ride or Die: Gojek versus Grab in Indonesia
ABOUT US
Charlie Sheng is a serial female entrepreneur, and a dedicated communicator for technology. She enjoys writing stories with Measurable AI's very own e-receipts data.
You can reach her at [email protected]
Measurable AI is a leading alternative data provider for food-delivery, ride-hailing, and e-commerce in emerging markets. Covering Southeast Asia, Latin America, India, Middle East and more.
*The Content is for informational purposes only, you should not construe any such information or other material as investment advice. Prior written consent is needed for any form of republication, modification, repost or distribution of the contents.