Ride or Die: Gojek versus Grab in Indonesia
Since the outbreak of COVID-19, the frequency of going out has been greatly reduced, resulting in plummeting sales of ride-hailing companies. Based on Measurable AI's e-receipts data, we take a closer look into the competition between two ride-hailing giants from South East Asia: Gojek and Grab, in one of their biggest markets Indonesia.
Sharp Decline in Ride-sharing Mobility
Order volume and confirmed cases of covid-19 are conversely correlated throughout the past year. In March 2020 when the pandemic just began to hit the country, the monthly order volume dropped dramatically by over 84% for Grab, and 81% for Gojek. Since then, the average weekly order volume has been staying very low, with minor ups and downs depending on the pandemic situation. Based on what we've seen from the past two months of 2021, the overall ridesharing orders have not yet recovered in Indonesia.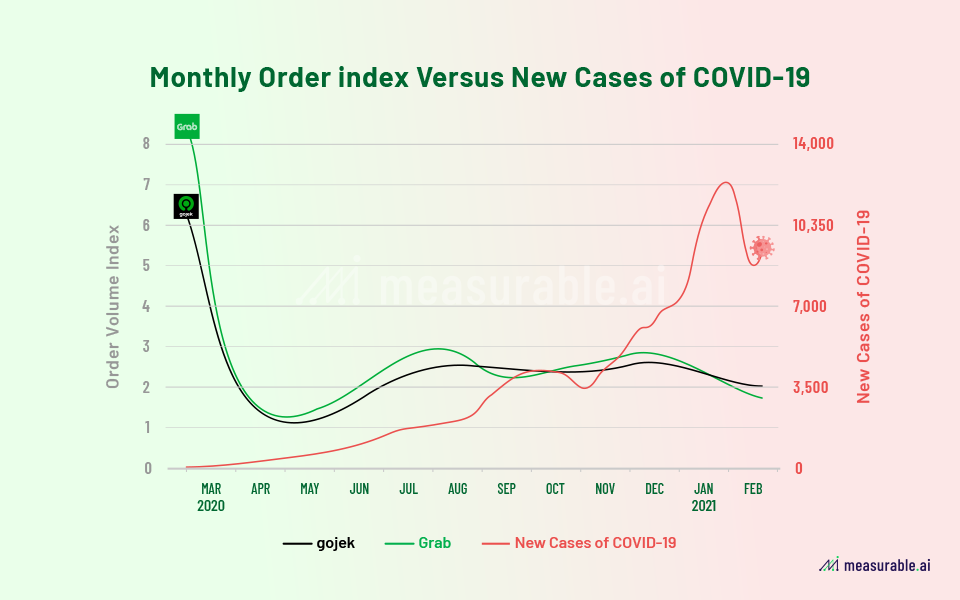 Market Share in Car and Motorbike Rides
In the past year (March 2020-February 2021), the revenue market share of Grab versus Gojek (including motorbike and car section) was around 58% to 42%. The chart below shows the detailed monthly market size breakdown.
According to Measurable AI's e-receipts data panel throughout the year, Grab dominates the car and taxi section, taking around 63% of the Indonesia spending, while Gojek owns around 37%. During Q2 and Q3 in 2020, Grab's revenue market share in car rides fell from 70% to 52%, but regained to around 65% in January 2021.
When it comes to motorbike rides, Gojek is leading with a small advantage in Indonesia throughout the past year.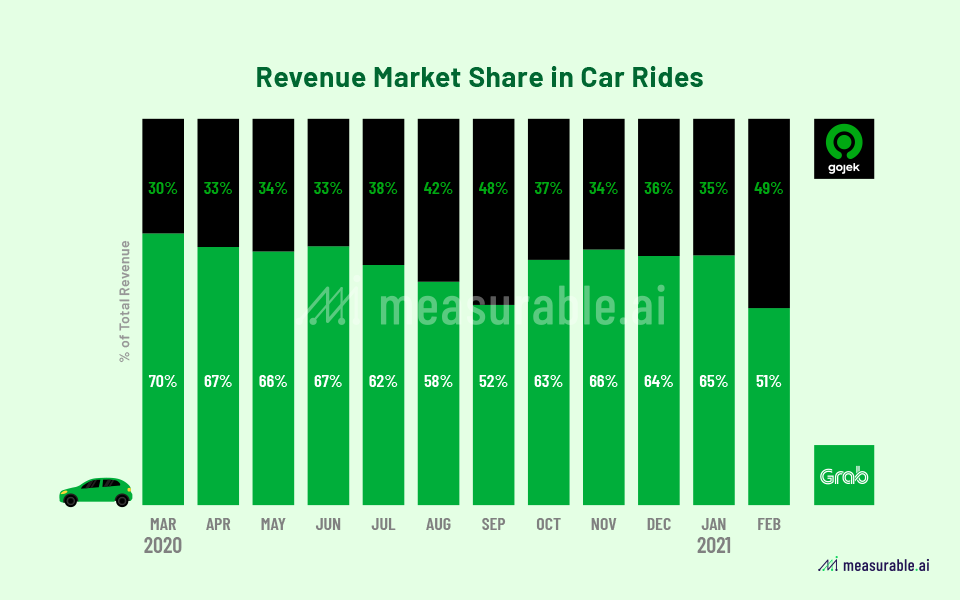 A lifestyle for riders in Indonesia
The chart below shows the order volume index by hour across the two platforms.
When dawn comes and people start to go out, the order volume starts to increase sharply. For Grab riders, orders peak slightly earlier at around 10am, but for Gojek orders peak between 11am-12pm. Order volume from Gojek falls back to a low point from 2pm to 4pm and rebounds to a second peak around sunset; while order volume from Grab drops steadily after the peak till the middle of the night.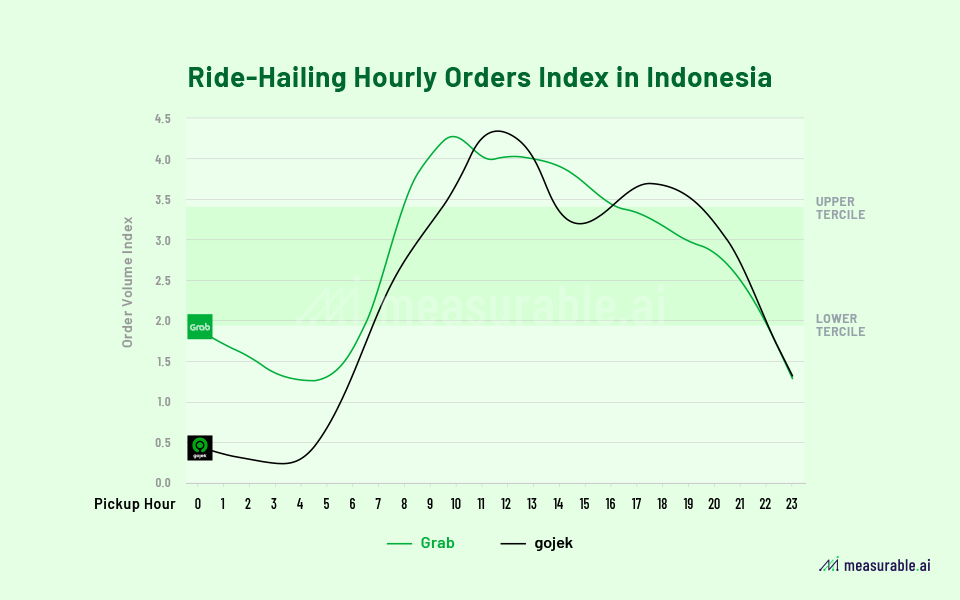 Cars or MotorBikes?
For the past year of 2020, both Grab and Gojek obtain more motorbike orders than cars. Comparing the ratio of car rides during weekdays and weekends, we find that people are more likely to call cars on weekends.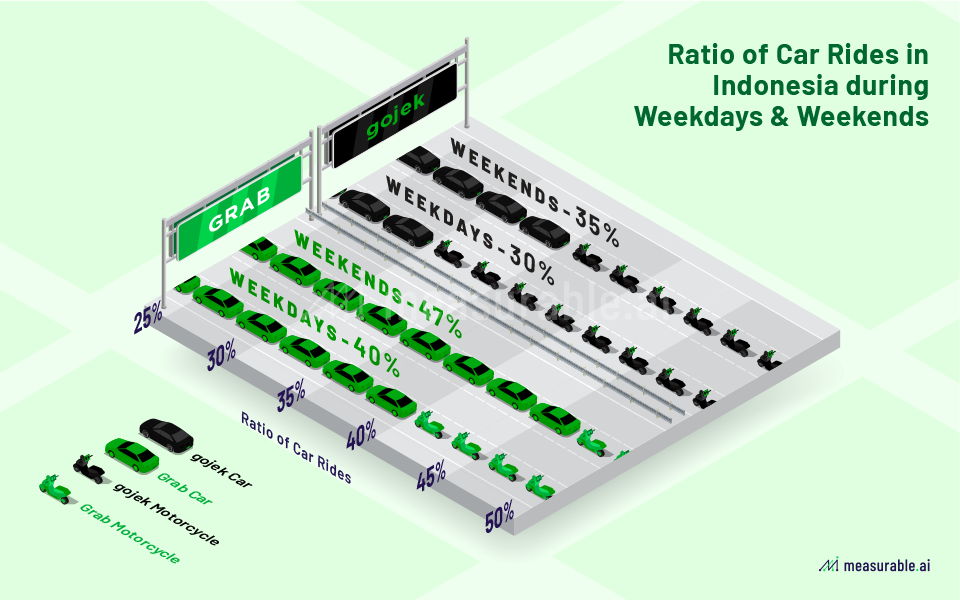 The car section remains to be key revenue stream for both companies. Take Grab as an example, 42% of its orders are from car rides, which contribute to 67% of Grab's overall ride-hailing revenue.
For Gojek, 69% of its ride-hailing orders come from the motorbike section, but over 50% of its revenues still rely on car rides.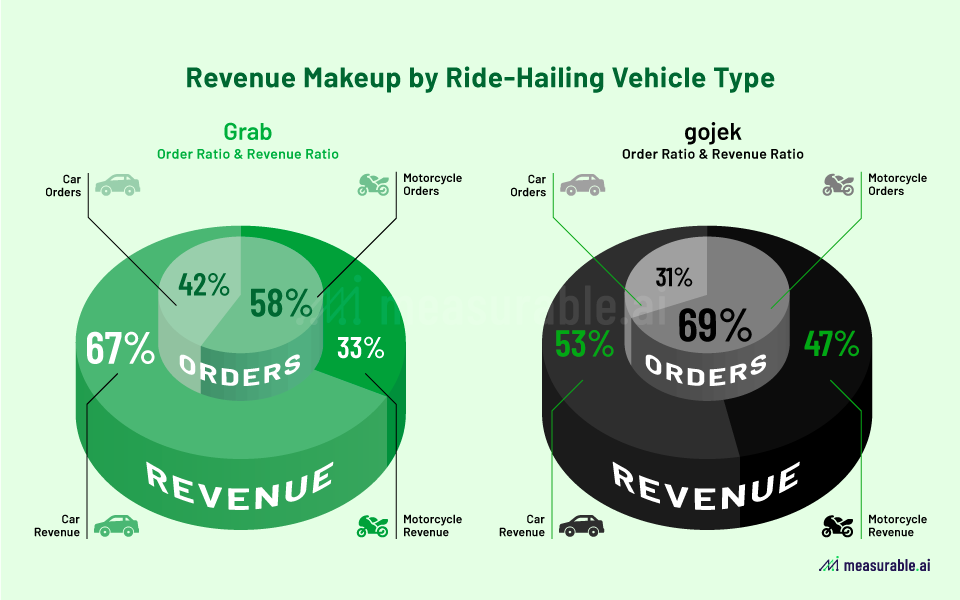 By Charlie Sheng, Jocelyn Yang and Kitty Cheung
Talk to us for more transactional datasets on ride sharing industries in more markets.
ABOUT US
Measurable AI provides actionable consumer insights based on millions of consumers' transactional records for the emerging markets.
Jocelyn Yang is a data analyst with a background in economics and blockchain. She enjoys using Measurable AI's unique transactional e-receipts data to generate consumer insights for the emerging markets.
*The Content is for informational purposes only, you should not construe any such information or other material as investment advice