A Grab Explainer: FoodDelivery, Rideshare, and More
Founded in 2012, Southeast Asia's super app Grab is seeking an IPO through SPAC merger, which reportedly might become the biggest-ever U.S. equity offering by a South-East Asian company. Grab provides essential services including rideshare, food delivery, hotel booking, on-demand delivery, and payment services with its namesake mobile application. It now serves 670 million people across Singapore, Indonesia, Malaysia, Thailand, Philippines, Vietnam, Cambodia and Myanmar.
At Measurable AI, the leading provider of transactional e-receipt data for emerging markets, we take a look at how Grab's revenues fared across its delivery and mobility division in the midst of the pandemic.
A Breakdown of Grab's Revenues Across its Mobility and Delivery Division
Up until Covid-19, the bulk of Grab's revenues were derived from its mobility business. As illustrated in the diagram below, Grab mobility accounted for around 83% of the combined revenues from Grab's mobility and delivery business. However, such ride-hailing services have suffered in the midst of the pandemic and after the launch of GrabFood (2018) and GrabMart (2019), delivery services now account for the bulk of Grab's revenues (56% in 1Q20).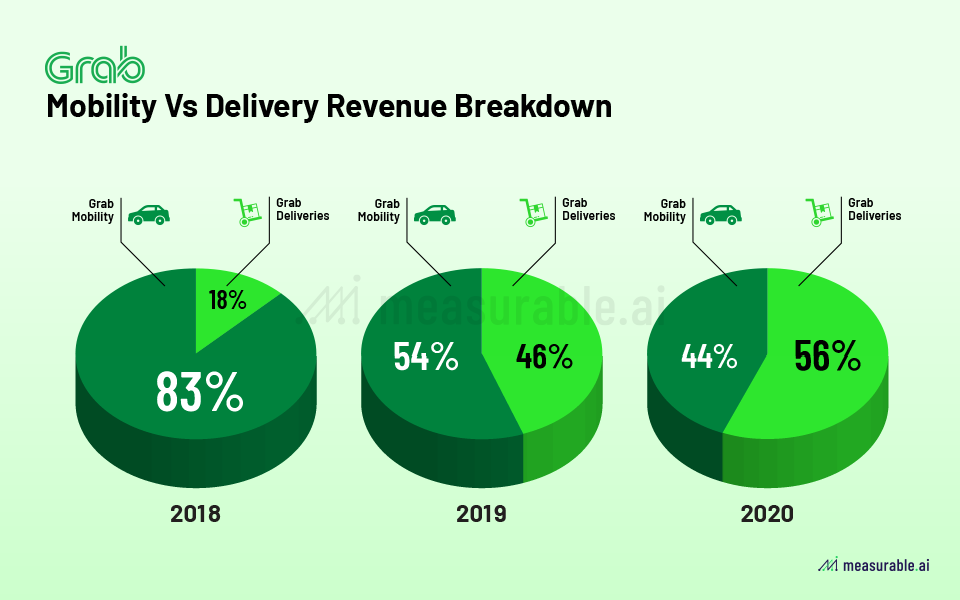 Based on Measurable AI's very own transactional e-receipts data, the YoY growth rate of Grab's delivery business for 2020 exceeded that in 2019 mainly due to the timely launch of GrabMart and the high demand for takeaway food. Apart from Grab's booming delivery business, GrabExpress has also enjoyed rapid growth with revenues increasing more than 90% from 2018 to 2020.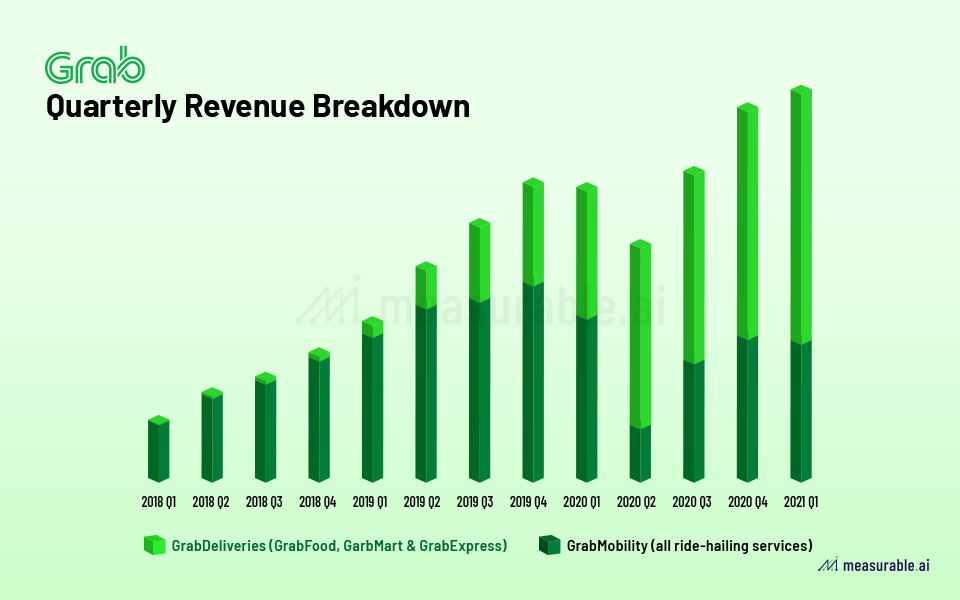 In contrast, Grab mobility has suffered the most during the pandemic and has fallen remarkably from its peak growth period throughout 2018 and 2019. That said, Grab's overall revenues have not been greatly impacted by Covid-19 and have even witnessed an increase of 6% in 2020.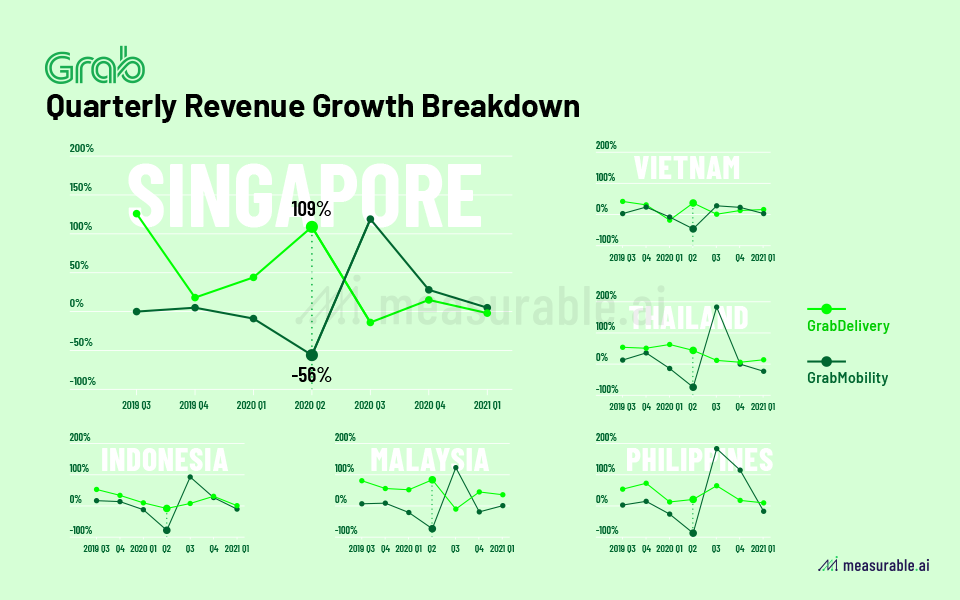 In different markets, Grab's growth performed diversely. During 2020 Q1-Q2, Grab Delivery experienced significant quarterly growth in its headquarter Singapore (109%). Starting from Q3 2020, things are starting to recover for the Mobility division. Specifically, in the Philippines, Mobility revenues kept growing back, and the momentum continued till Q4 last year.
User Behaviour: Order Value and Overlap
As for average order price ('AOV'), the following table illustrates the AOV of Grab across its operations in different countries within the past year. Singapore captures the highest AOV in Southeast Asia, led by GrabExpress (as high as $USD11.2/order). Indonesia, on the other hand, experienced the lowest AOV across all businesses.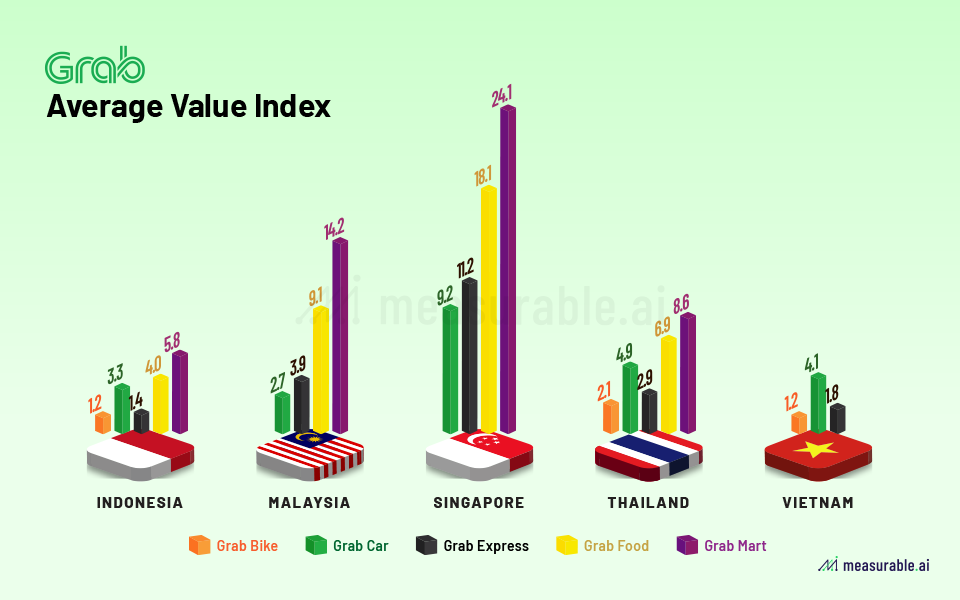 In the past year, with the growth of Grab Delivery division, Gran users' choice among its own ecosystem also changed. In 2019, only 26% Grab ride users also use its delivery services. But in 2020, the overlap grew to around 42%.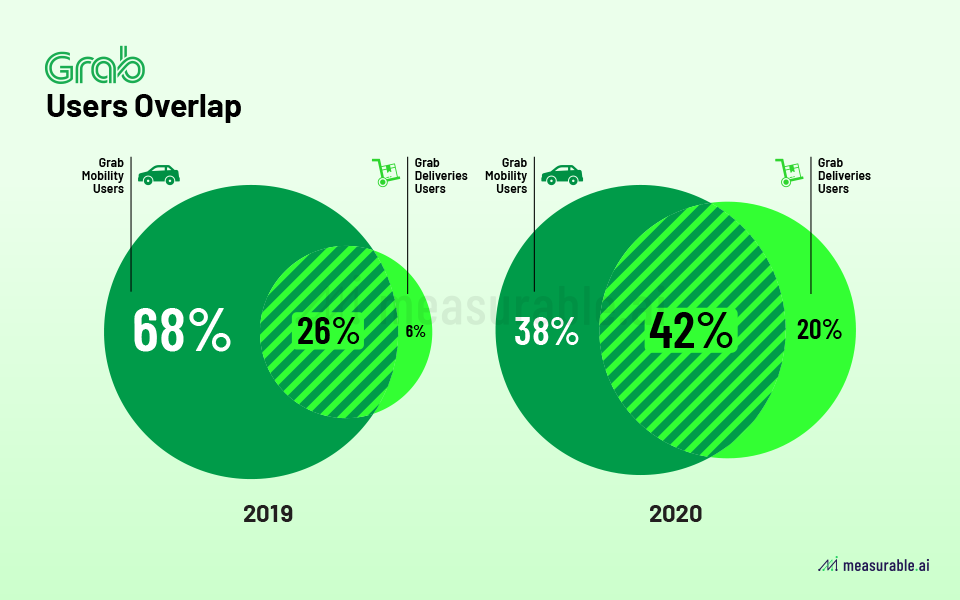 The Popularity of Non-cash Payment Orders
Given the increasing popularity of mobile internet, it is not surprising that the proportion of non-cash payment orders has risen significantly for Grab. Five years ago, less than 10% of Grab's users were utilizing non-cash payment methods.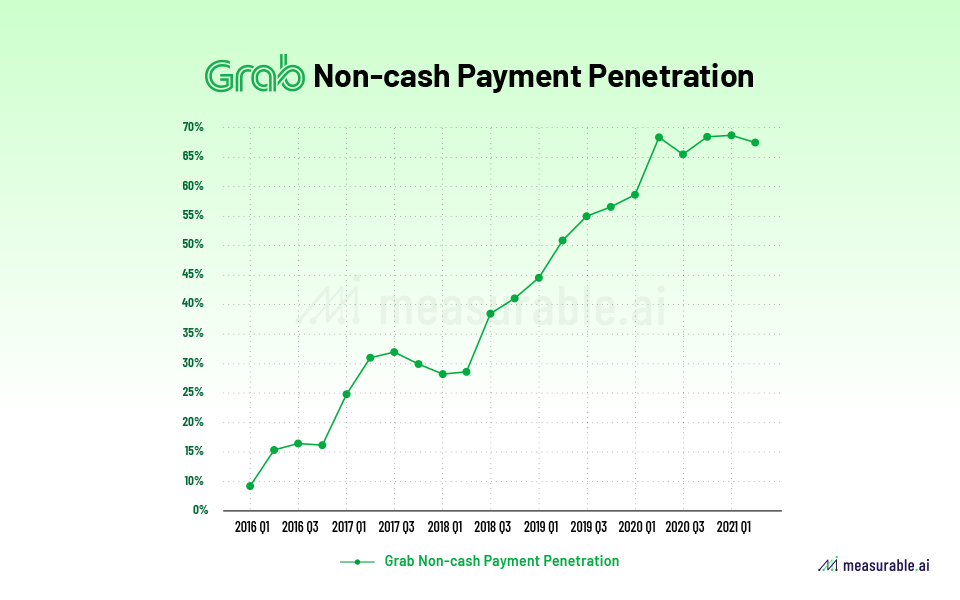 Now it is more than 65% with the lowest penetration country being Thailand, at 58%. Singapore, on the other hand, not only tops the chart for the largest AOV but also for its e-payment penetration rate of 86%.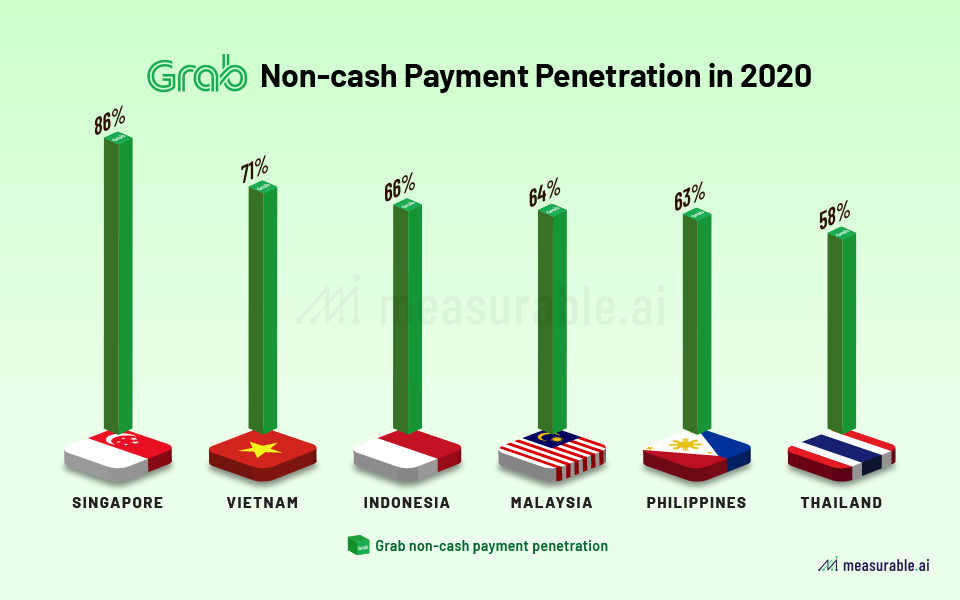 Among all the cashless payments, some emerging players from Southeast Asia cover a huge portion. In Indonesia, OVO Pay ranks as the Top payment method for Grab users. Other than that, Grab Pay tops in almost all the other markets when it comes to paying for Grab bills. In both Philippines and Malaysia, Grab Pay is the No.1 payment method of all; in Singapore and Thailand, Grab Pay is the second-best choice for users after the traditional credit cards. In Vietnam, the most used payment method is Moca Wallet, a local leading mobile payment app, supported in the Grab app.
By Michelle Tang, Jocelyn Yang, Tiger Li, and Kitty Cheung
Talk to us for more transactional datasets on rideshare or food delivery industries in more markets.
ABOUT US
Measurable AI provides actionable consumer insights based on millions of consumers' transactional records for the emerging markets.
*The Content is for informational purposes only, you should not construe any such information or other material as investment advice
Prior written consent is needed for any form of republication, modification, repost, or distribution of the contents. Please contact [email protected]