Tale of Two Guys: Food Delivery Market in Taiwan
Taiwan, the birthplace of bubble milk tea, is one of the fastest growing food delivery markets in Asia. In Taiwan, people created cute nicknames for UberEats and Foodpanda (吳伯毅 and 傅胖達), which sounds just like two guys' names in Chinese.
After Deliveroo quit the market in 2020, the "two guys" remain the biggest players in Taiwan and continue to own almost half of the market share respectively. Recognizing the huge potential in the Taiwan food delivery market, recently though E-commerce giants Shopee from Singapore and Coupang from Korea have decided to enter the game too.
According to Mesurable AI's very own e-receipts transactional data panel, Taiwan's food delivery market volume continues to grow over the past year. Even though Taiwan's pandemic only started in May this year, the volume of total spending for both services in Taiwan reached its all time high since May, and has continued to grow afterwards.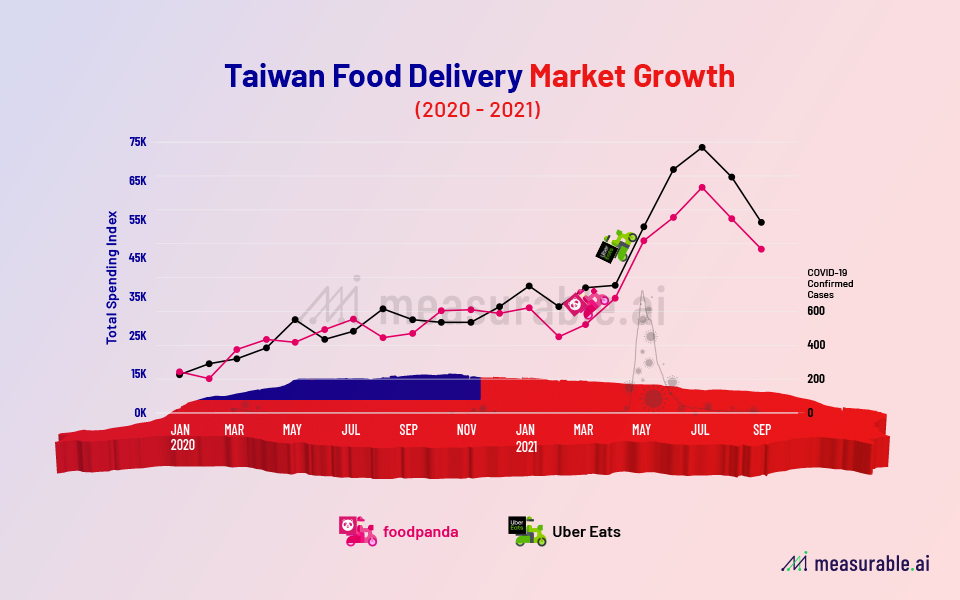 Taking a closer look at Measurable AI's unique dataset, July is the month whereby the total spending of UberEats and Foodpanda in Taiwan reached its peak despite at that time the pandemic situation had already eased. After the peak, we witness a slowdown in growth but the volume still remains much higher than before the pandemic.
Our former report "The Roller Coaster in Food Delivery APAC" reveals that since 2019, UberEats had been leading the race in Taiwan's food delivery market up until 2020, when the "two guys" started to encroach upon the market share.
According to the latest data from Measurable AI, in 2021 UberEats still retains the bigger market share in Taiwan. Our panel reveals that in the last 9 months, UberEats continues to lead with a slight advantage over Foodpanda.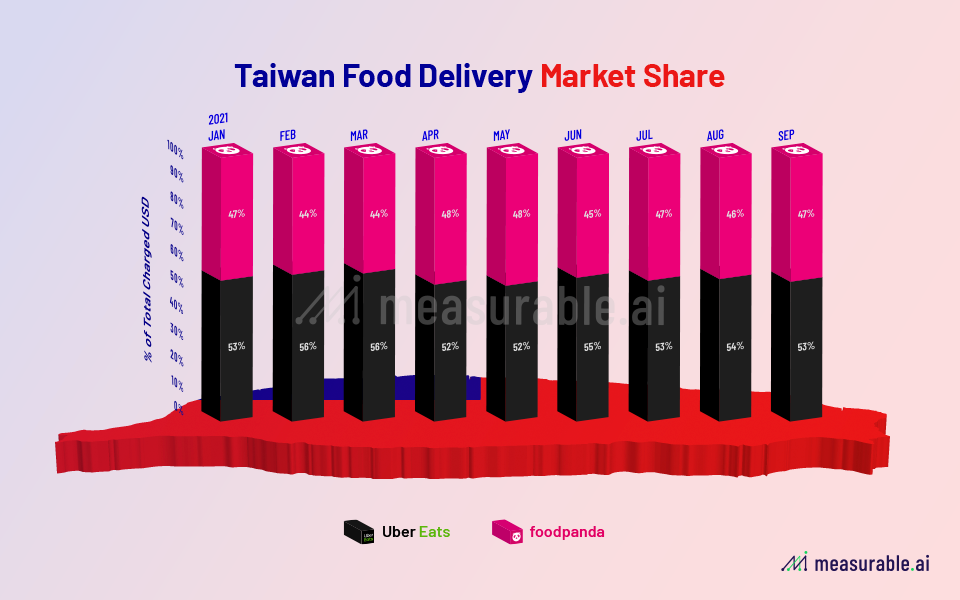 As to how UberEats and Foodpanda look to acquire and retain users, the two have adopted different strategies in Taiwan. With local superstars' endorsement, UberEats launched UberPass which allows users to pay for a monthly fee to cover all delivery fees across the month. Foodpanda also introduced a similar service in other regions; however, its Panda Pro service is not available in Taiwan yet.
So which user base spends more? Looking at Measurable AI's granular e-receipts data points, it shows that UberEats users spend more on each order than those on Foodpanda. During the past pandemic period in Taiwan, UberEats users' average spend was around USD 13 on each order, while Foodpanda users' average order value hovered around USD 9.5.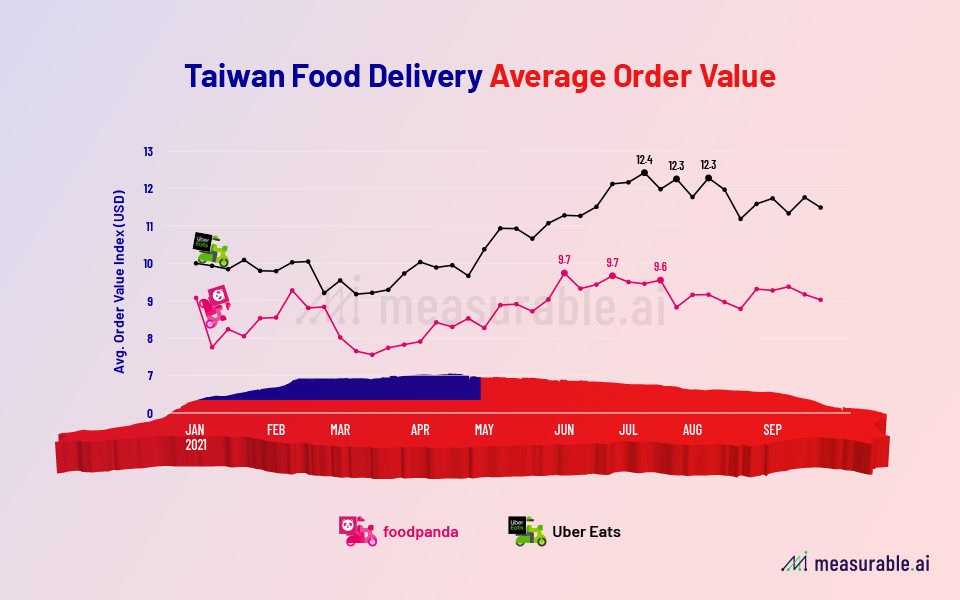 Last time we checked the user overlap between the two companies in Taiwan, around 33% of users will use both services in 2020, however, based on Measurable AI's latest data panel, this number shrinks to around 29%. Users tend to rely on their favourite service now, and currently around 37.9% use Foodpanda only, while 33.2% only on UberEats.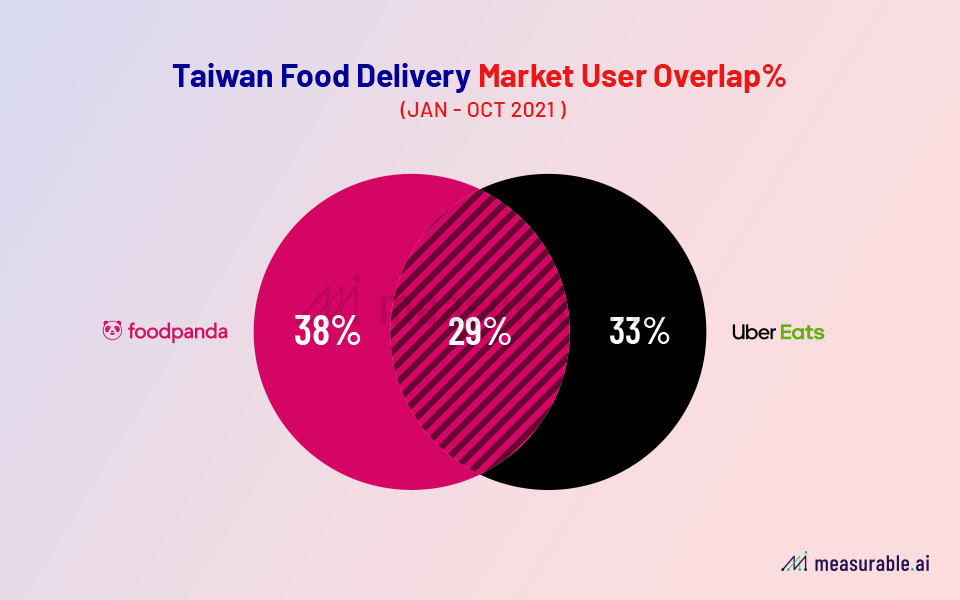 While UberEats and Foodpanda continues to compete with each other in Taiwan, new players are gearing up. Korean's e-commerce giant Coupang already started its food and grocery delivery service in Taiwan's Zhongshan district, promising delivery within 10 minutes. Will Taiwan be its pilot project for overseas expansion or a milestone in Asia?
Follow Measurable AI's insights blog or subscribe to our newsletter to learn more about the food delivery market intelligence based on real-time transactional data.
Previous articles we have authored unveiling insights on the food delivery markets in other regions:
Zomato vs Swiggy – Who Leads the Food Delivery Race in India?
Japan's Untapped Food Delivery Market is Already Crowded: Who's Winning?
Food Delivery Market in Hong Kong: Deliveroo, Foodpanda, UberEats
Interested in finding out more about the food delivery sector? Talk to us for more detailed, transactional datasets on the food delivery industry in more markets.
ABOUT US
Measurable AI generates actionable consumer insights based on its unique e-receipts data panel for emerging markets.
Charlie Sheng is a serial entrepreneur and a dedicated communicator for technology. She enjoys writing stories with Measurable AI's very own e-receipts data. You can reach her at [email protected]
This Content is for informational purposes only, you should not construe any such information or other material as investment advice.
Prior written consent is needed for any form of republication, modification, repost or distribution of the contents. Please contact [email protected]