Japan's Untapped Food Delivery Market is Already Crowded: Who's Winning?
The rapid development of the on-demand food delivery industry has transformed dining all over the world. Even cultures where dining at home is more the norm, they have succumbed to the convenience of ordering online from food delivery apps now. This can be seen even in countries like Japan, which remains one of the largest food delivery markets in the world but yet it still remains grossly underpenetrated relative to the size of the population and the size of the economy.
The competition among food tech giants is now taking place in Japan's market, which was believed to be uneasy to crack for foreign companies. Foreign companies like DoorDash have just made their first foray into the Japanese market this year and we expect more to come.
Let's take a look at our transactional email receipt data panel to see who is really winning the food delivery way in Japan? Introducing all the major players:
Team Japan consists of local tech conglomerates: Demae-Can(Naver), Rakuten Delivery, and Menu (KDDI). The next team are those in the SoftBank Portfolio: success stories from US and China who also made it in other continents: UberEats, Doordash, Didi Food. Finally, we have Team Europe: Foodpanda and Wolt.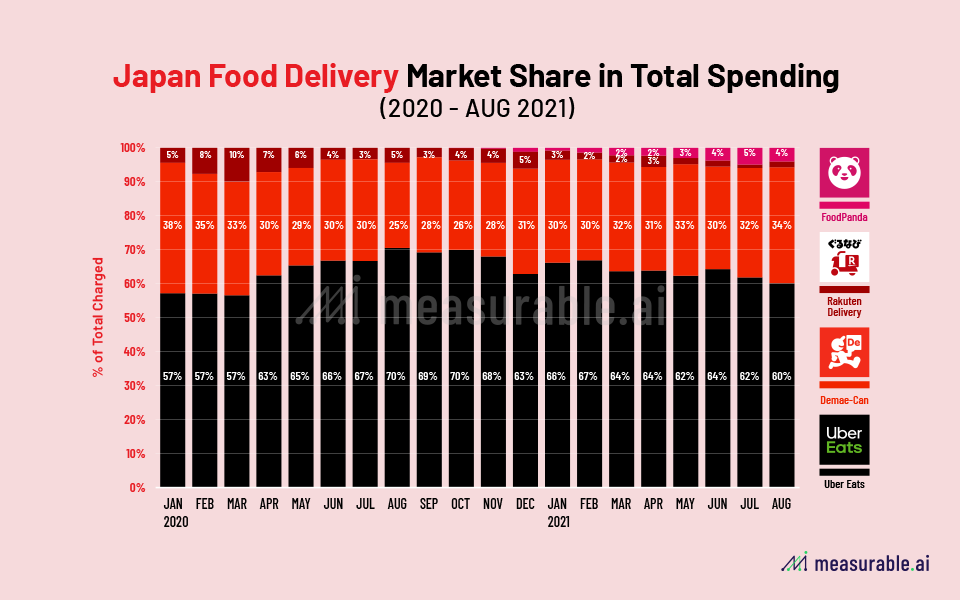 According to Measurable AI's e-receipts data, UberEats and Demae-Can are the two biggest players in Japan's food delivery market. In terms of total spending, UberEats grew from 57% of market share to 66% in Japan's market and continued the momentum this year. As of August, UberEats retained over 60% market share in 2021.
The runner up Demae-Can was originally founded during the dot.com bubble in 1999 and is probably the oldest player in this space. While its share has slightly shrunken since last year, it still remains large enough to compete as UberEat's biggest rival in the Japanese market. Rakuten Delivery owns a much smaller share of the market (under 10% compared to its local competitor).
In Measurable AI's e-receipts data panel, Foodpanda orders started to register since October 2020. The volume of total spending continued to grow since its launch and has been squeezing Rakuten's share in the game.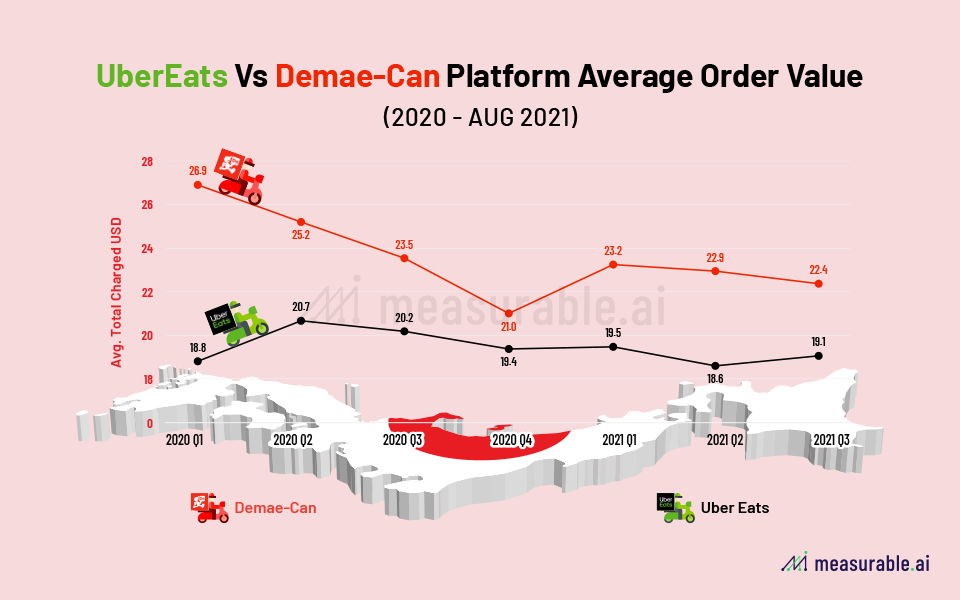 Interestingly enough, Demae-can owns a slightly higher AOV than UberEats at an average of USD 23.6, even though it charges zero delivery fee.
Both Demae-Can and UberEats support a wide variety of payment methods in the app. Besides traditional credit cards, Demae-Can supports more local e-wallets including its own Line Pay, Amazon Pay and other carrier's e-payment wallets. Payment services from local carriers are also on the list albeit with a smaller volume. Users of UberEats, however, rely heavily on credit card payments.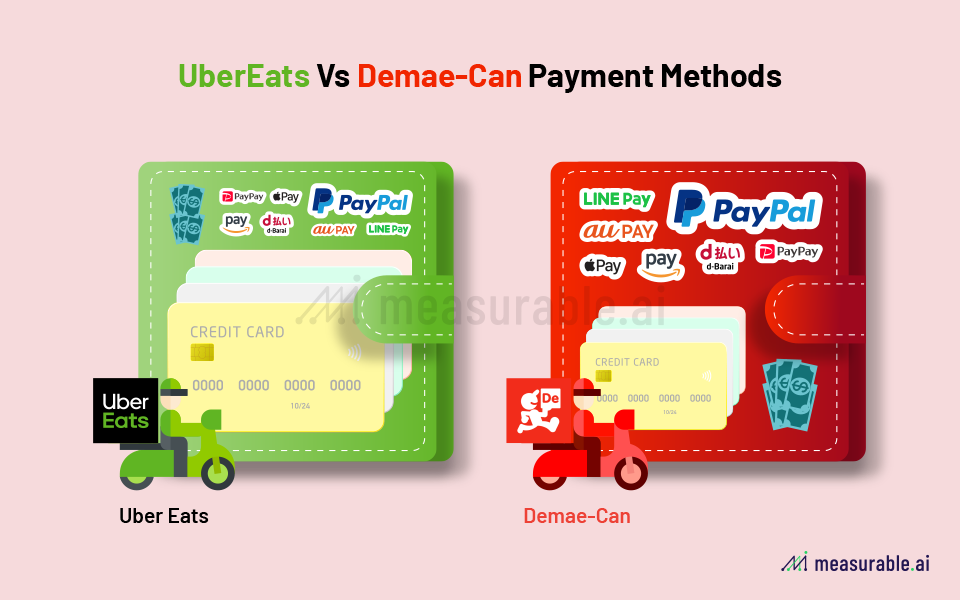 Other than the major players listed here, new local startups are joining the game. Local food tech company Chompy came late in the game recently, but aimed to surpass its foreign rival with free shipping and group orders. Notably, fast food chains' very own delivery apps are still extremely popular in Japan despite the fact that the same food can be ordered from food delivery apps. We'll continue monitoring the food delivery market in Japan in our future posts.
Stay tuned!
Interested in finding out more about the food delivery sector? Talk to us for more detailed, transactional datasets on the food delivery industry in more markets.
ABOUT US
Measurable AI provides actionable consumer insights based on billions of e-receipts data for emerging markets.
Charlie Sheng is a serial entrepreneur and a dedicated communicator for technology. She enjoys writing stories with Measurable AI's very own e-receipts data. You can reach her at [email protected]
This Content is for informational purposes only, you should not construe any such information or other material as investment advice.
Prior written consent is needed for any form of republication, modification, repost or distribution of the contents. Please contact [email protected]