Food Delivery Market in Hong Kong: Deliveroo, Foodpanda, UberEats
The competitive landscape of the food delivery market in Asia has changed a lot in 2021. Previously our reports showed how major food delivery companies in Asia were performing during covid (Read The Roller Coaster Goes On: Food-Delivery Companies in Asia). After a year of pandemic, the battle goes on, and is heating up in one of the most densely populated markets – Hong Kong.
Based on Measurable AI's transactional e-receipts data from January to April 2021, Foodpanda leads with a slight edge in revenue market share in Hong Kong, against its rival Deliveroo, while UberEats still occupies a smaller share at around 5%.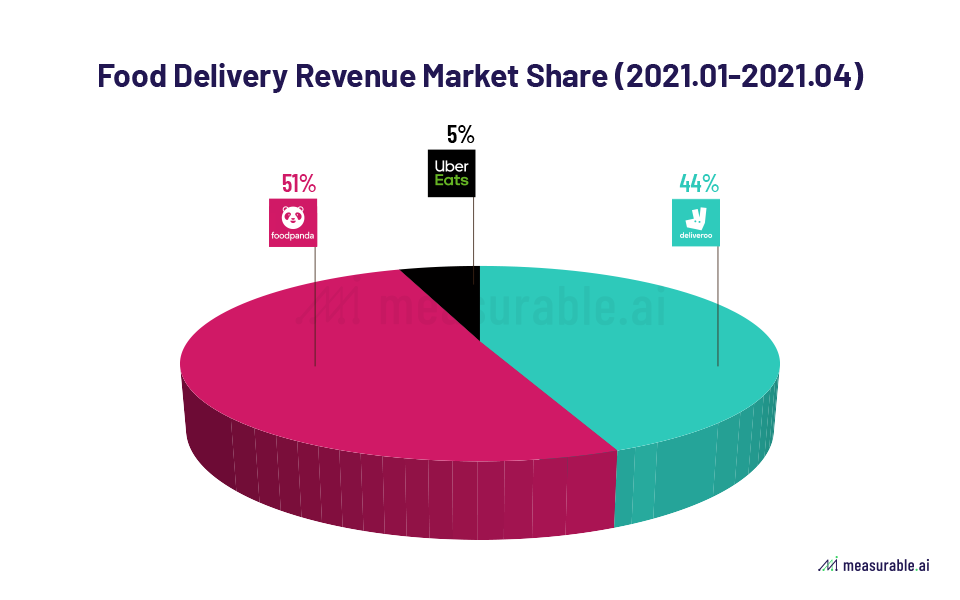 In our previous study, we found out that Deliveroo Plus' VIP users tend to order more frequently with a lower average order amount compared to its non-VIP users.
Foodpanda's paid users, however, behave differently. In late March, Foodpanda also launched its paid membership program Panda Pro with a $HK 65/ month subscription fee. Unlike Deliveroo Plus who offers free deliveries for all orders, Panda Pro only covers 5 free deliveries per month. Thus Foodpanda users on average still pay more on delivery fees. The chart below shows how users react to fees including order price(except for delivery fee) and delivery fee.
Average order price: Deliveroo > Foodpanda > UberEats
Delivery fee: UberEats > Foodpanda > Deliveroo
The chart also shows that Deliveroo in recent months still owns the highest total order value and lowest delivery fee with a relatively medium-sized user group. Even if we weed out the Deliveroo plus users, Deliveroo still charges the lowest delivery fees. In April, the average spend of Deliveroo is around 20% higher than that of Foodpanda.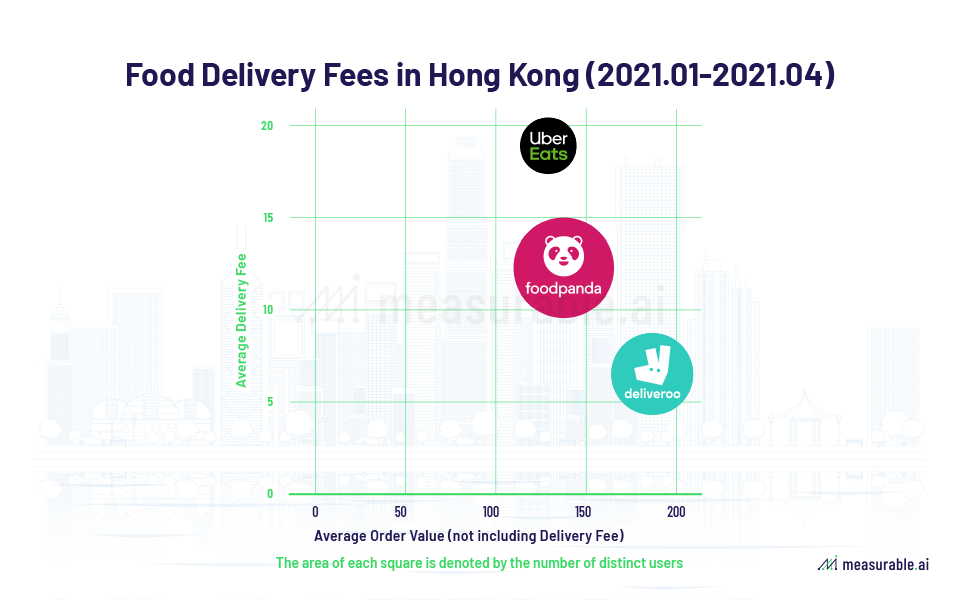 In the past 4 months, the aggregate market size of the food delivery market in Hong Kong didn't grow much. Foodpanda and Deliveroo had an approximate revenue market share of around 47% in both January and March. In the remaining two months, Foodpanda had a slight advantage owing to the monthly revenue decline of Deliveroo.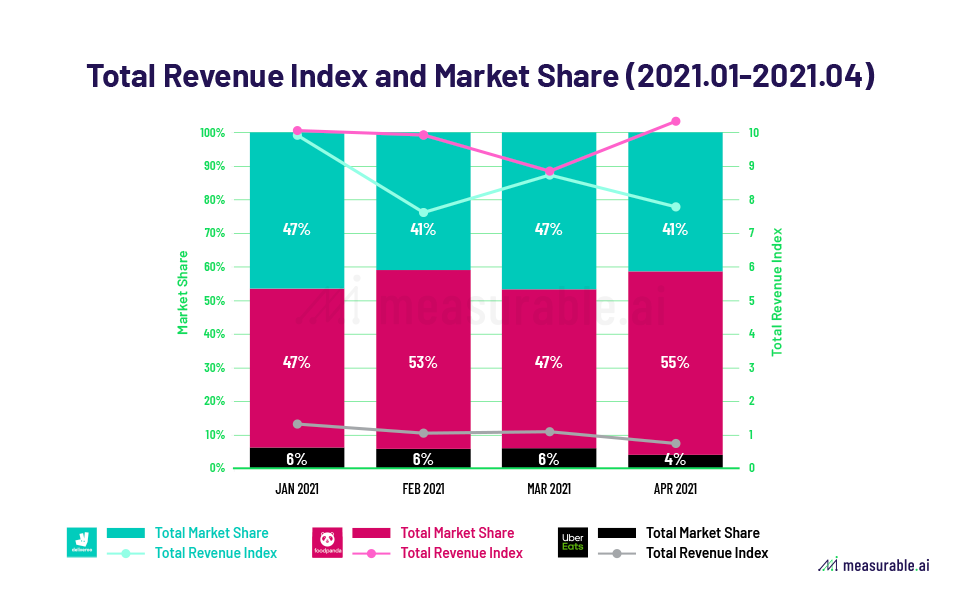 User overlap is an important indicator of user loyalty. According to Measurable AI's e-receipts data in 2021, 43%(+6% compared to 2020 data) of users choose Foodpanda exclusively. Among all Foodpanda users, 32%(-4%) also ordered food through Deliveroo and 12%(-8%) on UberEats.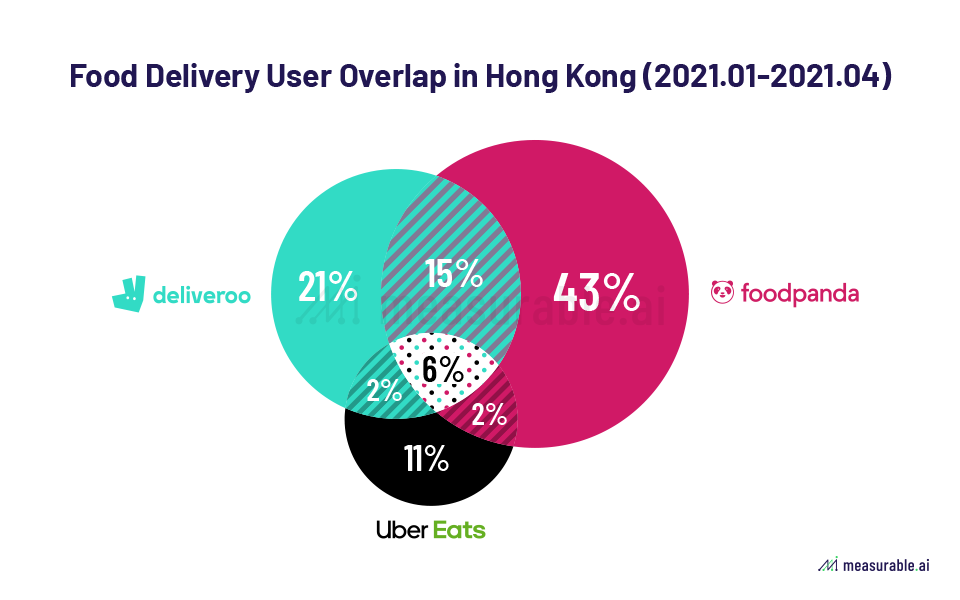 By Charlie Sheng, Jocelyn Yang and Kitty Cheung
Talk to us for more transactional datasets on food delivery industries in more markets.
ABOUT US
Measurable AI provides actionable consumer insights based on millions of consumers' transactional records for the emerging markets.
Jocelyn Yang is a data analyst with a background in economics and blockchain. She enjoys using Measurable AI's unique transactional e-receipts data to generate consumer insights for the emerging markets.
*The Content is for informational purposes only, you should not construe any such information or other material as investment advice
Prior written consent is needed for any form of republication, modification, repost or distribution of the contents. Please contact [email protected]