McDonald's Coffee "Retirement" Report Revealed ☕️ Big Data Analysis of Hongkongers' Fast Food Ordering Habits (Part 1)
In early September, McDonald's Hong Kong announced the retirement of its two legacy coffee products, making way for an upgrade to its premium sub-brand McCafé's coffee. As we bid farewell to these two legacy coffee products that have accompanied loyal Hongkongers for years, it'd be interesting to see what the order volume figures were like from our proprietary e-receipt datasets.
Measurable AI has analyzed a year's worth of McDonald's mobile app orders to reveal the most popular beverages, peak ordering times, and other consumer data insights surrounding this fast food giant. Without further ado, let's dive into the data!
At Measurable AI, we build and own a unique consumer panel and are the largest transactional email receipt data provider for the emerging markets including Southeast Asia, Latin America, Middle East, and Africa. We are well regarded for our comprehensive dataset across the digital economy including food-delivery, ride-hailing, and e-commerce.
Check out Part 2 of our blog: Flavor Meets Data 🍔 Unveiling McDonald's Hong Kong Order Habits
Peak Ordering Time for McDonald's: 8 AM to 9 AM
According to Measurable AI's exclusive consumer panel, McDonald's mobile app orders (McDelivery orders excluded) within breakfast hours (6 AM to 11 AM) accounted for one-third of the total daily orders, with the peak ordering time being from 8 AM to 9 AM.
Looking closer, most people placed orders between 8:20 AM and 8:29 AM, marking the daily peak. We observed a minor peak from 10:50 AM to 10:59 AM. This seems to suggest that many customers rush to grab McDonald's breakfast before the 11 AM cutoff.
The chart below illustrates that the orders for breakfast and lunch are relatively concentrated while dinner orders are distributed between 5:30 PM and 9 PM. Orders between 12 AM and 6 AM are notably the lowest. According to McDonald's official website, within the 252 branches in Hong Kong, 83 of them operate 24 hours.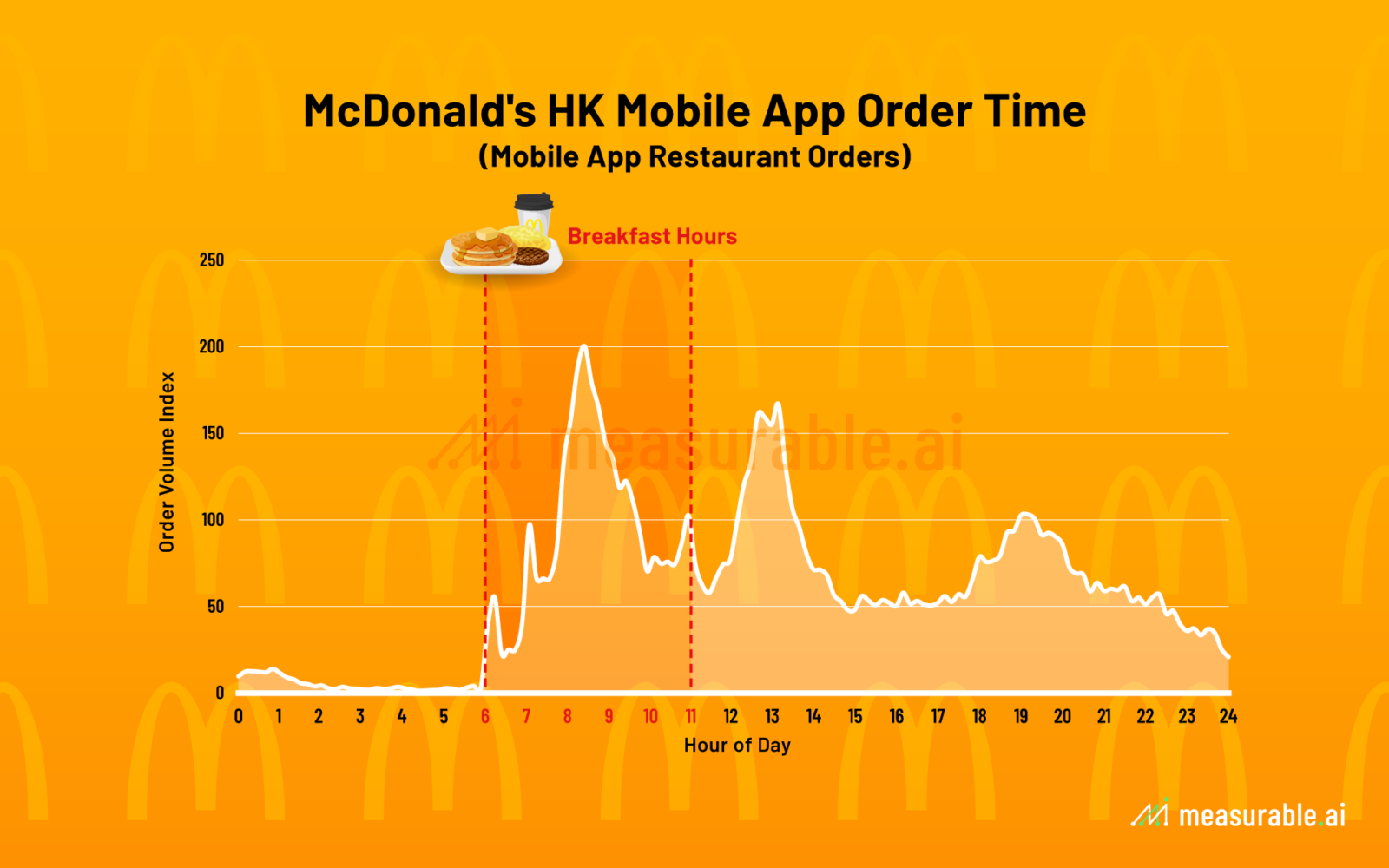 What Do Hongkongers Order to Drink with McDonald's Meals?
After analyzing a year's worth of McDonald's mobile app order data, Measurable AI has compiled the following pie chart of popular beverages. This data not only showcases Hongkongers' beverage preferences when eating fast food but also reflects Hong Kong's diverse dining culture and habits.
Unsurprisingly, soft drinks are the most popular, contributing to about one-third of all McDonald's beverage orders, with Coca-Cola alone making up 13.9% of all beverage orders. It's worth mentioning that Minute Maid Orange Juice, which is also Swire Group's product, accounted for 10% of all beverage orders.
Although McDonald's legacy coffee products are no longer available, Measurable AI's data from the past year shows that it accounted for 19% of all beverage orders, more than four times the volume of McCafé coffee. Within the McDonald's coffee category, "Premium Roast Coffee" and "Ground Coffee" accounted for 54% and 46%, respectively. As for McCafé coffee, the most popular drink was "Latte", making up 33% of all McCafé coffee orders.
Together, McDonald's coffee and McCafé coffee accounted for 23.7% of all beverage orders. According to Measurable AI's data, 85% of coffee orders (both McDonald's and McCafé) were placed during breakfast hours (6 AM to 11 AM), indicating that the majority of coffee drinkers view it as a morning pick-me-up.
As for other beverages, local milk tea accounted for 13.1%, hot chocolate for 9.4%, fresh lemon tea and water for 9.3%. Shakes and McFloat each only make up 1.3% and 0.3%.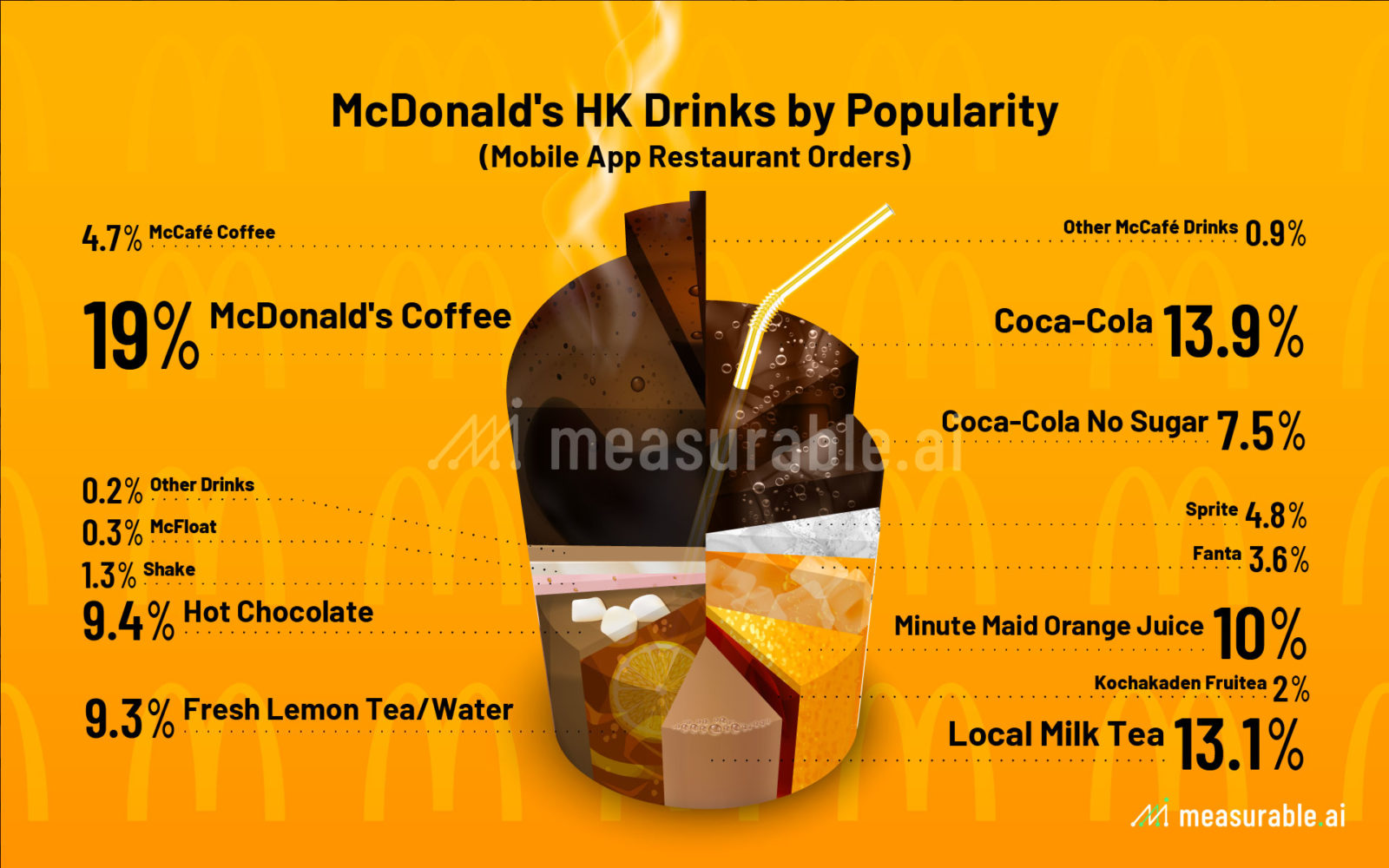 Before and After the Suspension of McDonald's Coffee Supply
McDonald's legacy coffee drinks, which have been with Hongkongers for many years, were officially discontinued on September 4th at 6 PM. Measurable AI analyzed the order volumes of McDonald's coffee and McCafé coffee starting from a week before the announcement.
From August 29th to September 3rd, the order volumes of both McDonald's coffee and McCafé coffee remained relatively stable. On September 4th, after the announcement of the suspension of coffee supply, orders for McDonald's coffee increased slightly; on September 5th, the order volume dropped to zero.
Starting from the morning of September 5th, McCafé coffee took over, and customers could upgrade their meal beverages to McCafé Americano for free or pay extra to switch to White Coffee or Latte. According to Measurable AI's data, from September 5th to 7th, McCafé coffee orders surged three times compared to before, with daily order volumes exceeding the total of all coffee orders before the discontinuation, indicating that many customers are interested in the new McCafé coffee options.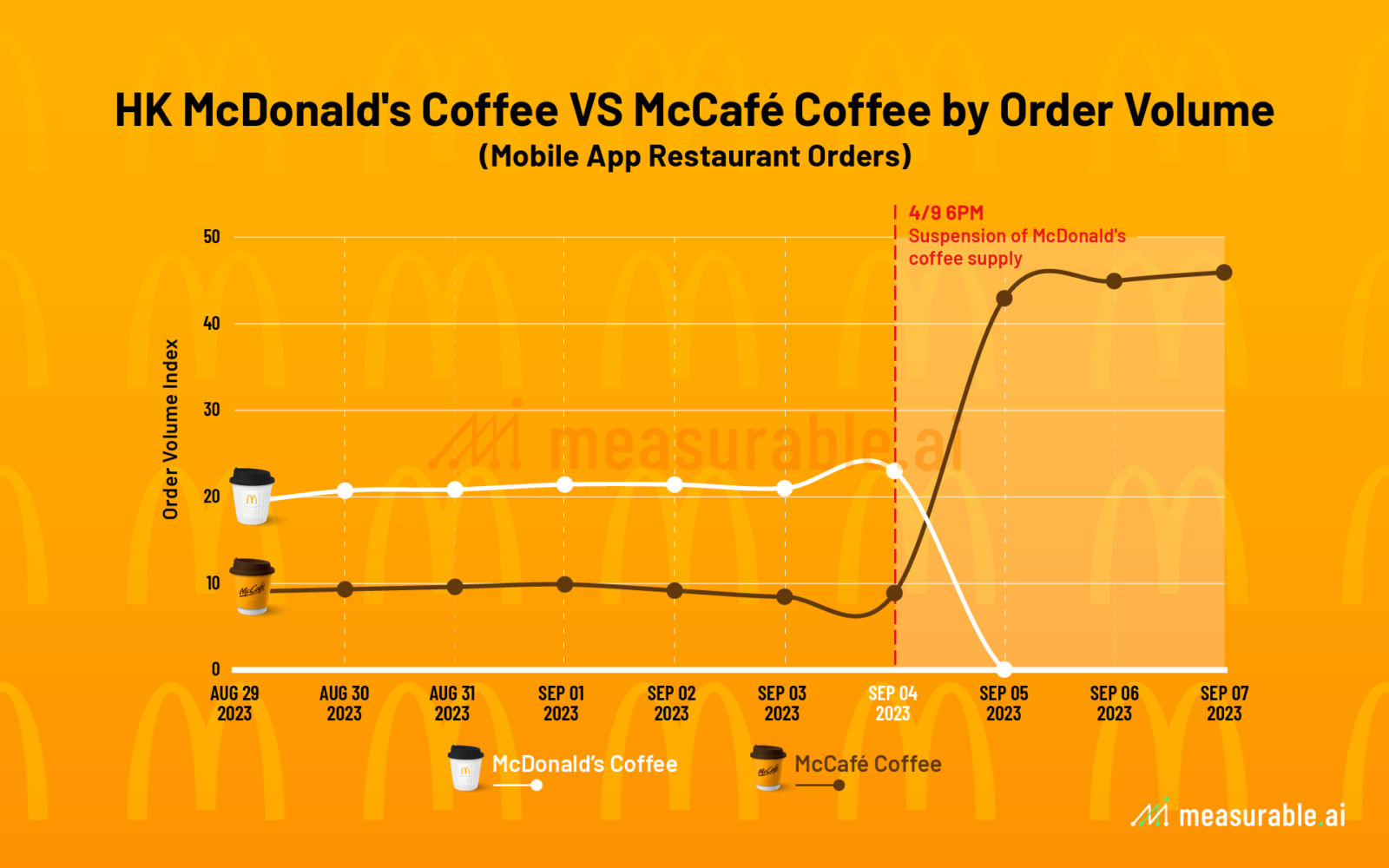 Stay tuned for Part 2 of our McDonald's data insight blog to find out what happens next.
Follow our insights blog and newsletter to keep up with this heated competition. Or if you are a hedge fund, corporation or in research and looking for the most up-to-date transactional data insights at [email protected].
About Measurable AI
At Measurable AI, we build and own a unique email receipt consumer panel and have become the largest transactional email receipt data provider for the emerging markets. We are well regarded for the granular insights that can be extracted from our comprehensive datasets across the digital economy, including e-commerce, food delivery, ride-hailing and fintech.
Check out our latest Reports: 2019-2022 Food Delivery Annual Report for Asia, Asia & Americas Ride-hailing Report 2019-2023.
*The Content is for informational purposes only, you should not construe any such information or other material as investment advice. Prior written consent is needed for any form of republication, modification, repost or distribution of the contents.
More data insight blogs:
Introducing Measurable AI's Big Mac Food Delivery Index
Meituan's Food Delivery Debut in Hong Kong: Keeta vs Deliveroo vs Foodpanda
All Eyes on Burgers in Hong Kong | Data Insights
Hong Kong's Noodle Rhapsody: Food Delivery Insights on TamJai and SamGor