All Eyes on Burgers in Hong Kong
Shake Shack, Five Guys, McDonald's and More. Which Burger Joint Received the Most Delivery Orders in Hong Kong for 2H22?
When it comes to burger deliveries in Hong Kong, how does Danny Meyer's Shake Shack stack up in Hong Kong against the other burger joints?
We take a fun dive into Measurable AI's granular email receipt dataset for Foodpanda and Deliveroo orders in Hong Kong for 2H22 (July – Dec 22). From that we deduced which are the most popular burger joints in Hong Kong. We then took a look at the average amount spent and the amount actually charged (after promotional discounts) across the most popular burger chains.
The Burger Ranking for Hong Kong
At first glance, McDonald remains the most popular burger joint amongst both food delivery aggregators in 2H22.
In fact, ~83% of burger delivery orders from Foodpanda originate from McDonalds. Runners up was Shake Shack (6%), then Five Guys (3%), Kabo (2%) and Hong Kong Burger (1%) .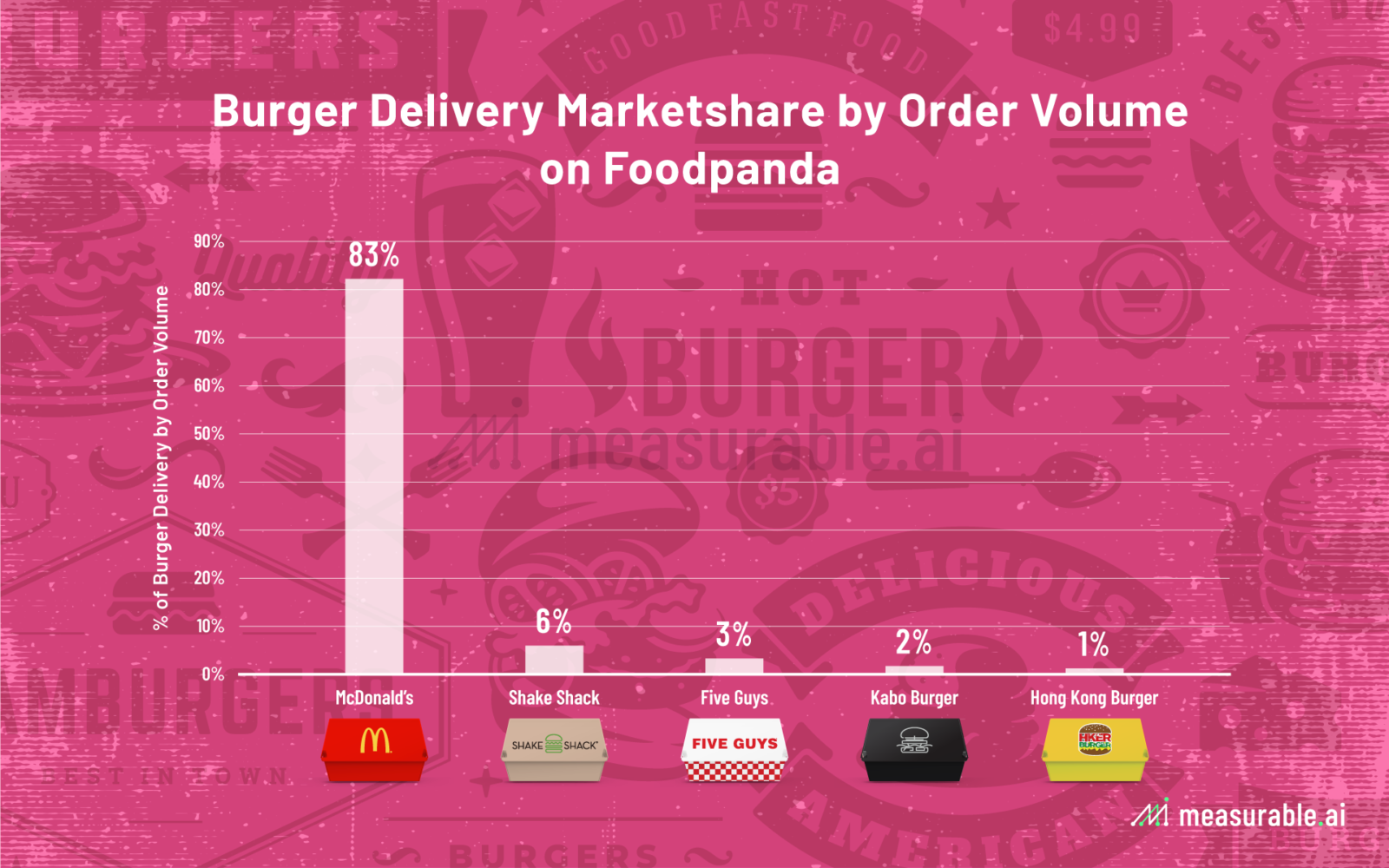 For Deliveroo, Mcdonalds accounted for 50% of all burger orders. This was then followed by Mos burger (29%), Shake Shack (11%), Kabo burger (5%) and then Beef and Liberty (1%).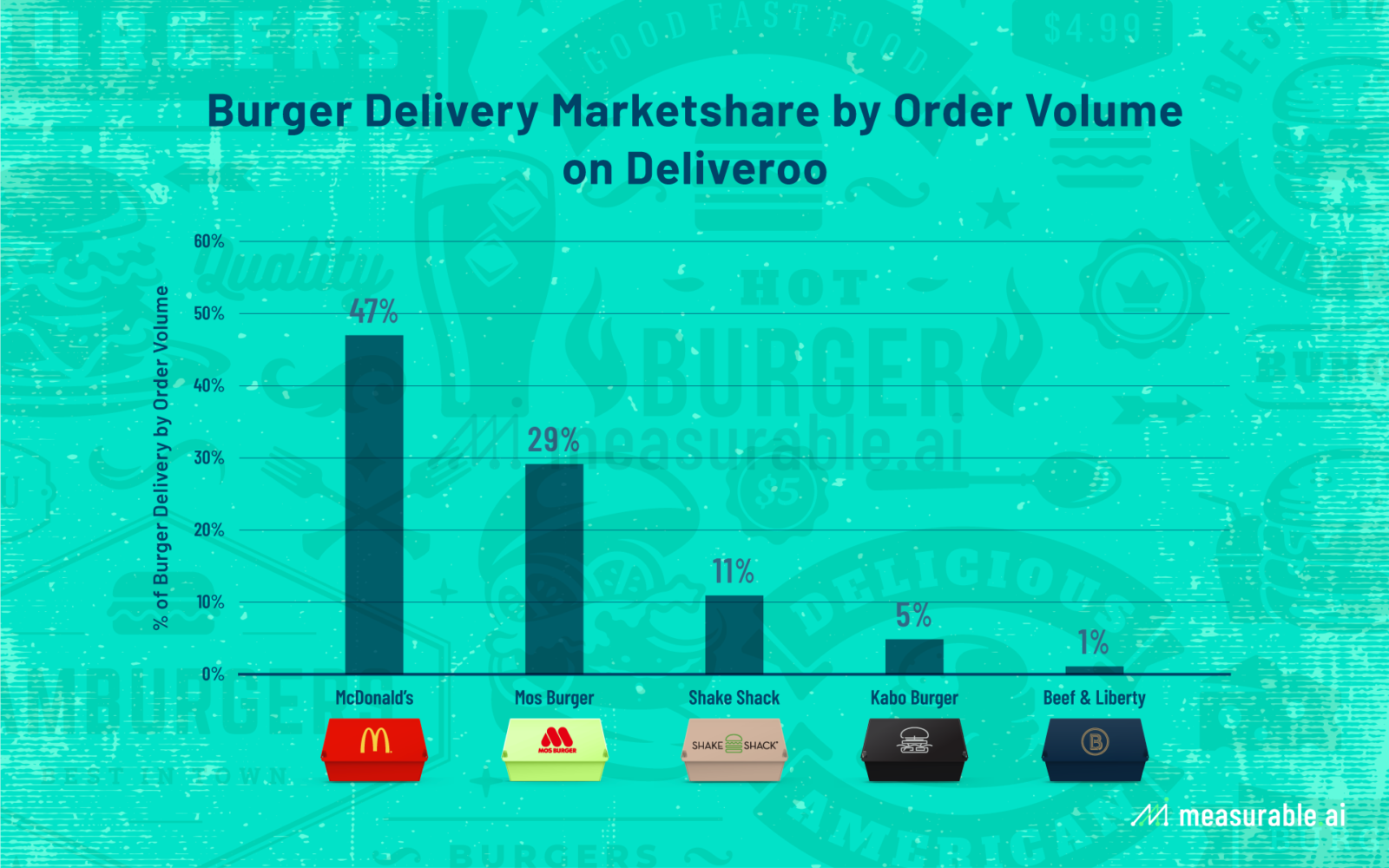 Average Spend Per Order Across the Major Burger Joints
For McDonald's (excluding McCafe), the average spend per total order (top line) is ~125 HKD per receipt on Foodpanda. After promotional discounts, this amount averages to ~119 HKD per receipt. On Deliveroo, the average price per order is ~114 HKD, and after discounts, it is ~108 HKD.
For Shake Shack Foodpanda orders, this number is closer to 203 HKD per receipt, with total charge after discounts being ~171 HKD. For Shake Shack orders on Deliveroo, this total price per order is ~178 HKD, and ~174 HKD after discounts.
As for Five Guys (which only delivers on Foodpanda), the average spend per order is ~197 HKD while the average total charged (after discounts) is ~181 HKD.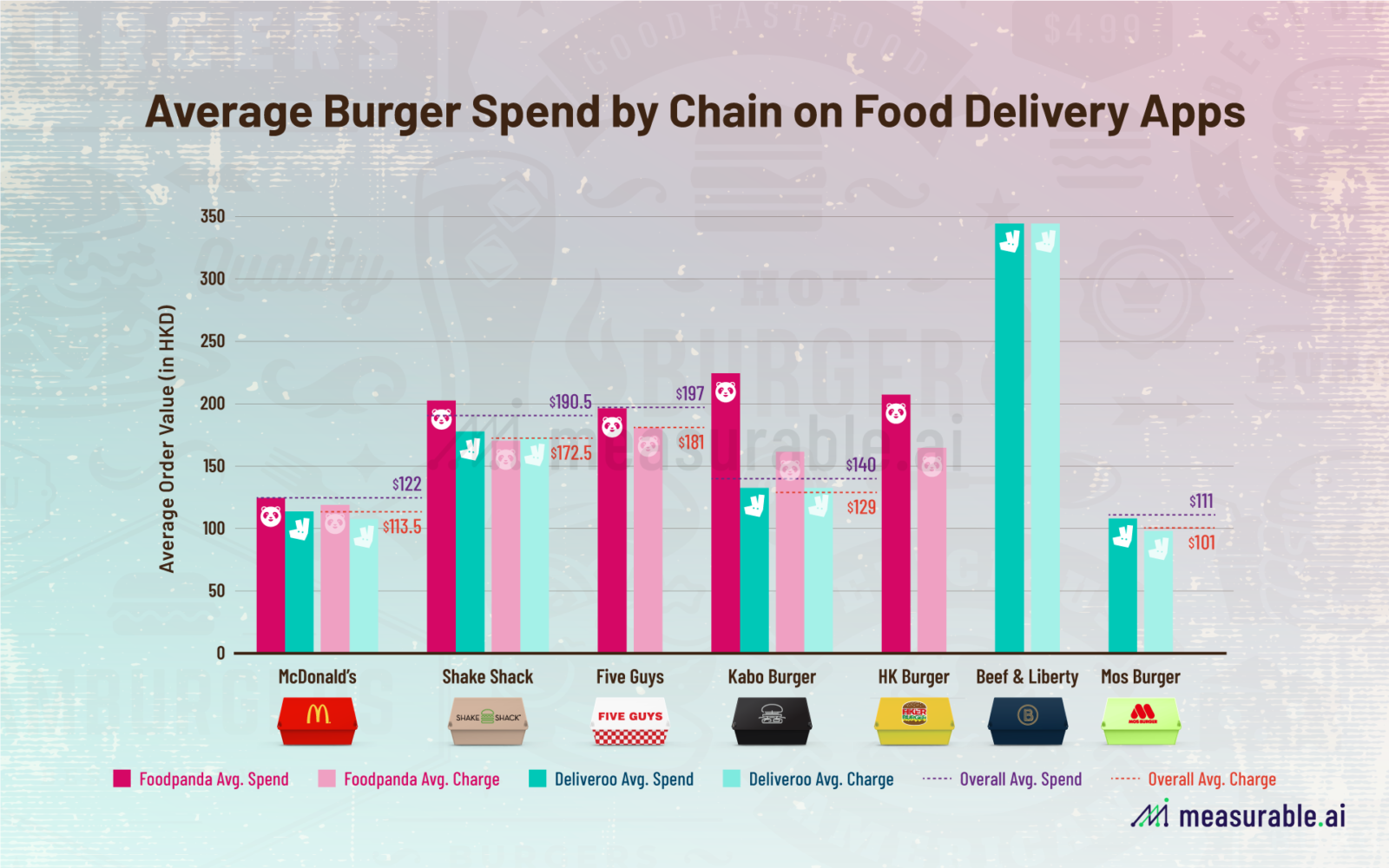 Taking out Beef and Liberty which is more on the premium side – and therefore more 'premium pricing' – for gourmet burgers, averaging the spend across both delivery aggregators, the highest AOV per 'fast food' type of burger delivery orders belongs to Five Guys, followed by Shake Shack and then local player Kabo.
Shaking it Down with Shack's Numbers
As an avid Shake Shack lover, I was curious to take a deeper dive into the datasets to see what insights I could unearth about my most loved fast food burger joint.
Which Outlet is the Most Popular for Shake Shack Delivery Orders?
From our Deliveroo 2H22 dataset, for those e-receipts with location data captured, most delivery orders originated from the cloud kitchen location in East Pavillion (Quarry Bay), accounting for 25% of total Shake Shack delivery orders on Deliveroo. Next in line for the 'busiest' delivery orders from Deliveroo was the Citygate Outlet Shake Shack (15% of total delivery orders. This was then followed closely by the Ocean Terminal Shake Shack (13% of total orders).
The locations which received the highest value per order were the Shake Shack in Elements (276 HKD / $35.5), Ocean Terminal in Tsim Sha Tsui (202 HKD / $26), then Citygate Outlets in Tung Chung (176 HKD / $22.7). The Quarry Bay East Pavillion cloud kitchen store, averaged at around 143 HKD ($18.45) per transaction.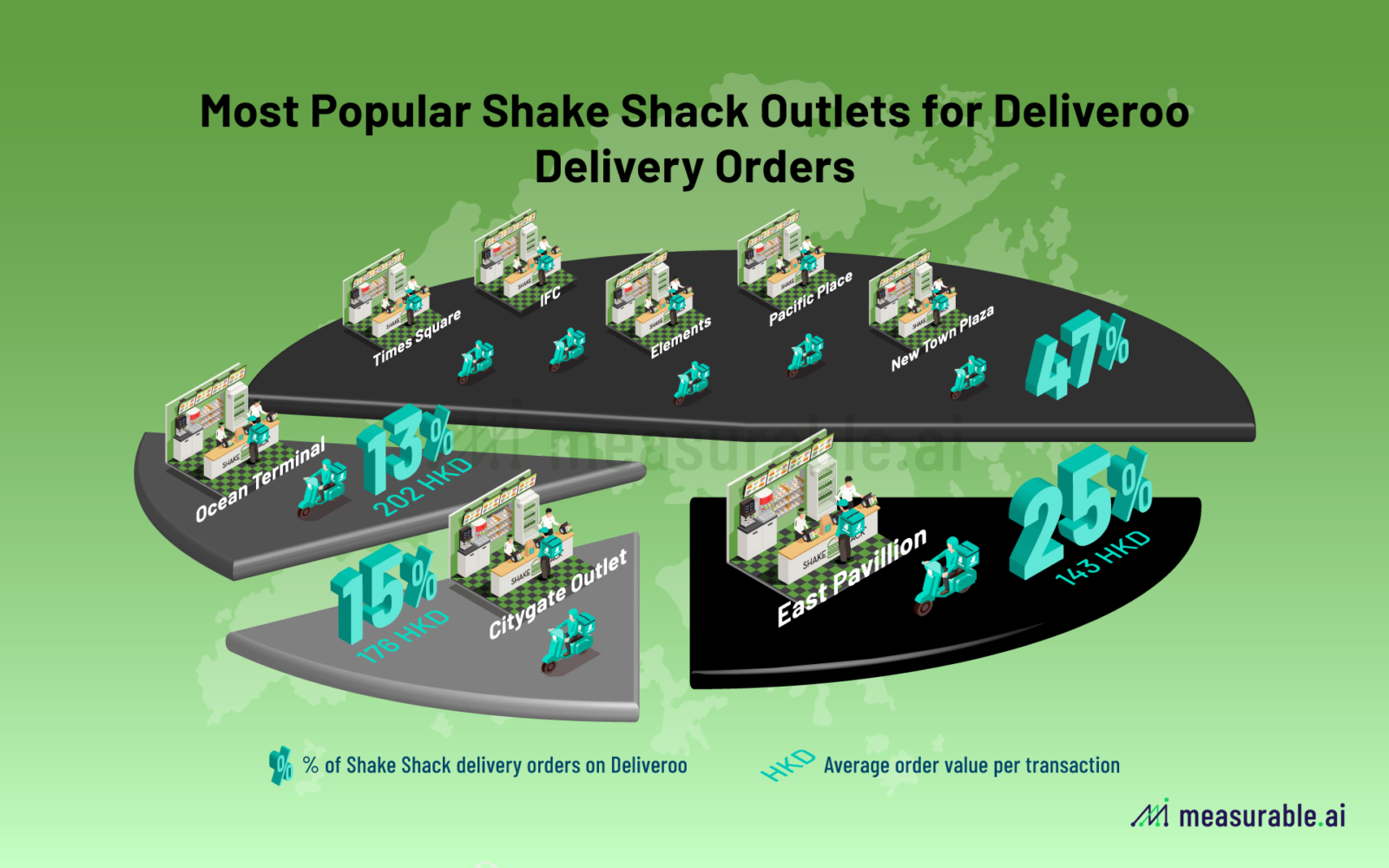 What About Delivery Fees?
Looking at our Deliveroo 2H22 dataset, 24.35% of Shake Shack delivery orders incurred a delivery fee with an average delivery charge of around 18.3 HKD / $2.36. For Foodpanda 2H22, 19.45% of Shake Shack orders incurred a delivery fee that averaged at around 25.5 HKD / $3.29.
What Type of Delivery Orders are Most Popular from Shake Shack?
Is it the ShackBurger, SmokeShack, Chicken Bites or the Custards? Combo or single meals? Again, we dig into our dataset to unearth what most Shake Shack fans love to order for delivery.
From our Deliveroo 2H22 dataset, roughly 33% of people opted for combo meals, averaging ~204 HKD / $26.30 a meal. Of those who ordered the combo meals, ~65% ordered a combo meal for one ('Shack for 1") at an average spend of ~ 179 HKD / $23, with the remaining ordering a "Shack for 2" with an average spend of ~ 256 HKD / $33.
Meanwhile, taking a look at Foodpanda 2H22 dataset, combo meals accounted for ~42% of the total Shack order. Roughly 74% of those combo orders were a "Shack for 1" with an average spend of ~ 124 HKD / $16 and the remaining 26% of combo orders were a "Shack for 2" with an average spend of ~ 241 HKD / $31.
The Shackburger was by far the most featured item ordered across both platforms with 45% of orders in 2H22 from Foodpanda featuring the "Shackburger" and 29% on Deliveroo. On both platforms, very few people ordered delivery for the more 'luxurious' type of burgers like the Black Truffle Burger. From our Foodpanda e-receipt dataset, the Black Truffle burger orders accounted for roughly 10% of total Shack orders and on Deliveroo, only a mere 2% of total Shake orders.
We can thus surmise from our delivery datasets that during 2H22, people who were together or with a friend were more likely to be users of Deliveroo while those rocking it solo or by themselves more often were more inclined to be Foodpanda users.
Interested to understand more about the burger delivery landscape? Feel free to reach out to us for insights.
About Measurable AI
At Measurable AI, we build and own a unique consumer panel and are the largest transactional email receipt data provider for the emerging markets. We are well regarded for our comprehensive alternative dataset across the digital economy. Check our Latest 2019-2022 Food Delivery Annual Report.
Michelle Tang loves finding answers and storytelling with data. If you would like to dive deeper into our burger statistics or other fast food related sort of delivery data, you can reach her at [email protected].
*The Content is for informational purposes only, you should not construe any such information or other material as investment advice. Prior written consent is needed for any form of republication, modification, repost or distribution of the contents.