UberEats vs Foodpanda: Who's winning Taiwan food delivery market 2023
Bringing you the latest from Taiwan's online food delivery landscape: UberEats(NYSE: UBER) and Foodpanda (DHER.DE) have been dominating the market as a duopoly since 2020. In our latest analysis, we delve deeper with user behavior data to further explore the ongoing competition.
At Measurable AI, we build and own a unique consumer panel and are the largest transactional email receipt data provider for the emerging markets including Southeast Asia, Latin America, Middle East, and Africa. We are well regarded for our comprehensive dataset across the digital economy including food-delivery, ride-hailing, and e-commerce.
Taiwan Food Delivery Market Share: Foodpanda is leading in 2023
Foodpanda currently holds a slight edge over UberEats in market share by order volume in Taiwan. Our exclusive data up till August 2023 unveils this long-standing rivalry between the two food delivery giants. A historical analysis (read our previous feature tracing their competition since 2020) indicates that UberEats once led the race, but the tides have turned in the recent year.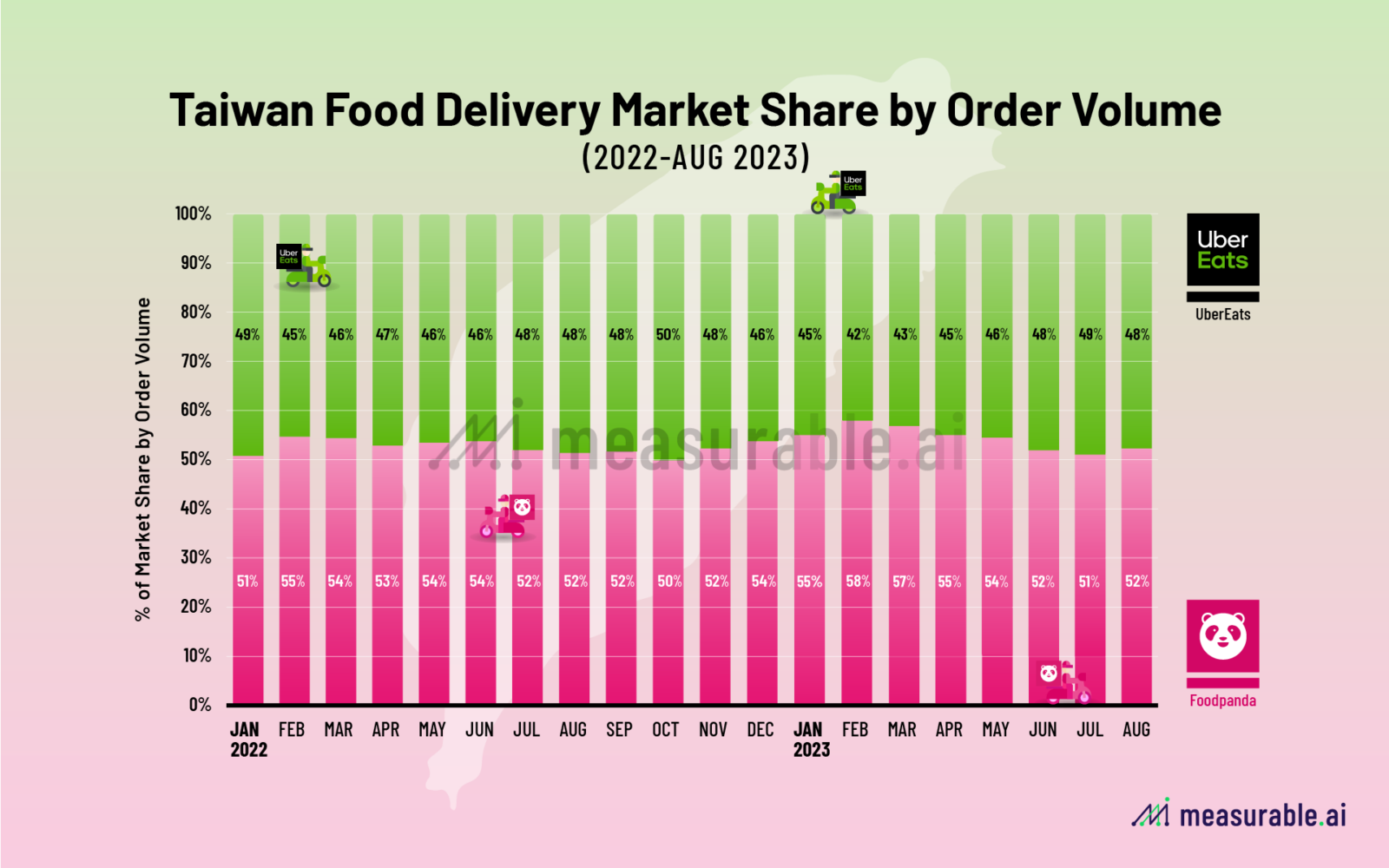 Based on Measurable AI's data, in terms of average order value and spending per user, Foodpanda slightly outpaces UberEats in the first three quarters of 2023.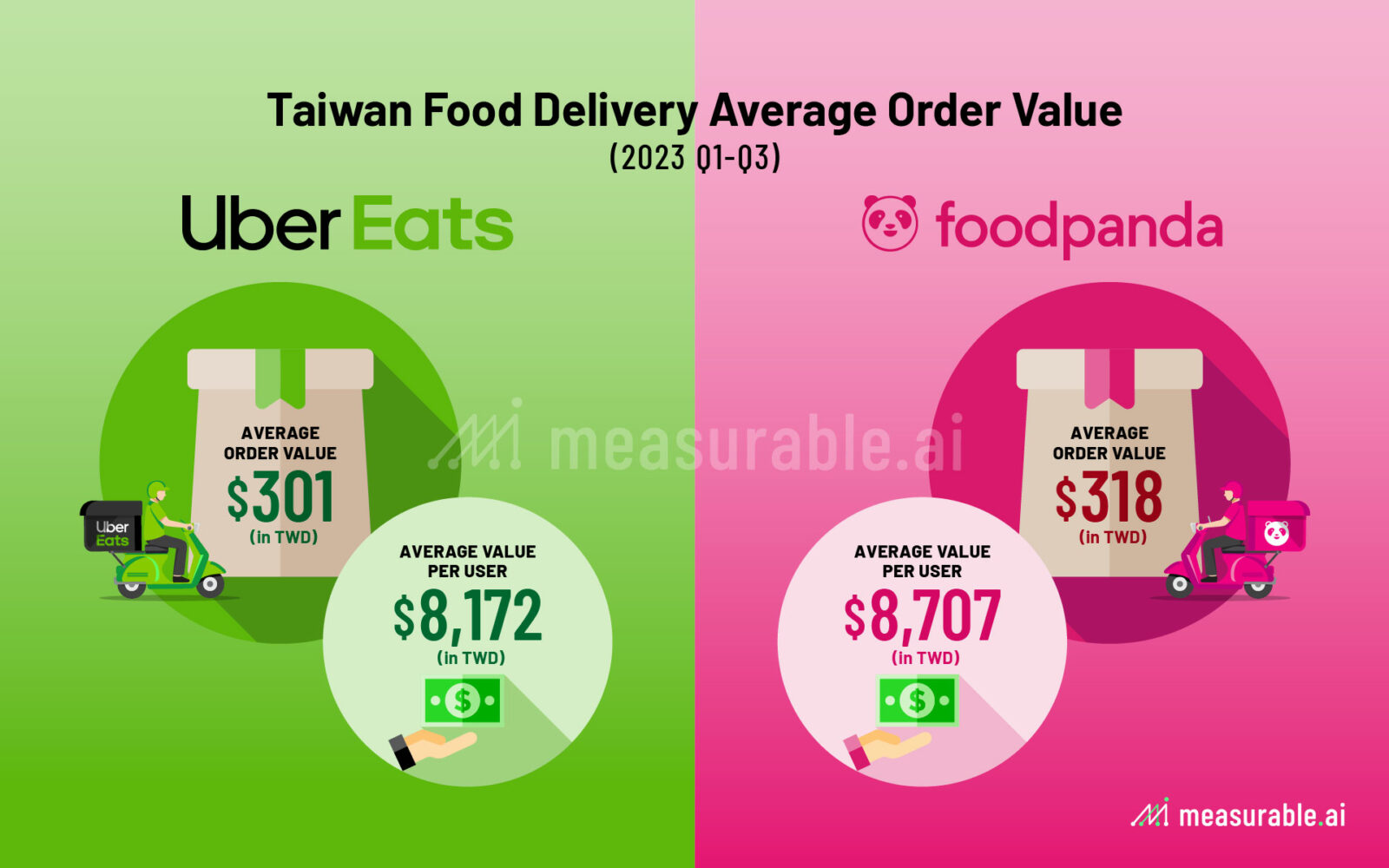 Apart from the higher level market trends, Measurable AI's granular data also unveils the intriguing details of consumer behavior between users from UberEats and Foodpanda in Taiwan. As illustrated in the following graph, UberEats tends to attract a more international audience, whereas Foodpanda primarily caters to a local clientele.
Demographics: UberEats' Global Appeal vs Foodpanda's Local Strength in Taiwan
On UberEats Taiwan, consumers use multiple languages. Based on Measurable AI's data from since January to September 2023: Traditional Chinese, Taiwan's official language, dominates with 58% of the orders. There's also significant representation from English (15%), and simplified Chinese (widely used in mainland China) at 15%. Korean and Spanish come in at around 4% and 3 % respectively. Other languages include Japanese (2%), and sprinklings of French, Vietnamese, Thai, and Portuguese.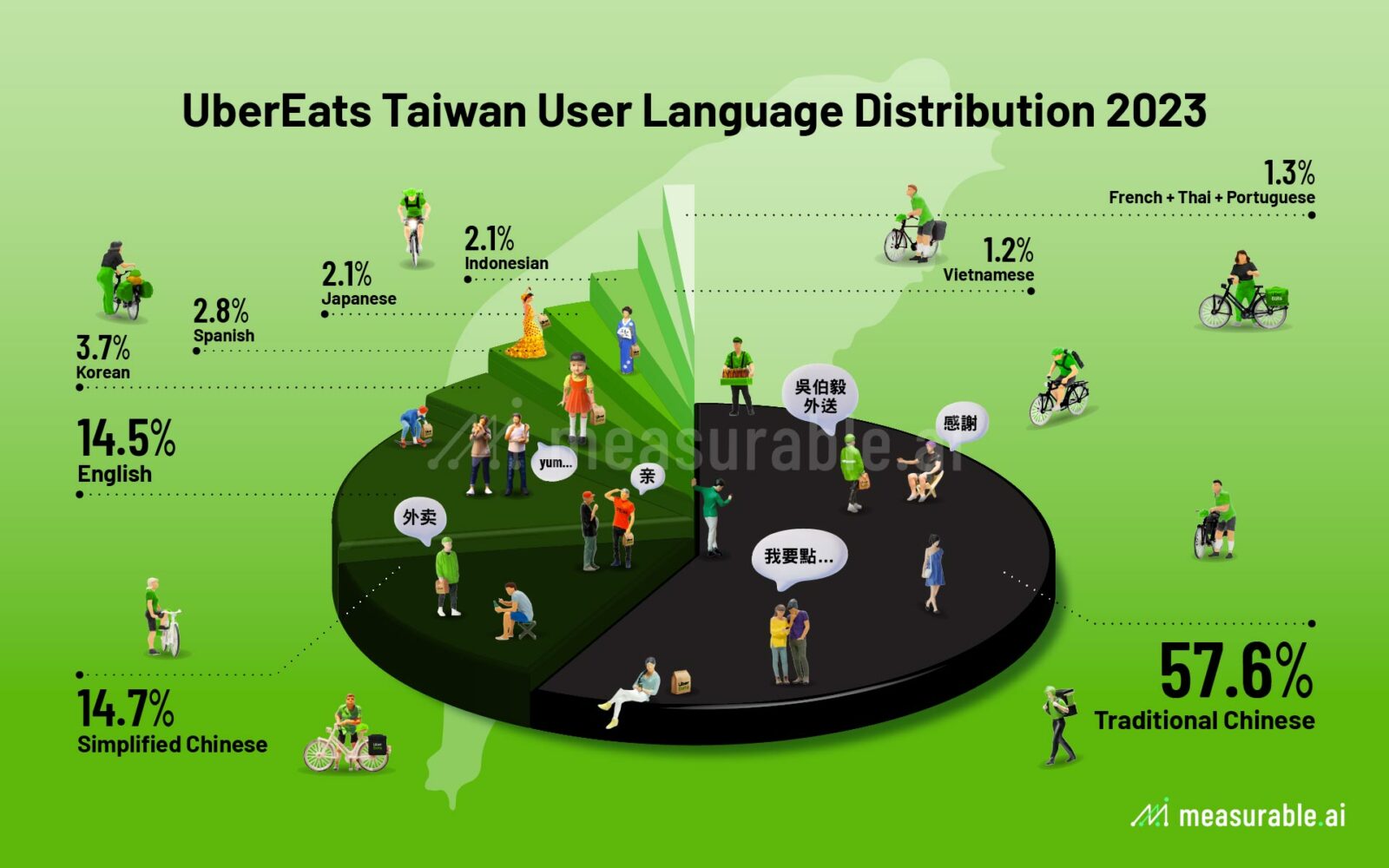 Given Taiwan's immigration ministry data that shows foreign residents as of April 2023 make up around 3.48% of the country's demographic. It's evident that a substantial part of the population communicates in traditional Chinese. Yet, our data reveals that a significant portion of foreign language orders on UberEats Taiwan, which could come from both travellers and foreigners residing in Taiwan.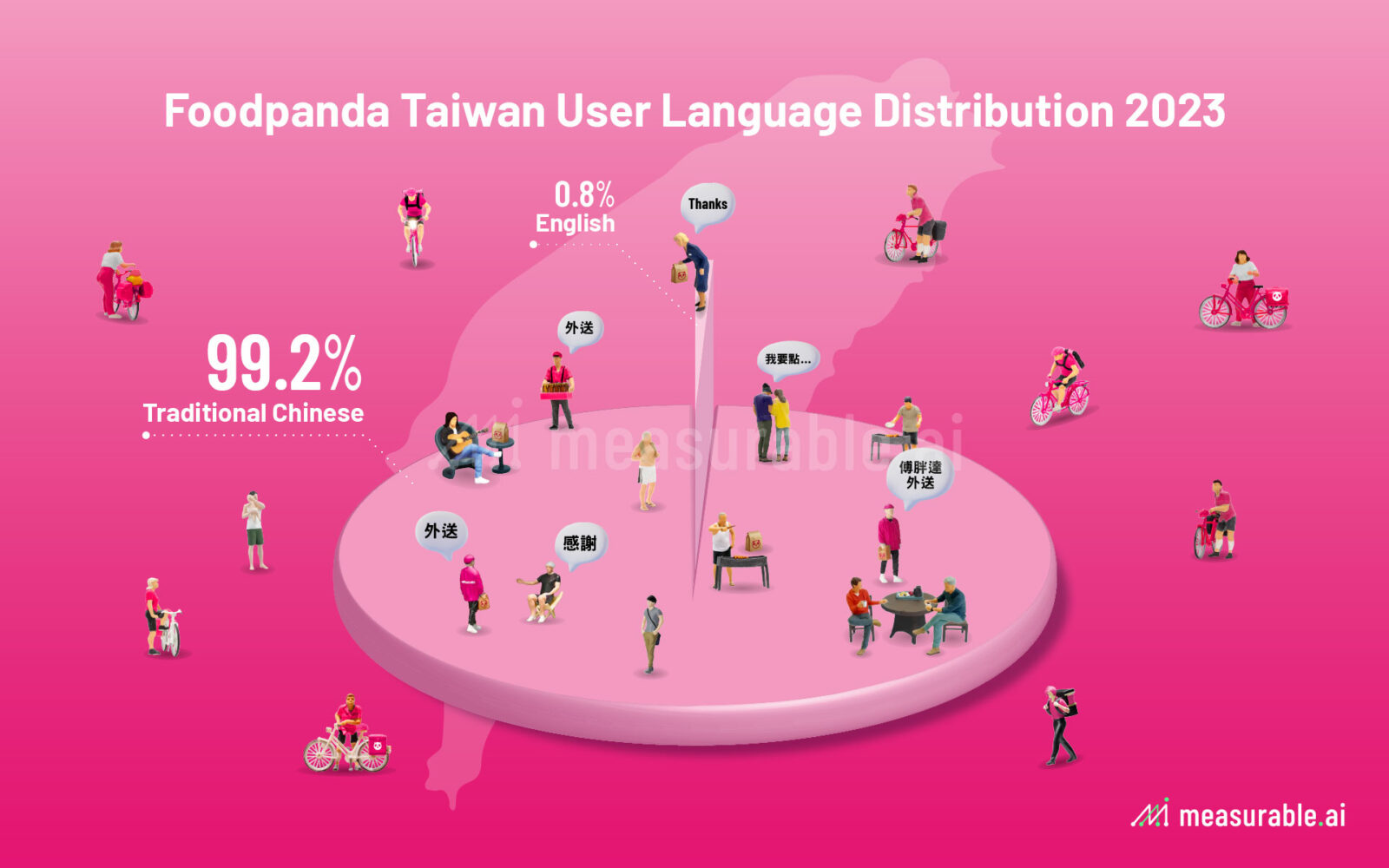 As for Foodpanda, which currently requires a local number for users to register, the linguistic breakdown is simpler. Majority of the orders are placed in traditional Chinese, with a mere 0.8% in English (based on data from January to September 2023).
Both UberEats and Foodpanda cater to distinct customer segments in Taiwan. UberEats seems to have carved a niche among international audiences and travelers, while Foodpanda firmly roots itself in serving the local population.
Our exploration of the Taiwan food delivery market offers just a glimpse of the depth of insights that data can provide. At Measurable AI, we believe in the transformative power of alternative data, and we're committed to providing data for digital economy in the emerging markets.
If you've found this analysis intriguing, feel free to schedule a demo with us to learn more.
To stay updated with the shifts in Taiwan's digital economy, don't forget to sign up for our newsletter. You'll get firsthand information about the upcoming 2023 annual reports covering various facets of Taiwan's digital landscape – from online delivery and ride-hailing to e-commerce and travel.
About Measurable AI
Charlie Sheng is a serial entrepreneur, and a dedicated communicator for technology. She enjoys writing stories with Measurable AI's very own e-receipts data. You can reach her at [email protected].
At Measurable AI, we build and own a unique email receipt consumer panel and have become the largest transactional email receipt data provider for the emerging markets. We are well regarded for the granular insights that can be extracted from our comprehensive datasets across the digital economy, including e-commerce, food delivery, ride-hailing and fintech.
Check out our latest reports: 2019-2022 Food Delivery Annual Report for Asia, Asia & Americas Ride-hailing Report 2019-2023.
*The Content is for informational purposes only, you should not construe any such information or other material as investment advice. Prior written consent is needed for any form of republication, modification, repost or distribution of the contents.