Uncover the Secrets of Taiwan's Bubble Tea Scene with Measurable AI's Exclusive Data
Last week, while strolling through the vibrant streets of Taipei with my father, I was struck by the overwhelming number of bubble tea stores scattered throughout the city. From well-known franchises to charming local establishments and street vendors, each one had its own unique appeal, making it a difficult choice to pick just one. This trend is reflected on popular food delivery platforms like UberEATS and Foodpanda, where a search in Taipei City reveals an impressive selection of over 300 bubble tea stores on UberEATS and more than 200 on Foodpanda.
As the birthplace of milk tea in the 1980s, it's no surprise that Taiwan has become a haven for bubble tea enthusiasts, both locals and tourists alike. To gain further insights into this booming market, I utilized Measurable AI's Foodpanda and UberEATS Taiwan food delivery datasets covering a six-month period from October 1st, 2022, to March 31st, 2023. Through this analysis, I uncovered fascinating information about the popularity of different bubble tea brands and their associated delivery apps.
With so many options to explore, I only wish I had more time to sample each one myself.
Unveiling the Taiwan Bubble Tea Market Share: Kebuke Tea Company (可不可熟成紅茶) Dominates Foodpanda, While Macu Tea (麻古茶坊)Leads on UberEATS
When it comes to the Taiwan bubble tea market, Kebuke Tea Company (可不可熟成紅茶) emerges as the frontrunner, dominating both overall orders and specifically on Foodpanda. However, on UberEATS, it is Macu Tea (麻古茶坊) that claims the top spot during this period. Despite Kebuke Tea Company's significant market presence, it accounts for just 13% of the total orders, illustrating the diverse landscape of the market.
45% of the market share is held by the top five bubble tea brands: Kebuke – 可不可, 50Lan – 50嵐, Macu Tea – 麻古茶坊, Woo Tea – 五桐號, and CoCo都可. The remaining 55% is distributed among various smaller brands, highlighting the presence of multiple players in this competitive market.
Notably, Macu Tea experienced the largest market share increase among the top five companies, with an impressive 13% growth, primarily occurring between February and March.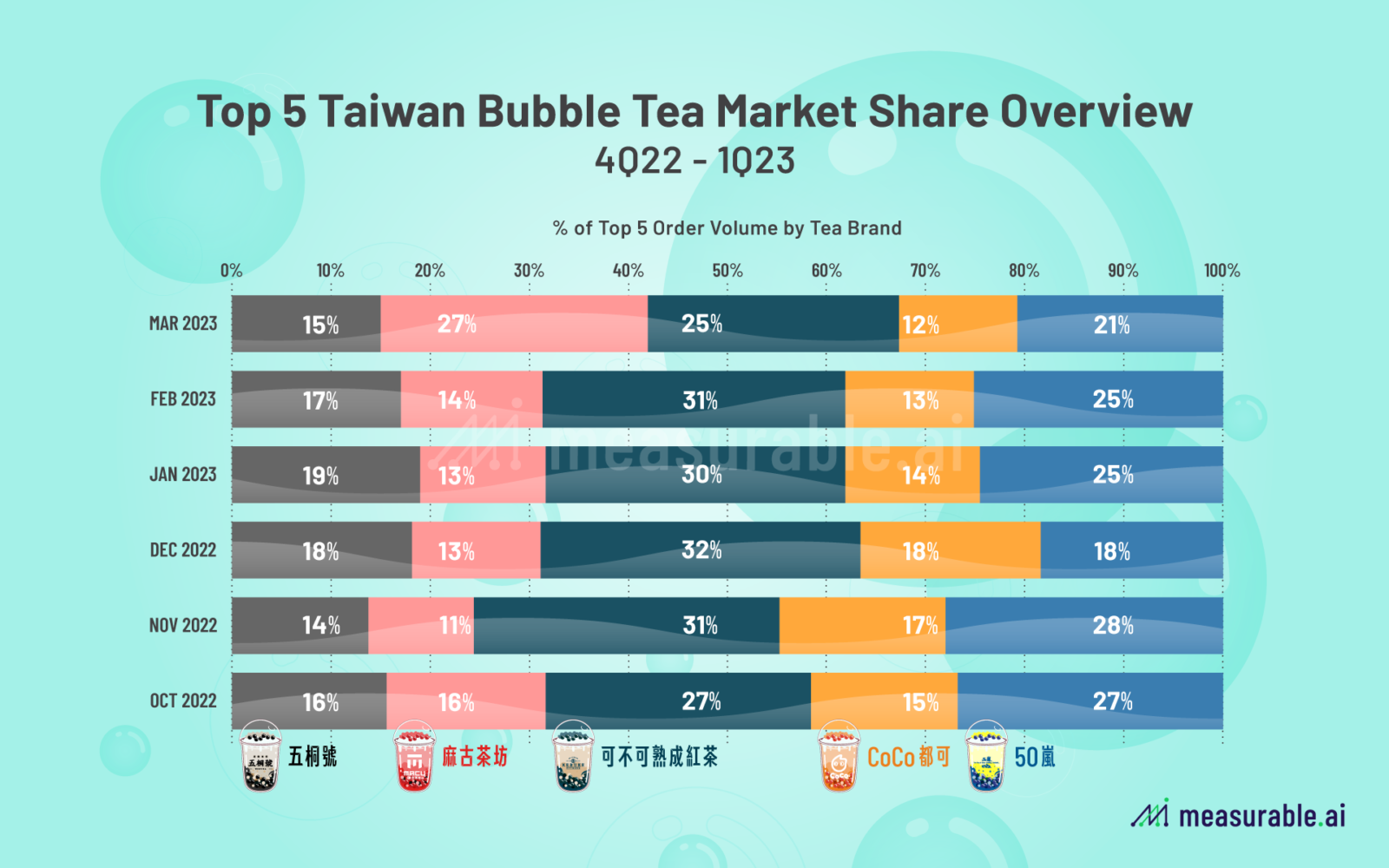 Analyzing the Taiwan Bubble Tea Market: UberEATS vs. Foodpanda Breakdown and City Variations
In the ever-growing Taiwan bubble tea market, the role of food delivery platforms like UberEATS and Foodpanda cannot be underestimated. From November 2022 to March 2023, the percentage of bubble tea orders placed through UberEATS experienced a notable surge. Starting at 57% in October, it reached an impressive 71% by March, with the most significant leap of 6% occurring between February and March.
Delving into the breakdown by brand, an interesting trend emerges. Nine out of the top ten bubble tea brands, based on order volume, were more favored by customers on UberEATS. Only CoCo 都可 enjoyed more orders on Foodpanda. Across the board, these brands saw 30-50% of their orders placed on Foodpanda, with the remaining orders being fulfilled through UberEATS.
Macu Tea stood out as an outlier, with a staggering 99% of its orders being placed through UberEATS. Every order of Macu Tea in our Foodpanda dataset came from just three different locations in Kaohsiung City. Further investigation on both apps confirmed our suspicions—Macu Tea was not available for delivery on Foodpanda anywhere except Kaohsiung City, but it could be found throughout Taiwan on UberEATS.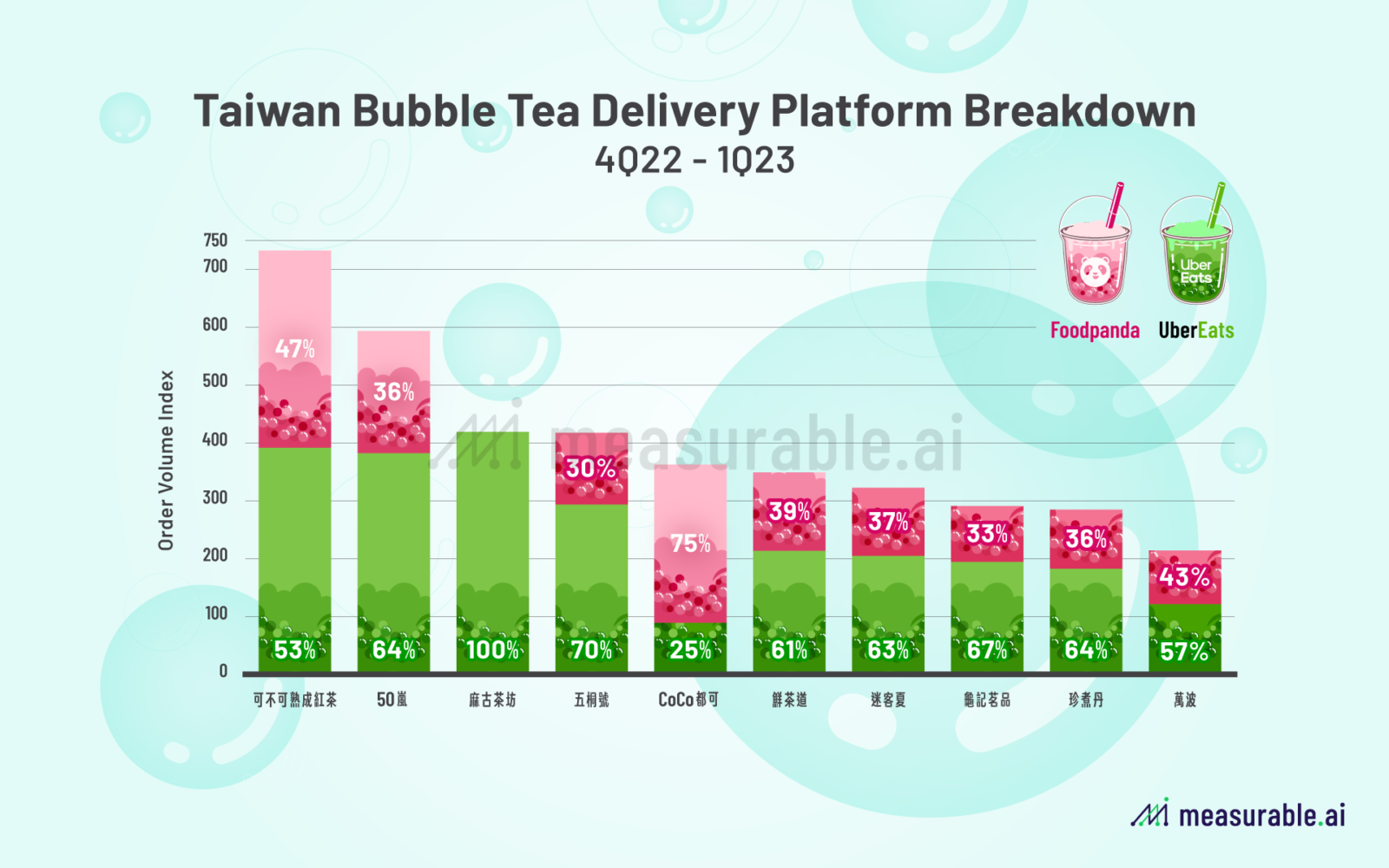 While UberEATS saw more orders placed overall, looking at a breakdown by city one can see that the difference comes from the two largest cities (by order volume): New Taipei City and Taipei City. Foodpanda lead orders in the next four cities – Taichung City, Taoyuan City, Kaohsiung City, and Tainan City.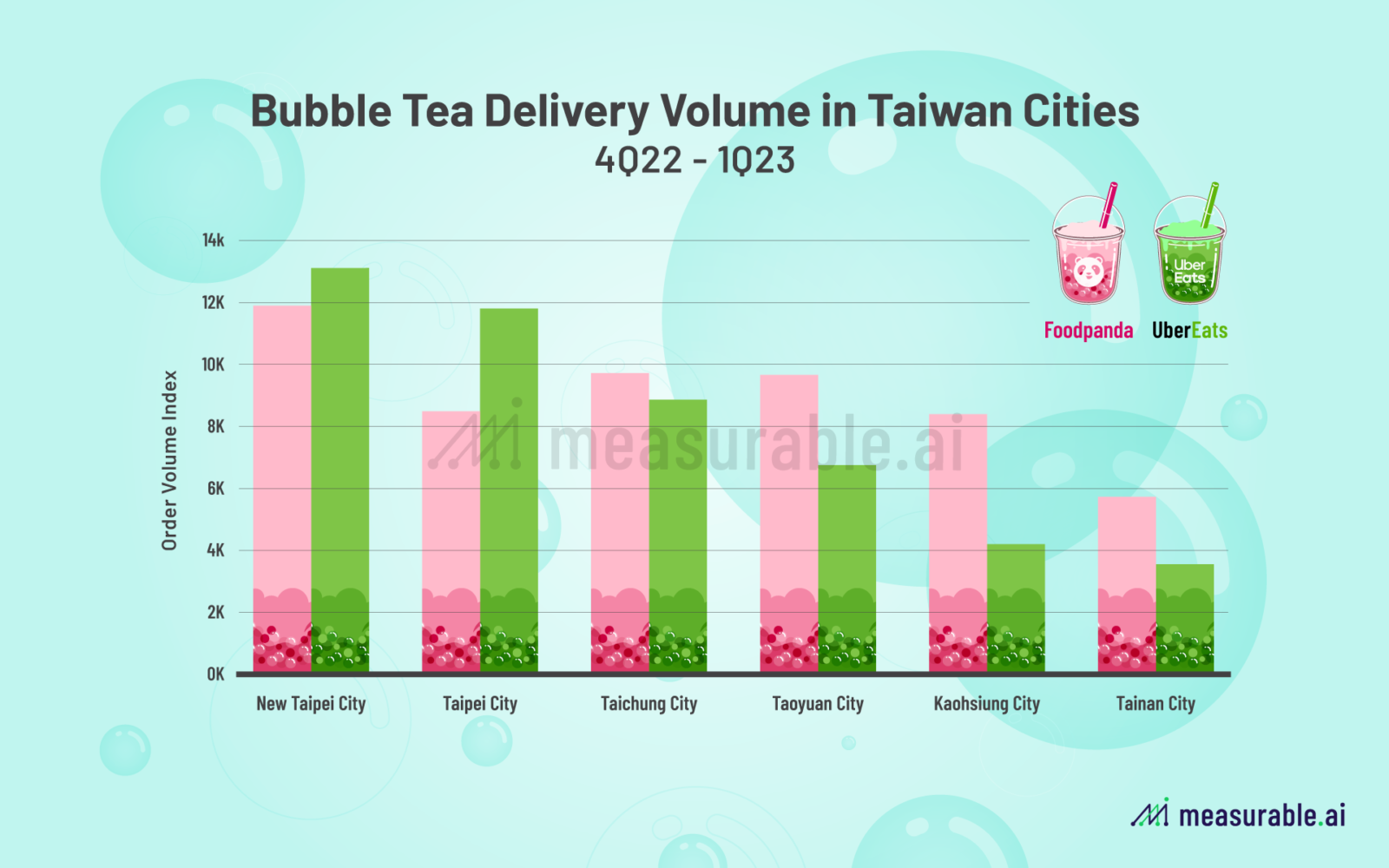 Average Order Value for the Top 5 Brands in the Taiwan Bubble Tea Market and Food Delivery Platform Variations
The average order value for the top 5 bubble tea brands was calculated at 182.5 TWD. This average order value remained relatively consistent between the two major delivery services: Foodpanda and UberEATS only differed by 1 TWD. By fitting trend lines to the accompanying graphs, we can observe interesting insights. While the overall average order value from October to March was the same, Foodpanda experienced a slight upward trend over the 6-month period, indicating a gradual increase in average spending per order. Conversely, on UberEATS, the AOV exhibited a declining trend.
Among the top 5 brands, one company stands out with a notable change in average order value on the UberEATS platform. Kebuke Tea Company witnessed a significant decrease, dropping from about 169 TWD in October 2022 to 130 TWD in March 2023. This translates to a substantial -23% change in AOV, signifying a shift in consumer behavior for this specific brand.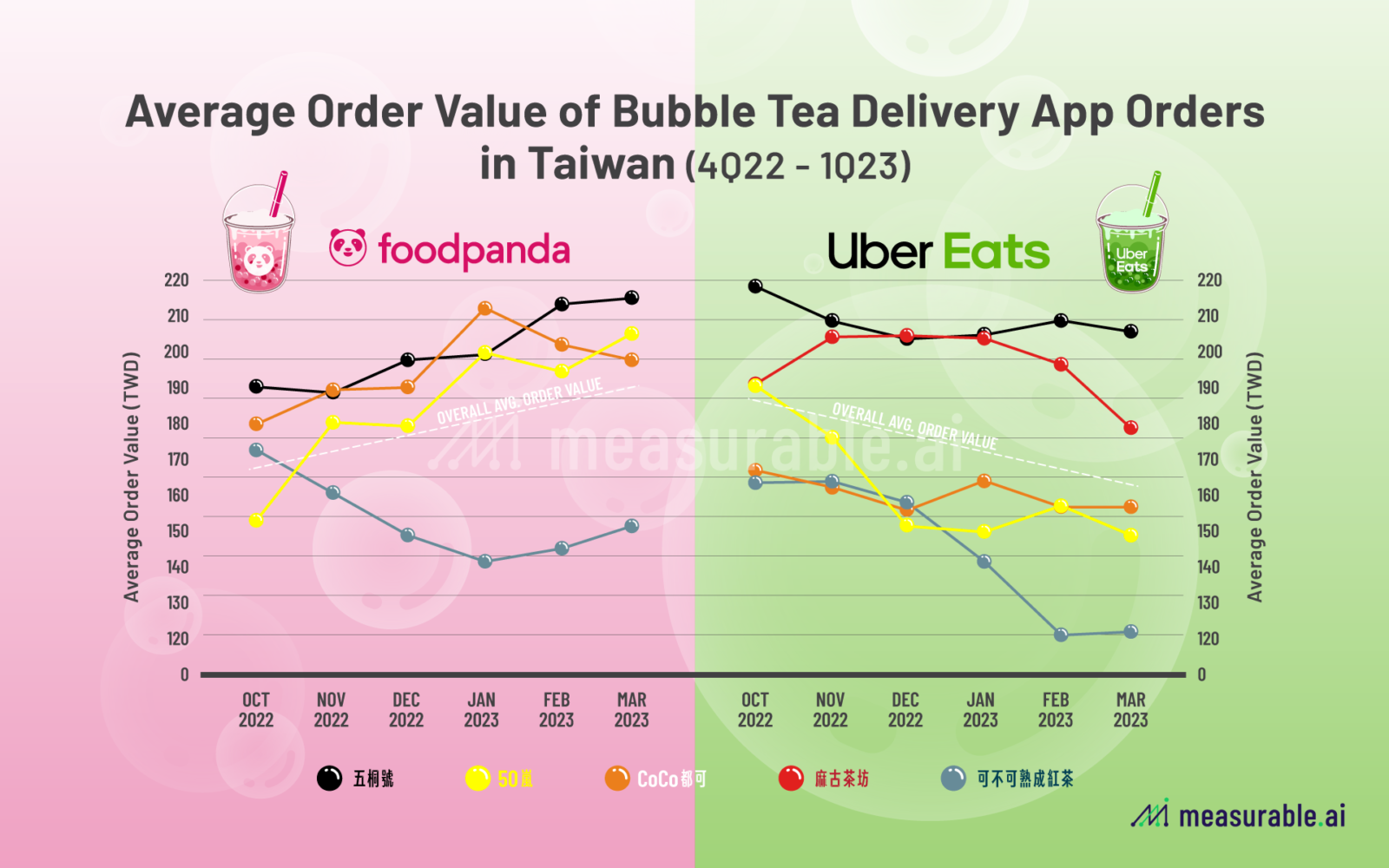 Understanding the Preferred Time of Day for Bubble Tea Consumption in Taiwan
Expectedly, orders from the hours of midnight to 6:00 were the least prevalent. What did surprise me were the two large peaks at 11:00 and 18:00. People often use bubble tea as a morning pick-me-up or an end of the day treat so these estimates do make sense, but the contrast is quite intriguing.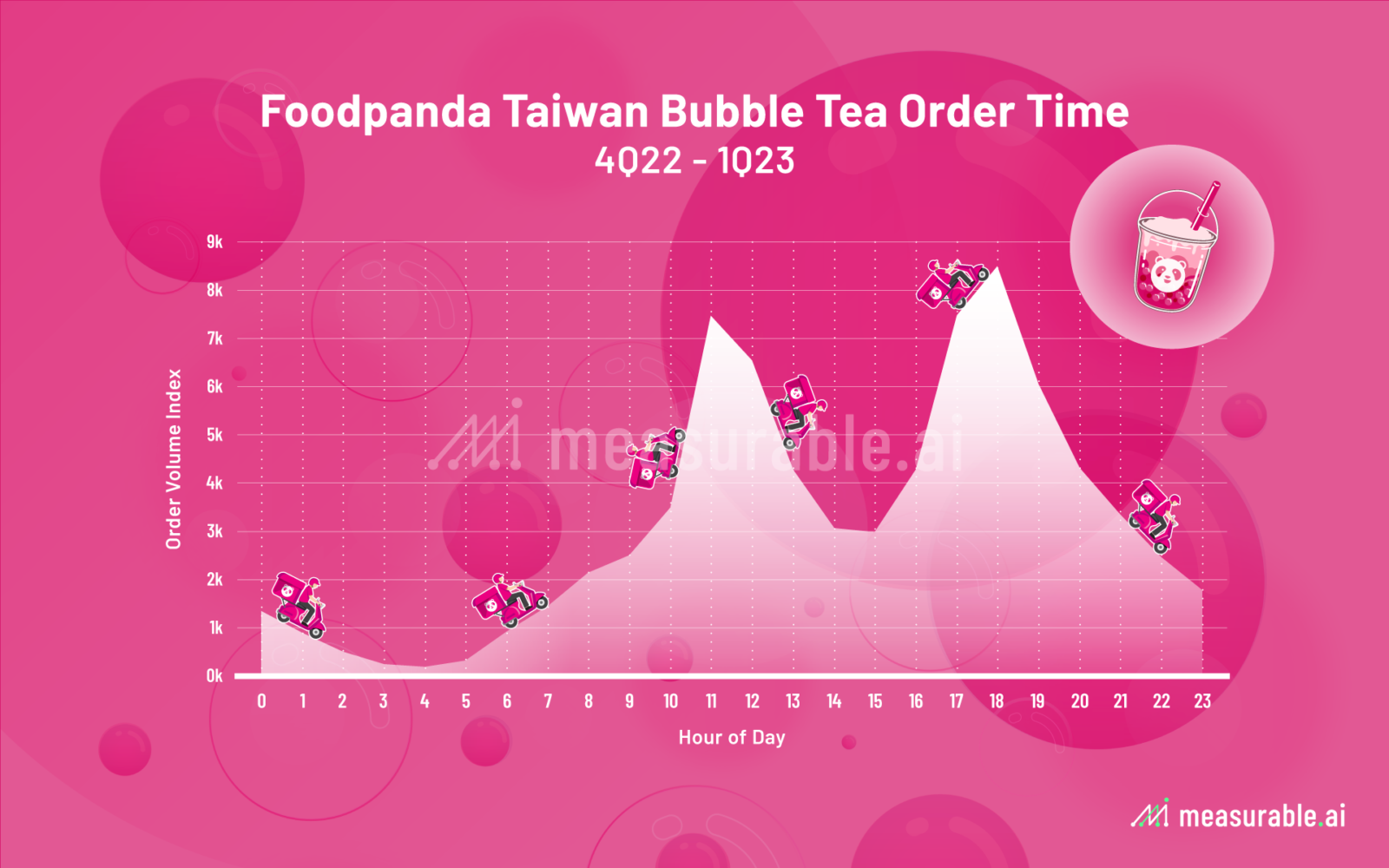 Exploring Sweetness Preferences in Milk Tea Consumption in Taiwan
One of the allures of bubble tea lies in its customizability, allowing consumers to tailor their beverage according to their preferences. From sweetness levels to temperature and flavors, as well as a range of add-ins and toppings, options abound at most bubble tea shops. Let's delve into the sweetness preferences among consumers in Taiwan and uncover interesting insights.
Among the various sweetness levels available, the most popular choice was 25% sweetness (微甜), accounting for a significant 36% of milk tea orders over the 6-month timeframe. It was closely followed by 50% sweetness (半甜) at 27%, 0% sweetness (無甜) at 16%, 75% sweetness (少甜) at 9%, and 100% sweetness (標準糖) at 5%. This leaves 7% of milk tea orders with fixed sweetness levels, where customization options were not selected.
Analyzing these percentages over the 6-month period, an intriguing trend emerges: people are gravitating towards healthier options, particularly the no sugar (0% sweetness) choice, which experienced a significant increase from 8% to 20%. This shift highlights the growing preference for lower-sugar or sugar-free alternatives in milk tea consumption.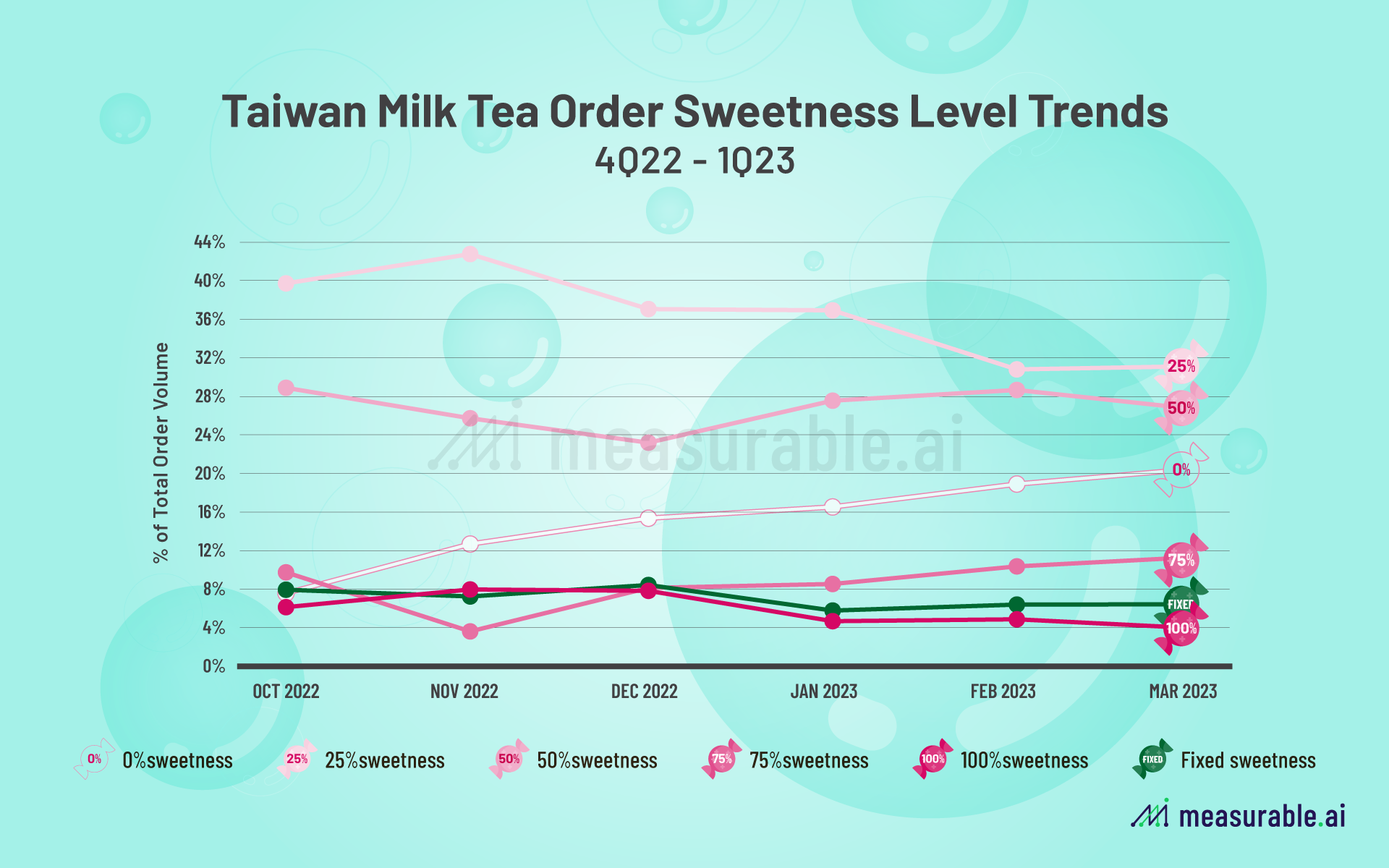 About Measurable AI
At Measurable AI, we build and own a unique email receipt consumer panel and have become the largest transactional email receipt data provider for the emerging markets. We are well regarded for the granular insights that can be extracted from our comprehensive datasets across the digital economy, including travel, e-commerce, digital entertainment, food delivery and ride-hailing.
Check out our latest Reports: 2019-2022 Food Delivery Annual Report for Asia, Asia & Americas Ride-hailing Report 2019-2023.
*The Content is for informational purposes only, you should not construe any such information or other material as investment advice. Prior written consent is needed for any form of republication, modification, repost or distribution of the contents.