Your Guide to Italy's Food Delivery Market
Ciao! It's believed that the first ever food delivery took place in Naples, Italy in 1889, where King Umberto I and Queen Margherita received the first pizza delivery. Fast forward to over 100 years later, Italy's food delivery market has grown to be around USD$1.15 billion in 2022 (forecast by Statistica).
Let's take a look at the market share of the Italian food delivery market occupied by the four players Deliveroo, JustEat, Glovo and UberEats. Measurable AI's e-receipt dataset reveals that back in 2020, JustEat used to lead the game, occupying over 45% of the market share by revenues, followed by Deliveroo and Glovo (who respectively share about 25%).
Italy Food Delivery Market Share (2020 -2022 Q1)
Deliveroo started to grow faster than its peers around 2Q21, arriving at around 40% of the market share in 1Q22. Then entering into 1Q22, JustEat and Deliveroo leveled up head-on-head with roughly the same market share. Meanwhile, UberEats has steadily occupied the smallest percentage of the Italian food delivery market throughout the years, hovering at around 5%.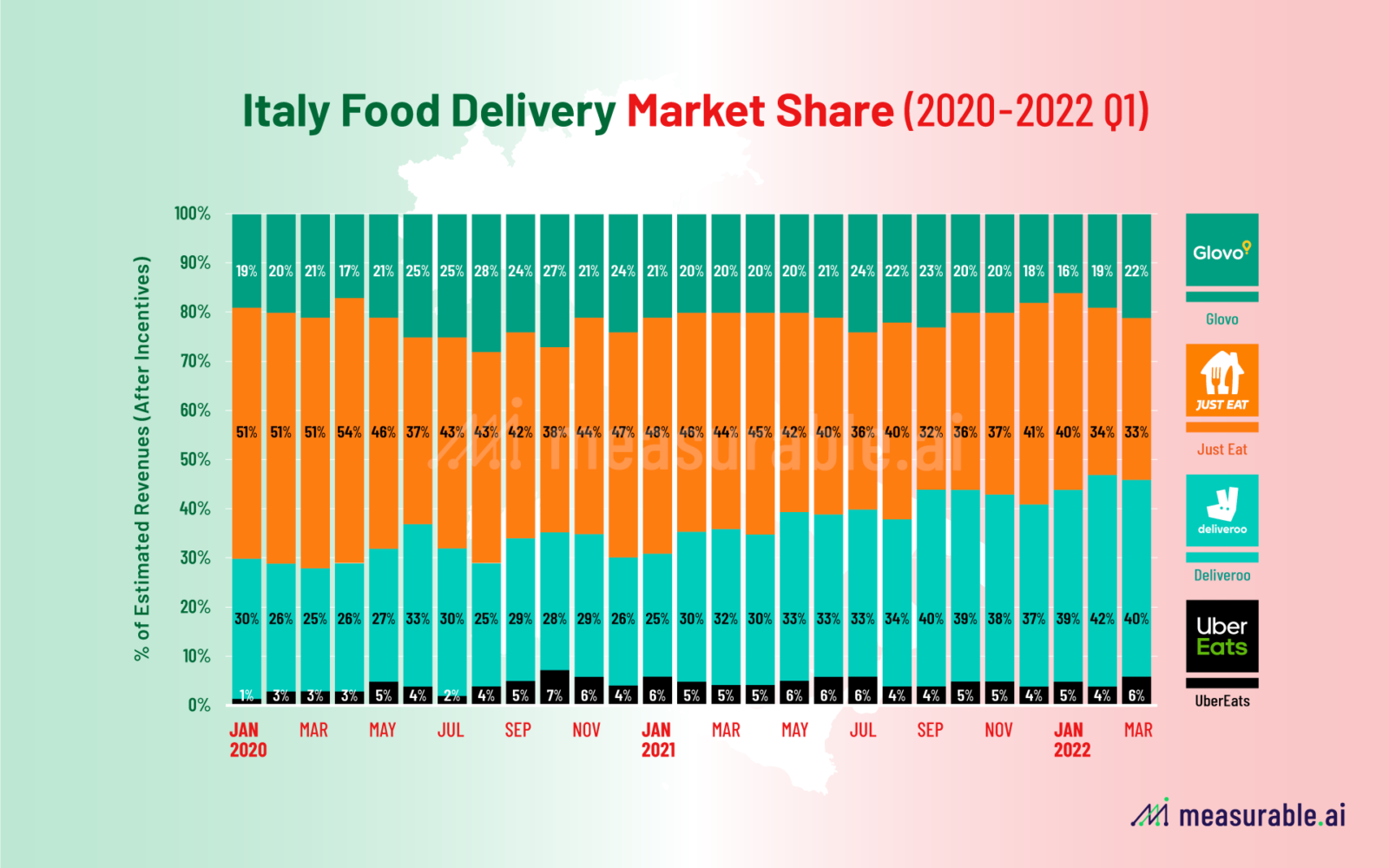 Italy Food Delivery Volume by Top Cities
According to Measurable AI's granular e-receipts dataFor geographic coverage: apart from the two biggest cities Roma and Milano, it appears from the order volumes extracted from our dataset that each company has its own focus regions.
For Deliveroo, its top 3 cities are Roma, Milano, and Bergamo. For Glovo, orders from Torino contributed most of the volume followed by the top two cities. For Ubereats, orders are also concentrated in the city of Napoli. Lastly, on JustEats, our dataset reveals that Bologna ranks the 3rd top city for its food delivery orders.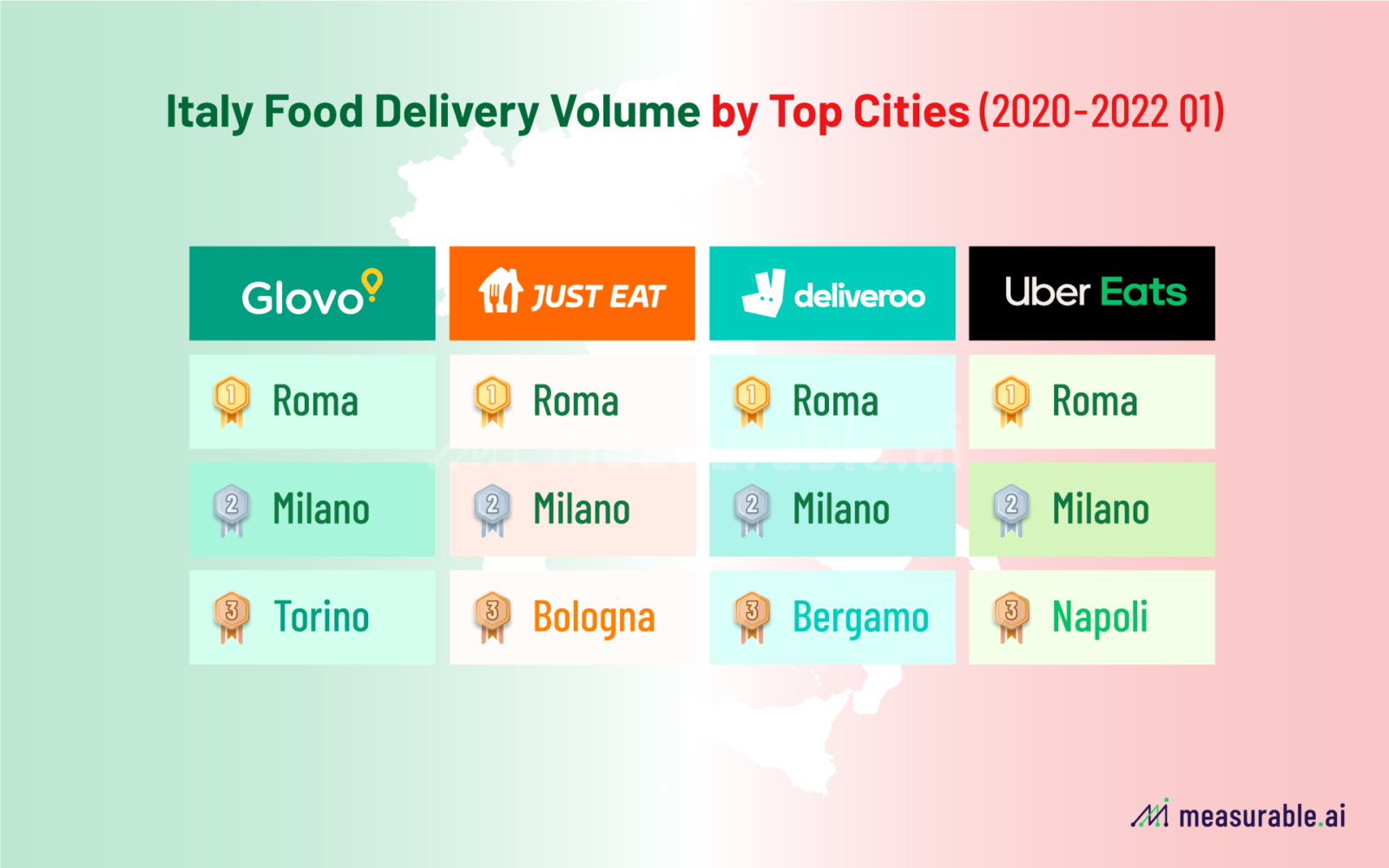 Italy Food Delivery AOV
As illustrated in the chart below, Measurable AI's granular dataset reveals that the average order value ('AOV') for the Italian food delivery market has been changing quite rapidly over time. Back in 2020, Deliveroo's AOV was a bit higher than the other players, while UberEats' ranked the lowest.
Nearing the middle of 2021, the differences in AOV across all players had gotten smaller. Each platform's AOV has also been more stable entering 2022.
Currently as of1Q22, Glovo consumers spend the least, with the AOV at around 20 Euro. Meanwhile, Deliveroo's AOV has remained the highest throughout the past two years.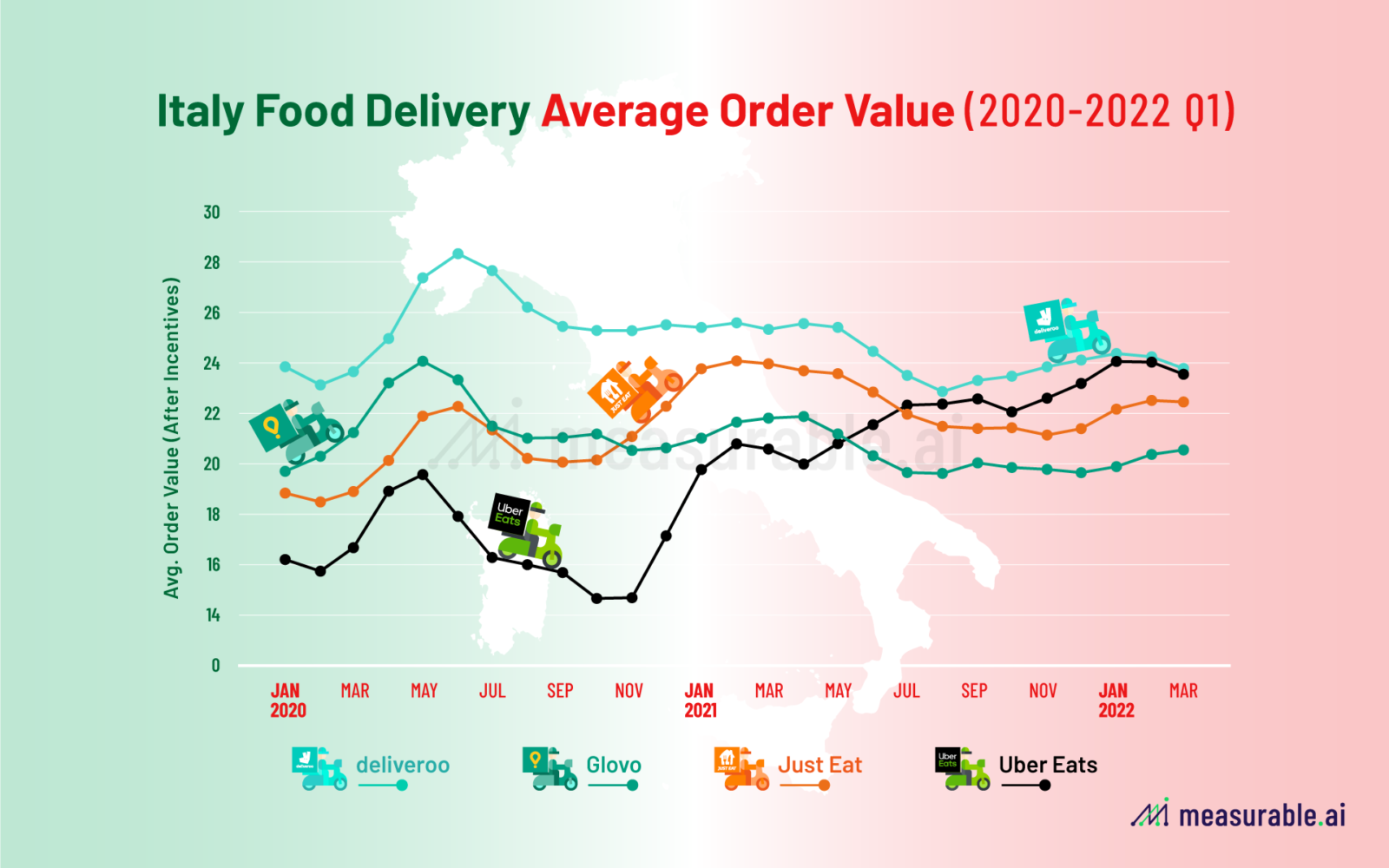 Lastly, are you interested in Measurable AI's detailed consumer insights on other food delivery companies? Follow our insights blog and subscribe to our newsletter to keep abreast of the latest developments underpinning the hotly contested food delivery industry across more markets. Or if you are a hedge fund, corporation or in research and looking for the most up-to-date transactional data insights, please reach out to us at [email protected] to learn more.
Read our former blog about Food Delivery Market in Spain.
At Measurable AI, we build and own a unique consumer panel and are the largest transactional email receipt data provider for the emerging markets. We are well regarded for our comprehensive alternative dataset across the digital economy, particularly for our consumer insights relating to the food delivery industry.
ABOUT US
Charlie Sheng is a serial entrepreneur, and a dedicated communicator for technology. She enjoys writing stories with Measurable AI's very own e-receipts data.
You can reach her at [email protected]
*The Content is for informational purposes only, you should not construe any such information or other material as investment advice. Prior written consent is needed for any form of republication, modification, repost or distribution of the contents.