Spain Food Delivery Market Overview (2020 – 2022 Q1)
Keep abreast of the latest developments underpinning the food delivery industry across every market with Measurable AI's transactional e-receipts data panel. This week, we dived into our dataset to conduct an overview of the European food delivery market throughout the past few years.
First stop, España.
Taking a step back in time, the Spanish food delivery market has always been quite competitive with four players dominating the game: Glovo, JustEat, UberEats and Deliveroo.
In 2020, Glovo was on par with JustEat, occupying around 35% of the market share by revenues. It was not until 2Q21 that Glovo started to lead the race, keeping its momentum into 2022. In July 2021, in the wake of the government's adoption of the 'rider law' – whereby a worker is presumed to be an employee as opposed to a self-employed contractor – Deliveroo announced plans to pull out of Spain, citing huge economic losses since the start of the pandemic. At this time, our dataset reveals that Deliveroo owned 5% of the Spanish food delivery market share. The closure of Deliveroo's operations helped advance Glovo's position in the market throughout 2021.
Entering 1Q22, our dataset reveals Glovo seizing over 50% of the market share by revenues. Meanwhile, UberEats, the only non-European food delivery player in Spain, has steadily remained at 3rd place with around 20% of market share throughout the pandemic.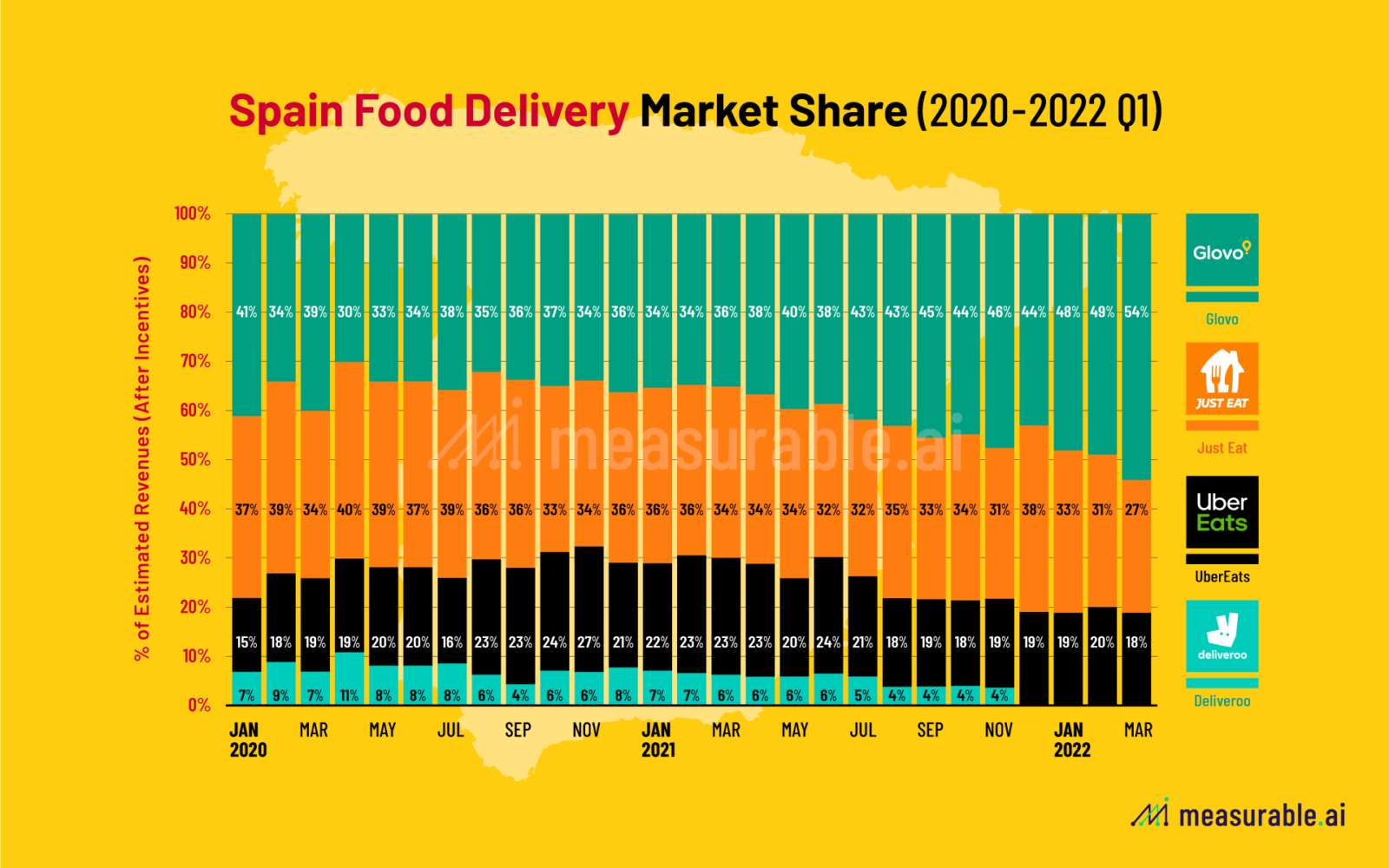 All in all, during the course of the pandemic, the Spanish food delivery market has experienced a decent amount of growth and changes underpinned by much mergers and acquisition activity. In Spain, Glovo is now owned by Delivery Hero (a majority holder). Just this September, Glovo has been fined €79 million (~$79 million) for breaches of labor laws related to the employment classification of couriers.
According to Measurable AI's granular transactional data, apart from Deliveroo (whose AOV was much higher than its rivals), Glovo consumers tend to spend the most on food delivery per order in Spain, averaging at around 23 Euros per order as of March 2022. As can be gleaned by the chart below, UberEats's AOV kept growing over the years and is now only slightly under Glovo's. Meanwhile, JustEat's AOV has remained relatively stable, hovering at around the 20 Euro mark.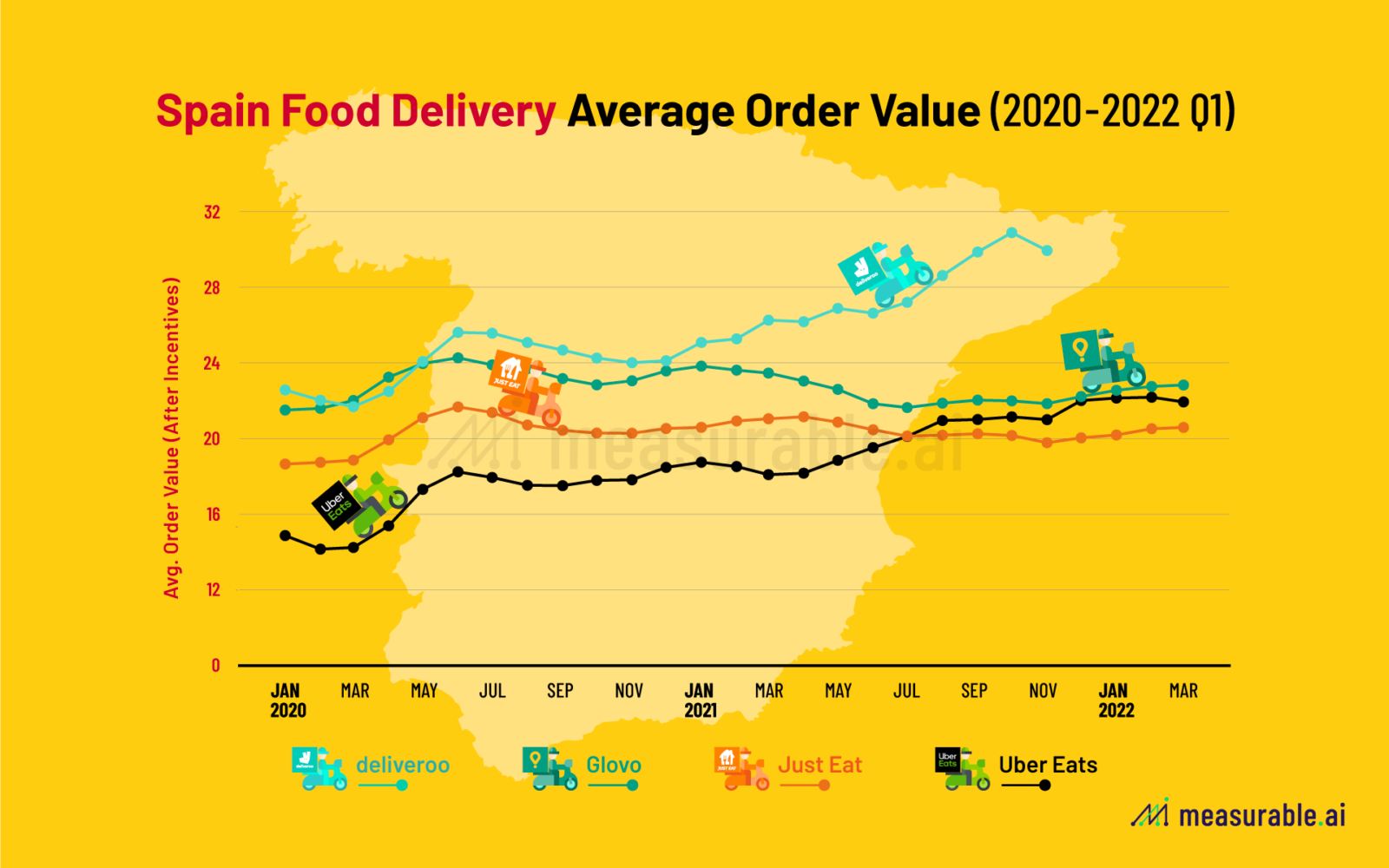 With regards to geographic coverage, each player has its own regions that it focuses on. By delivery volume, Glovo's top 3 cities are Madrid, Barcelona, and Zaragoza. For JustEats, it is Madrid, Sevilla, and Barcelona. And for UberEats, it is Madrid, Barcelona, and Valencia.
To be Continued…
Interested in Measurable AI's detailed consumer insights on other food delivery companies? Follow our insights blog and subscribe to our newsletter to keep abreast of the latest developments underpinning the hotly contested food delivery industry across more markets. Or if you are a hedge fund, corporation or in research and looking for the most up-to-date transactional data insights, please reach out to us at [email protected] to learn more.
ABOUT US
Charlie Sheng is a serial entrepreneur, and a dedicated communicator for technology. She enjoys writing stories with Measurable AI's very own e-receipts data.
You can reach her at [email protected]
At Measurable AI, we build and own a unique consumer panel and are the largest transactional email receipt data provider for the emerging markets. We are well regarded for our comprehensive alternative dataset across the digital economy, particularly for our consumer insights relating to the food delivery industry.
*The Content is for informational purposes only, you should not construe any such information or other material as investment advice. Prior written consent is needed for any form of republication, modification, repost or distribution of the contents.