Japan Food Delivery Race in 2022: UberEats vs DemaeCan
Welcome to the quarter final of the Japan Food Delivery Race in 2022. A lot has happened in the first half of this year: In January, Foodpanda divested its Japanese business and in May, DidiFood left, followed by Rakuten Delivery who paused its delivery service in July. After two years of competition, the final teams are now: UberEats, Demae-can, Doordash, Wolt, and Menu.
Based on Measurable AI's transactional e-receipts data, the major players in Japan's food delivery market remain UberEats versus Demae-Can. Doordash (and its newly acquired Wolt) plus Menu together share a relatively small piece of the market at the moment. 
UberEats versus Demae-Can
In Japan, UberEats has been leading the market by consumer spending in food delivery since 2020, whose market share has steadily hovered around 70% in the past two years.
Entering 2022, UberEats's share saw a slight drop, but still leading at over 60% against opponent Demae-Can. As of Q2, 2022, Demae-Can grabs around 33% of the market share by sales.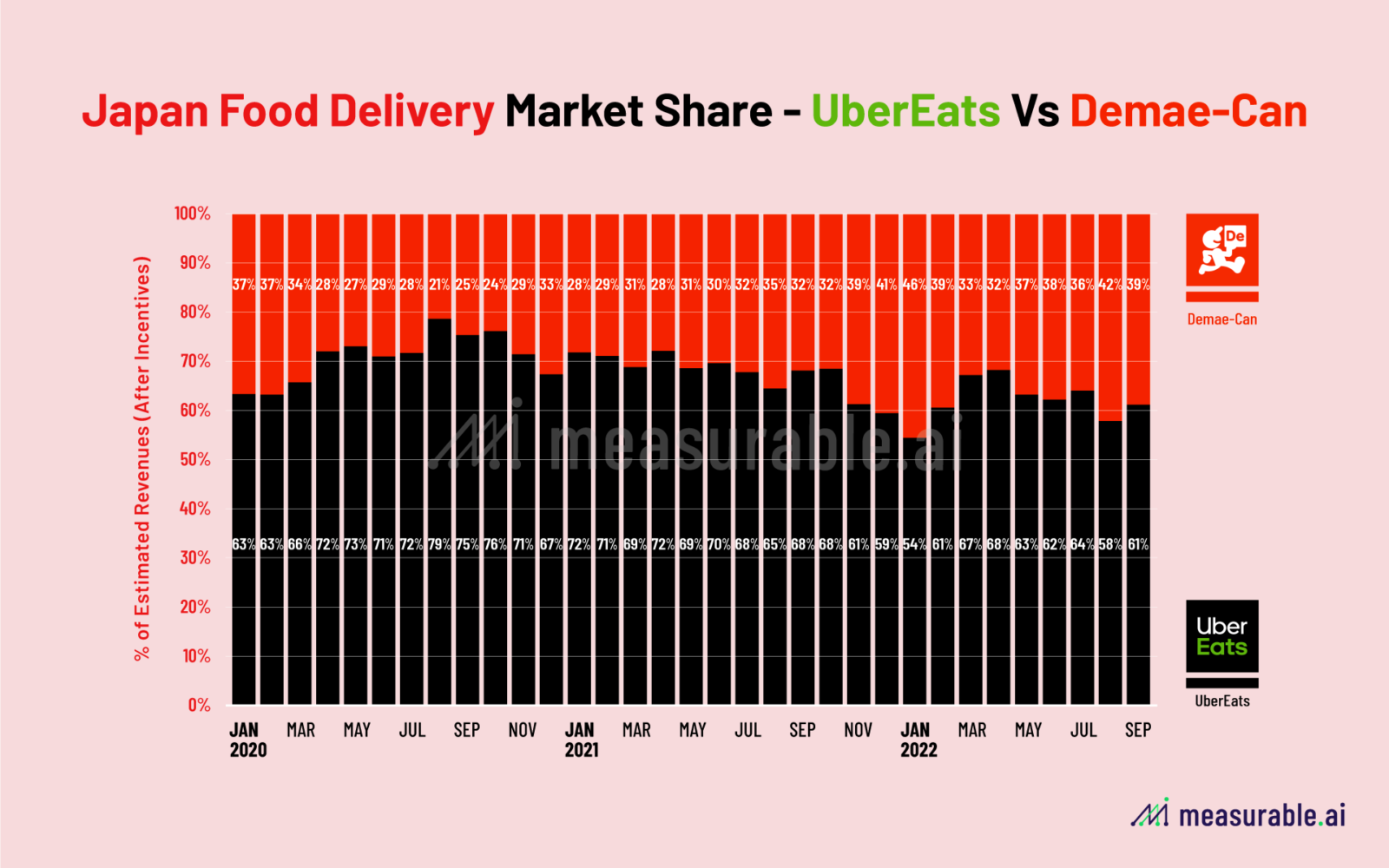 In terms of order value, Demae-Can's AOV (after incentives) has always been a bit higher than UberEats, hovering around 2600 JPY. On UberEats, users usually spend less than 2200 JPY per order. Interestingly, Demae-Can has been allocating much more percent of incentives to its food delivery orders every holiday season (from December to January). However, on UberEats, the incentives remain at a sample level throughout the year.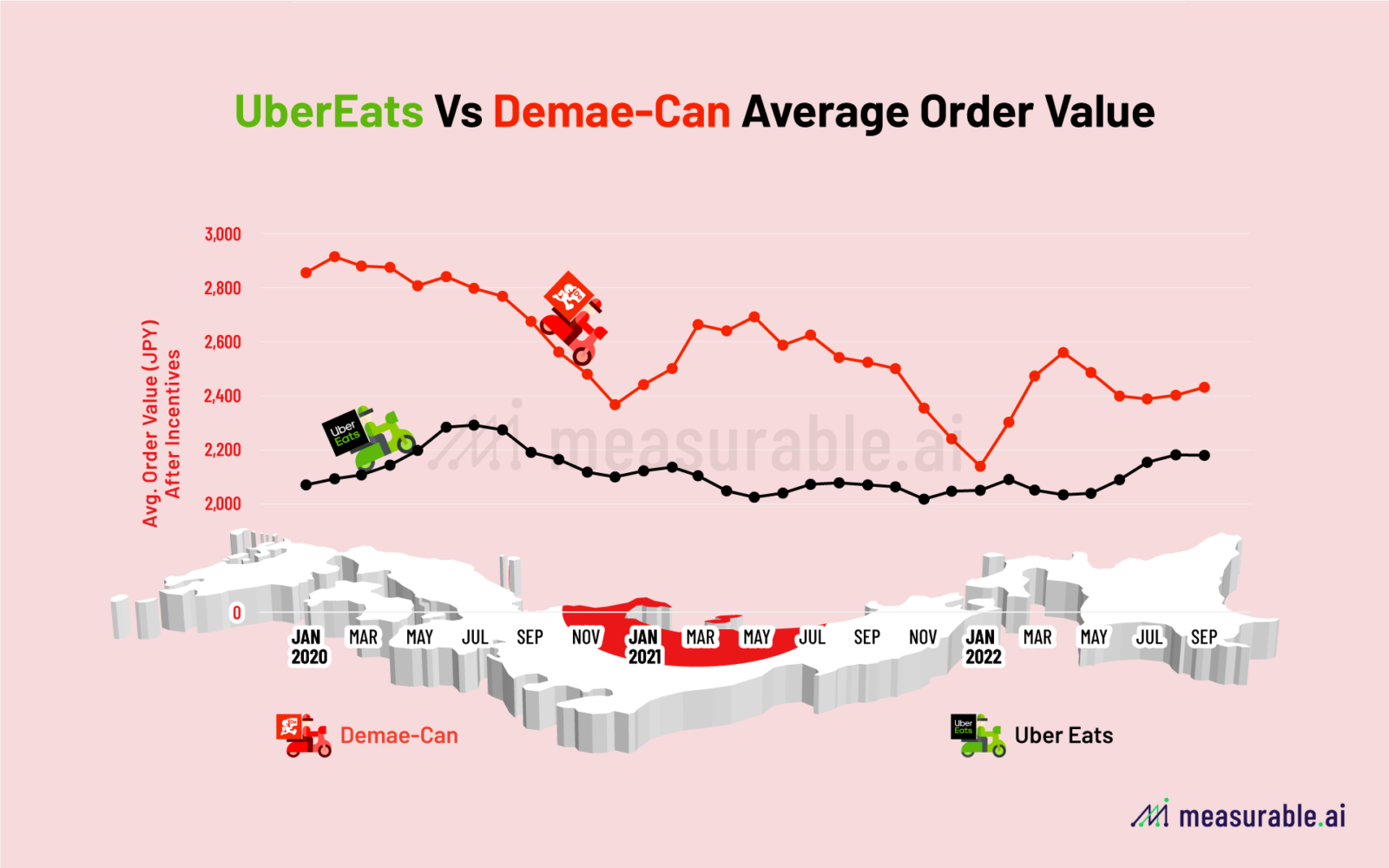 Yes, everyone loves McDonalds. Similar to our findings in the Hong Kong food delivery market based on Measurable AI's e-receipts data: among the huge range of restaurants on both platforms, McDonald's manages to account for around 12% of the market share by revenues (after incentives) on UberEats and 6% on Demae-can.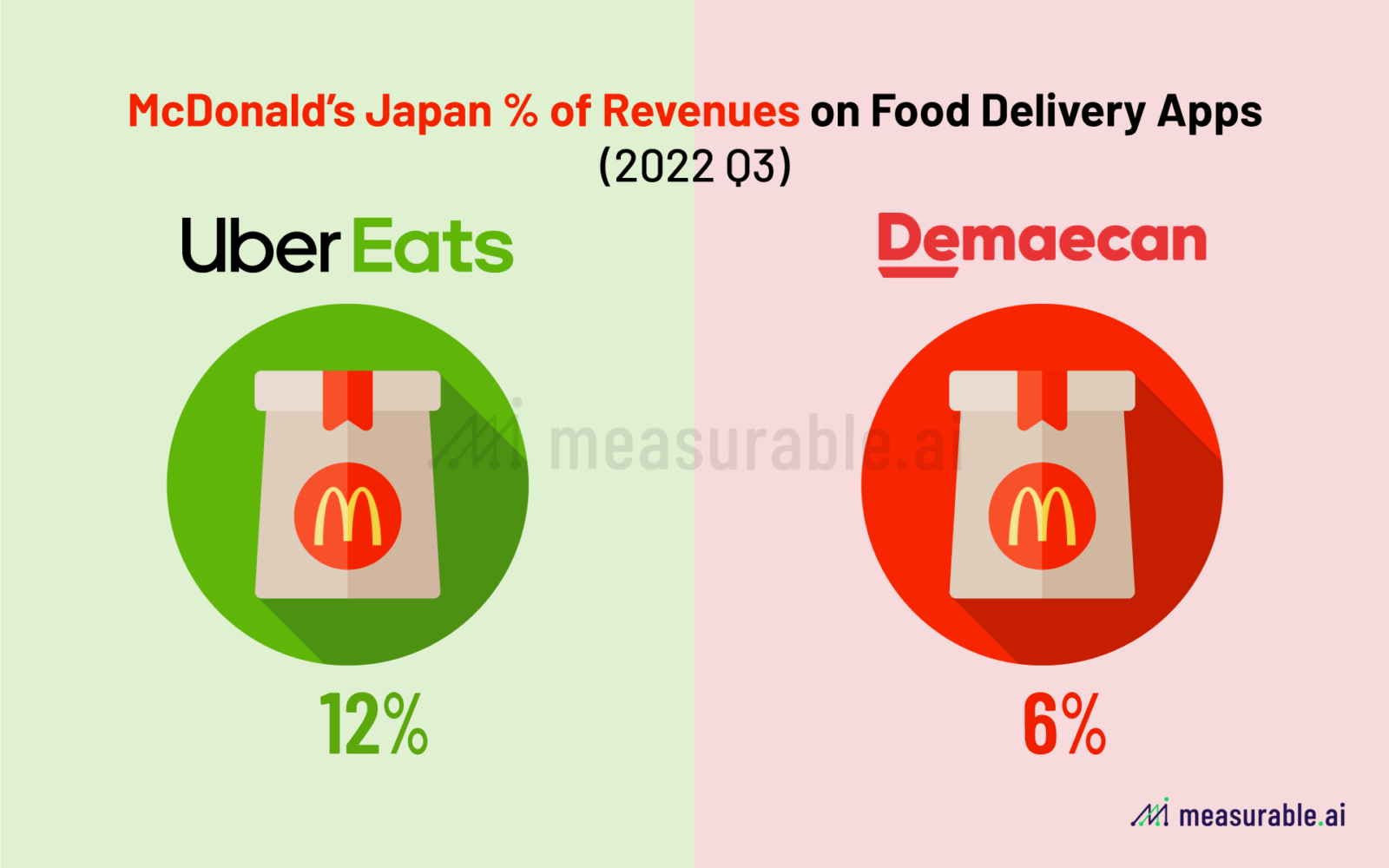 Interested in consumer insights on other food delivery companies? Follow our insights blog and newsletter to keep up with the heated competition between UberEats and DemaeCan in Japan. Or if you are a hedge fund, corporation or in research and looking for the most up-to-date transactional data insights at [email protected].
Read former insights on Japan's Food Delivery Market: Japan's Untapped Food Delivery Market is Already Crowded: Who's Winning?
At Measurable AI, we build and own a unique consumer panel and are the largest transactional email receipt data provider for the emerging markets. We are well regarded for our comprehensive alternative dataset across the digital economy, particularly for our consumer insights relating to the food delivery industry. 
ABOUT US
Charlie Sheng is a serial entrepreneur, and a dedicated communicator for technology. She enjoys writing stories with Measurable AI's very own e-receipts data.
You can reach her at [email protected].
Measurable AI is a leading alternative data provider for food-delivery, ride-hailing, and e-commerce in emerging markets. Covering Southeast Asia, Latin America, India, Middle East and more.
*The Content is for informational purposes only, you should not construe any such information or other material as investment advice. Prior written consent is needed for any form of republication, modification, repost or distribution of the contents.