Who is Leading the Virtual Bank Race in Hong Kong?
According to consulting firm Quinlan and Associates, the virtual banking industry in Hong Kong is forecasted to create a HK$76 billion ($9.7 billion) per annum revenue opportunity by 2025, servicing a total customer pool of 1.9 million (i.e. 24.9% of the current Hong Kong population).
In 2019, the Hong Kong Monetary Authority licensed eight virtual banks. These eight firms are: ZA Bank, Mox Bank, WeLab, Airstar, Livi, PAOB, Ant Bank and Fusion. Amongst the eight virtual banks in Hong Kong, this represents an average annual revenue opportunity of HKD 9.5 billion (US$1.2 billion), and equates to an average revenue market of about 2.4% per virtual bank. While this sum is by no means small, the virtual banking industry is expected to consolidate in the years to come with only a handful of existing players managing to survive (and thrive).
Let's take a dive into Measurable AI's proprietary e-receipt panel to unearth some insights into user growth since 2020 when these virtual banks were launched one after another.
ZA Bank is Leading the Race in Virtual Bank in Hong Kong
According to the Hong Kong Monetary Authority, the virtual banking community attracted 800,000 new users in 2021, doubling its growth in 2020. With all the eight banks launching within March to December 2020, it'd be interesting to see how their user growth has fared up until now.

We take a dive into the e-receipts data provided by Measurable AI's proprietary panel and discover that ZA bank has been leading the race when it comes to user growth. Runners up is MOX with Livi coming in at a close tie. WeLab, who shared similar volume with Mox, and Livi in the first year, fell off the curve in the second year, and ranks No.4 as of 2022 Q2.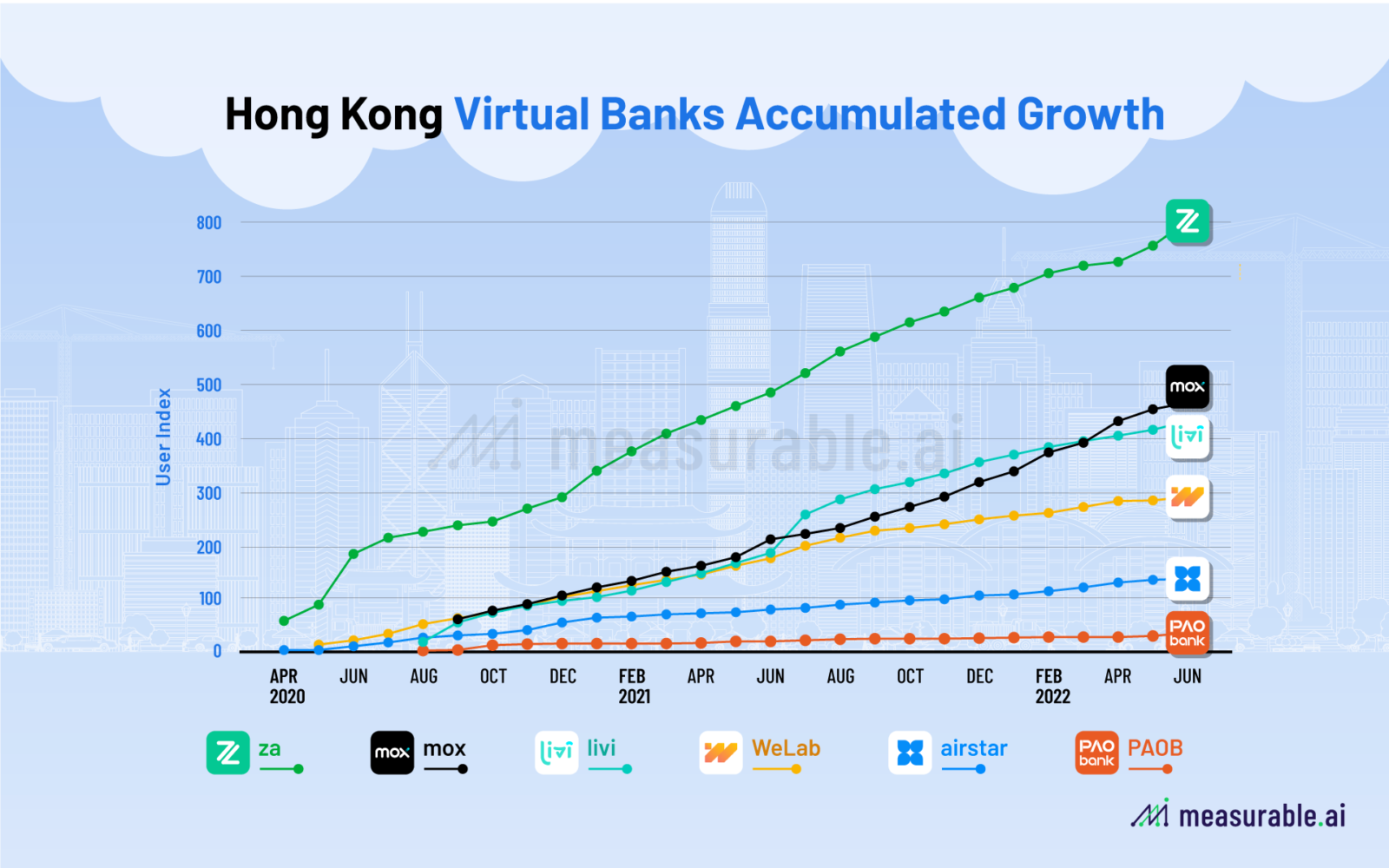 Meanwhile, Airstar and Ping An's PAOB have been the laggards without too much user growth in the past two years. Due to the fact that Fusion and Ant Bank do not send email communications to their users, these two companies are not covered in this study.
Hong Kong E-Wallet Apps: Octopus App vs PayMe
When it comes to E-wallet apps in Hong Kong, we cannot neglect the two players: Octopus and PayMe. While Octopus card is nothing new to every Hong Kong citizens, its Octopus app (formerly "O!ePay") is relatively young, which offers digital Octopus card and Octopus e-wallet. The support from Apple Pay and government issued consumption voucher have accelerated the growth of Octopus app amid the pandemic.
The other player PayMe, owned by HSBC has been around since 2017, and has become a most popular P2P payment/wallet app in Hong Kong.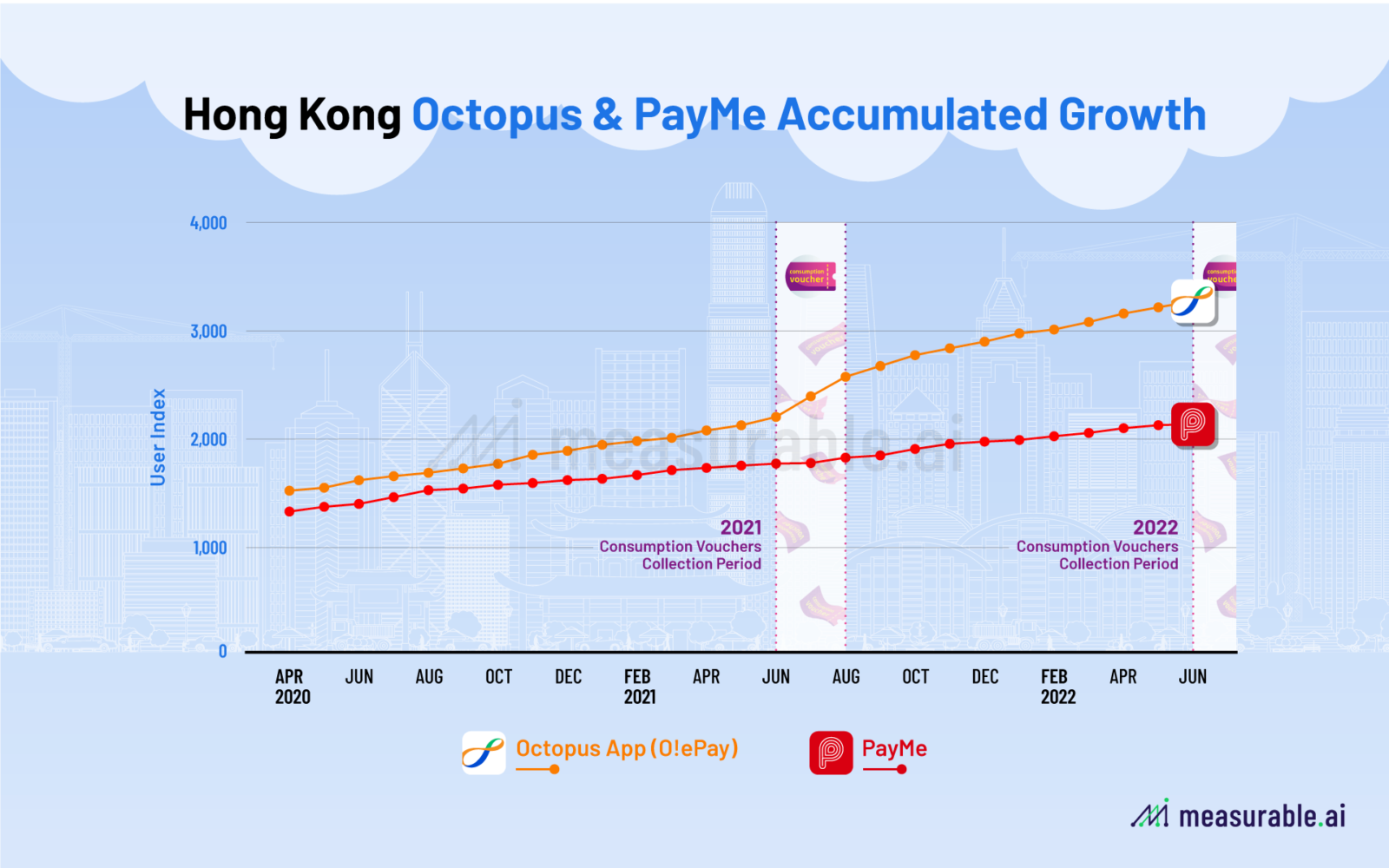 We take a closer look at Measurable AI's e-receipts data to unlock some insights comparing these two apps. Starting from April 2020, both PayMe and Octopus app seemed to be more on par when it came to user base. However, the real divergence emerged when Octopus's user base leaped significantly around June 2021 due to the first phase of the Hong Kong government's consumption voucher spend whereby local residents were granted 5000 HKD each (who doesn't like free money after all?) Users were allowed to receive this grant via their Octopus app among other three local e-wallet services.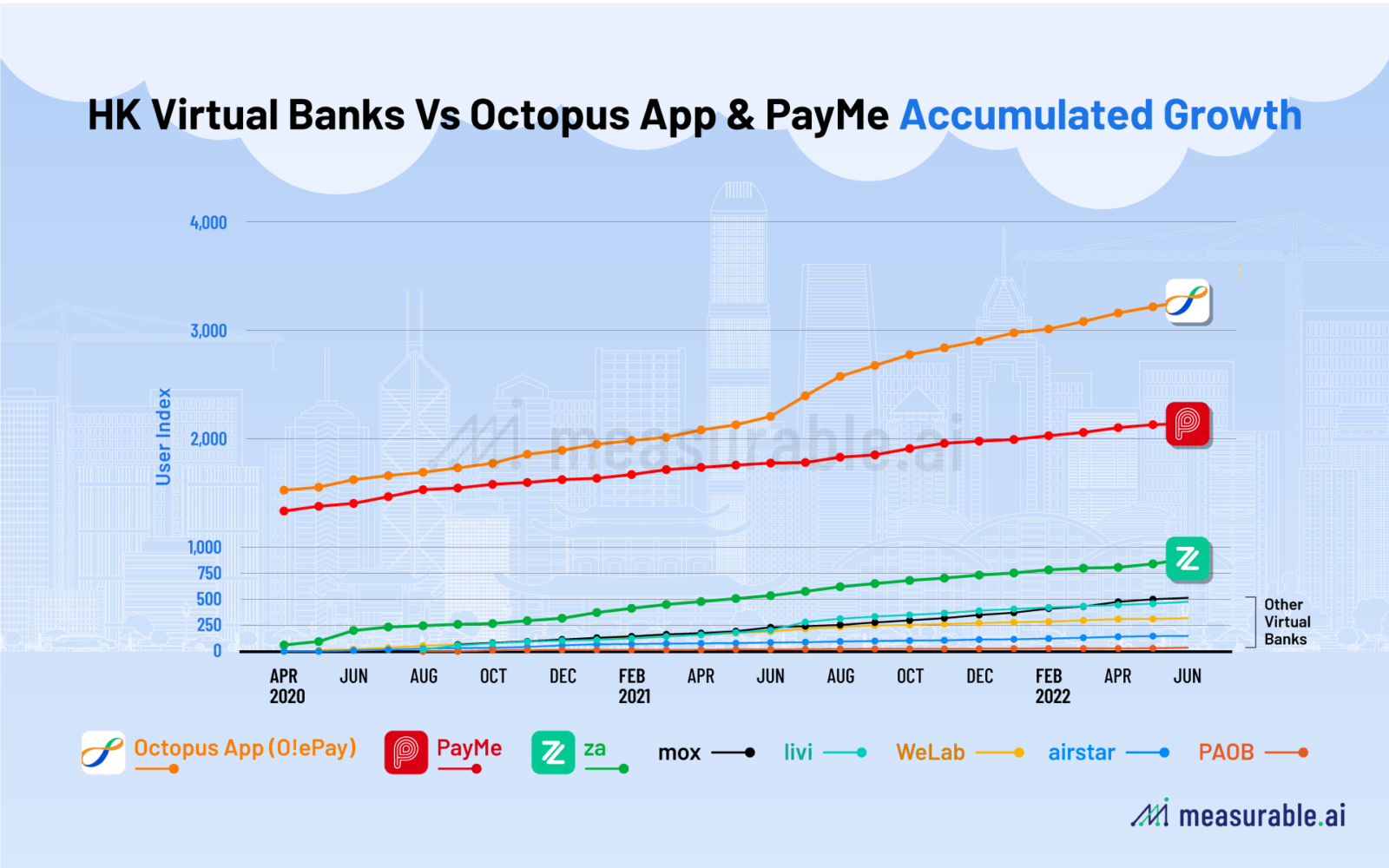 Despite the growth of the whole virtual bank industry, its accumulated user volume still has a gap to catch. Based on Measurable AI's accumulated user volume, even the leading virtual bank ZA's user volume is far from the e-wallet players Octopus and PayMe.
Want to find out more about the virtual banking or fintech landscape in Hong Kong or in the emerging markets? Write to us at [email protected] to speak to us.
ABOUT US
Michelle Tang is a Managing Director at Measurable AI who draws on her experience from consumer data, tech and equity investing to help evangelize alternative data and its vast use cases. Driven by a passion for data analytics and consumer intelligence, she enjoys research and storytelling with insights derived from Measurable AI's unique e-receipt dataset.
You can reach her at [email protected].
Measurable AI is the leading granular e-receipt provider for consumer intelligence in the emerging markets with a core focus in South East Asia, Middle East, India and Latin America. We cover the digital economy with the major sectors being ride hailing, food delivery, e-commerce and digital payments.
*The Content is for informational purposes only, you should not construe any such information or other material as investment advice. Prior written consent is needed for any form of republication, modification, repost or distribution of the contents.