Measuring Loyalty in Food Delivery Users in Asia 
As we endure the third year of Covid-19, most people have adjusted to the 'new normal' and returned back to working in the office. While it is not surprising to witness a pull back on purchases relating to remote work, what about food delivery? Looking at Asia alone and digging into Measurable AI's consumer panel, the data reveals that users are actually becoming more loyal now to the leading food aggregators than ever before. 
Food delivery is addictive: loyal users are here to stay
At the beginning of the pandemic, consumers distracted themselves by binge shopping on various sorts of "stay-at-home" companies, food delivery being one of them. We discovered that after three years of the pandemic, this behavior hasn't changed much. 
According to Measurable AI's transactional e-receipts data, the re-opening of restaurants and cities all over Asia did not affect the demand for food delivery too much. Surprisingly, the food delivery companies have actually managed to successfully win loyal users throughout the pandemic. 
Investigating deeper into the food delivery companies by consumer behavior, we use Measurable AI's granular transactional e-receipts data and analyze the users in two cohorts: Loyal users (who have been actively ordering since a year ago), and New users (whose first order is within a year).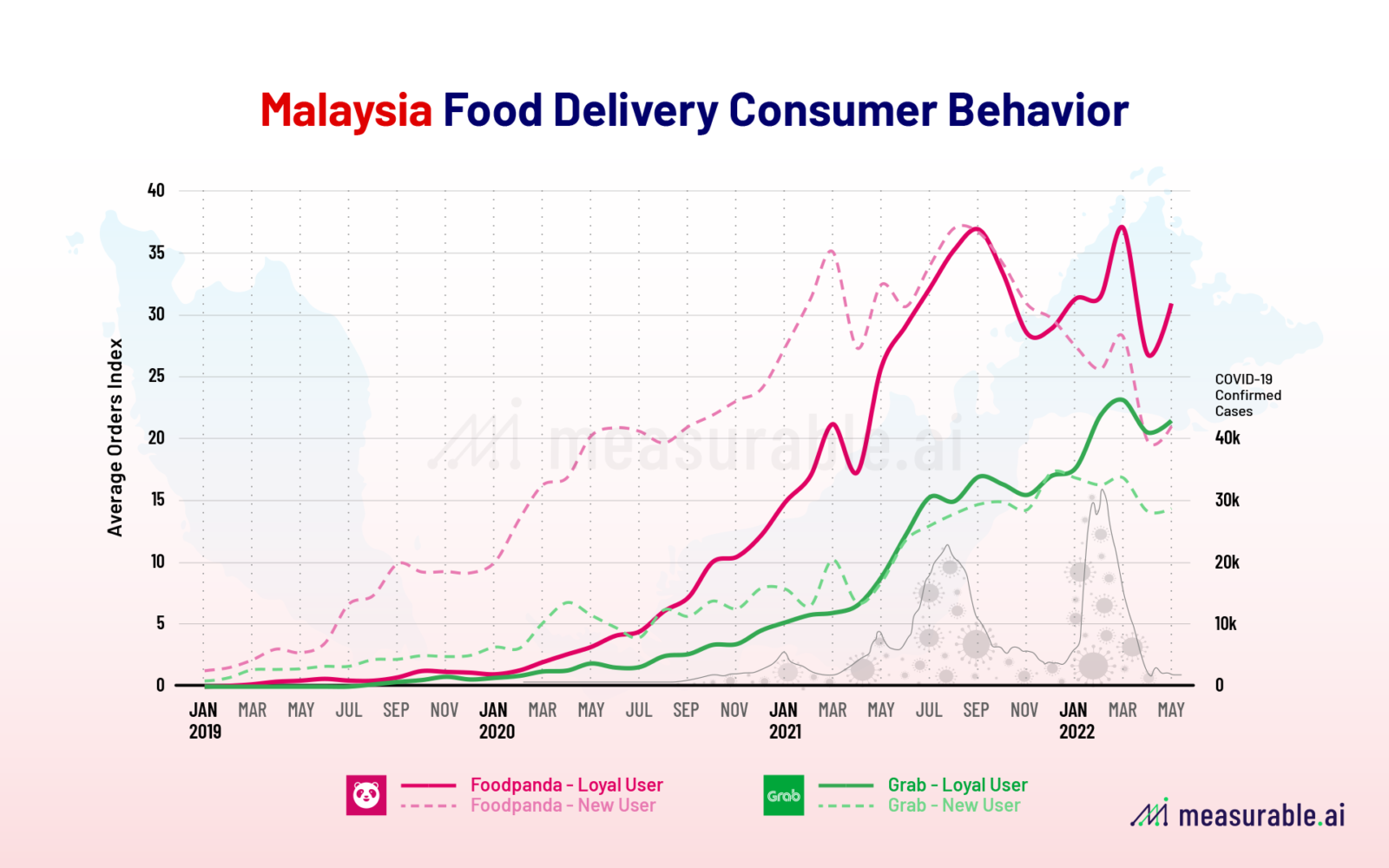 In Malaysia, it took food delivery companies such as Foodpanda and Grab quite a long time to acquire really loyal users.
For a long period of time, Foodpanda's sales were mostly coming from its newly joined users in Malaysia. Until last June when the country was undergoing another big wave of Covid, the loyal users' spending started to grow exponentially –  thus contributing more sales to Foodpanda than its new users for the first time. In 2022, Foodpanda's loyal users have already contributed more than its new users. Similar trends happened to Grab Malaysia, whose loyal users' spending surpassed new users' in 2021 April.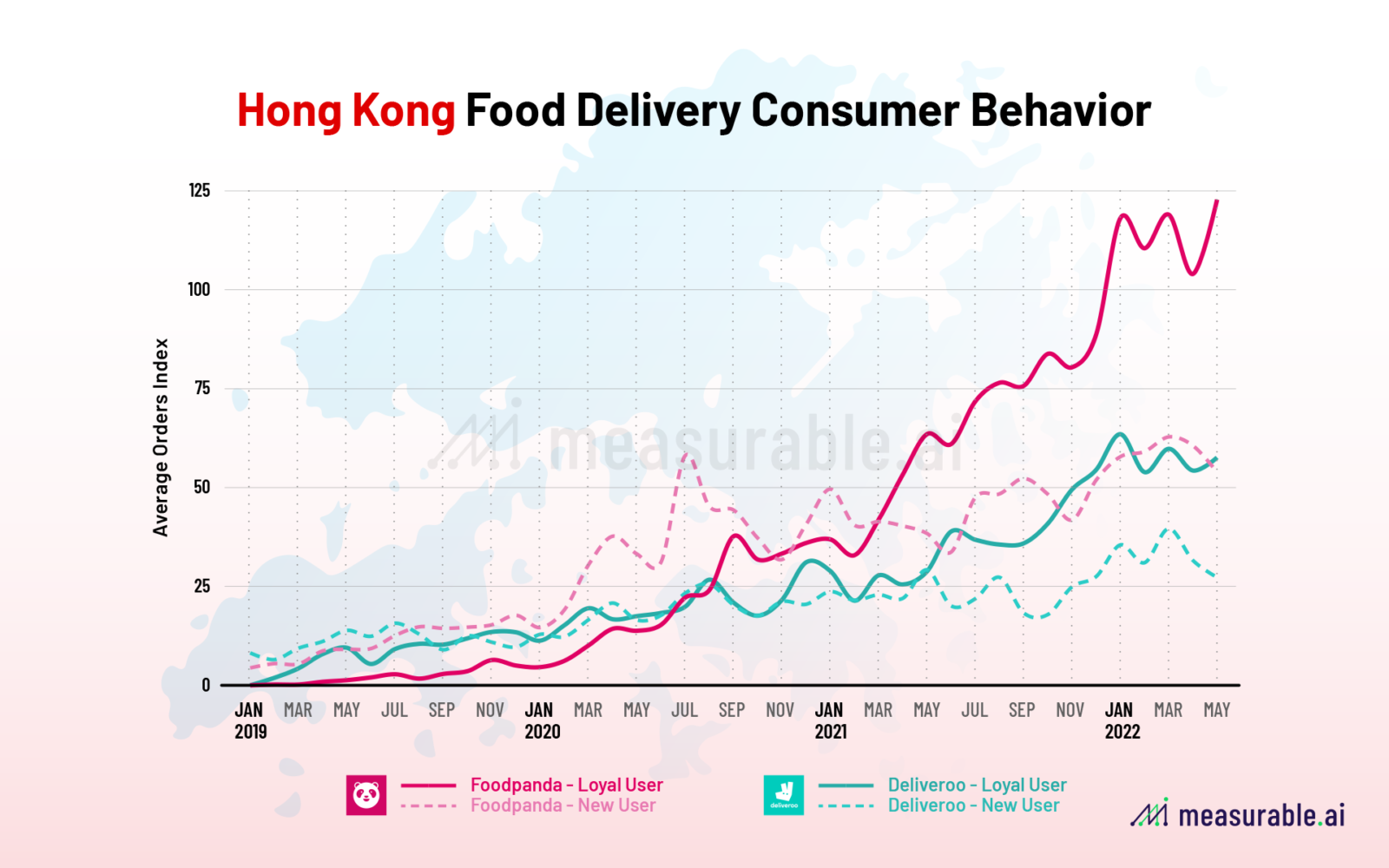 In Hong Kong, loyal users were seen earlier.
Both Foodpanda and Deliveroo's loyal users' order volume in Hong Kong started to outgrow those from new users during the transition between late 2020 and early 2021. This uptrend momentum of loyal users keeps growing in this year.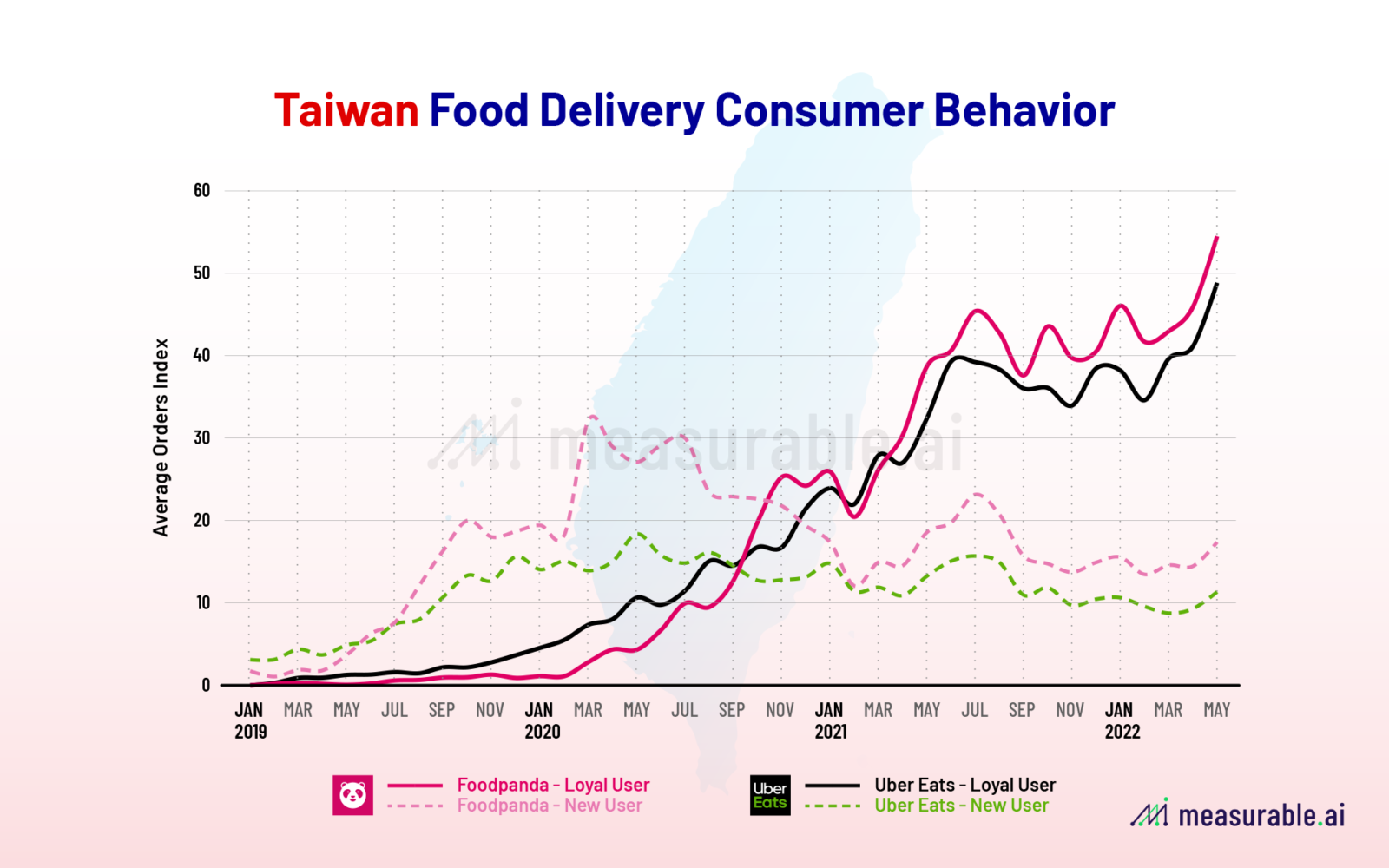 In Taiwan, Ubereats and Foodpanda share the market.
Both companies first had its loyal user group outgrow the new users at the beginning of Q3, 2020, though the difference being still small between the two groups of users. Foodpanda started to show a slight advantage in both loyal and new users in order volume starting from Q1, 2O21. 
Food delivery demand through the pandemic
Almost all the food delivery companies experienced a spike in orders during the pandemic, but it's not easy to retain those consumers after. Based on Measurable AI's granular e-receipts data, we review the overlap of food delivery user retention in Hong Kong, Taiwan and Malaysia.
When we look at users who join these food delivery platforms for the first time during the pandemic(1Q, 2020), the retention rate seems higher than expected.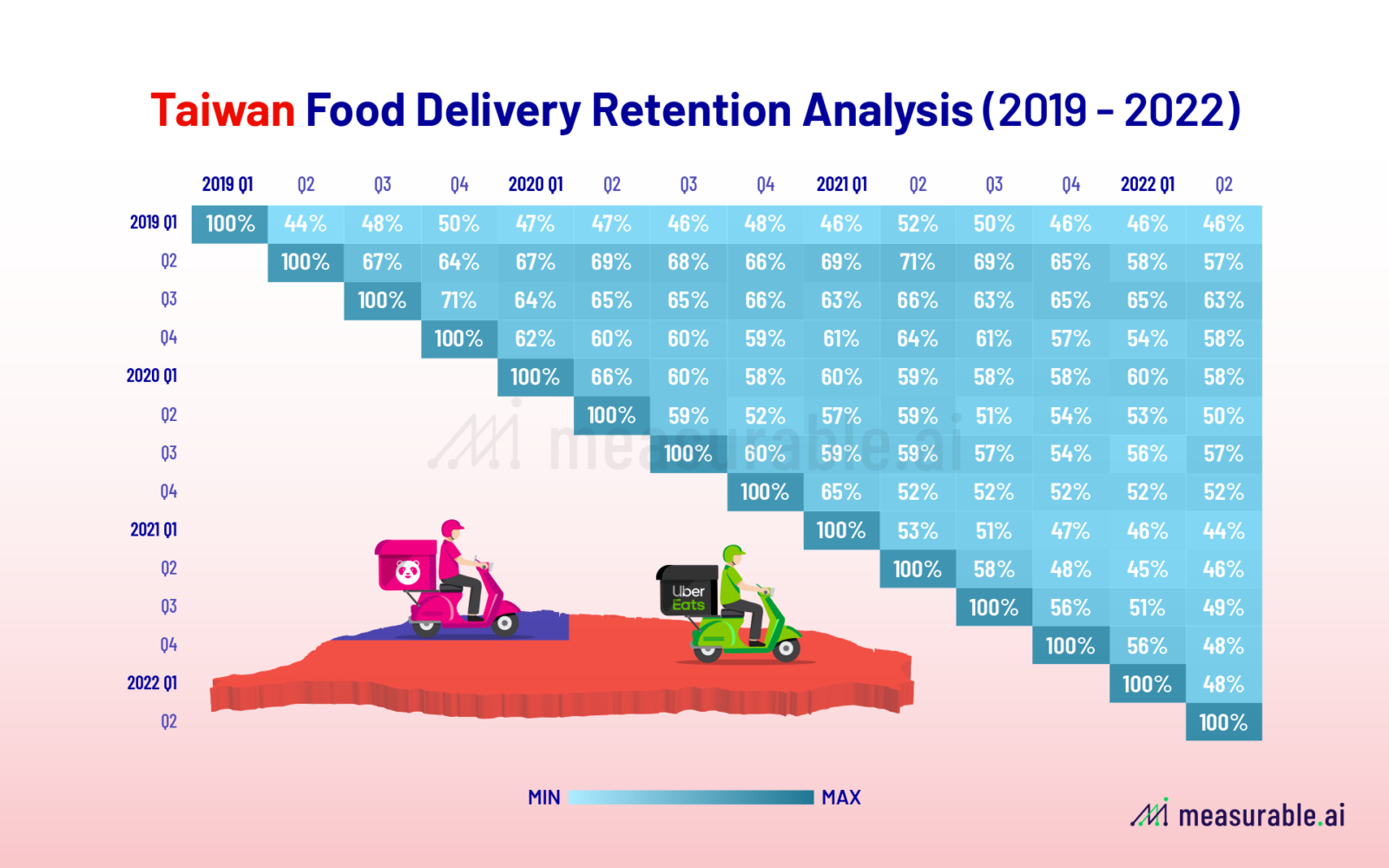 In Taiwan, 58% of the users who joined in Q1, 2020 are still ordering food delivery in the latest quarter of 2022. In Hong Kong, 51% of the "Covid-spike" users are still actively ordering after 32 months. In Malaysia, the number is smaller at 48%.  The retention rate gets relatively lower to users who joined after the peak pandemic period.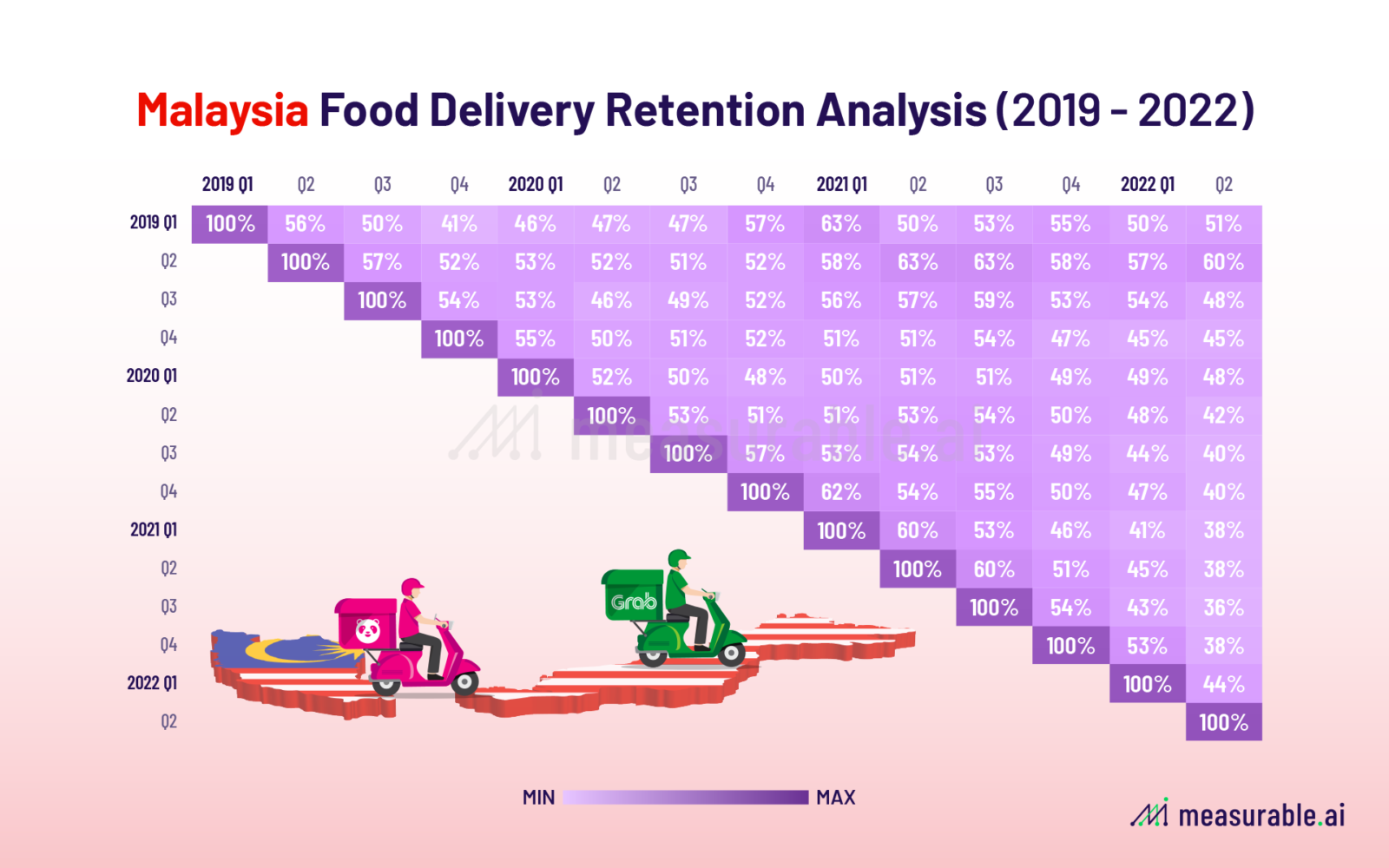 Food delivery orders in the retention analysis include only orders from on-demand food delivery apps in the three markets: namely Ubereats, Foodpanda, Deliveroo, Grab. 
User Overlap in Food Delivery Users in Hong Kong and Taiwan
In terms of user overlapping, in Hong Kong, the food delivery user overlap between Deliveroo and Foodpanda is around 17% in this year (Jan – Jun 2022). Deliveroo users in Hong Kong are less loyal now: almost half of the Deliveroo users also use Foodpanda during the first half of this year.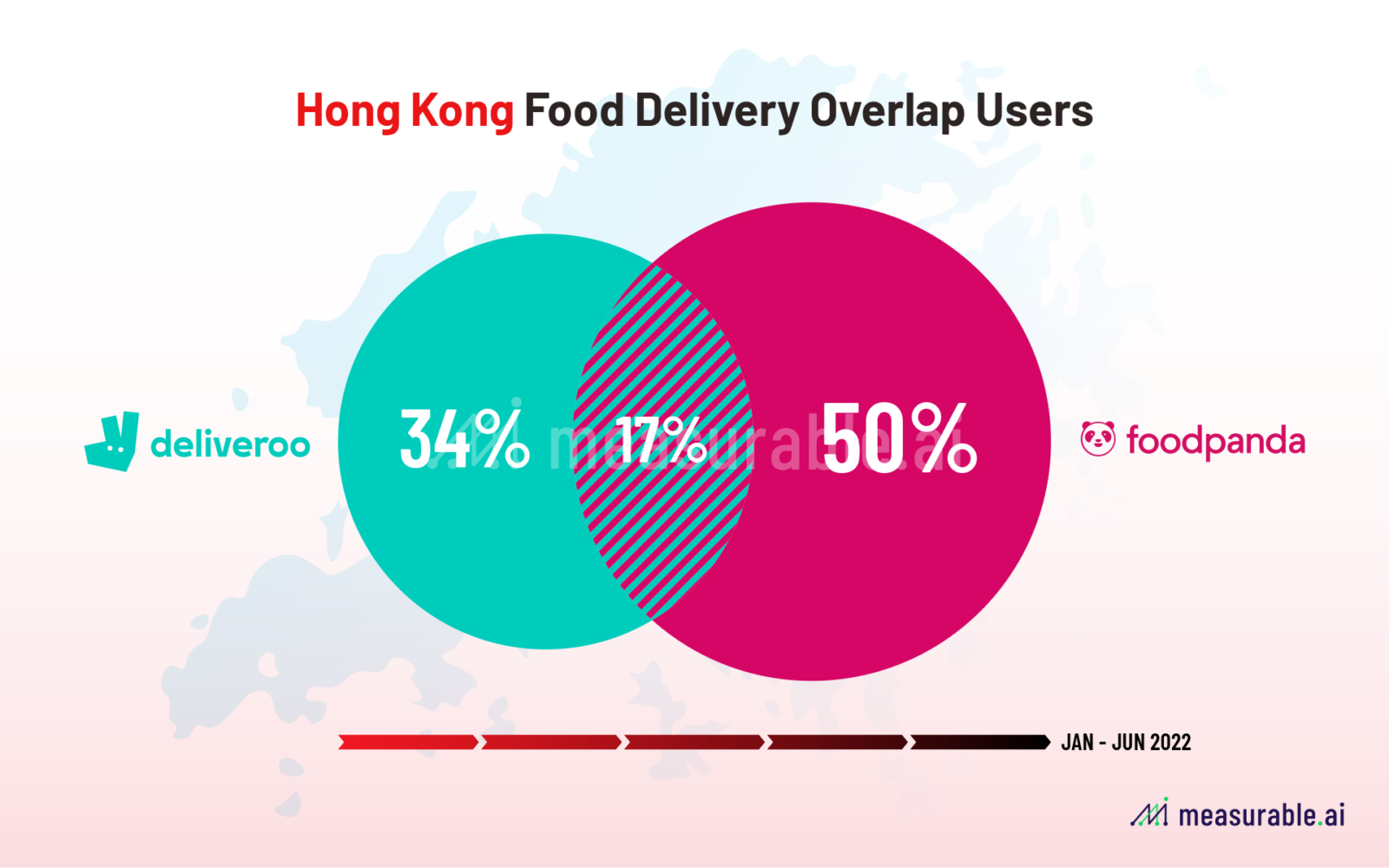 In Taiwan, the consumer overlap between UberEats and Foodpanda is similar to Hong Kong's at around 18%. Among all the Foodpanda users, around 40% also ordered on UberEats in Taiwan in the first half of this year (Jan – June), and 47% the other way around.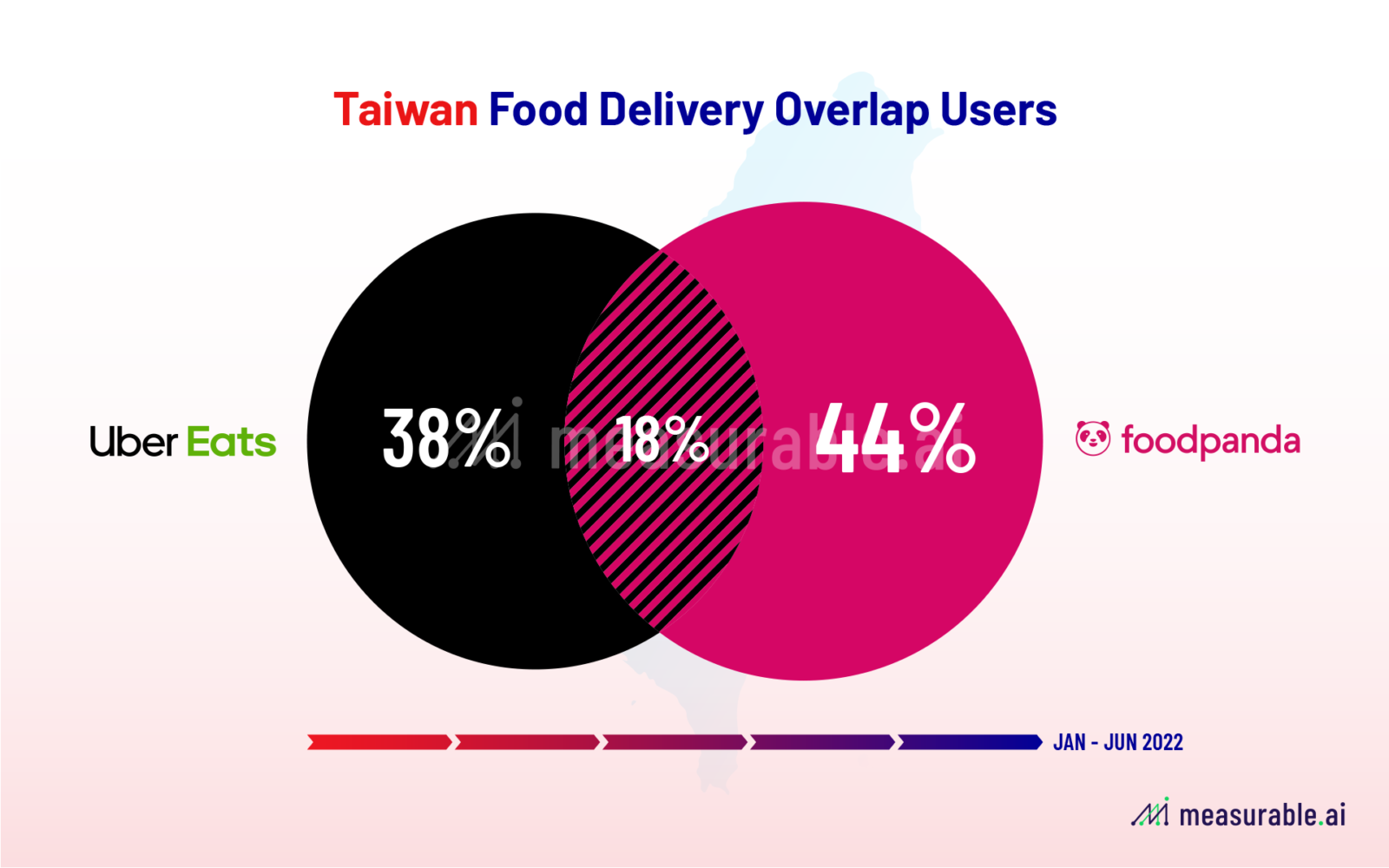 At Measurable AI, we build and own a unique consumer panel and are the largest transactional email receipt data provider for the emerging markets. We are well regarded for our comprehensive alternative data across the digital economy, particularly for our consumer insights relating to the food-delivery industry. 
Users in Asia are keeping up with the spike in food delivery experienced during peak pandemic times. Read our former researches on other Asian markets in digital economies: food delivery, ride-hailing and e-commerce. Keep up-to-date with the industry changes by subscribing to The Data Insights newsletter or follow the Measurable AI insights blog. 
If you're looking for alternative data sources for your hedge funds, corporates or researches, please contact [email protected].
ABOUT US
Charlie Sheng is a serial entrepreneur, and a dedicated communicator for technology. She enjoys writing stories with Measurable AI's very own e-receipts data.
You can reach her at [email protected]
Measurable AI is a leading alternative data provider for food-delivery, ride-hailing, and e-commerce in emerging markets. Covering Southeast Asia, Latin America, India, Middle East and more.
*The Content is for informational purposes only, you should not construe any such information or other material as investment advice. Prior written consent is needed for any form of republication, modification, repost or distribution of the contents.