Ride-hailing Race in Indonesia: Gojek versus Grab
In South East Asia, Gojek and Grab remain to be the two biggest ride-hailing mobility players, just like Uber and Lyft in the US. A lot has happened to both companies in Southeast Asia in the past year: Gojek announced its merger with Tokopedia and became GoTo Group; Grab app just finished its bell-ringing ceremony at Nasdaq with the biggest SPAC deal (NASDAQ: GRAB).
At Measurable AI, we build and own a unique consumer panel and are the largest transactional email receipt data provider for the emerging markets, delivering both aggregated and raw data. Let's take a look at the market share changes across 2021 – mid 2022 in the ride-hailing industry between these two industry behemoths in Indonesia with our granular e-receipts data.
The overall marketshare of Indonesia ride-haling has been stable with Grab leading with a small advantage. Based on Measurable AI's e-receipts panel, we track the total spending on Mobility (Bike, Car included) for both companies. 
[2023 Updated] Inside the Duopoly: Gojek vs Grab on Indonesia's Ride-Hailing Market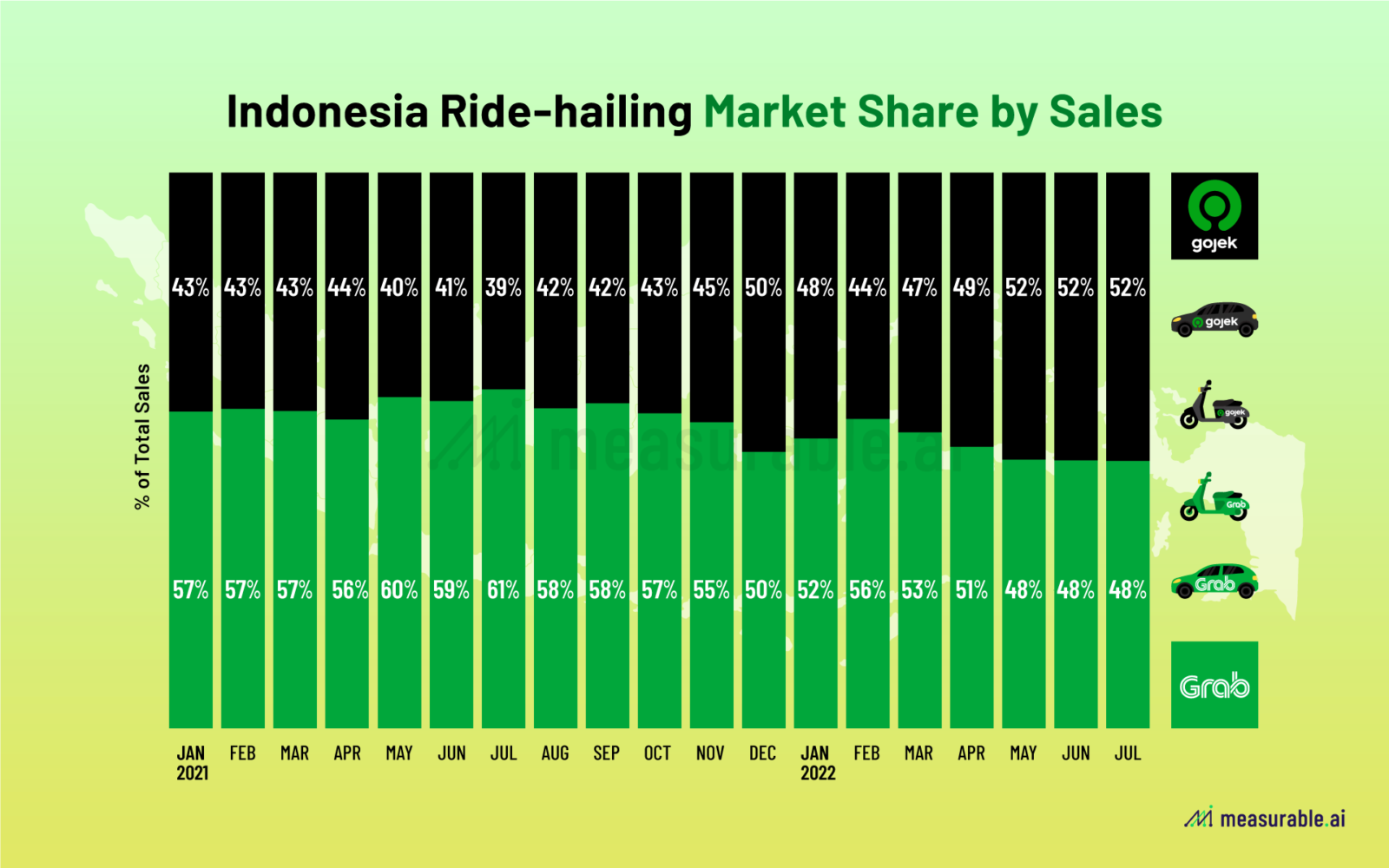 *In the above chart, we used the metrics "totalprice" as a proxy of companies' revenues. Note that "totalprice" is the number before any promotion or discount applied to the order, which are closest to the GMV metrics for the two companies.
Gojek seems to hold steady, owning around a 45% market share in the ride-hailing in Indonesia last year, while Grab's shares fluctuate around the 55% mark. In May 2021, Grab managed to own around 60% of the market for a short while.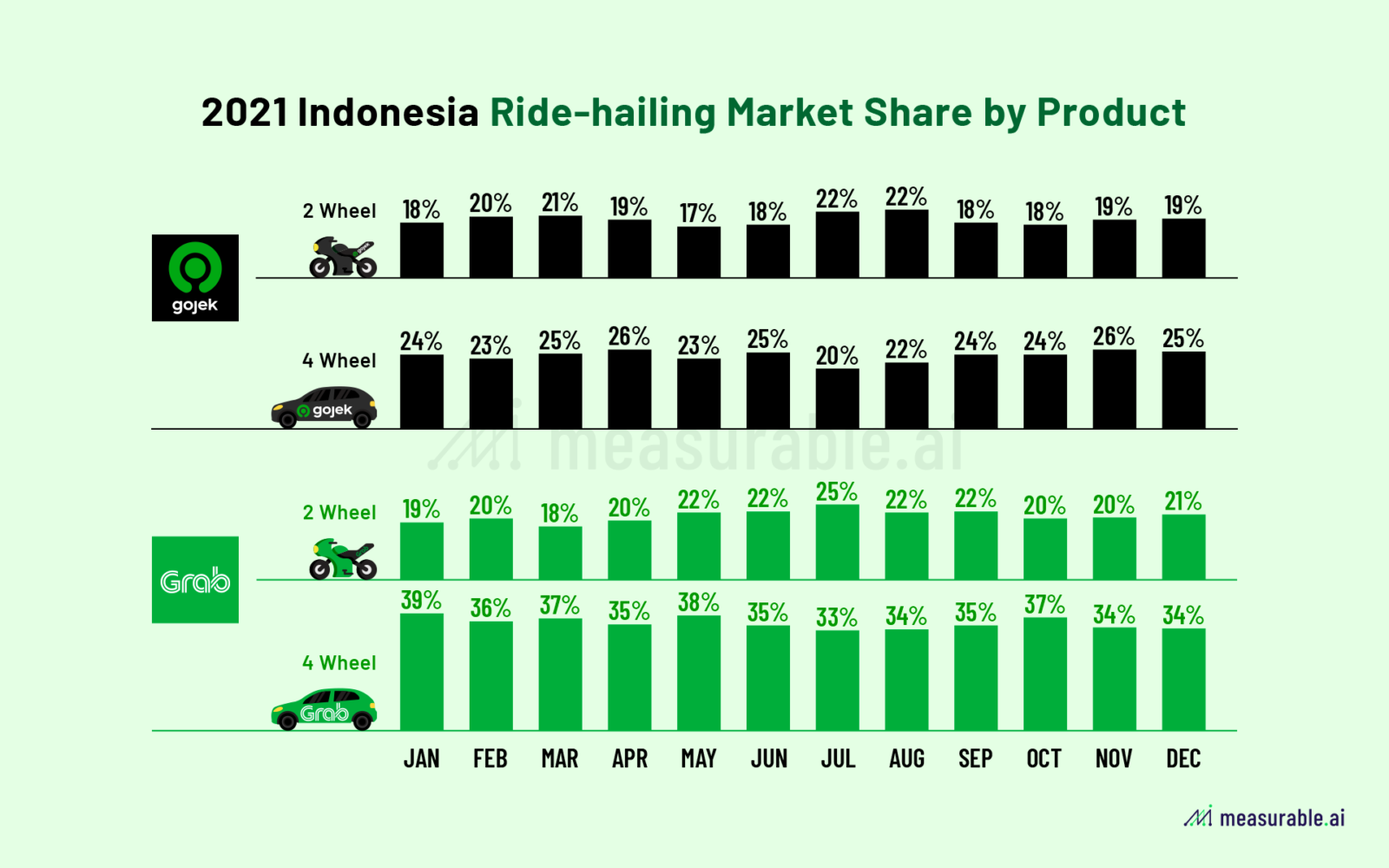 Thanks to the granularity of Measurable AI's e-receipts data, we can dive deeper into the company's mobility product offering. When it comes to four-wheel rides: Grab's Grab Car owns a bigger market share in Indonesia than its competitor Go Car. In January 2021, Grab Car took around 39% of the total market, while Go car around 24%. On two-wheel rides, both Grab and Gojek own a similar market share at around 20%. Inside Gojek, car and ride contribute closer percentage of revenues for the company.
Ride-hailing was one of the worst hard-hit sectors at the beginning of the covid breakouts. Nonetheless, the sector is slowly picking up along with the rising vaccination rates and the gradual reopening of the economy all over the world. We'll continue monitor the competition of the ride-hailing giants in different markets.
Talk to us for for more interesting alternative datasets on ride-hailing markets.
Read previous articles on Grab and Gojek:
A Grab Explainer: FoodDelivery, Rideshare, and More
Ride or Die: Gojek versus Grab in Indonesia
ABOUT US
Charlie Sheng is a serial female entrepreneur, and a dedicated communicator for technology. She enjoys writing stories with Measurable AI's very own e-receipts data.
You can reach her at [email protected]
Measurable AI provides actionable consumer insights based on billions of alternative data for emerging markets.
*The Content is for informational purposes only, you should not construe any such information or other material as investment advice. Prior written consent is needed for any form of republication, modification, repost or distribution of the contents.