Brawl Stars Surpassed Clash of Clans as the Highest Grossing Supercell Game in 2019 Q1
According to reports, Brawl Stars, the latest game launched by Supercell, has surpassed Clash of Clans to become the highest-grossing game in 2019 Q1 under the game developer label. Brawl Stars has become one of the signature products of Supercell as soon as its launch in December 2018, with stably increasing popularity and revenue. Currently, the cumulative grossings of the game has already exceeded 275 million USD, with more than 100 million downloads.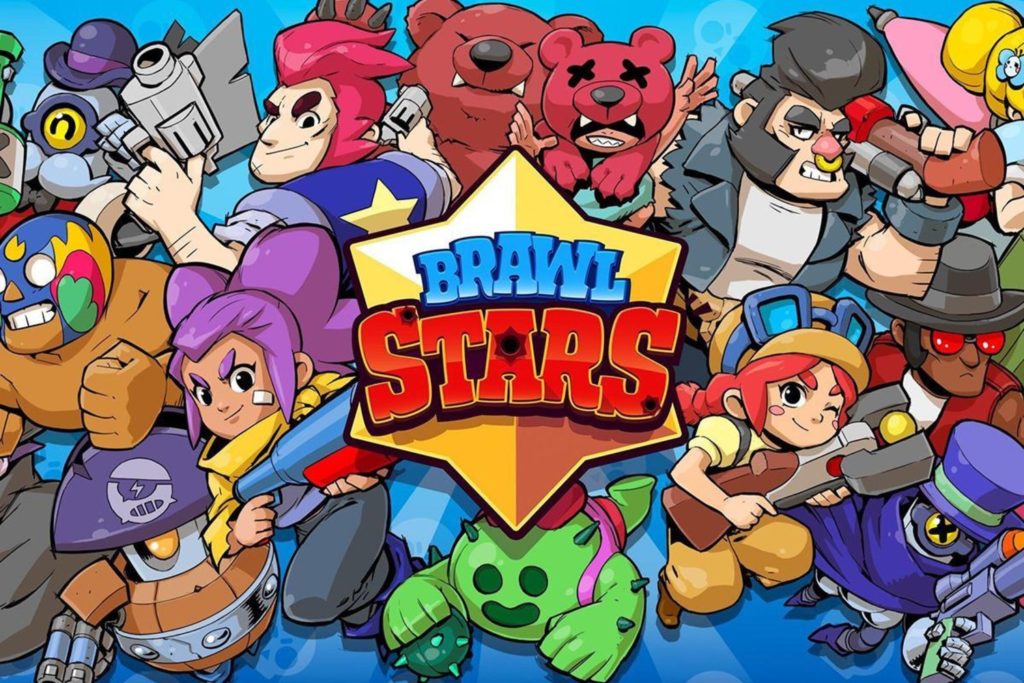 Measurable AI has issued a blog post in May about Brawl Stars, analysing the game's potential to outperform its labelmates. As stated in that previous record, the revenue gap between Brawl Stars and Supercell's two other classic games, Clash of Clans and Clash Royale, was gradually shrinking since the global launch of the new title. In line with the old findings and referring to the latest data also by Measurable AI, we could see that in June, the average paying user spend of Brawl Stars was $20.08, 45% higher than the $11.03 of Clash of Clans. As a newbie which has been launched for just 6 months, this is quite an impressive number.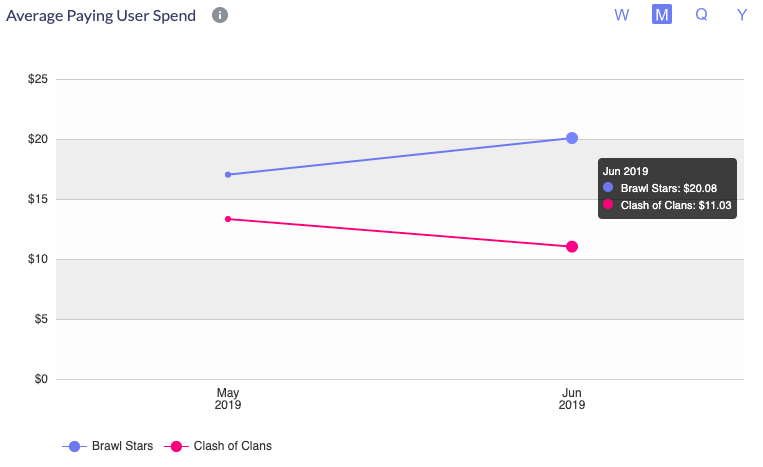 Brawl Star's rapid growth rate is more or less related to its advantage of being part of the Supercell family. The Supercell team not only ensures the game's high quality, but also helps Brawl Stars to absorb loyal fans from the label's classics. According to MAI, among all paying users of Brawl Stars, 4.92% and 6.56% also play enthusiastically in Clash of Clans and Clash Royale.

Also, with the drop of grossings since 2017, Supercell has high hopes on this new game. The label spent a huge sum to promote the game through advertisements in app store, social media, Youtube videos, billboards, and even pre-movie ad sections in theatres, in order to boost the game's publicity.
With Supercell's substantial support and the game's unique charm, Brawl Stars' instant fame seems to be logical. Another interesting point worth noting, is the game being loved by an unexpectedly large number of Korean players. Among the total revenue of Brawl Stars, 21% was from the US, while 19% was from Korea. Also, since its launch last year, the game has never fallen out of the Korean app store's top 10 game list. Brawl Stars' fan base in Korea is huge, and it's definitely a good news for Supercell.

Even though Brawl Stars has already surpassed Clash of Clans in terms of its grossings in 2019 Q1, the overall performance of it still requires improvements so that the game can become the 3rd billion-dollar title under Supercell. From MAI's data, the current average order value (AOV) of Brawl Stars is $9.43, the lowest among all 3 flagship games of Supercell. To ensure sustainable revenue, the game must try to lift up its AOV.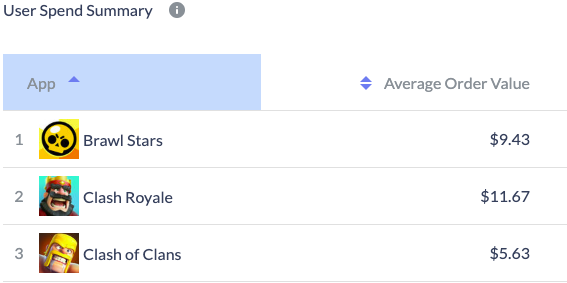 Brawl Stars would probably continue to grow with a promising prospect of expansion. Although the title has already been launched globally last year, it is still not available in the Chinese app store due to various regulatory issues. The game's Chinese fans therefore have to play on the international server, which unfortunately seems to have caused some disappointing gaming experiences. The good news is that Tencent has announced earlier this year the forthcoming official introduction of the game into the Chinese market. With a bunch of players already queuing up to jump in, the Chinese version of Brawl Stars should be able to bring in a great sum of revenue once it is out, leading the game's way to becoming the next billion-game of Supercell.
About MAI Insights
Measurable AI is your data powerhouse that provides accurate, real-time and actionable consumer insights. By scanning and identifying over 20 Billion actual online spender's email receipts, Measurable AI transforms them into valuable consumer insights, which updates daily right after the purchases happen.
Cara Lui is a blog-writer specializing in analytical industry trends and new discoveries of Mobile Apps with the assistance of the MAI Insights' real-time online consumer data panel.