Data on the Table: Hong Kong's Restaurant Bookings via OpenRice
In today's digital economy, customers are hungry for seamless dining experiences that span from their screens to their seats. Beyond the convenience of food delivery, online restaurant bookings constitute another important market segment in dining, where competition is as fierce as the flavors on offer.
In Hong Kong, there are around 28,000 restaurants, and more than 10 restaurant booking apps that strive to simplify this dining journey. With Measurable AI's unique consumer e-receipt data panel in Hong Kong, we're slicing into the booking trends data to understand local diners' preferences.
Our focus today is on OpenRice, a key player in Hong Kong's restaurant booking scene since 1999. The latest data from Measurable AI shows a noticeable growth trend in restaurant reservations made through OpenRice in Hong Kong, although this momentum has experienced a slight deceleration in the most recent quarter of 2023.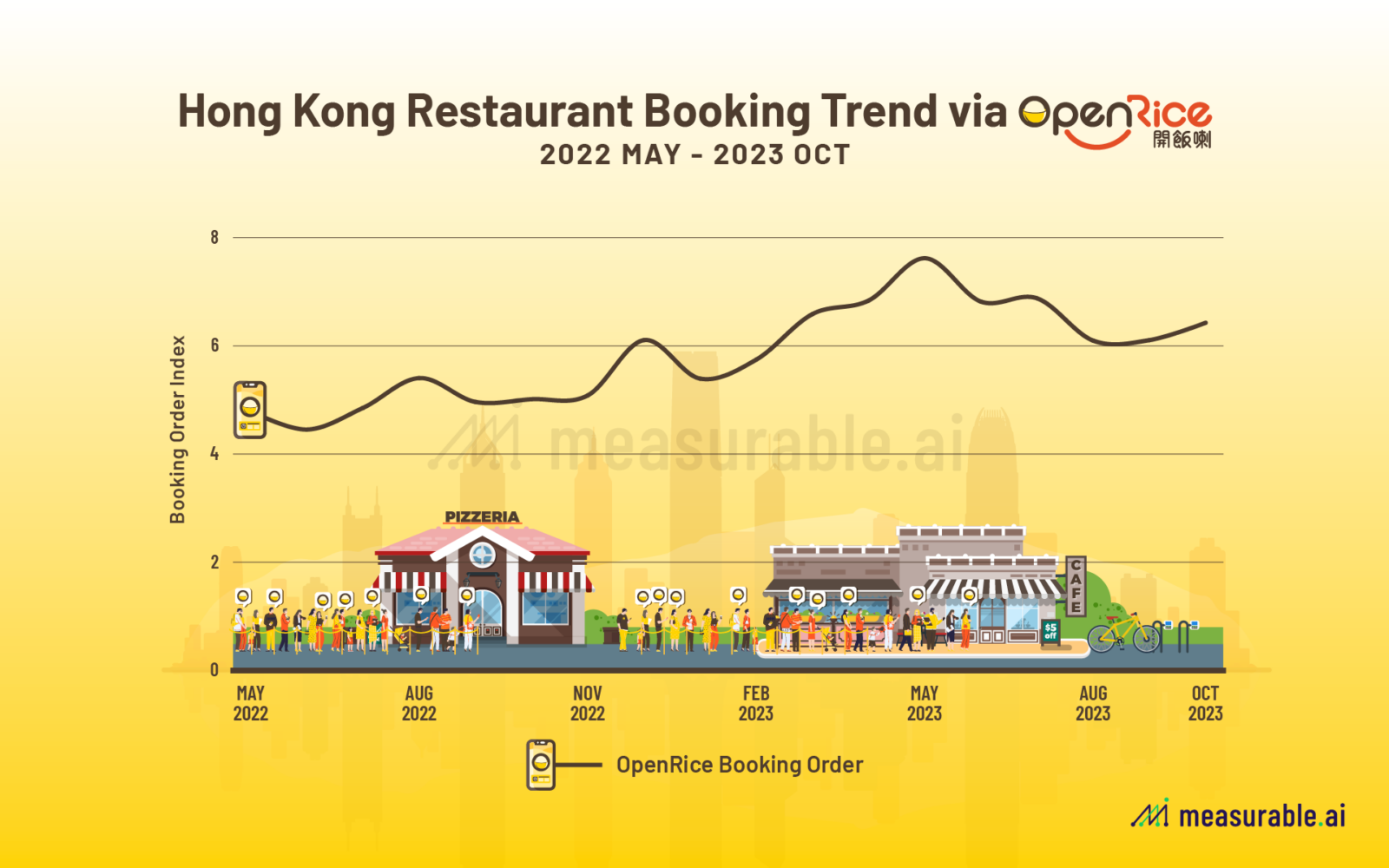 Interestingly, Openrice's restaurant pick-up service has shown remarkable growth, with order volumes more than tripling since Q3 2020. This trend has continued unabated post-pandemic, maintaining a steady pace into 2023. It's noteworthy that these are exclusively pick-up orders, not deliveries.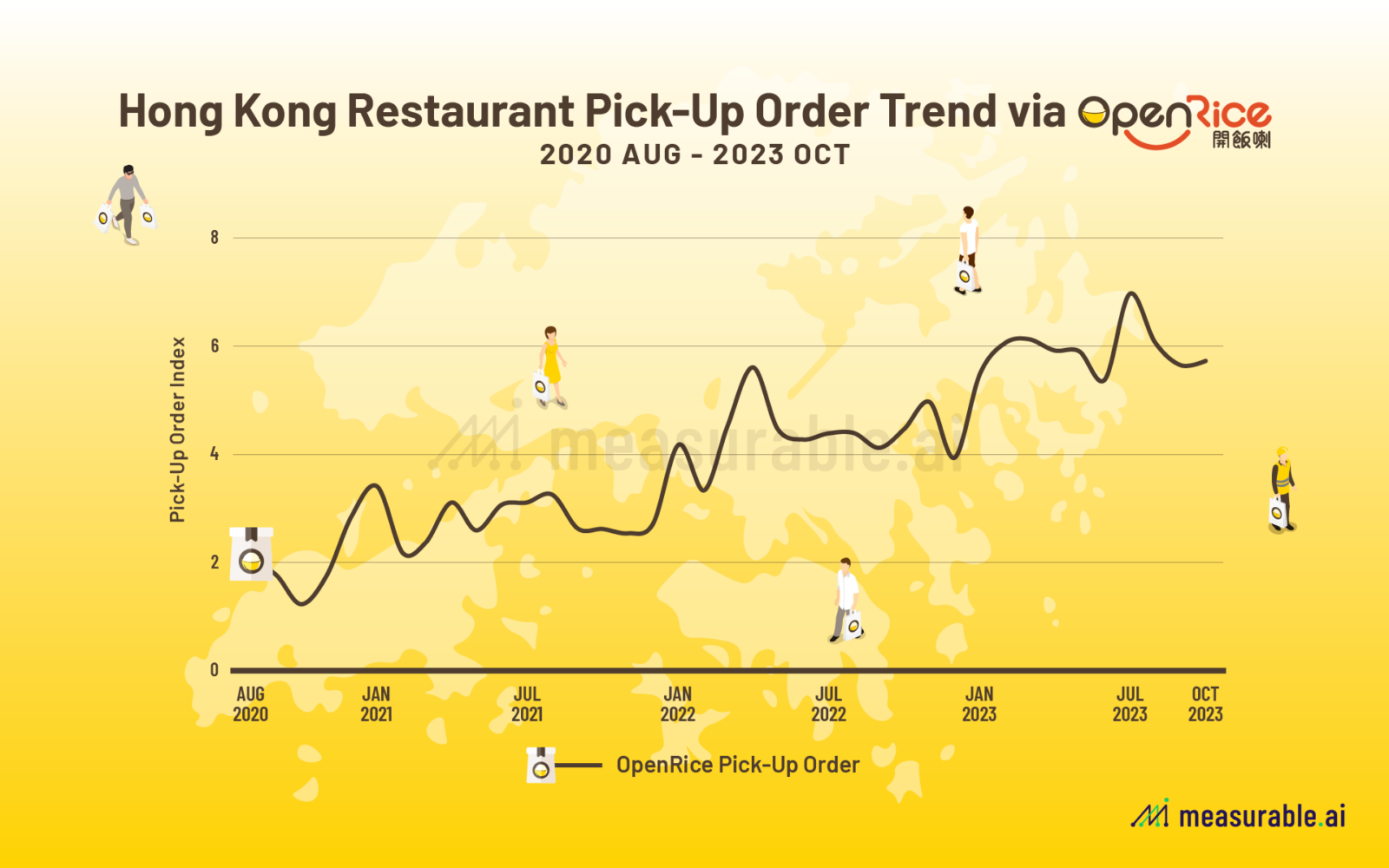 Thanks to the granularity from Measurable AI's data, our next step takes us into the heart of Hong Kong's dining culture, as seen on OpenRice. We'll explore the nuances of diners' restaurant preferences, their booking habits, favorite times for reservations, and popular locations.
According to Measurable AI's latest data from Q3 2023: the top three most frequently booked restaurants are all – hot pot restaurants, and two are Taiwanese- styled hotpot . 牛大人台灣火鍋吃到飽 leads the charge, with approximately 2.4% of all bookings, simmering at the top of the most frequently booked restaurants in Hong Kong via Openrice this quarter 2023.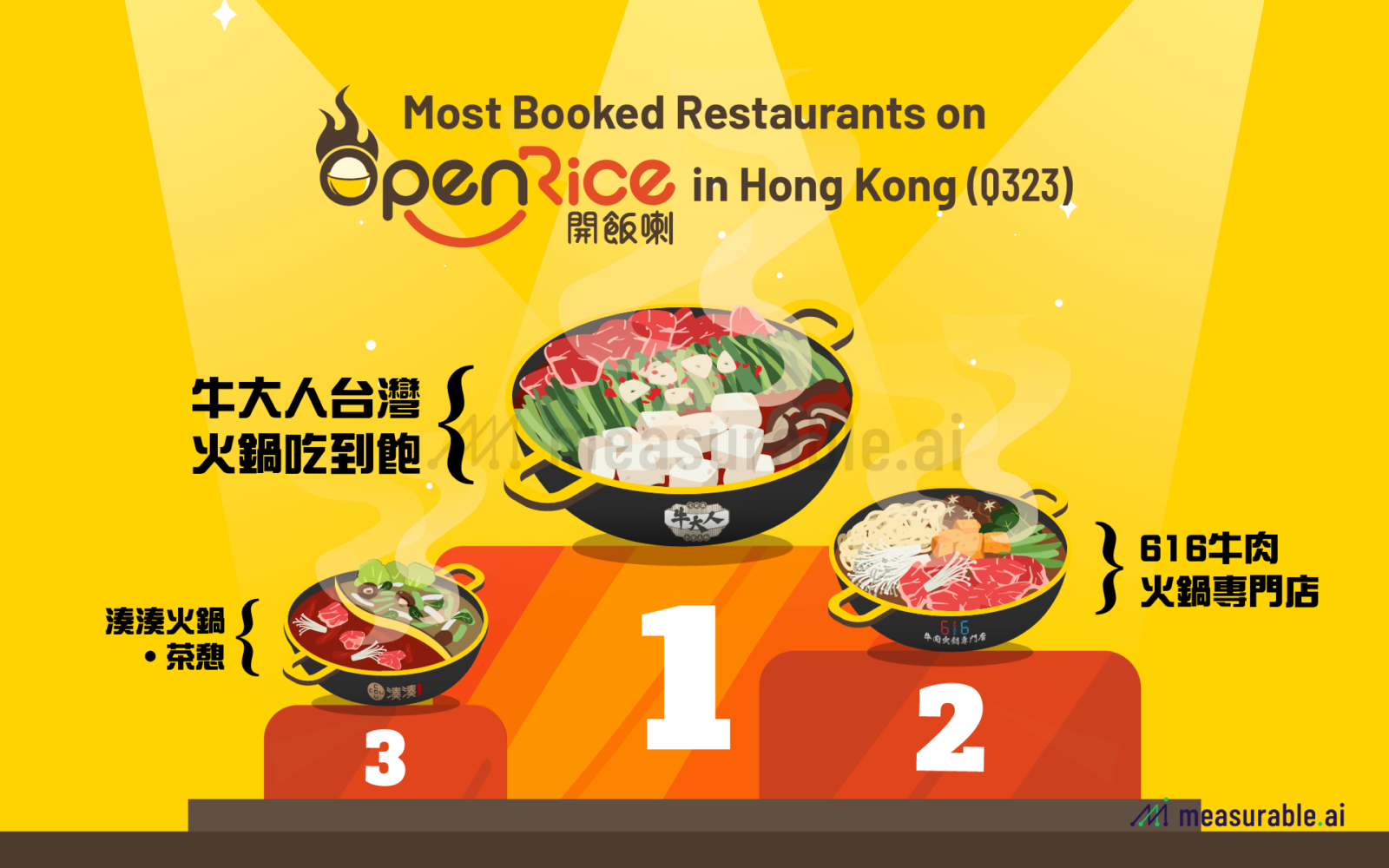 Next, let's take a look at the booking habits among Hong Kong diners. As the weekend approaches, so does the peak in Hong Kong's restaurant booking activity. Friday (17%), Saturday (17%), and Sunday (16%) are the prime days for reserving a spot, totaling 50% of the week's reservations.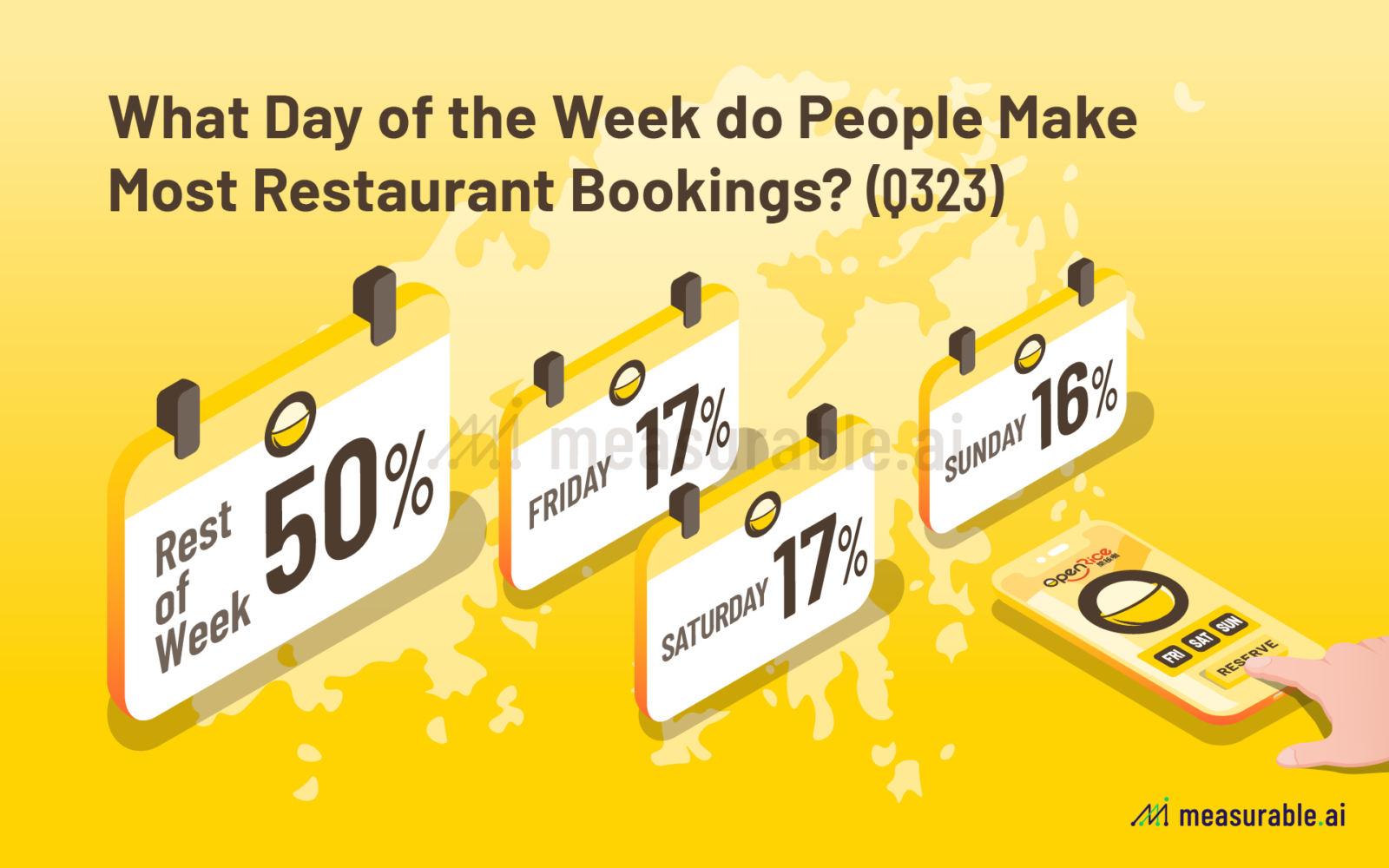 When we look at what times people are grabbing their seats at the table, evenings are the undeniable favorite. Two-thirds of the reservations on OpenRice are for dinner, making it the main event of the day. Lunch nabs 28% of the bookings as people break up their day with a bite out, and afternoon tea picking up the crumbs at 6%.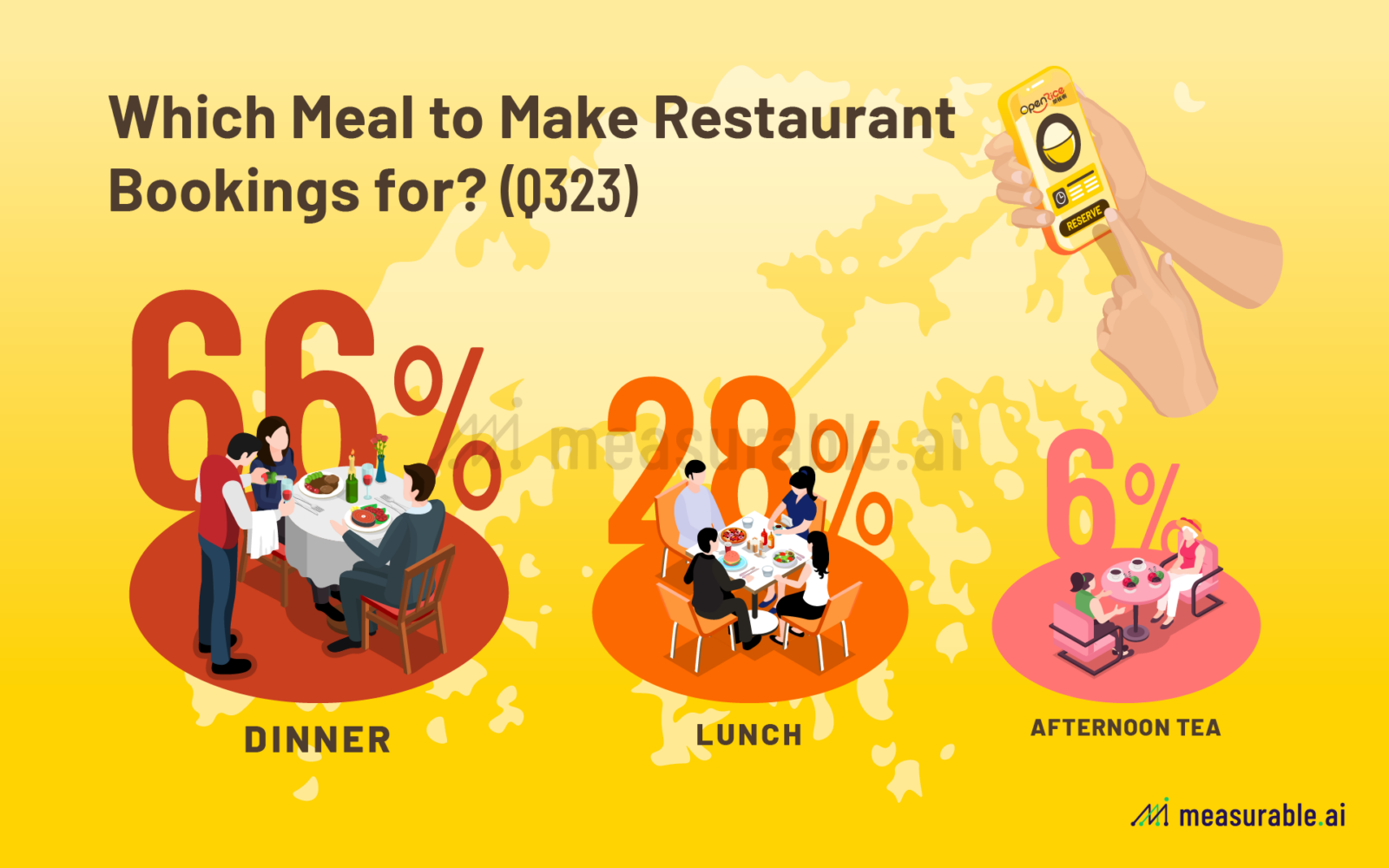 Now, who's coming to these meals? It seems cozy tables for two are what most are after, claiming nearly half of all bookings. But there's room at the table for a few more, with 19% of reservations made for trios. Groups of four also make up around 15% of bookings on Openrice Hong Kong in Q3 2023.
The booking data from Measurable AI not only tells us when and what people eat, but also where they prefer to dine. Tsim Sha Tsui is the belle of the ball with 23% of reservations from OpenRice, followed by Mong Kok at 17%, and Causeway Bay (11%).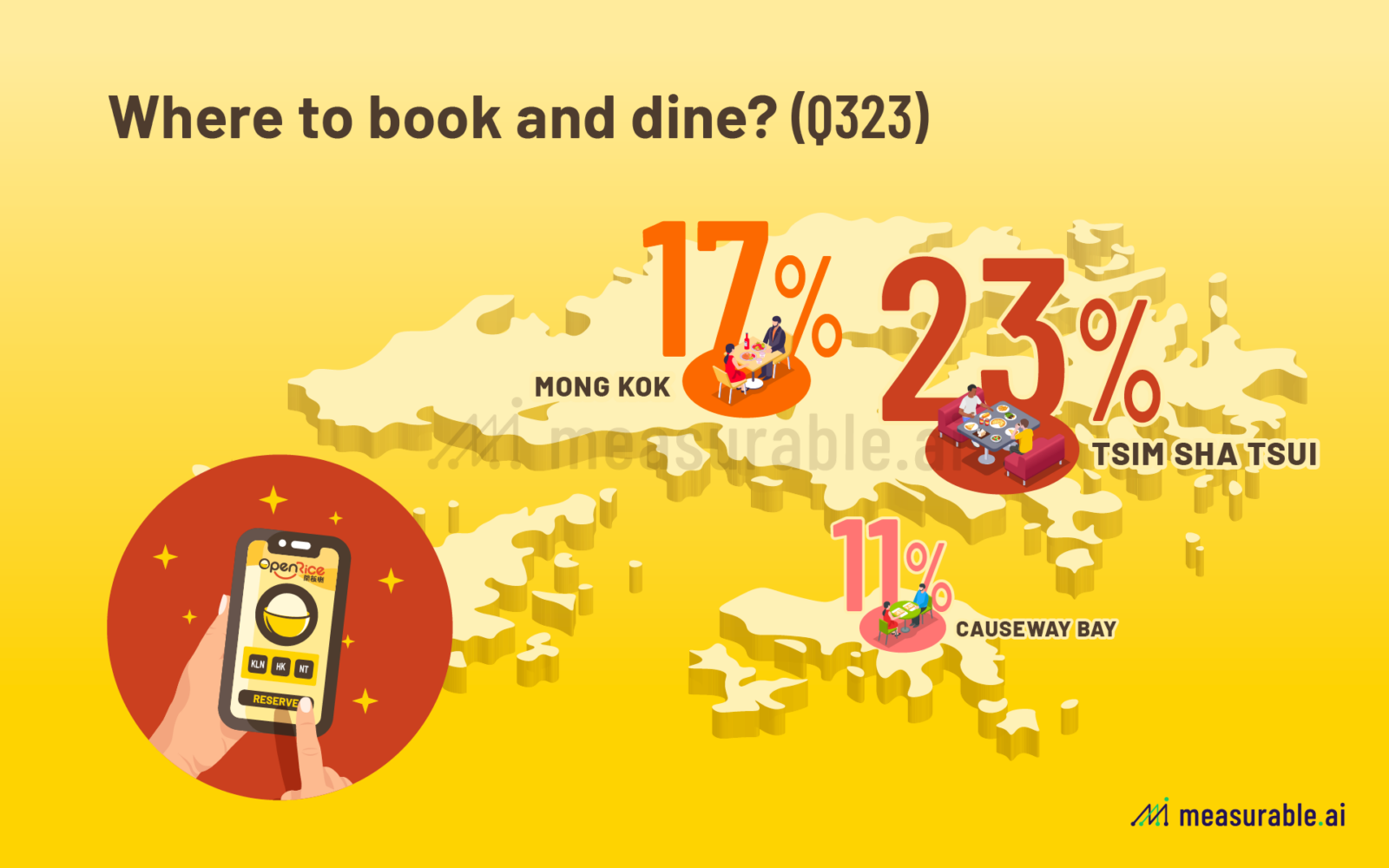 The tables will keep turning, and with our unique consumer data continuing to flow, there's a whole menu of insights yet to come. At Measurable AI, we build and own a unique consumer panel and are the largest transactional email receipt data provider for the emerging markets including Southeast Asia, Latin America, Middle East, and Africa. We are well regarded for our comprehensive dataset across the digital economy including food-delivery, ride-hailing, and e-commerce.
If you've found this analysis intriguing, feel free to schedule a demo with us to learn more.
To stay updated with all aspects in Hong Kong's digital economy, don't forget to sign up for our newsletter. You'll get firsthand information about the upcoming 2023 annual reports covering various facets of Hong Kong's digital landscape – from online dining bookings, food delivery and e-commerce to fintech and travel.
About Measurable AI
Charlie Sheng is a serial entrepreneur, and a dedicated communicator for technology. She enjoys writing stories with Measurable AI's very own e-receipts data. You can reach her at [email protected].
At Measurable AI, we build and own a unique email receipt consumer panel and have become the largest transactional email receipt data provider for the emerging markets. We are well regarded for the granular insights that can be extracted from our comprehensive datasets across the digital economy, including e-commerce, food delivery, ride-hailing and fintech.
Check out our latest reports: 2019-2022 Food Delivery Annual Report for Asia, Asia & Americas Ride-hailing Report 2019-2023.
*The Content is for informational purposes only, you should not construe any such information or other material as investment advice. Prior written consent is needed for any form of republication, modification, repost or distribution of the contents.