Understanding Southeast Asia E-commerce Shoppers:  A Shopee Analysis
Getting a grip on changing shopping habits is crucial for businesses aiming to thrive in Southeast Asia's fast-paced market. As this market continues to grow, consumers' ways of making purchasing decisions evolve. With Measurable AI's unique transactional e-receipts data, we can delve into the hidden mazes of shopping patterns in different regions. In this blog post, we're focusing on Shopee (NYSE: SE) as a case study to understand the e-commerce users in Southeast Asia.
To learn more about consumer behavior metrics that we track in the e-commerce industry with alternative data, please contact us.
At Measurable AI, we build and own a unique consumer panel and are the largest transactional email receipt data provider for the emerging markets including Southeast Asia, Latin America, Middle East and Africa. We are well regarded for our comprehensive dataset across the digital economy including food-delivery, ride-hailing and e-commerce.
A Glimpse into Southeast Asian Consumer Loyalty
Consumer retention remains relatively high in Shopee users among the Southeast Asian countries such as Indonesia, Thailand, Philippines, and Singapore. In particular, Singaporean Shopee users demonstrate the strongest loyalty, maintaining an over 60% retention rate after two years.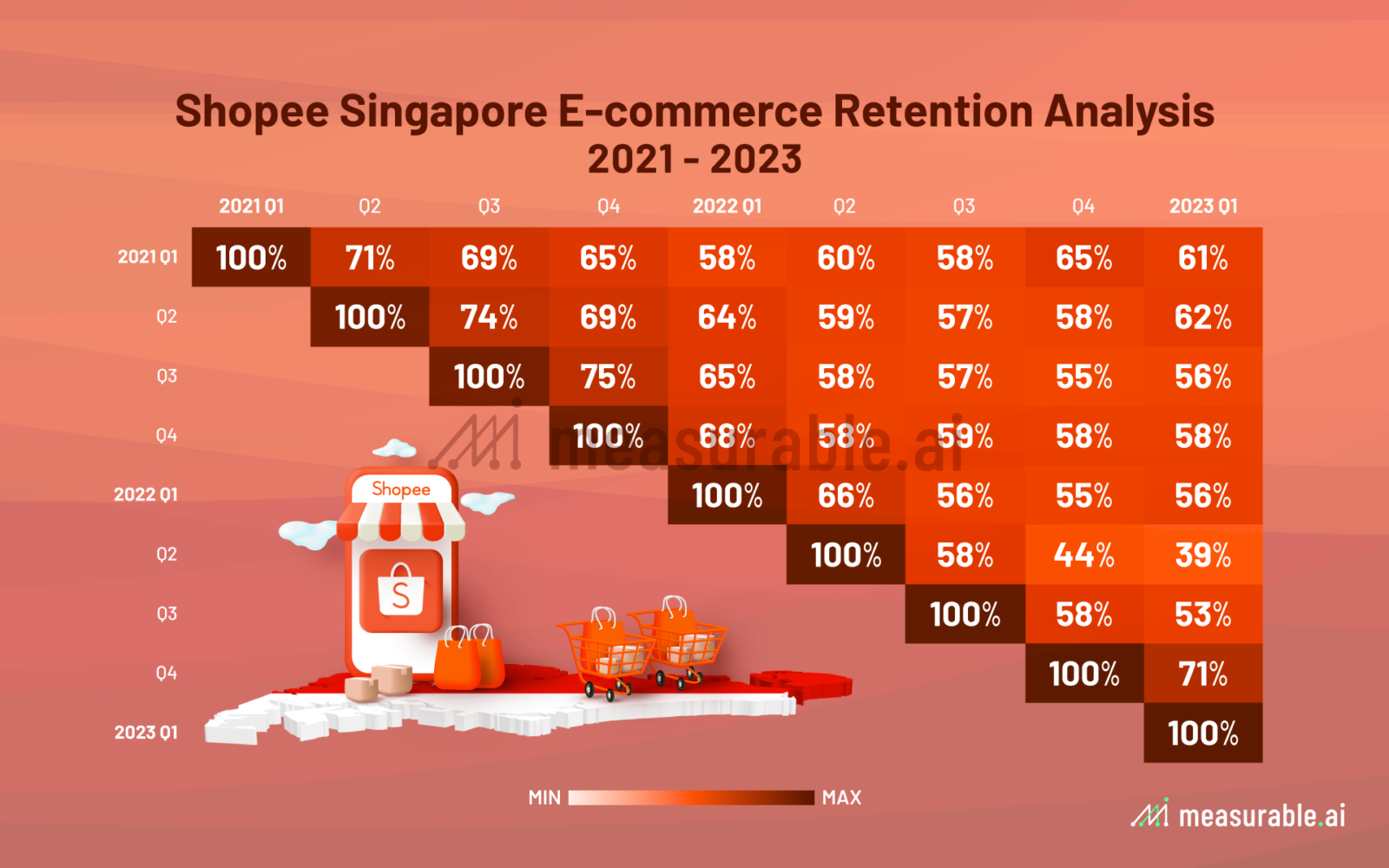 In contrast, Thailand's consumer retention rate stands slightly lower, with only 37% of users continuing their shopping spree on the platform after a couple of years.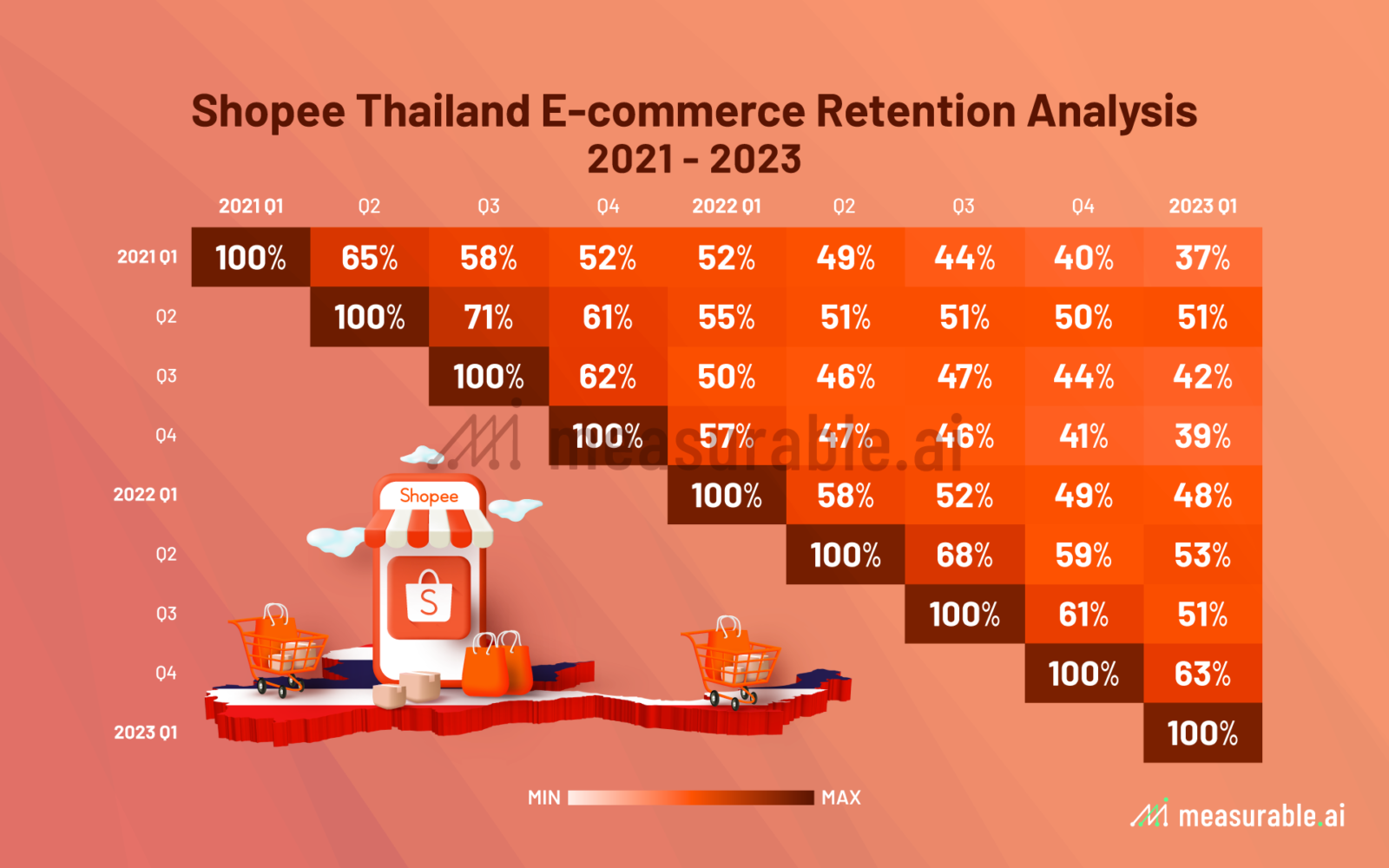 Not far behind, Indonesia and the Philippines have showcased their own distinctive patterns. Their retention statistics on Shopee are noteworthy, registering at 47% for Indonesia and a slightly higher 50% for the Philippines, indicating a considerable loyalty among their e-commerce consumers.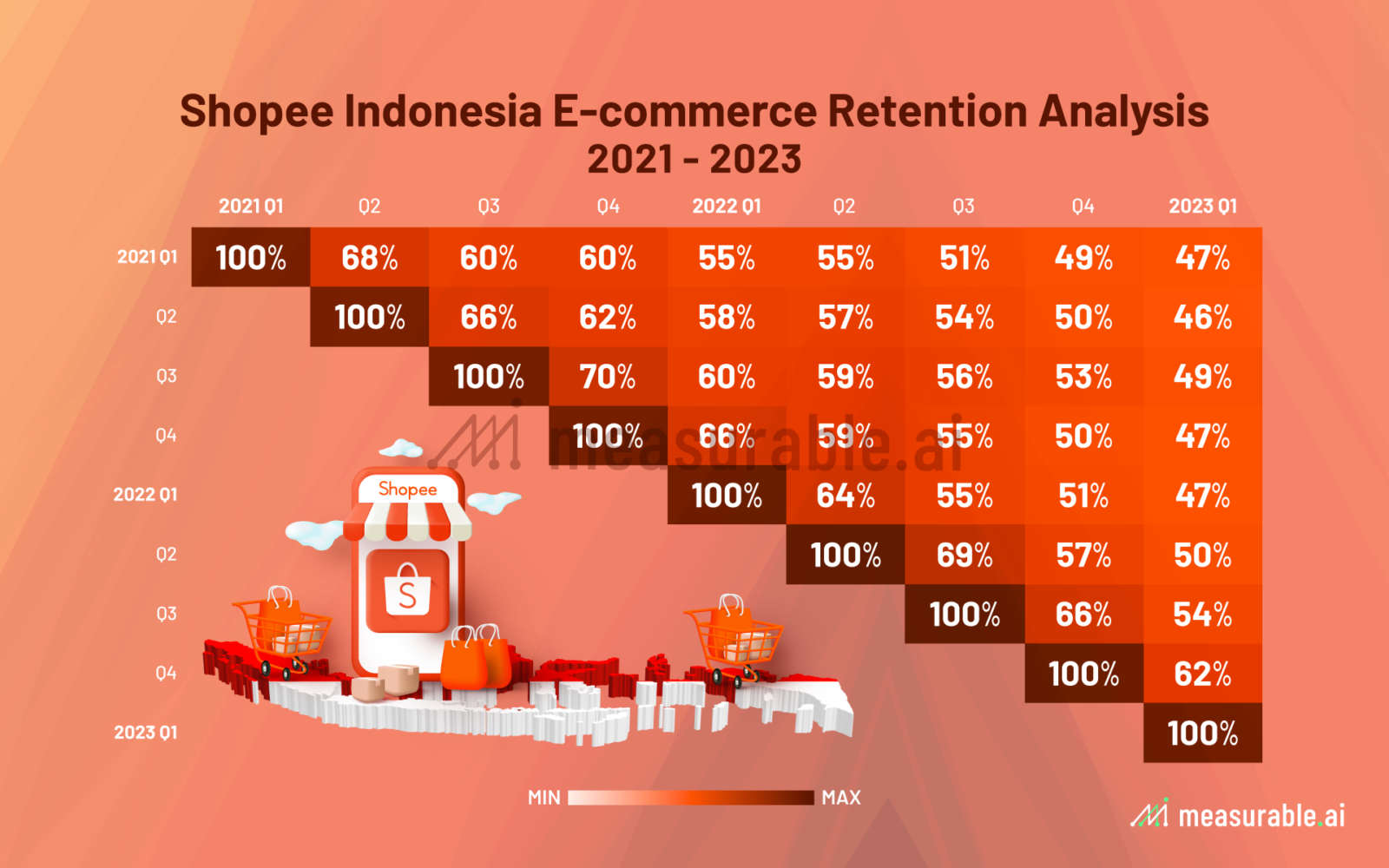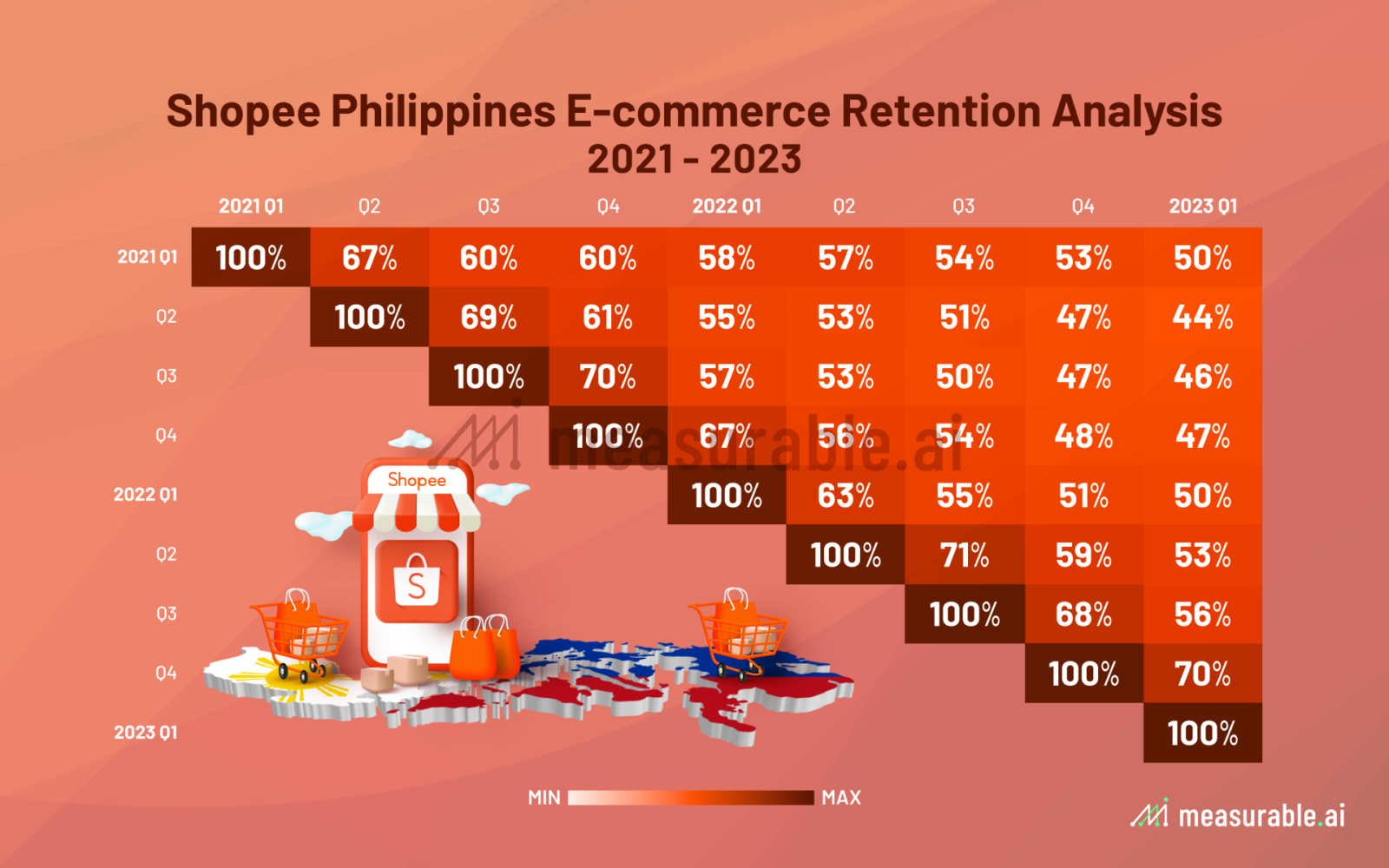 Shifting focus to a more global perspective, it's intriguing to note the nuances and similarities across continents on the same platform. In Brazil, which stands as another pivotal market for Shopee, the consumer landscape is slightly different. Here, the two-year consumer retention rate is just below the halfway mark at around 49%.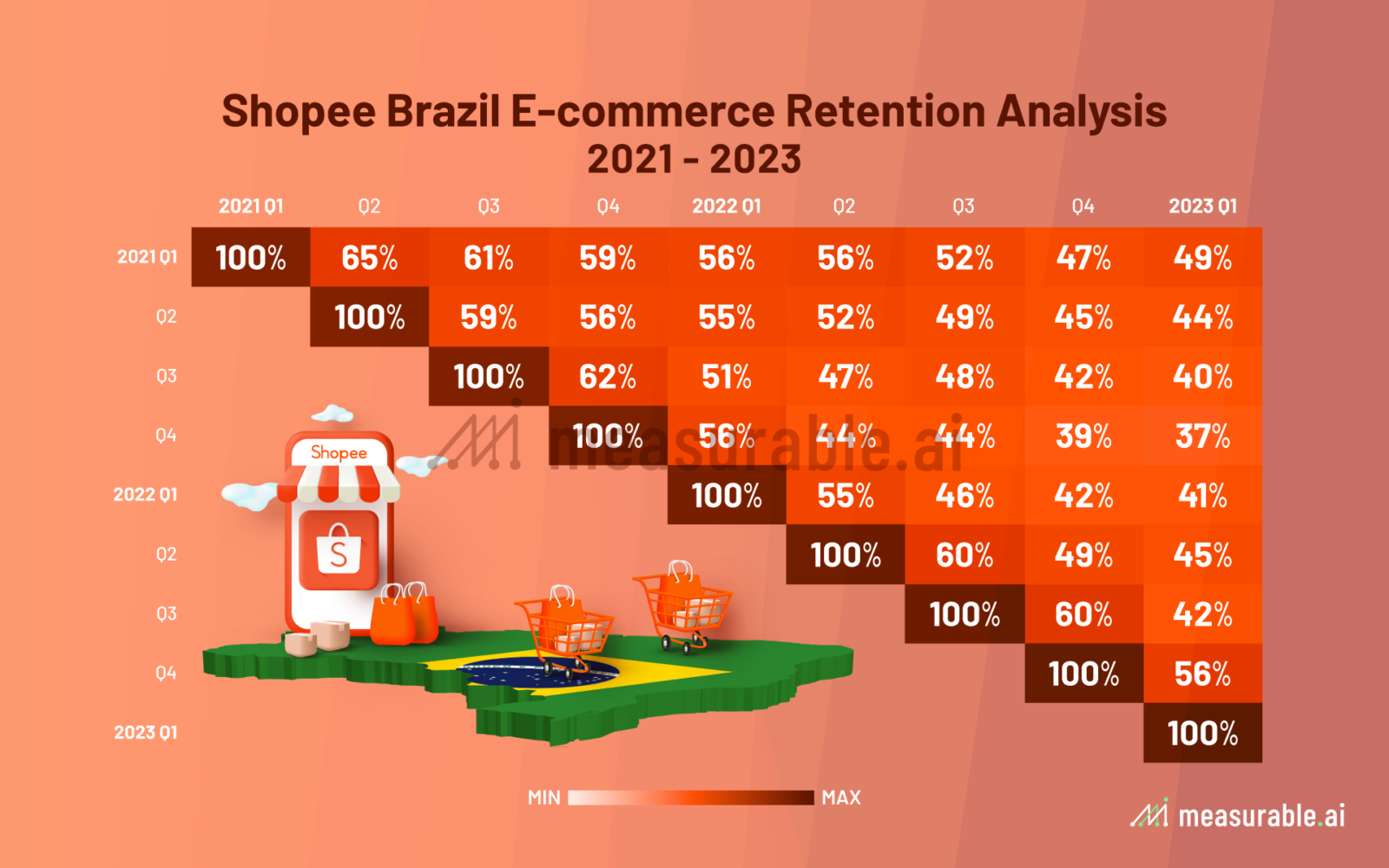 Overall, based on Measurable AI's data, Southeast Asian consumers have showcased steadfast loyalty to Shopee over the years, a trend that remained resilient even during the pandemic.
Cash and ShopeePay Reign as Primary Payment
Understanding consumers' payment method preferences is vital, especially for companies venturing into new markets that they are less familiar with. These choices can reveal a lot about trust levels, spending habits, and how tech-savvy consumers are. In Southeast Asia, the go-to payment methods can stand apart from other global norms.
Through Measurable AI's unique e-receipt data, we help businesses in pinpointing consumers' favored payment modes and monitor them consistently. This approach captures not only the market dominance of leading payment methods, also provides insights into evolving trends and shifts over time.
Examining Measurable AI's recent data for Shopee in the first half of 2023, here's what stands out:
ShopeePay and Cash emerge as the preferred payment methods in Southeast Asia
Philippines users favor cash the most
ShopeePay has made a mark in all Southeast Asian nations, especially in Indonesia
Credit cards aren't as popular overall, except in Singapore
Brazil is a more diverse payment landscape for e-commerce compared to Southeast Asia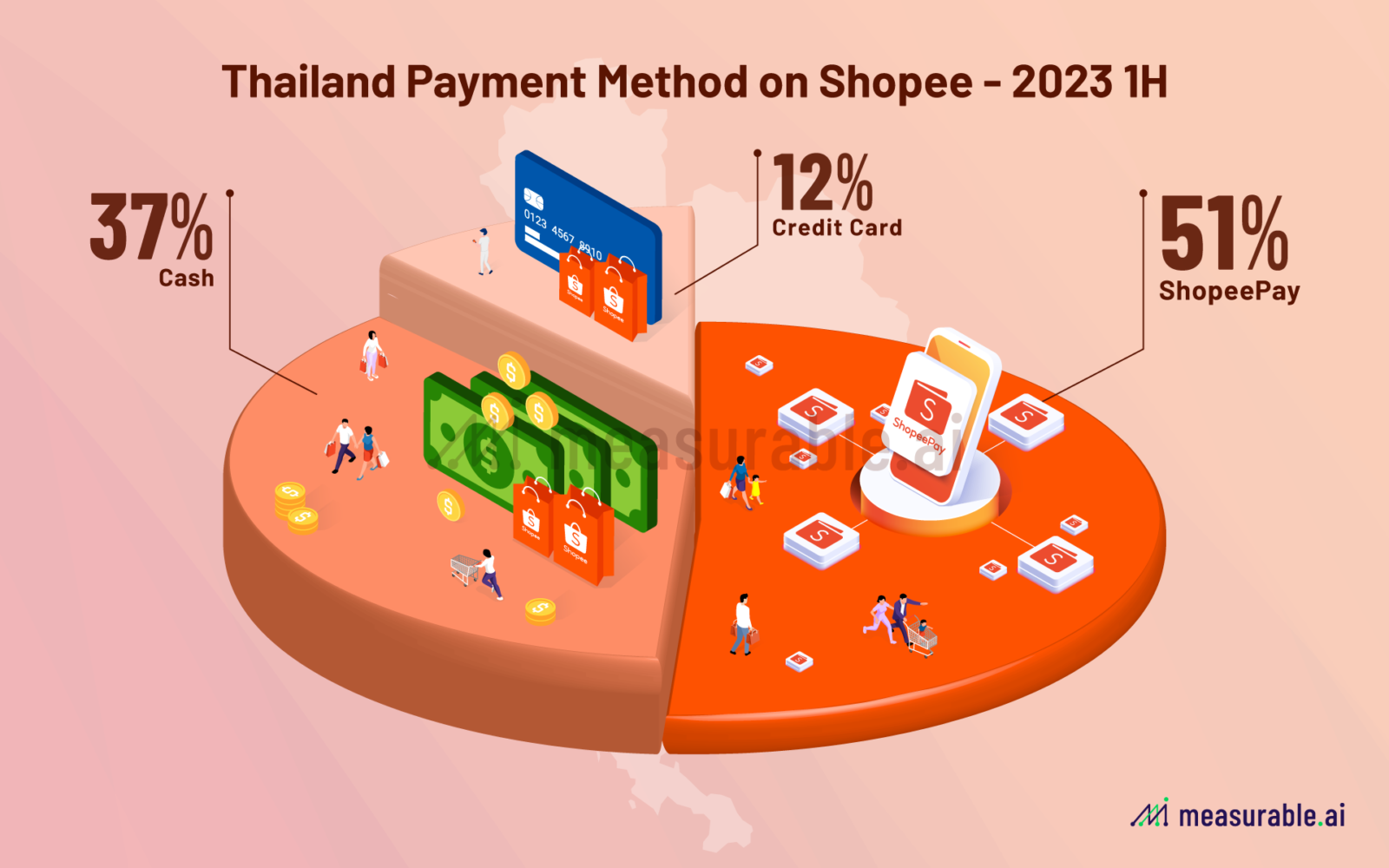 In countries like Thailand and Indonesia, ShopeePay(company's very own e-wallet service) is the leading choice. For context, in Thailand, over half (50%) lean towards ShopeePay, while 37% go with cash and 11% with credit cards.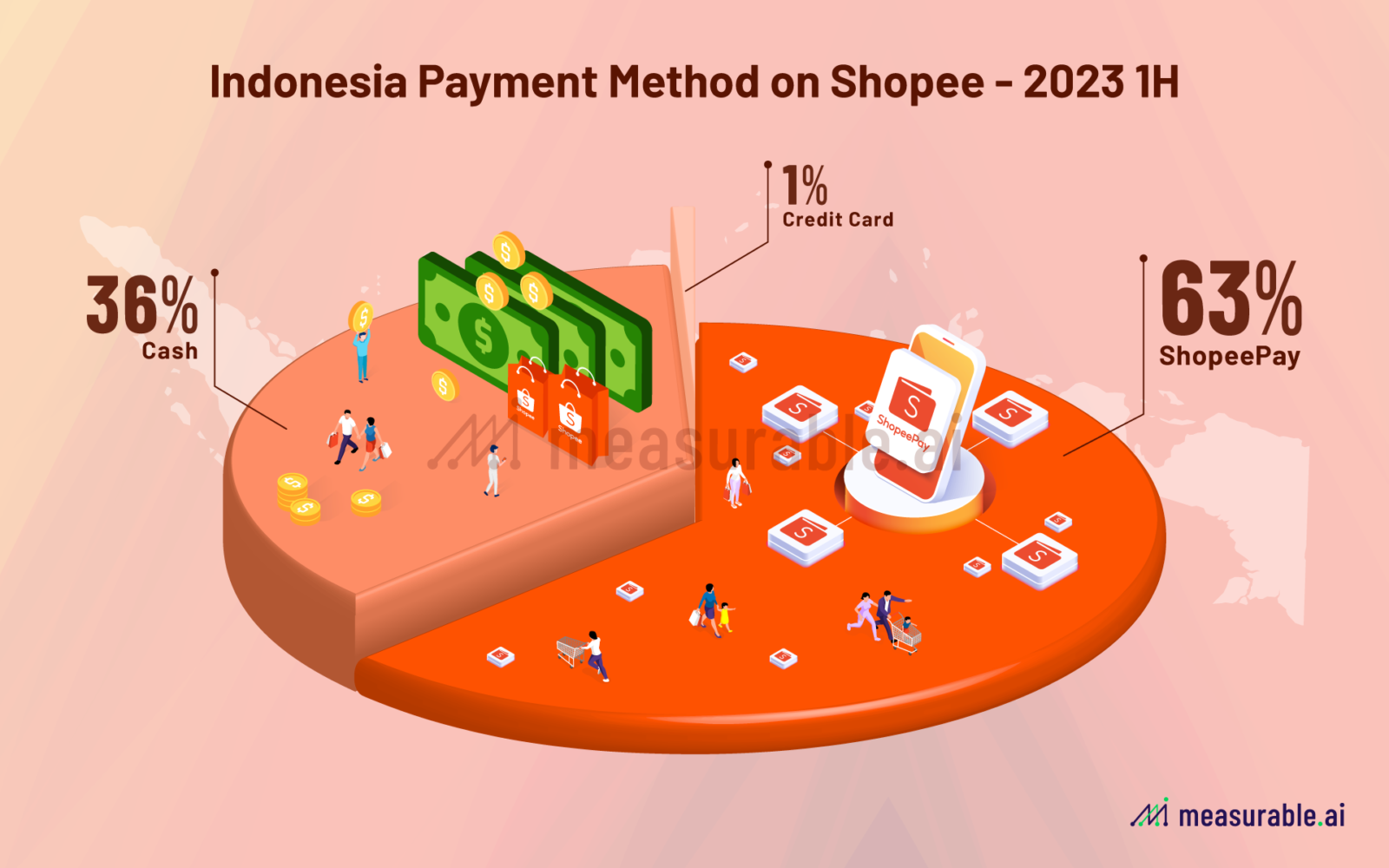 In Indonesia, the sway towards ShopeePay is even stronger at 63%. Cash trails behind at 36%, with the remaining using credit cards.
However, in Philippines, cash is still more dominant, around 57% of Filipino consumers pay with cash when they shop at Shopee. Yet, ShopeePay isn't far behind, securing 41% of the marketshare.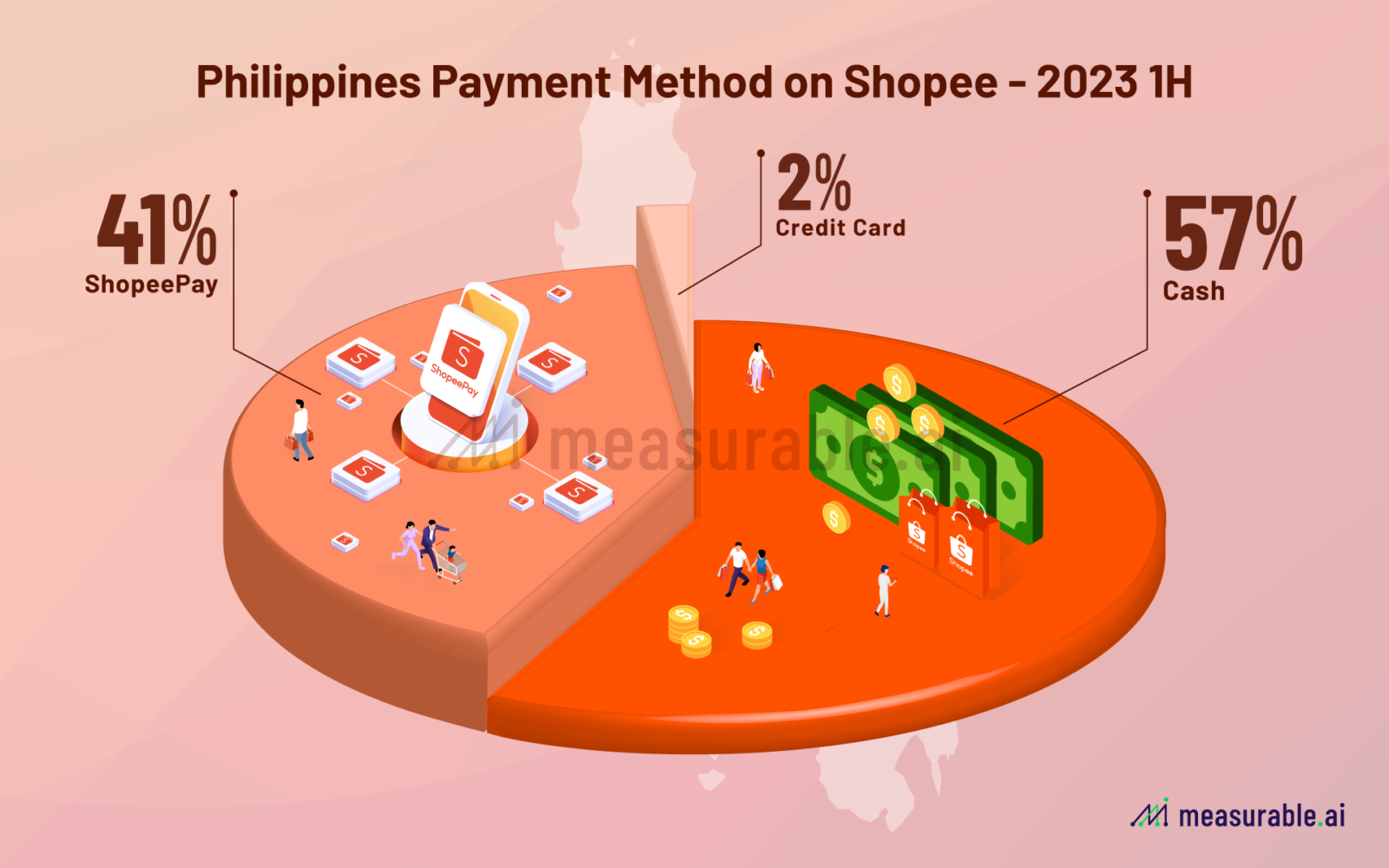 Contrarily, in Singapore, credit cards dominate, accounting for over half of payments at around 51%.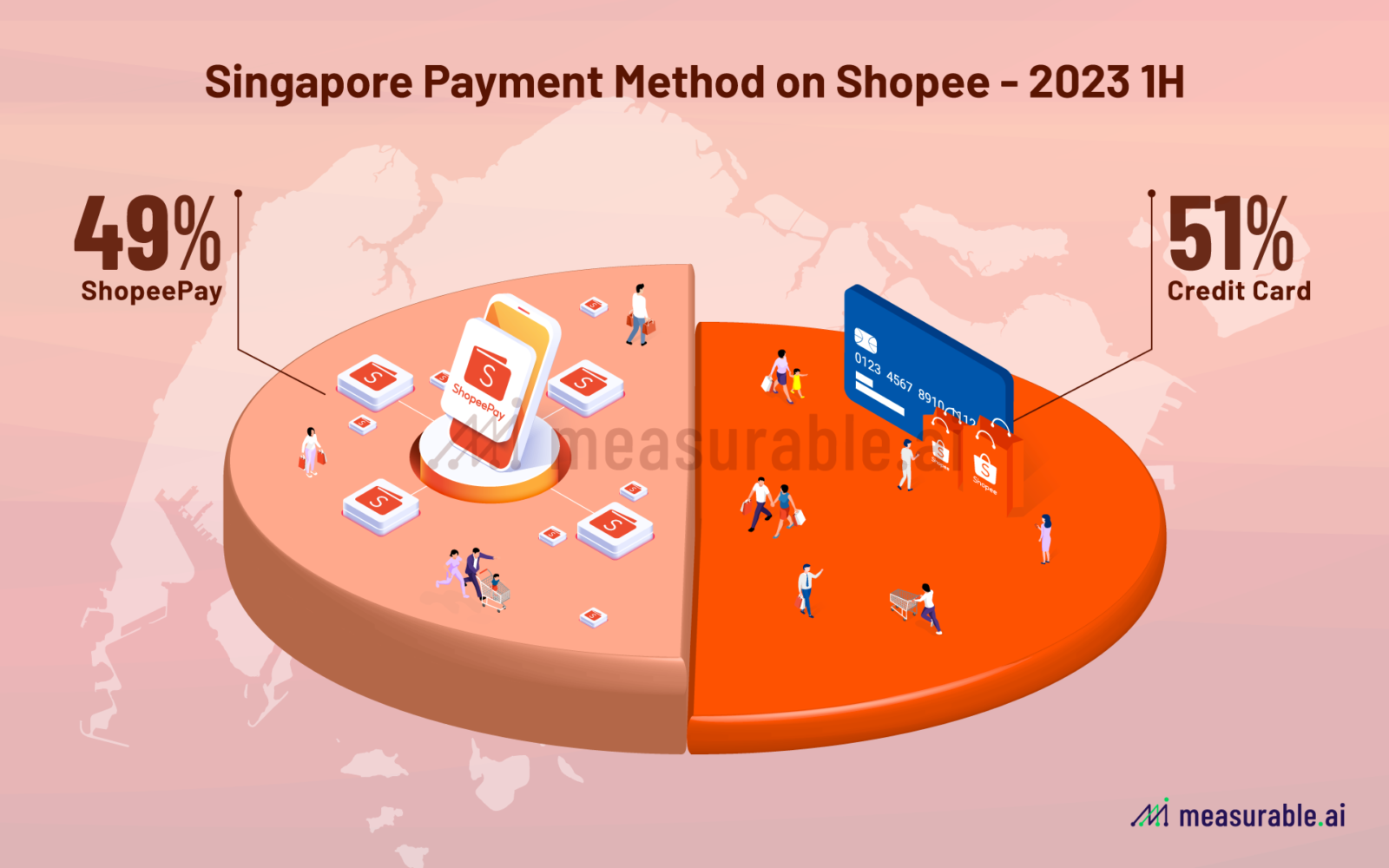 When we look at the data from Shopee's competitor Lazada, similar trends are seen. Over 70% of consumers from Philippines choose cash as their preferred payment option, and similar rate is seen among users from Indonesia and Thailand.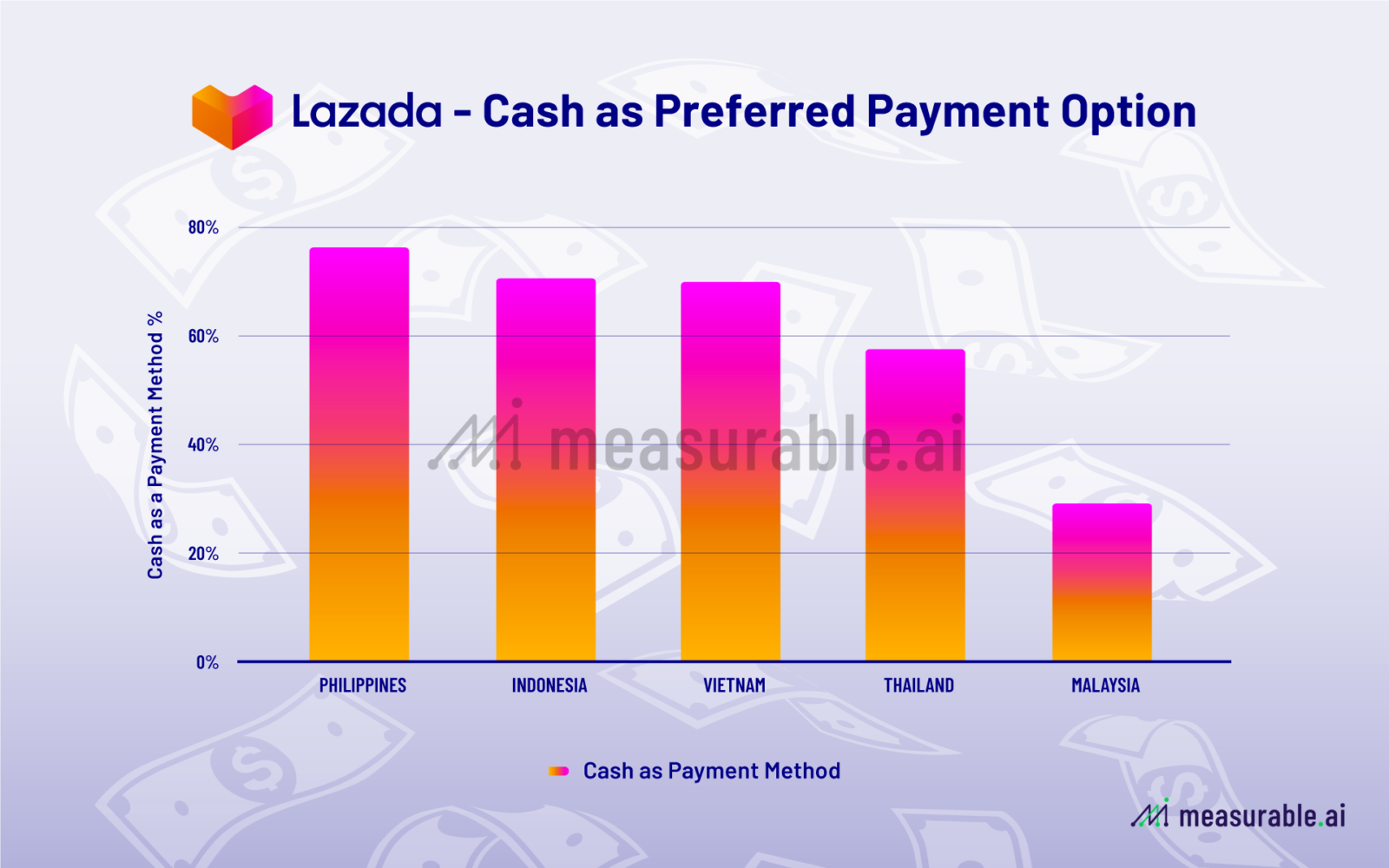 Comparing this to Brazilian Shopee users, Brazil presents a more diverse payment landscape. Both credit cards and PIX (a digital payment system powered by Brazil's Central Bank) are prevalent, claiming roughly 46% and 47% of the payment method market share on Shopee, respectively. They are followed by Boleto (a cash payment option for both banked and unbanked users) and Sparcelado (a Buy Now, Pay Later option).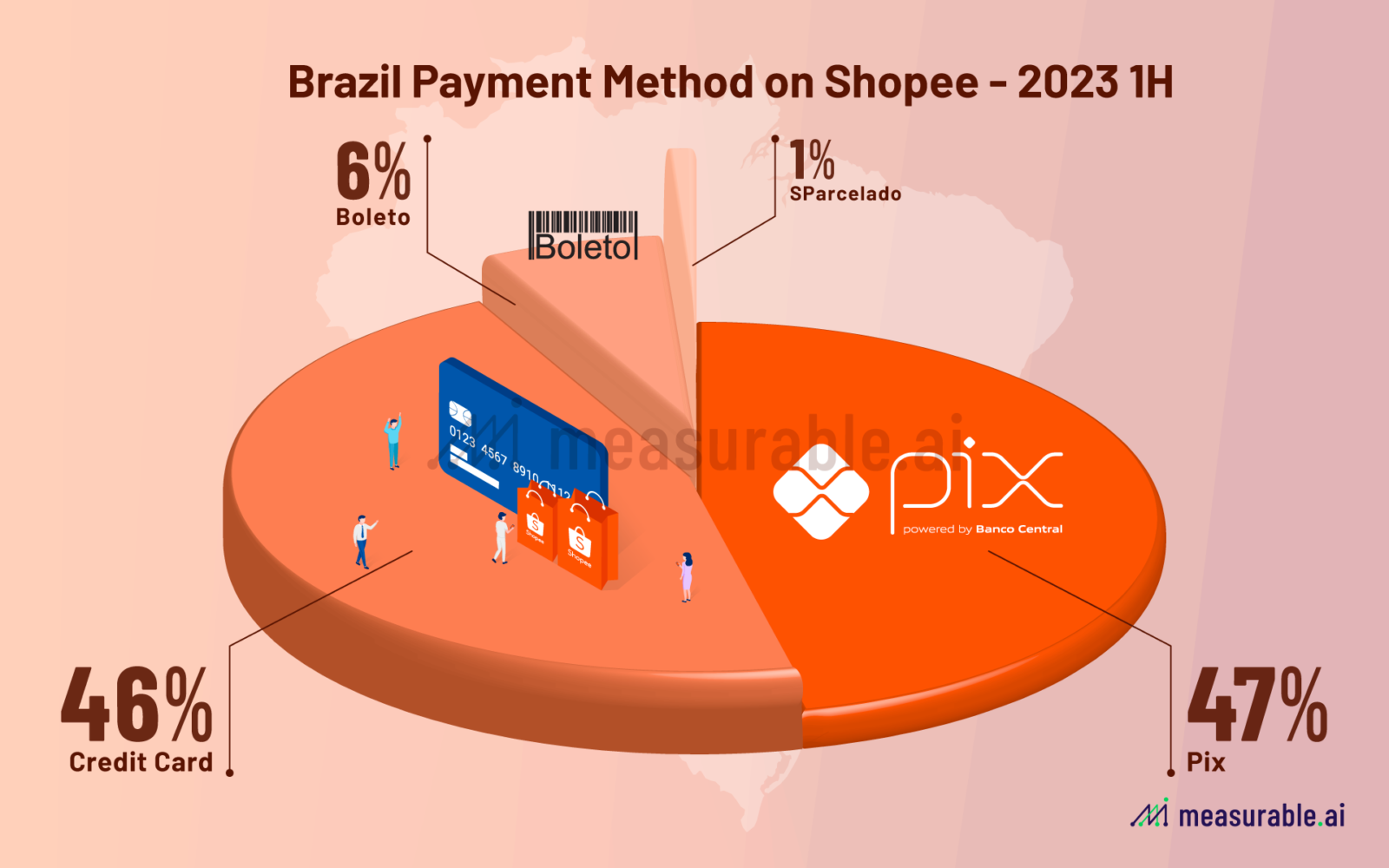 In the emerging countries, each market is unique in its own way. While Southeast Asia leans heavily towards cash, especially in nations like the Philippines and Thailand, Brazil showcases a mixed preference, blending traditional and emerging payment systems. Leveraging tools like Measurable AI's e-receipt data can be invaluable for businesses to stay attuned to these evolving preferences, ensuring they remain competitive and relevant in diverse market landscapes.
Want to find out more about the e-commerce landscape in Southeast Asia or in other emerging markets? Write to us at [email protected] to speak to us.
About Measurable AI
Charlie Sheng is a serial entrepreneur, and a dedicated communicator for technology. She enjoys writing stories with Measurable AI's very own e-receipts data. You can reach her at [email protected].
At Measurable AI, we build and own a unique email receipt consumer panel and have become the largest transactional email receipt data provider for the emerging markets. We are well regarded for the granular insights that can be extracted from our comprehensive datasets across the digital economy, including e-commerce, food delivery, ride-hailing and fintech.
Check out our latest Reports: 2019-2022 Food Delivery Annual Report for Asia, Asia & Americas Ride-hailing Report 2019-2023.
*The Content is for informational purposes only, you should not construe any such information or other material as investment advice. Prior written consent is needed for any form of republication, modification, repost or distribution of the contents.