Hong Kong's Virtual Bank Market: Unveiling Key Insights
Virtual Banking in Hong Kong continues to grow. Unlike in many other markets where digital banks are usually startups and new entrants, in Hong Kong it's more of a game for the incumbents. The current leaders in Hong Kong's virtual banking sector consist of eight licensed banks, including ZA Bank, Mox Bank, WeLab, Airstar, Livi, PAOB, Ant Bank, and Fusion. These institutions are supported by mature incumbents from the banking and digital industries, contributing to their continued growth and influence in the market.
At Measurable AI, we build and own a unique consumer panel and are the largest transactional email receipt data provider for the emerging markets. We are well regarded for our comprehensive dataset across the digital economy including the fintech and payment businesses.
ZA, Mox, and Livi Banks are Leading the Hong Kong Virtual Bank Market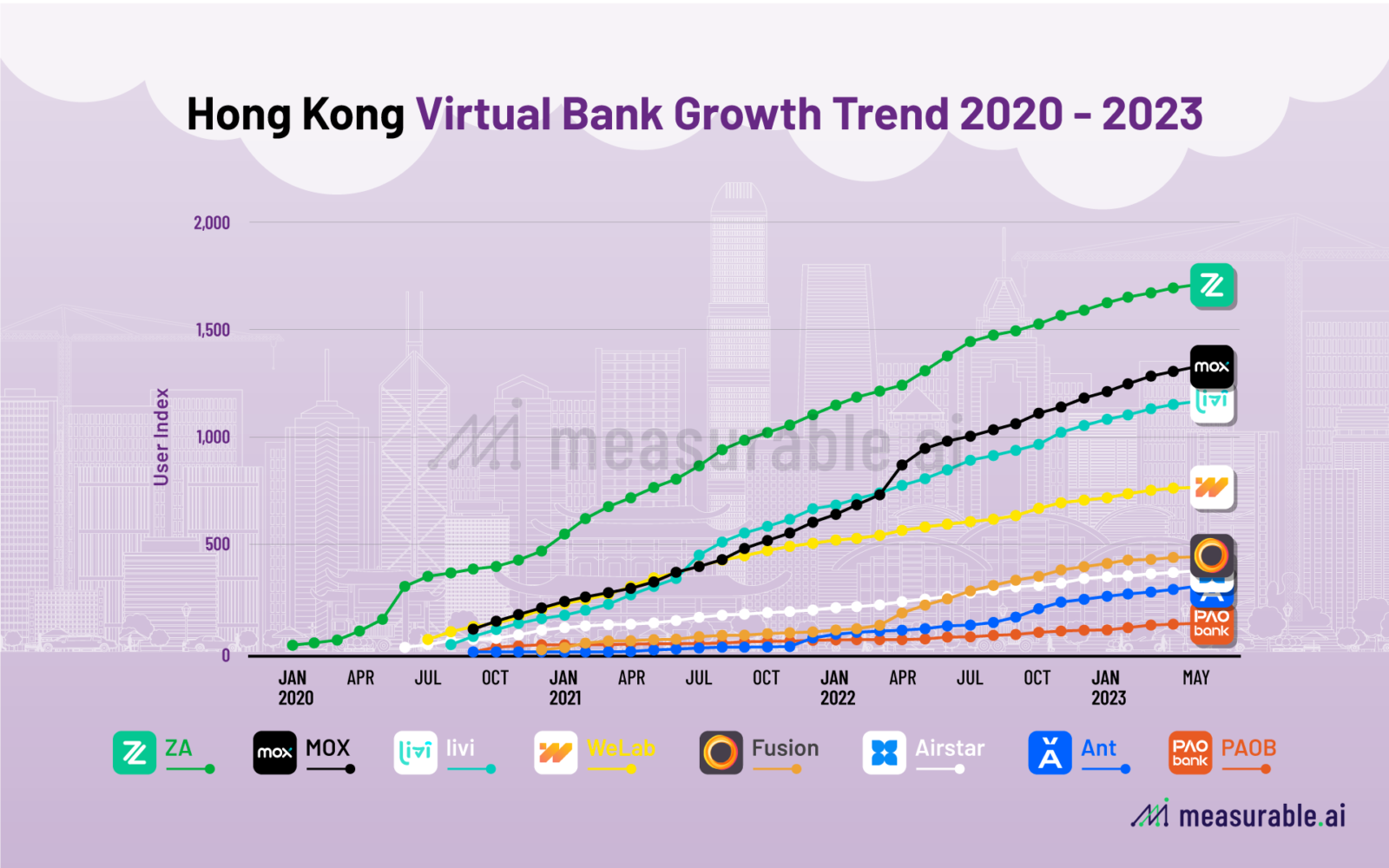 According to Measurable AI's email data, ZA Bank, Mox, and Livi emerge as the frontrunners in the Hong Kong virtual banking market.
Over the past three years, ZA Bank has consistently maintained its lead in the Hong Kong virtual banking race, demonstrating impressive user growth. Following ZA Bank, Mox Bank and Livi Bank have been closely vying for position, with Mox Bank managing to outpace Livi Bank since the third quarter of 2022 and maintaining its positive momentum.
Next in line is Welab Bank, which has maintained a position around the average among the eight players in the market as of the second quarter of 2023. The final group consists of Fusion Bank, AirStar Bank, Ant Bank, and PAOB Bank, who have faced some challenges in catching up but still manage to hold a respectable market share after three years of growth. Despite being considered as the slower performers, they all have established themselves as notable players in the industry.
Hong Kong Virtual Bank User Overlapping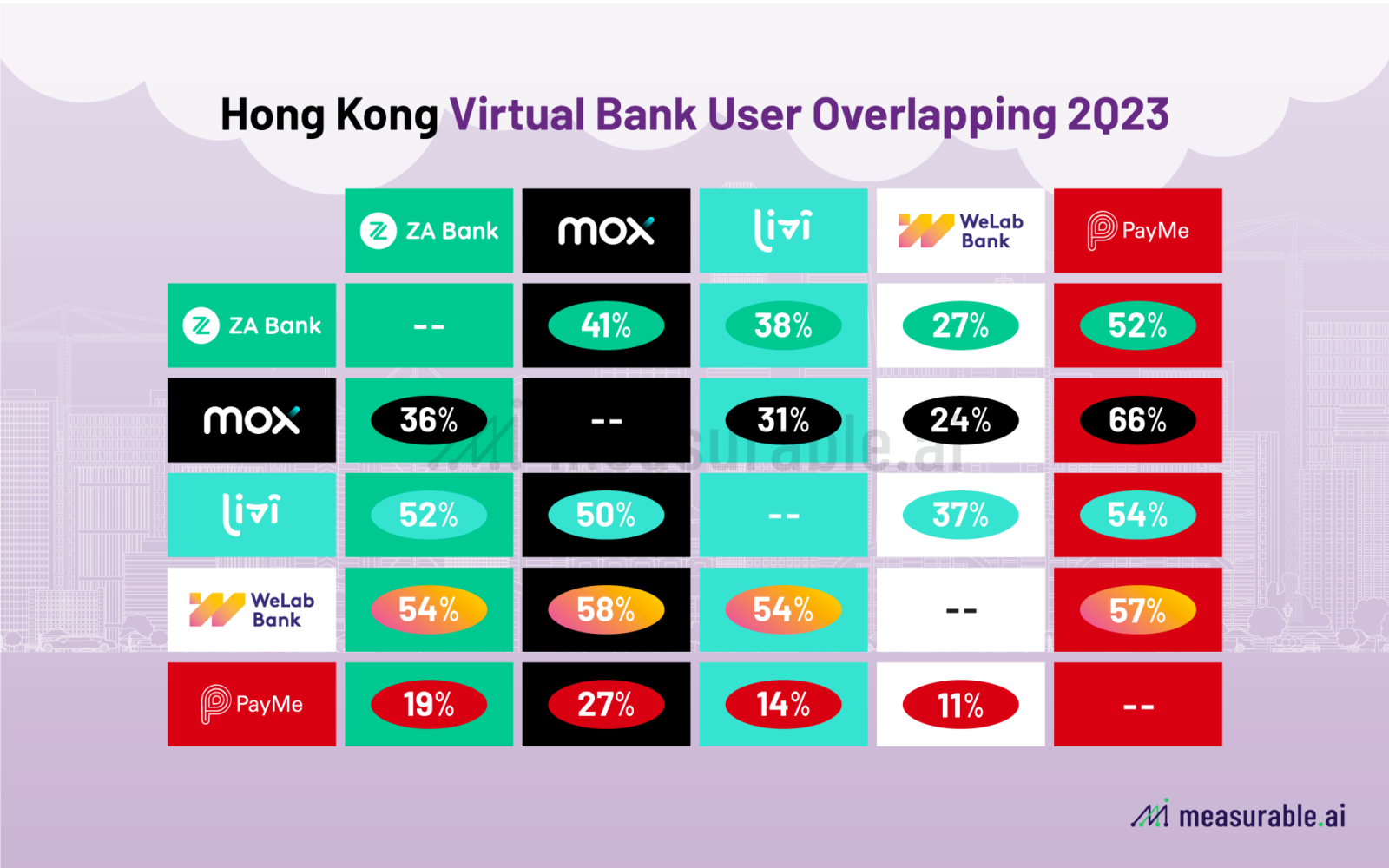 Based on Measurable AI's unique e-receipt data, the level of user overlapping among the four major virtual banks in Hong Kong is quite significant. In Q2 2023, it is found that around 41% of ZA Bank users also use Mox Bank, demonstrating a considerable overlap in customer base. Similarly, 38% of ZA Bank users are also customers of Livi, highlighting the interconnectedness of these digital banking platforms.
Additionally, over 50% of Livi Bank users engage with both ZA Bank and Mox Bank, indicating a shared customer preference for multiple virtual banking options among Hong Kong users. Among Livi Bank users, 37% also interact with Welab Bank.
Intriguingly, Measurable AI's research on Hong Kong's virtual banking competition also examined the relationship between these banks and Hong Kong's popular e-wallet player, PayMe. The overlap between PayMe and the top virtual banks was found to exceed 50%, suggesting a competitive environment where users often engage with both digital banking services and e-wallet platforms.
As virtual banking continues to gain prominence in the region, understanding these patterns of user overlap is crucial for banks to tailor their services and remain competitive in the dynamic fintech landscape.Want to find out more about the digital banking or fintech landscape in Hong Kong or in the emerging markets? Write to us at [email protected] to speak to us.
About Measurable AI
Charlie Sheng is a serial entrepreneur, and a dedicated communicator for technology. She enjoys writing stories with Measurable AI's very own e-receipts data. You can reach her at [email protected].
At Measurable AI, we build and own a unique email receipt consumer panel and have become the largest transactional email receipt data provider for the emerging markets. We are well regarded for the granular insights that can be extracted from our comprehensive datasets across the digital economy, including e-commerce, food delivery, ride-hailing and fintech.
Check out our latest Reports: 2019-2022 Food Delivery Annual Report for Asia, Asia & Americas Ride-hailing Report 2019-2023.
*The Content is for informational purposes only, you should not construe any such information or other material as investment advice. Prior written consent is needed for any form of republication, modification, repost or distribution of the contents.