A Dip in Garena's Momentum: Free Fire Slowdown in Spending
The digital entertainment sector experienced phenomenal growth amidst the pandemic, with many games enjoying sustained popularity over the years. However, as we transition out of the pandemic, it seems that even some of the most successful games are beginning to lose their momentum.
Measurable AI's e-receipt panel, which also tracks in-app purchases for mobile apps and games, has been monitoring an intriguing trend in SE(NYSE:SE)'s game powerhouse Garena. The company's successful battle royale game Free Fire has been experiencing a decrease in consumer spending in the wake of the pandemic over the past 16 months.
The Cooling Flame of Garena
At Measurable AI, we build and own a unique consumer panel and are the largest transactional email receipt data provider for the emerging markets.
Despite some moderate upticks in overall consumer spending during Q1 2023 (the app is available in 50 countries), Free Fire's overall revenue from in-app purchases on Google Play has been trending downward since 2022. Notably, current spending rates are still lower than they were a year ago.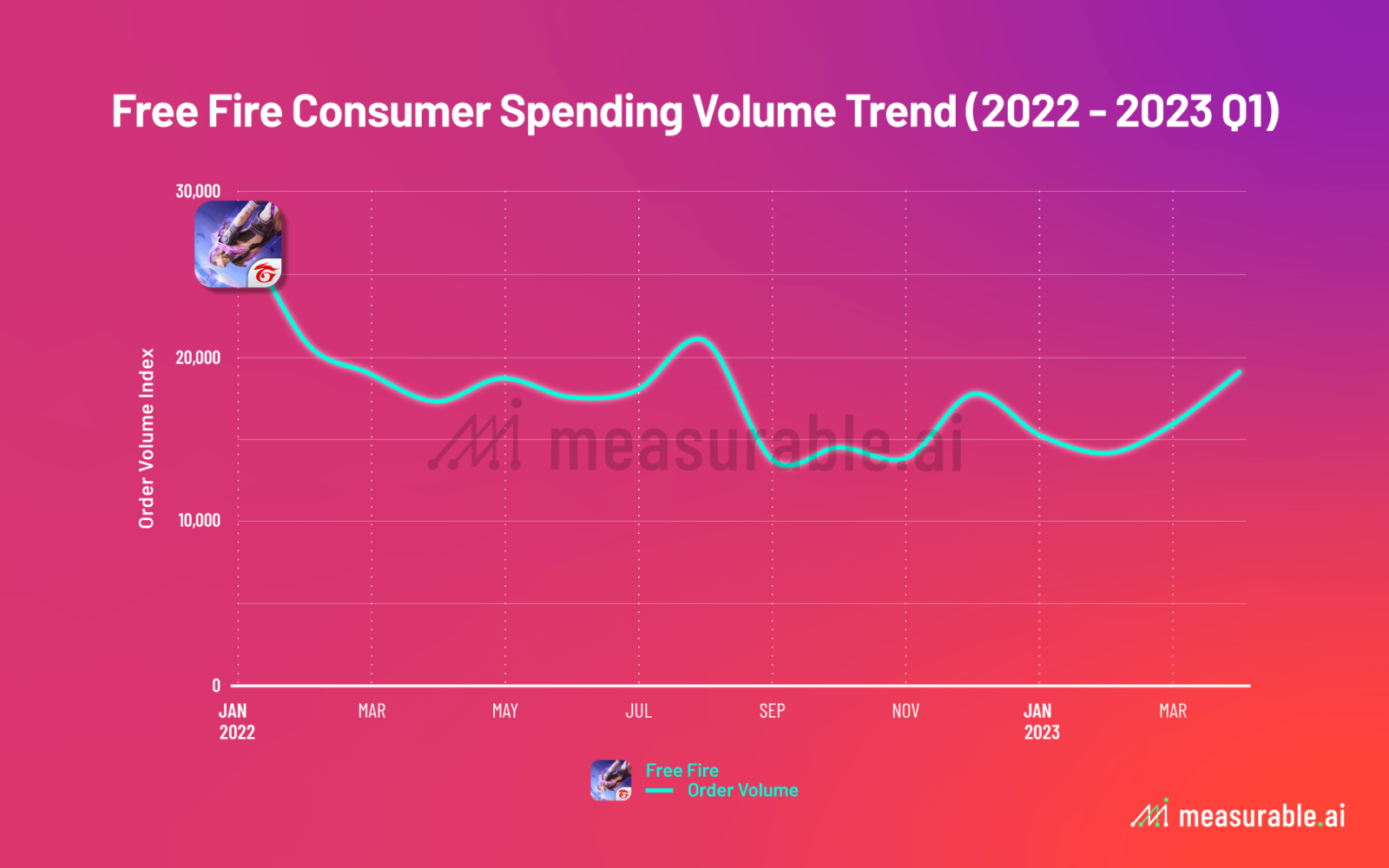 Free Fire's Battlefield in India
A major blow to Free Fire came on February 14th, 2022, when the game, along with 53 other apps, was banned in India by the Ministry of Home Affairs. As tracked by Measurable AI's in-app purchases data on Google Play, Free Fire's game purchases in India collapsed, eventually falling to zero. However, a different version of the game, Free Fire Max, moved in to fill the void.
Nevertheless, four months into the ban, Free Fire Max has yet to fully regain its predecessor's lost ground. It has managed to recapture just about half of Free Fire's average monthly purchase volumes, falling notably short of Free Fire's peak performance.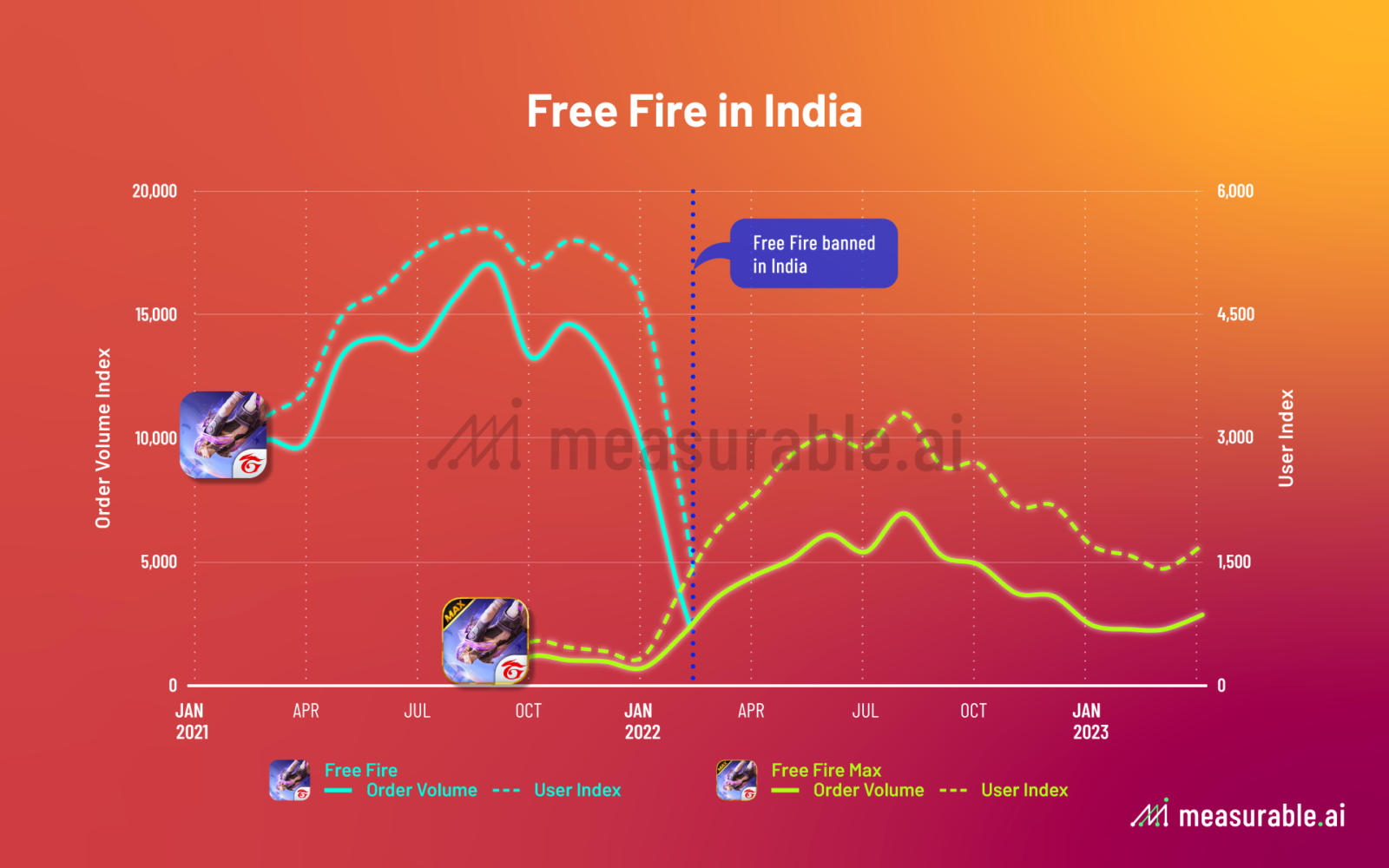 When it comes to in-app purchases, Indian users of Free Fire averaged spending around USD 4.6 over the years, while Free Fire Max users spent slightly less, at around USD 4.
Meanwhile, it's not only Free Fire facing challenges in India. Free Fire's competitor, PUBG, developed by Tencent, was initially banned in 2020, followed by its alternative, BGMI, also being delisted from stores due to its Chinese ties.
Free Fire's Resilience in Southeast Asia
In Southeast Asia, Free Fire's revenue trend has maintained relative stability, marked by minor fluctuations here and there. Encouragingly, Q1 2023 saw a robust growth in user spending, approaching the figures seen two years ago. This reflects that the region continues to be a robust market for the game despite the challenges it has faced elsewhere.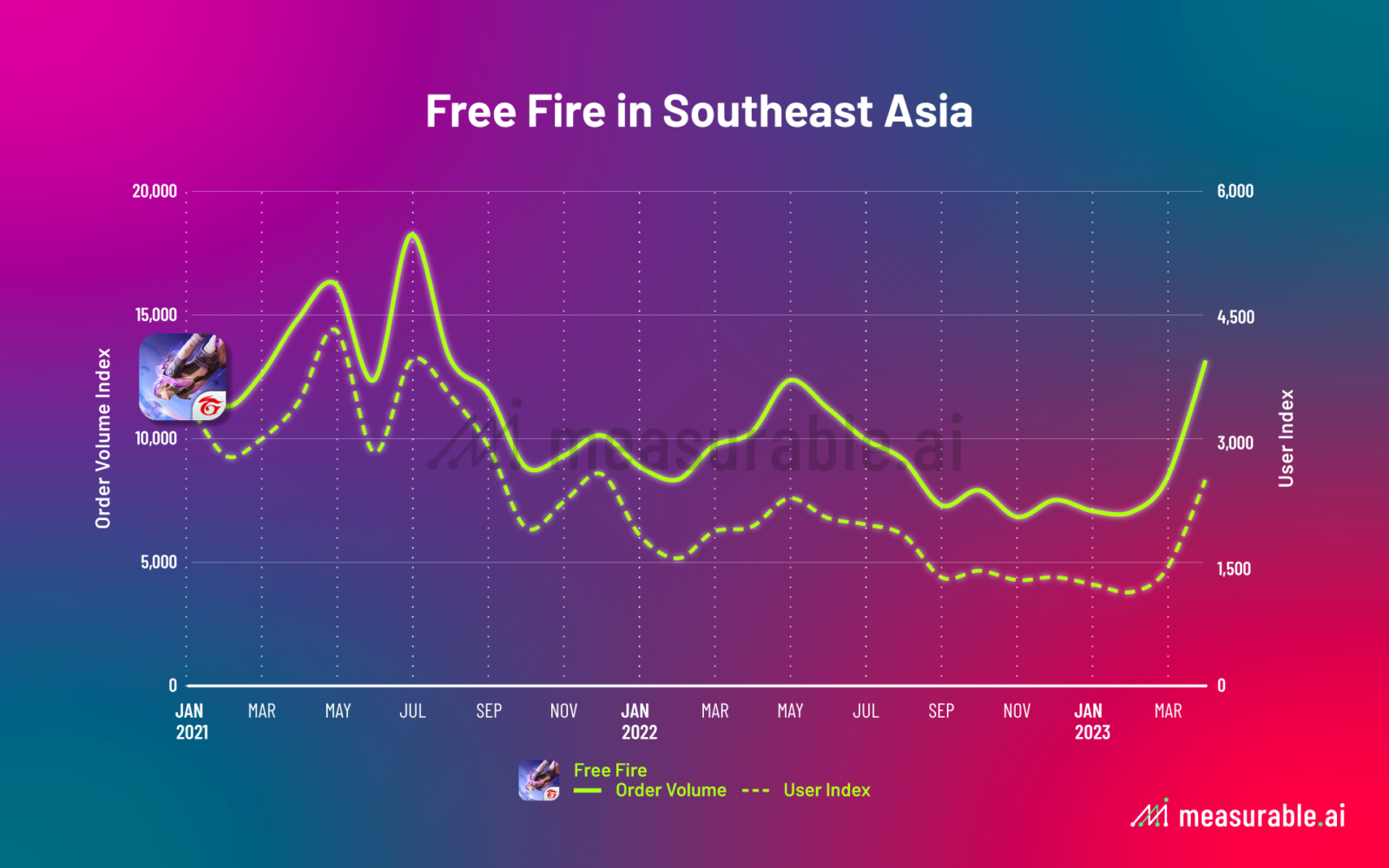 After all, it's difficult to keep a popular game forever, Free Fire's slowdown perhaps signals an opportune moment for new games to take the spotlight.
On that note, Garena has announced the forthcoming launch of their new game, Undawn, an open-world zombie survival mobile game. Set to debut in Southeast Asia across Singapore, Malaysia, the Philippines, Indonesia, and Thailand on June 29, it will be intriguing to see if this game can capitalize on the vacuum left by Free Fire's downturn. How far will this new game go?
We take this opportunity to introduce Measurable AI's datasets in the dynamic gaming sector. Our dataset covers Apple App Store, Google Play, PlayStation, Steam, Microsoft Store, and Epic Games.
At Measurable AI, we don't just track downloads; we delve deeply into actual purchase activity and the behavioral patterns that drive it in the gaming/mobile app sector, providing precise insights rather than mere estimates. This enables companies and investors to pinpoint top-grossing in-app purchase items for new apps or games, scrutinize retention rates among big spenders, and gauge the purchasing performance of competitors.
Read our former blogs on how to use Measurable AI's datasets to characterize the big whale spenders in games.
About Measurable AI
Charlie Sheng is a serial entrepreneur, and a dedicated communicator for technology. She enjoys writing stories with Measurable AI's very own e-receipts data. You can reach her at [email protected].
At Measurable AI, we build and own a unique email receipt consumer panel and have become the largest transactional email receipt data provider for the emerging markets. We are well regarded for the granular insights that can be extracted from our comprehensive datasets across the digital economy, including travel, e-commerce, digital entertainment, food delivery and ride-hailing.
Check out our latest Reports: 2019-2022 Food Delivery Annual Report for Asia, Asia & Americas Ride-hailing Report 2019-2023.
*The Content is for informational purposes only, you should not construe any such information or other material as investment advice. Prior written consent is needed for any form of republication, modification, repost or distribution of the contents.