Traveloka's Flight Bookings Take Off with Indonesia's Travel Rebound
Southeast Asia's travel industry has experienced a significant recovery post-pandemic, revitalizing the economy and supporting businesses reliant on tourism. Let's explore the travel rebound in the region by examining Traveloka, one of the largest online travel agencies (OTAs) in Southeast Asia, using Measurable AI's very own unique e-receipts data.
Measurable AI is the leading granular e-receipt provider for consumer intelligence in the emerging markets with a core focus in South East Asia, Middle East, India and Latin America.
Soaring High: Flight Demand Jump on Traveloka
When travel restrictions begin to ease, the demand naturally surges – Traveloka is a prime example of this trend. The flight booking monthly order volume on Traveloka began to pick up steadily at the beginning of 2022, and the uptrend continued throughout the year, with more people eager to explore destinations near and far.
By the end of Q1 2023, Traveloka's monthly flight booking order volume had experienced a remarkable 92.4% CAGR over the past two years.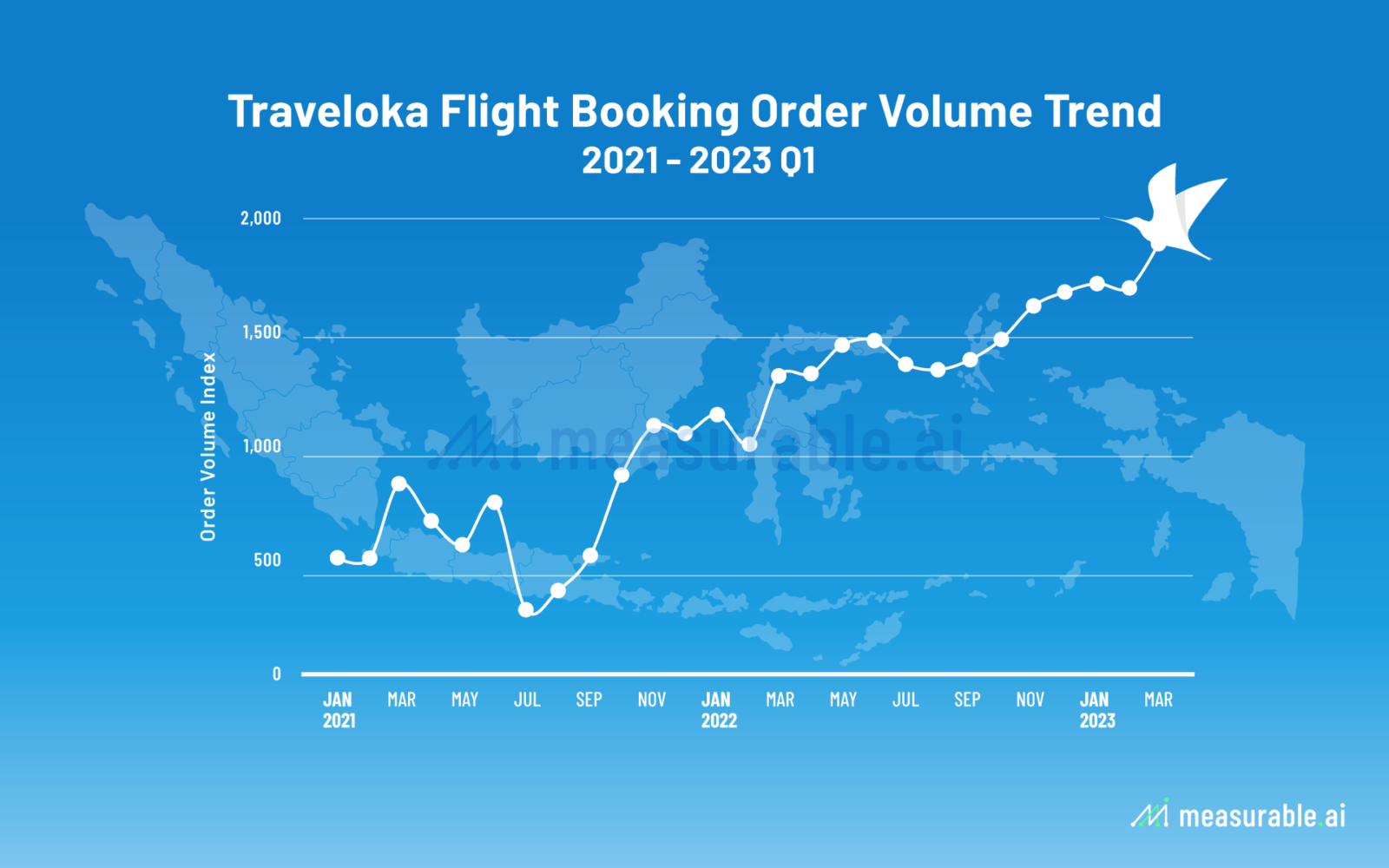 Airliner Market Share on Traveloka
According to Measurable AI's granular e-receipts data in 2023 Q1, Lion Air, Super Air Jet, Citilink emerge as the Top 3 airliners booked on Traveloka in terms of order volume. They are closely followed by AirAsia, Nok Air, and Batik Air, each accounting for approximately 8% of the market share. Indonesia's largest low-cost airline, Lion Air, holds the title of the most popular airline on Traveloka during the first quarter 2023, capturing around 22% of all flight bookings on the platform.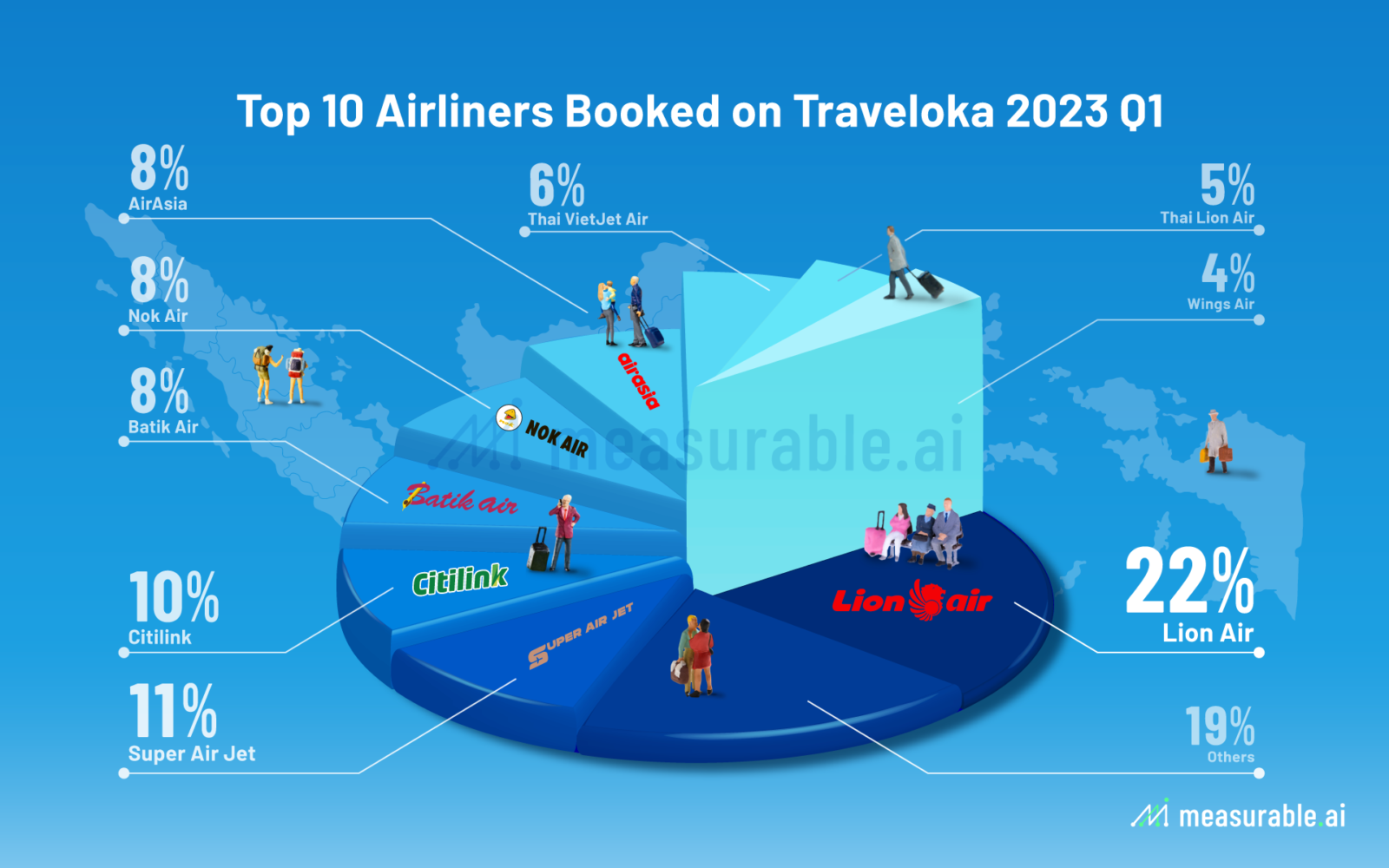 Last-Minute Travelers: Average Booking Lead Time on Traveloka
Delving deeper into traveler behavior on Traveloka, we explore the typical booking lead time for flights. Measurable AI's e-receipt data reveals that users on Traveloka tend to be more spontaneous than those who plan far in advance. Approximately 11% of flight orders were made within 24 hours of the departure date, while around 3.7% of orders were placed at least two months ahead of time.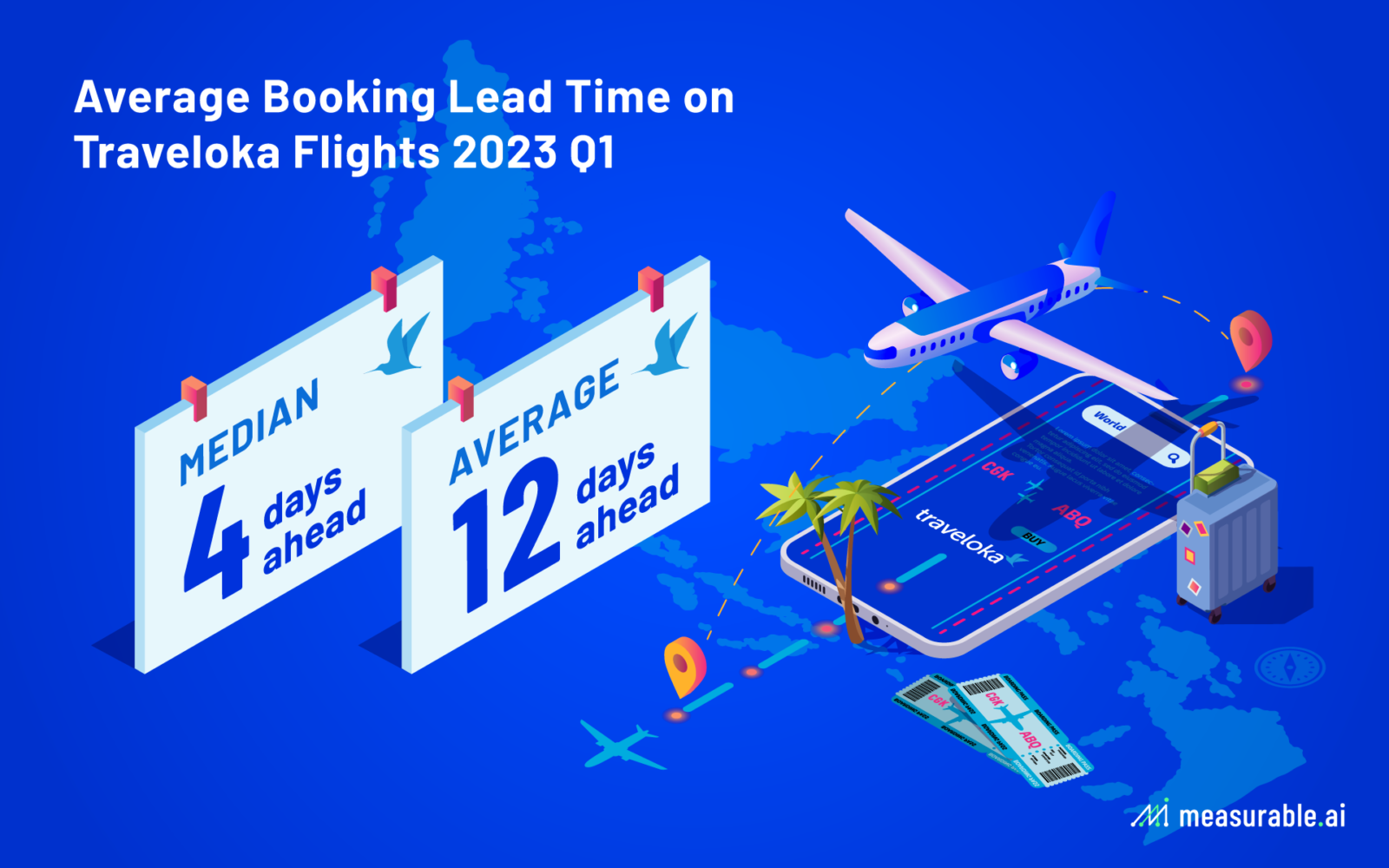 Our Traveloka data from Q1 2023 also shows that the average booking lead time is around 12 days before the flight's departure date, and the median booking lead time is a mere 4 days prior to the outbound flight, further emphasizing the spontaneous nature of the majority of Traveloka users.
As Southeast Asia's travel industry continues to flourish, Traveloka is well-positioned to remain a key player in the region, catering to the diverse needs of travelers. For granular datasets and more detailed researches on the travel industry, please contact us at [email protected].
About Measurable AI
Charlie Sheng is a serial entrepreneur, and a dedicated communicator for technology. She enjoys writing stories with Measurable AI's very own e-receipts data. You can reach her at [email protected].

At Measurable AI, we build and own a unique email receipt consumer panel and have become the largest transactional email receipt data provider for the emerging markets. We are well regarded for the granular insights that can be extracted from our comprehensive datasets across the digital economy, including travel, e-commerce, food delivery and ride-hailing. Check out our latest 2019-2022 Food Delivery Annual Report for Asia.
*The Content is for informational purposes only, you should not construe any such information or other material as investment advice. Prior written consent is needed for any form of republication, modification, repost or distribution of the contents.