From Java to Sumatra: Mapping the Indonesian Coffee Market with E-receipt Data
Did you know that Indonesia is the fourth biggest producer and exporter of coffee in the world?
According to Mordor Intelligence, the coffee market in Indonesia is projected to reach USD$ 2.32 billion by 2025, growing at a CAGR of 8.2% during the forecast period. Such growth in demand can be attributed to the increasing consumer awareness and purchasing power to afford specialty coffee (priced at more than US$3 a cup), the rising demand for ready-to-drink coffee and the proliferation of coffee shops and cafes springing up across the country opened mainly by those who returned home from abroad.
With such a rich coffee culture and the rise of modern coffee shops, it is no surprise to witness an emergence in both local and international franchises to cater to the demand for high-quality coffee in the country. In this article, we will take a closer look at some of the major coffee chains in Indonesia based on our email receipt panel for GrabFood and GoFood delivery.
For those unaware, Measurable AI is the largest proprietary e-receipt data provider for the digital economy across the emerging markets. Our data is available on a timely basis on a granular level and the insights derived are used by some of the largest food delivery, ride hailing, e-commerce and financial institutions around the world.
Market Share By Total Delivery Orders
First, we need to caveat our dataset – not all coffee chains deliver on both Grab and Gojek. Also, for the purposes of this analysis, we will only be looking at 4Q22 data from our consumer panel (Oct-Dec 22).
Taking a look at our 4Q22 data for GrabFood, local grab-and-go coffee player Kopi Kenangan wins the leadership position, followed by Daily Dose. Next comes lifestyle cafe retailer J.C. Donut owned by Johnny Andrean Group, and then Point coffee.
In terms of specialty coffee, Fore coffee seems to receive the most delivery orders for 4Q22 on GrabFood, followed shortly by international player Starbucks and Flash coffee, one of Asia's fastest-growing technology-based coffee chains.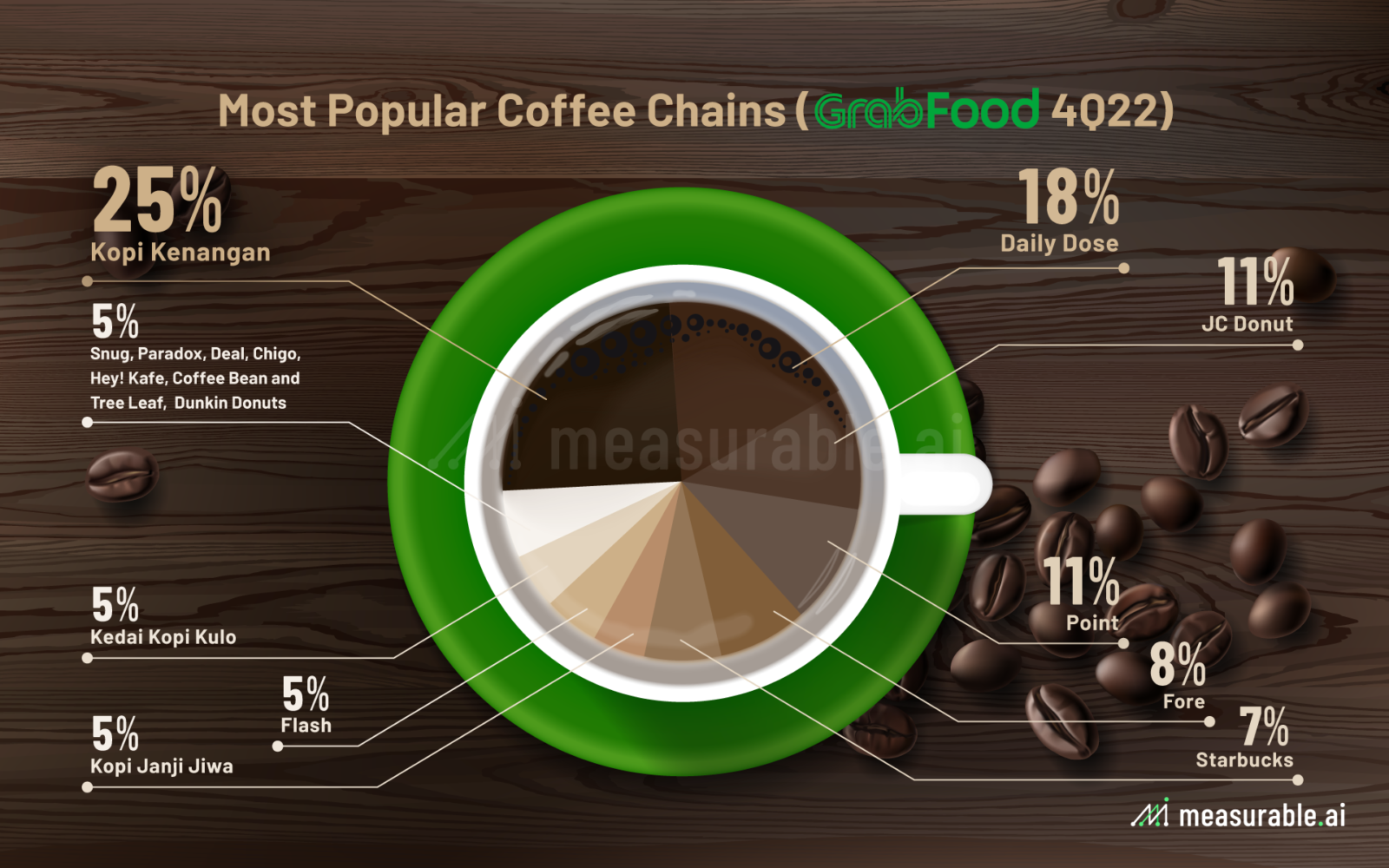 Turning to our GoFood delivery dataset, our data reveals that Kopi Kenangan emerges as the clear winner in terms of total number of transactions. Runners up position goes to Starbucks then Flash coffee.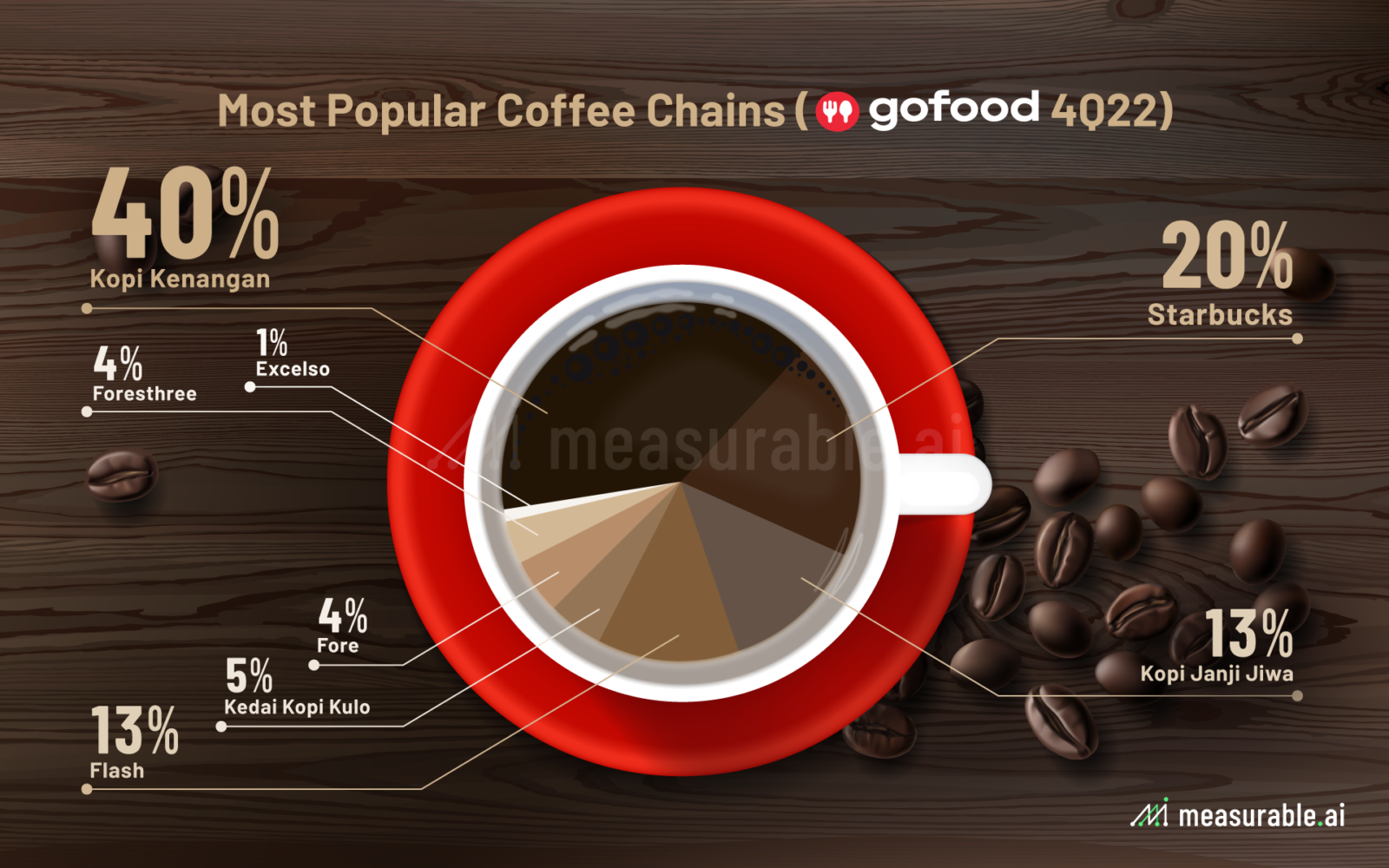 Which Coffee Chain Attracts the Biggest Spend?
While Kopi Kenangan is the clear winner in terms of number of orders across both GrabFood and GoFood, which coffee chain receives the highest order value per transaction?
Once again, let's see what our datasets have to say.
Looking at our GoFood dataset alone, the average spend across the major international and local coffee franchises hovers at around $7.09.
Fore coffee, an on-demand specialty coffee store, registered the highest spend with an average spend of $10 per transaction last quarter according to our GoFood dataset. This is followed shortly by Kopi Kenangan at $8.25 then Foresthree coffee at $6.95 per transaction.
Our dataset also revealed that the most aggressive promotional discounting was utilized by Fore coffee, followed by Foresthree and Excelso.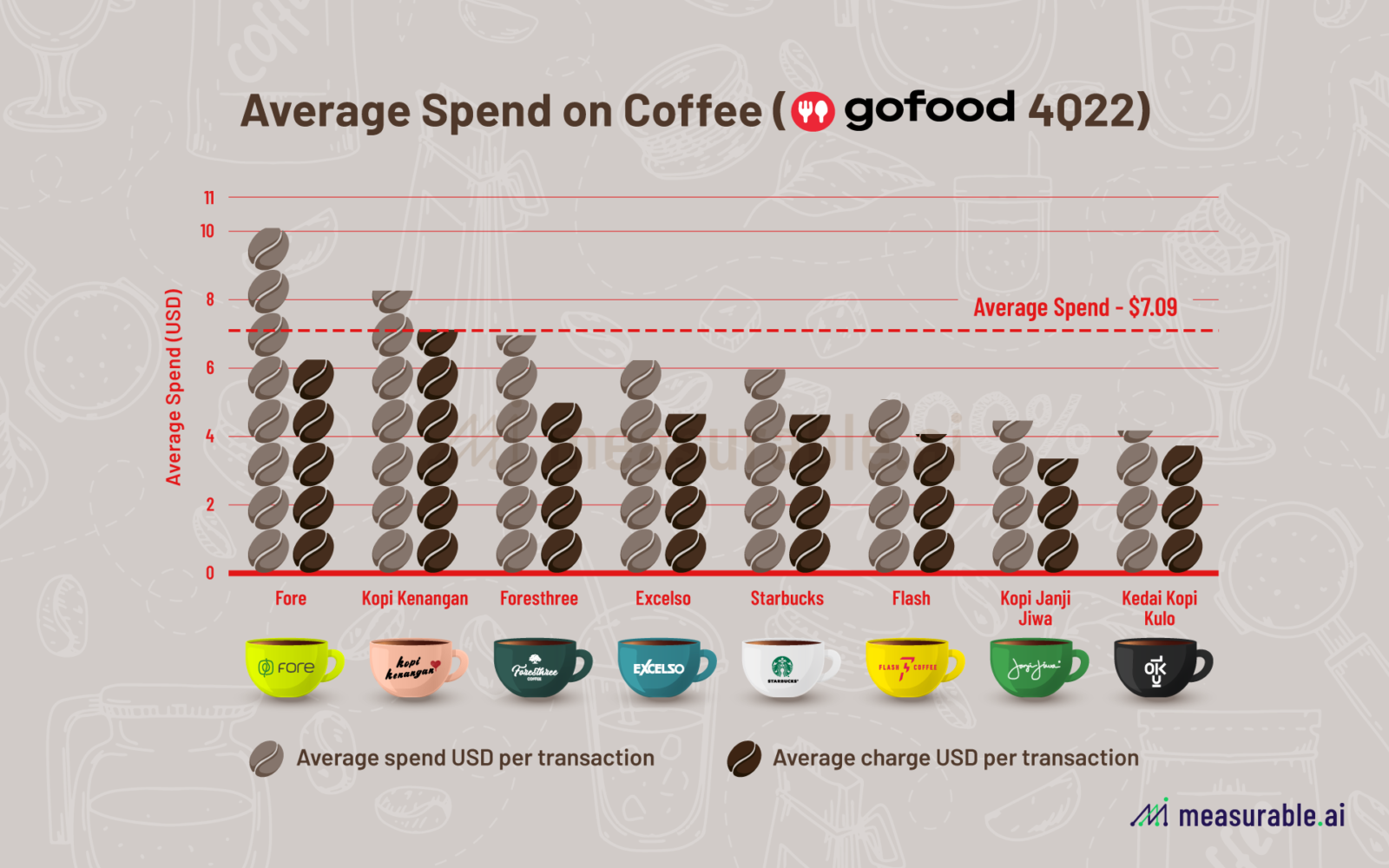 Meanwhile, on GrabFood, the average spend across the major international and local coffee franchise hovers around $6.62.
Starbucks registered the highest average order per transaction at $9.78. Next was Daily Dose ($9.3) and then J.C. Donut ($9.23).
From our GrabFood dataset, the most aggressive promotional discounts used were from Snug coffee, Coffee Bean and Tea Leaf, Daily Dose, Flash and Fore coffee.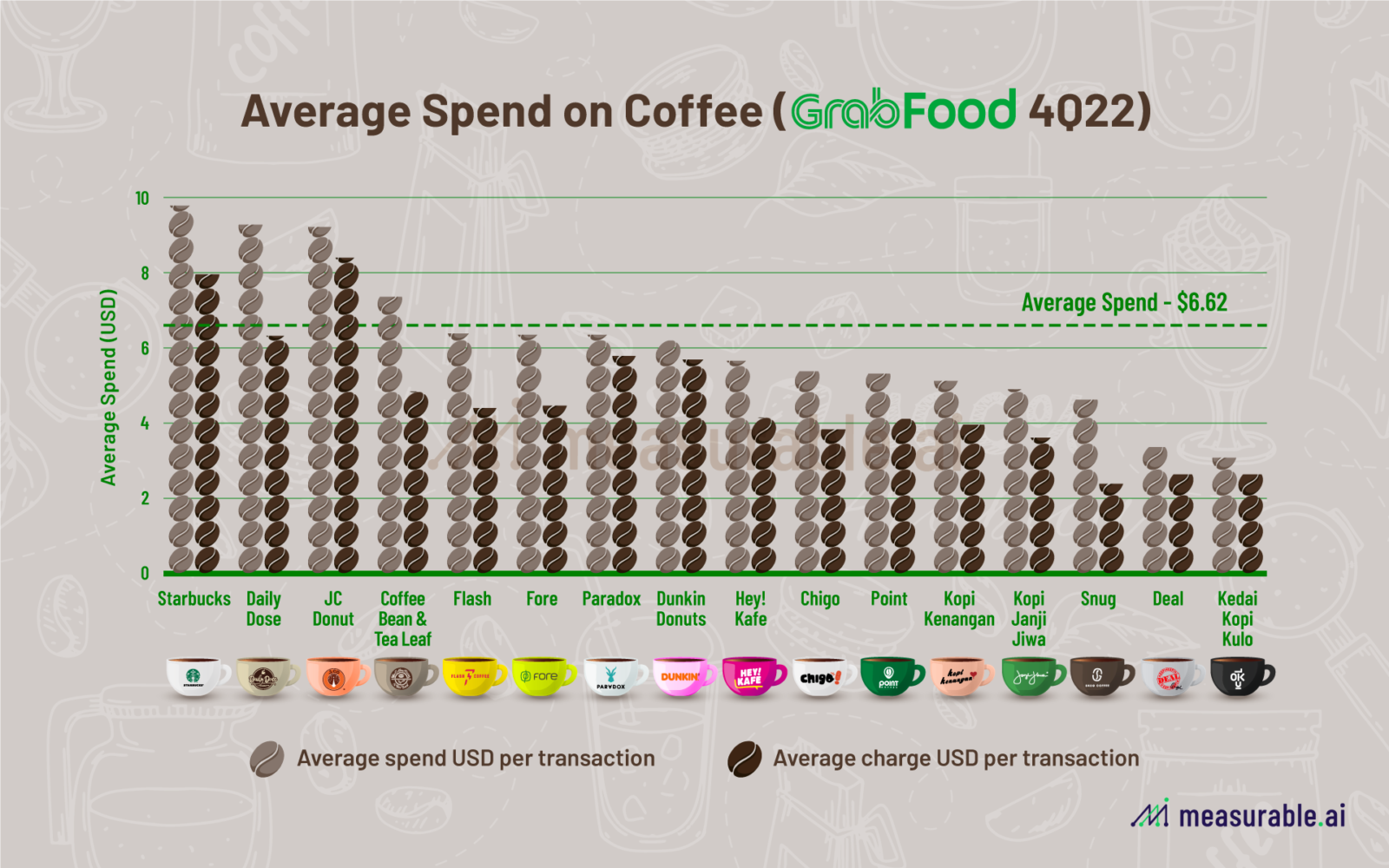 Diving Into Delivery Fees
Measurable AI's granular datasets allows us to understand more about the delivery fees charged on the food delivery platforms for each transaction.
Taking a dive into both our GoFood and GrabFood Indonesia delivery datasets, the average delivery fee for coffee orders seems to average at around $0.22 and $0.72 for GoFood and GrabFood respectively.
On the GoFood platform, the highest delivery fees were for Starbucks and Fore coffee delivery orders. Meanwhile, the highest delivery fees incurred on GrabFood were for JC Donut, Starbucks and Fore coffee orders.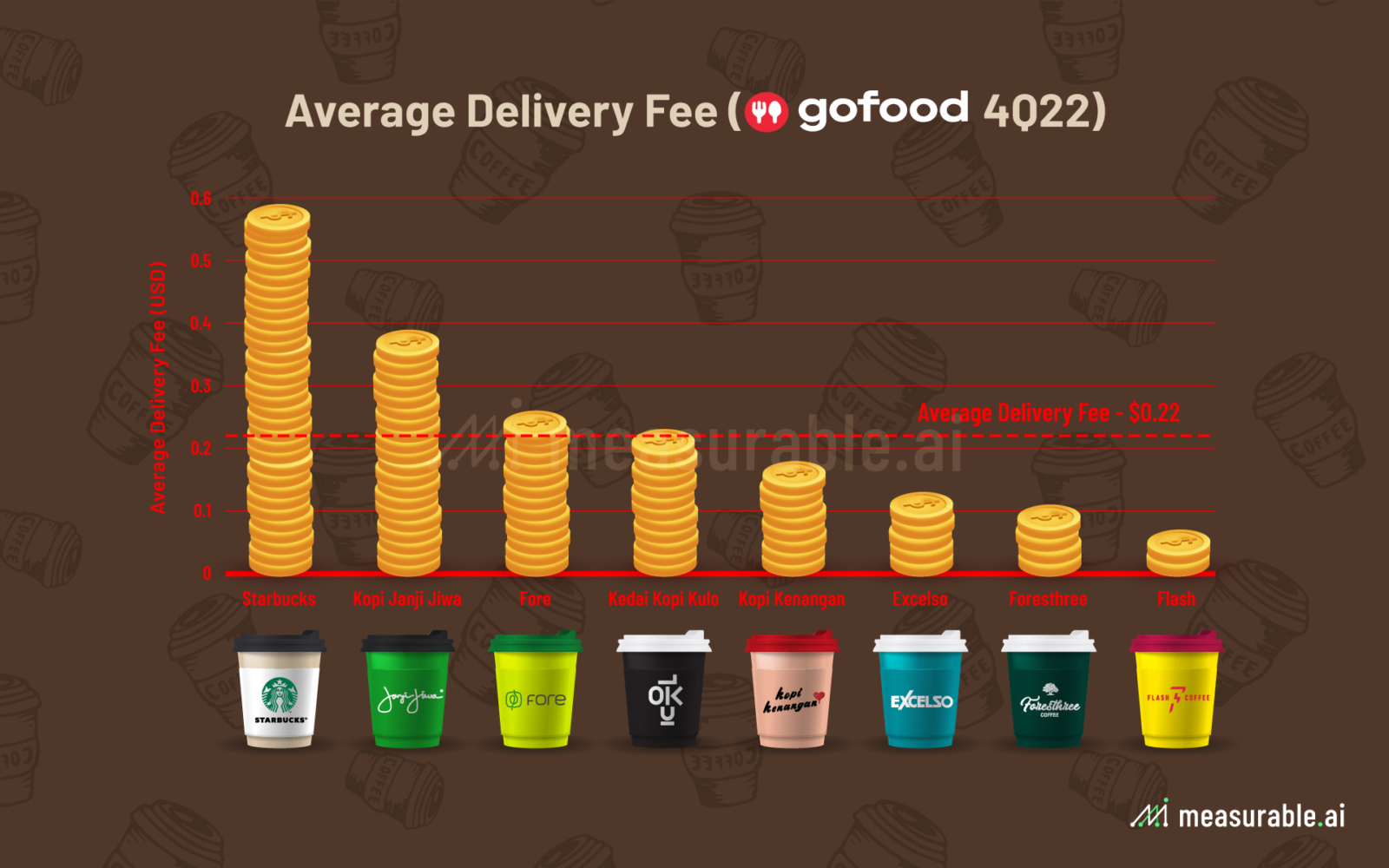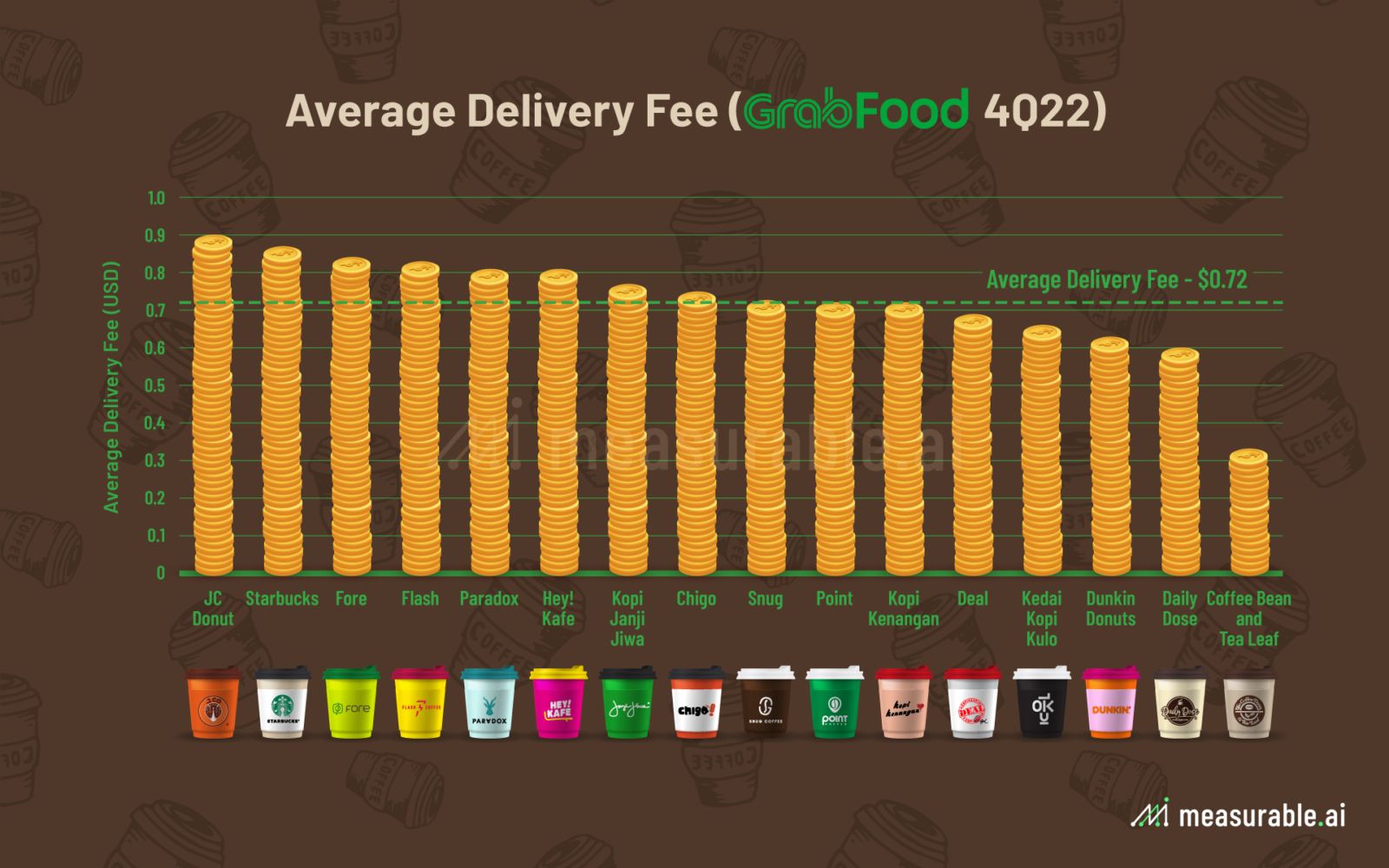 A Quick Look at the Hot and Rising Tech-enabled Coffee Chains Kopi Kenangan and Flash Coffee
The Indonesian coffee market is undeniably hot thanks to the growing middle class and a more cosmopolitan, trending young population. One trend we find particularly interesting is the emergence and spread of grab-and-go coffee chains which aims to strike a "middleground" when it comes to pricing between roadside instant coffee stores (roughly priced at $0.20 a cup) and more specialty coffee stores like Starbucks priced at roughly $5 a cup. Two tech-enabled coffee chains that are aggressively seizing this price advantage (without sacrificing quality) and scaling rapidly are Kopi Kenangan and Flash coffee.
Kopi Kenangan was founded in 2017 and is Indonesia's fastest growing non-franchise tech-enabled grab-and-go coffee chain with more than 840 stores spread across more than 60 cities in Indonesia. They became the first F&B Unicorn in SouthEast Asia in December 2021 and are serving more than 3 million cups of coffee each month. Last October 2022, they made their first foray outside of Indonesia into the Malaysian market in KLCC, selling more than 1,440 drinks on its second day of operations.1
Since its operations day one, management opted for a non-franchise model so as to preserve quality and improve ingredients and equipment instead. With this more efficient business model, Kopi Kenangan – which also owns Chigo by the way – is able to shorten its payback period and invest the returns to open new outlets faster.
Apart from distributing its coffees on the major food delivery platforms, Kopi also has its own app which, according to the company, digital sales accounts for ~70% of its total sales. On the Indonesian food delivery platforms alone, we observed from our datasets that Kopi orders account for roughly 48% and 28% of the total number of major coffee chain transactions on GoFood and GrabFood respectively during 4Q22. While the average price of a Kopi latte ranges from $1.72 to 2.44, the average spend per order for 4Q22 as gleaned from our transaction datasets are $8.25 and $5.13 on GoFood and GrabFood respectively.
Interestingly enough, even throughout Covid-19 where most hospitality services were bleeding and shutting down, the company proved its resilience. During 2021, Kopi managed to open 191 new outlets, up 41% from the previous year.
Now, looking at Singapore headquartered and Rocket Internet backed Flash Coffee, its premise is similar to Kopi Kenangan when it comes to serving quality specialty coffee at affordable prices. Similar to Kopi, Flash is tech-enabled with its own app whereby users can order and pay online then choose to pick up at one of their iconic yellow storefronts or get it delivered through one of the major food delivery platforms.
Striking out its first Indonesian store in 2020, this digital-first coffee chain has more than quadrupled its store presence since its Series A fundraise in April 2021, from 50 to over 200 stores spread out across Indonesia, Singapore, Thailand, Hong Kong, Taiwan, South Korea and Japan.
For Indonesia alone, the average price of a Flash latte in Indonesia ranges from $1.59 to $2.12. Our datasets reveal that the average spend per order for 4Q22 is roughly $5.07 and $6.40 on GoFood and GrabFood respectively. Amongst the major coffee chains in Indonesia, in 4Q22, Flash accounted for roughly 6% of total coffee transactions on GrabFood and 15% on GoFood.
Curious to see what the percentage customer overlap is and how it has changed in the past year up until now amongst these two tech-enabled grab-and-go coffee chains? Or want to get a glimpse into what are the most popular items ordered and how it has changed recently? Feel free to reach out to the author Michelle at [email protected] if you would like to learn more about the coffee market in SouthEast Asia and access more granular insights and trends underpinning the food delivery sector.
About Measurable AI
At Measurable AI, we build and own a unique email receipt consumer panel and have become the largest transactional email receipt data provider for the emerging markets. We are well regarded for the granular insights that can be extracted from our comprehensive datasets across the digital economy, particularly in the food delivery and ride hailing sectors. Check out our latest 2019-2022 Food Delivery Annual Report for Asia.
Michelle Tang loves solving problems and storytelling with data. If you would like deeper insights into the coffee and beverage market from Measurable AI's comprehensive food delivery datasets, you can reach her at [email protected].
*The content is for informational purposes only. You should not construe any such information or other material as investment advice. Prior written consent is needed for any form of republication, modification, repost or distribution of the contents.