Who are Making the Most Out of ChatGPT?
Visualizing the AI Chatbots with Alternative Data
Just a few months since its debut, the free ChatGPT chatbot and its peer products powered by OpenAI have become all the rage. Curious to understand the adoption trend since its launch and who the major users of ChatGPT are, we at Measurable AI take a dig into our "treasure trove of insights" garnered from our proprietary email receipt panel.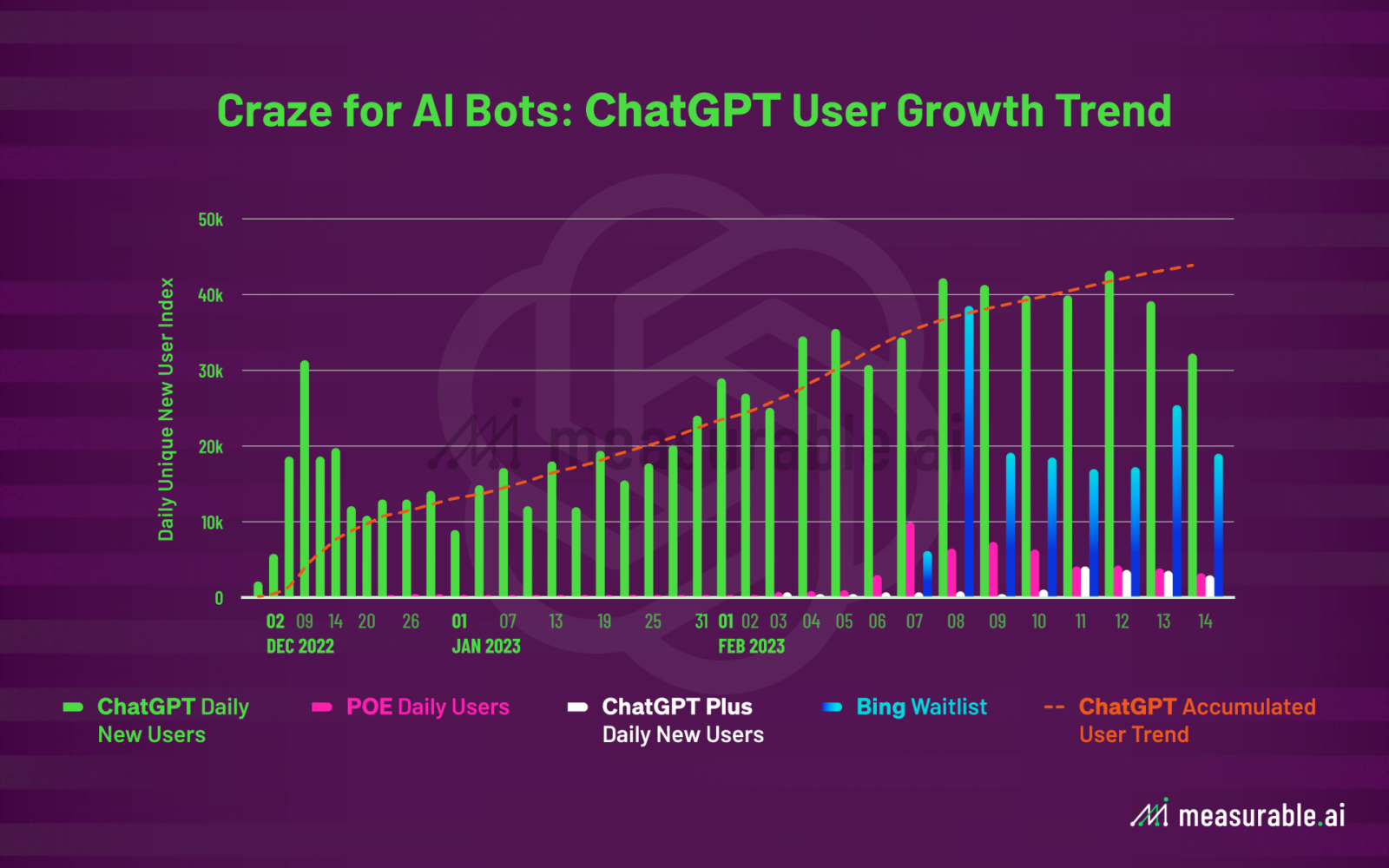 As revealed from Measurable AI's consumer e-receipts panel, ChatGPT's daily new signups experienced a rapid boost shortly after launch, followed by a slowdown during the holiday season. Entering 2023, it experienced exponential growth over a month and has reportedly gained over a whopping 100 million users.
Along with the success of ChatGPT, POE by Quora, another chatbot-style app powered by OpenAI, also gained significant momentum. Our data indicates that POE experienced rapid growth within a week.
During the same week, Bing, Microsoft's very own search engine, announced its waitlist for OpenAI powered version and saw a huge surge in the number of people signing up. While ChatGPT was making waves in the world of AI generated chatbots, Bing was generating buzz in the search engine industry for its use of AI technology to deliver more relevant search results. As more people caught wind of Bing's innovative approach, its waitlist quickly grew.
Early Adopters of Chatgpt: Three Groups of Users
With ChatGPT gaining so much popularity, who exactly are the early adopters?
Thanks to the billions of e-receipts data points, at Measurable AI, we are not only able to discern the growth trend of a specific company, but also its overlap with other businesses as well as the interest groups or profile of their users. Our email dataset reveals that several groups of users heavily overlap with ChatGPT users. Let's explore these groups of users.
The Crypto Users
Based on the e-receipts and confirmations captured by Measurable AI's consumer panel, crypto users are among the biggest group of users who overlap with chatGPT users. Among all of the ChatGPT users, approximately 36% of them are also crypto users (based on the top crypto exchange and website users captured by Measurable AI).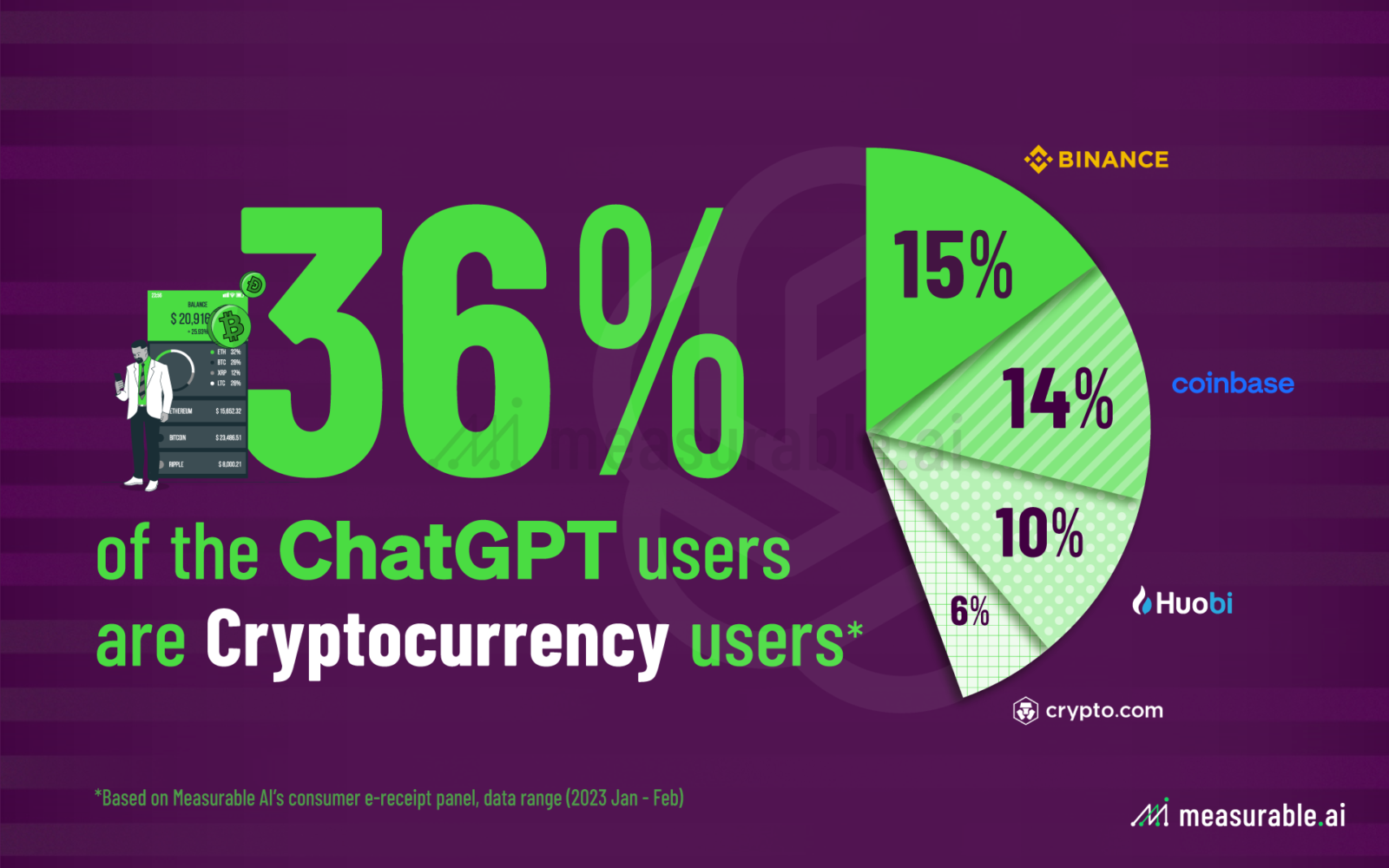 This is surprisingly high. To give you some perspective, amongst the ChatGPT users in our panel, around a similar percentage (35.6%) of users also are Facebook users.
The Professional Users
What about social media users? In addition to Facebook, professional users on LinkedIn make up a whopping 33% of ChatGPT's overlap, followed by Twitter at around 26.4%, and Quora at 19%. For the younger generation, the overlap rate is lower than expected, with only around 6% of ChatGPT users found on TikTok and only 3.4% on Snapchat.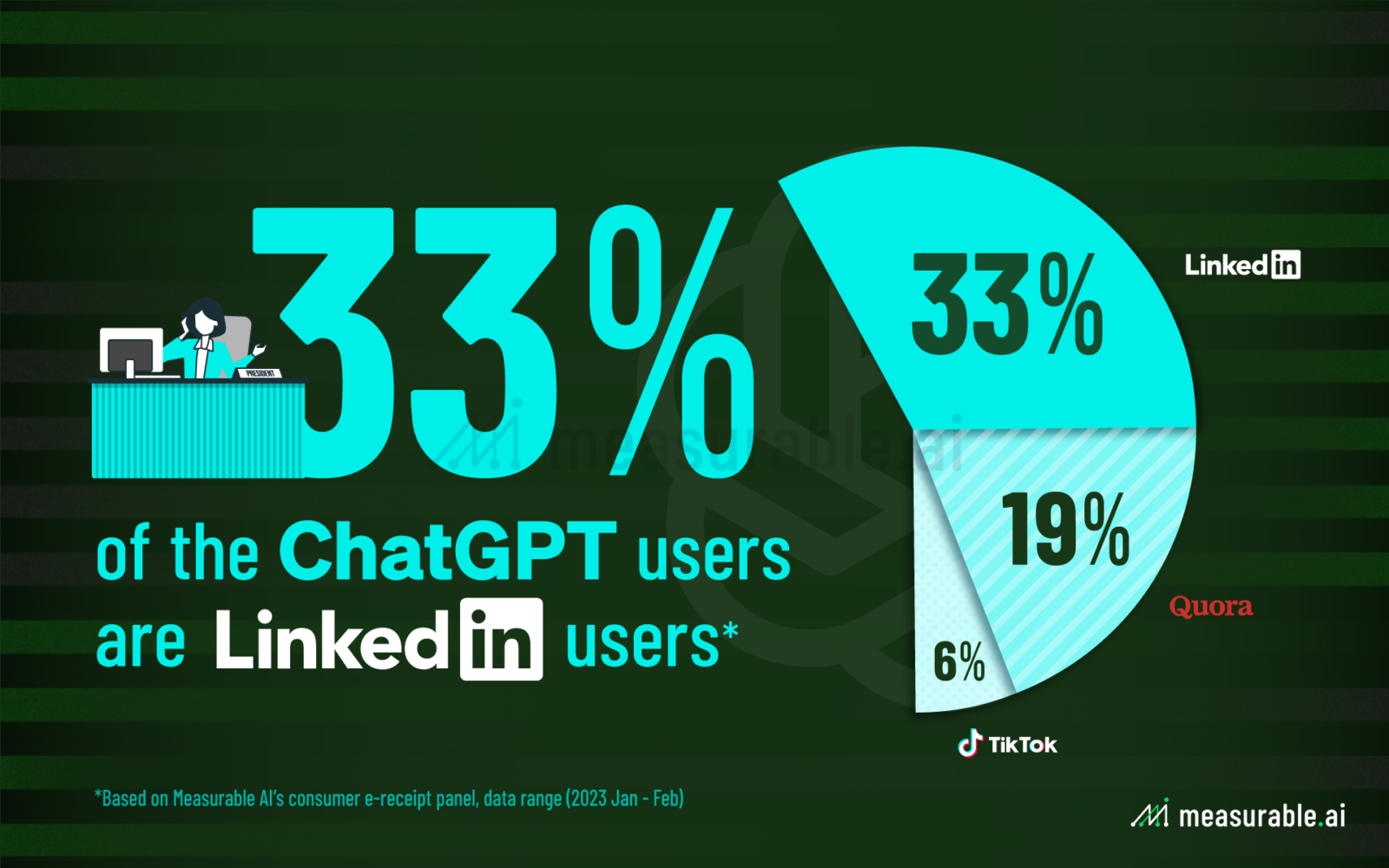 The Creative Users
The third biggest group of users that overlap heavily with ChatGPT are users of Adobe (18.5%) and Canva (9.2%). Followed by users who write a lot, for example, approximately 10% of the users also use Substack, and 6.8% use Grammarly.
To get a feel what general consensus was thinking, we conducted a poll on Twitter before publishing this blog article. The results indicate that most people assumed that developers should be the most heavy users of ChatGPT.
Surprisingly, this is not the case. According to Measurable AI's data, only around 4.4% of chatGPT users are also Github users.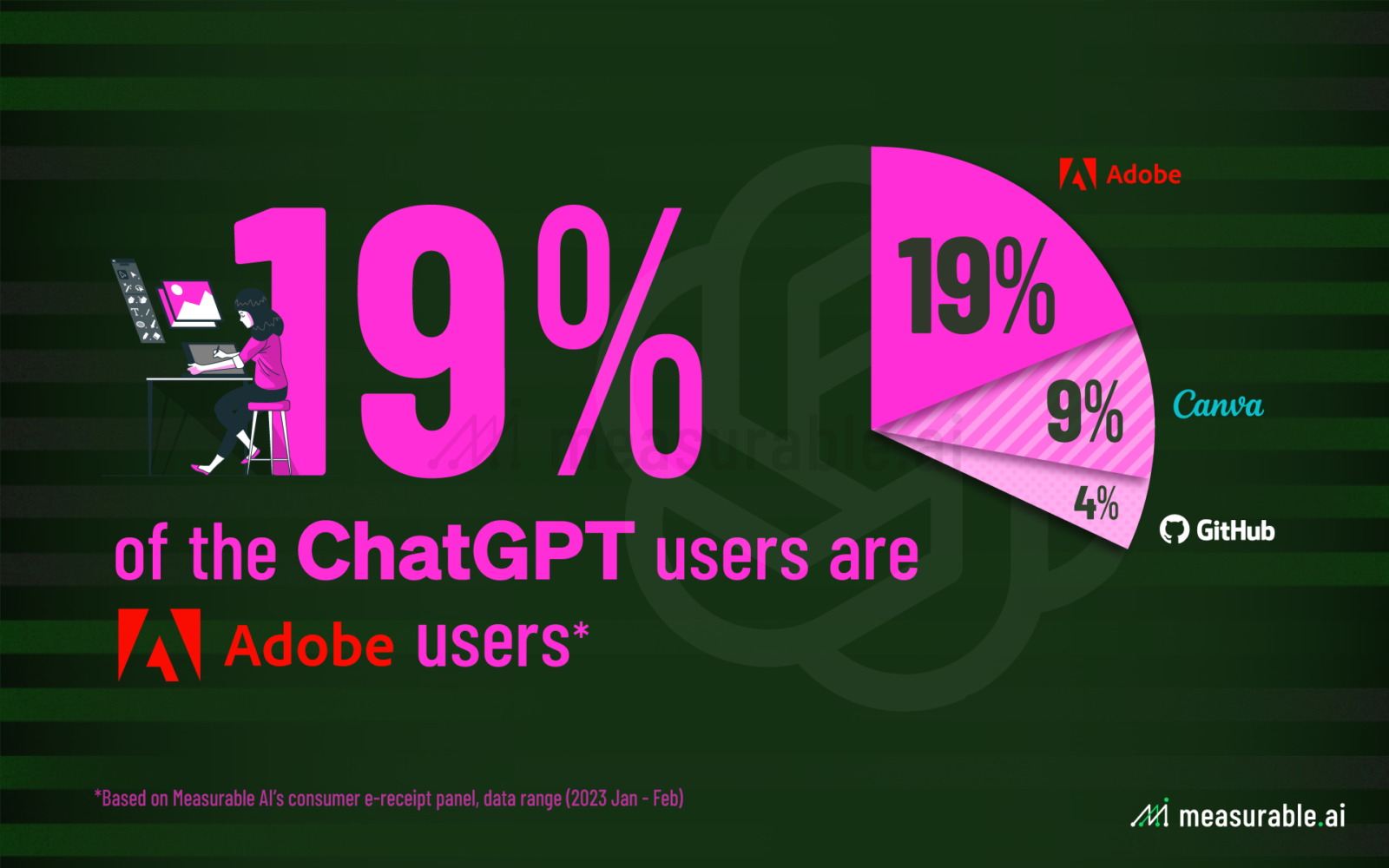 It's incredible to see the widespread adoption and enthusiasm around ChatGPT in such a short time frame. With the help of Measurable AI's real time consumer e-receipts panel, we're able to monitor this explosive growth and take a closer look at it.
By gaining insights into the user groups and demographics that are adopting these cutting-edge technologies, we can better understand how AI is shaping our lives and businesses. At Measurable AI, with the help of Measurable AI's real time consumer e-receipts panel, we will continue to monitor the trends and provide the most accurate data insights for companies that are looking to stay ahead of the curve in all kinds of industries.
Interested in finding out more about Measurable AI's consumer email receipts panel? Talk to us to learn how transactional datasets can help your business.
(Credits to Midjourney, a generative AI powered image creation program who helped us create this futuristic blog header.)
ABOUT US
At Measurable AI, we build and own a unique consumer panel and are the largest transactional email receipt data provider for the emerging markets. We are well regarded for our comprehensive alternative dataset across the digital economy. Check our Latest 2019-2022 Food Delivery Annual Report.
Charlie Sheng is a serial entrepreneur, and a dedicated communicator for technology. She enjoys writing stories with Measurable AI's very own e-receipts data.
You can reach her at [email protected].
*The Content is for informational purposes only, you should not construe any such information or other material as investment advice. Prior written consent is needed for any form of republication, modification, repost or distribution of the contents.