A Closer Look at PayTM, India's Biggest IPO to Date.
Digital payments in India are growing at a scorching pace. According to the Economist Intelligence Unit, when it comes to digital payments, India has outpaced the rest of the world, registering the highest number of real-time payment transactions. CLSA Research forecasts the digital payment market in India to grow three-fold to touch US$1 trillion by financial year 2026 compared to $300 billion in 2021.
India's large number of real-time transactions can largely be explained by the prevalence of low-value payments in the Indian economy. Similar trends can be witnessed in developing countries.
When looking into the digital payment scene in India, one of the most notable names is PayTM. In fact, PayTM has landed the largest initial public offering in India to date, raising US$2.5 billion in its recent November IPO. With 337 million registered consumers and 22 million merchants, PayTM is the biggest payment platform in one of the world's fastest growing economies. Today Paytm boasts 1.2 billion monthly transactions (as of March 1, 2021) with over 150 million monthly active users.  
A Brief Timeline of PayTM
To provide more context of the key events underpinning PayTM's growth story, a simplified timeline of the key milestones for PayTM is illustrated below.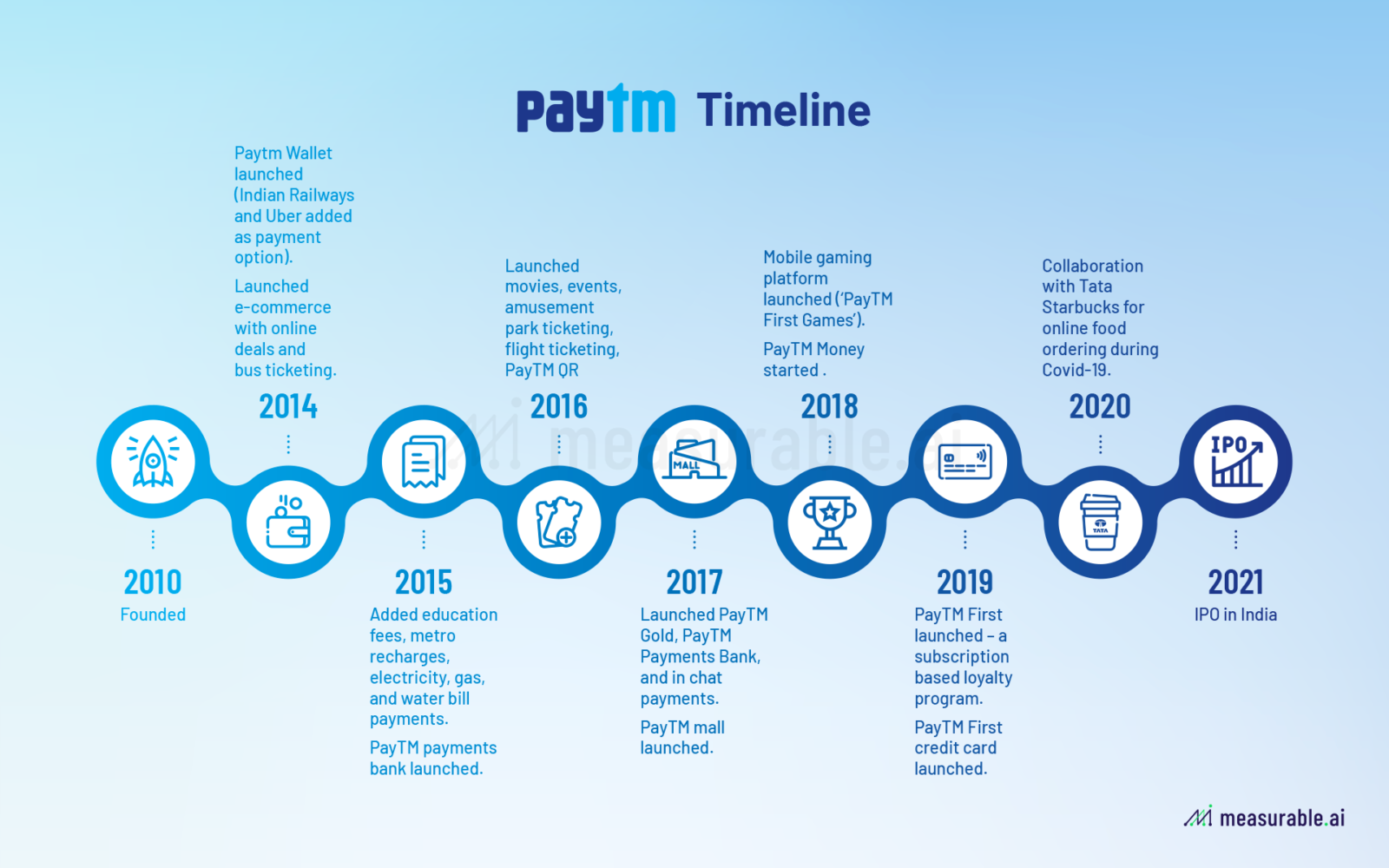 At Measurable AI, we are the leading provider of transactional email receipt data for emerging markets. We have invested heavily into growing our Indian panel lately with extensive coverage of the digital payment and e-commerce scene in this populous nation. In this article, we will be taking a dive into the insights we discovered for PayTM on the back of our dataset.
PayTM Total Spending
First, taking a look at the total spending, PayTM experienced a rapid QoQ in total spending from 2Q22 to 3Q22. This could be partially explained by the rising adoption of contactless payment methods such as UPI. As evidenced by the graph below, UPI usage increased significantly from 2Q20 for PayTM.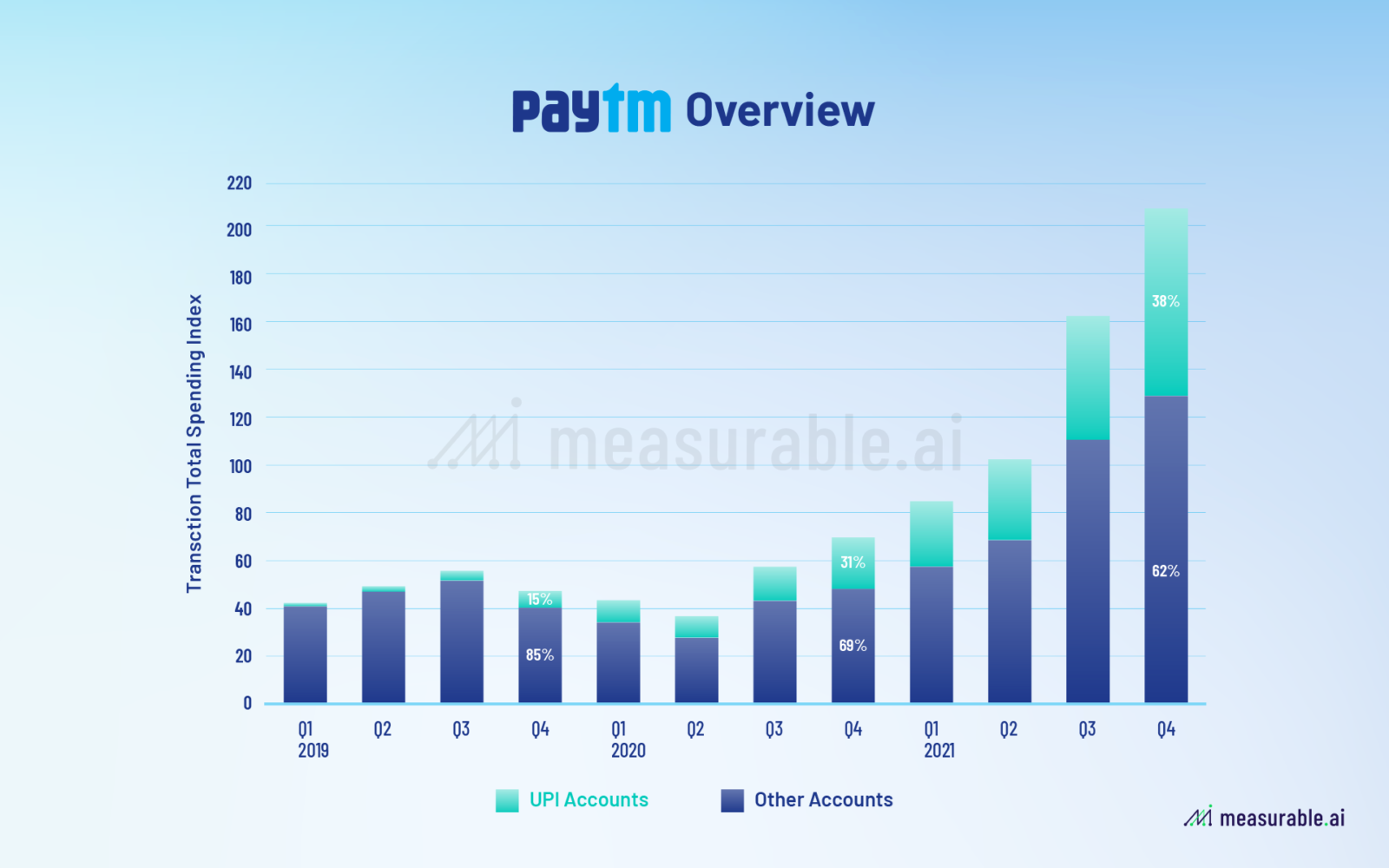 So what is UPI? UPI stands for Unified Payment Interface in India which has exploded in recent years. It is an instant real-time payment system developed by the National Payments Corporation of India (NPCI) and was first introduced to India in 2016.
Some of you may be wondering, what is the difference between UPI transactions vs. digital wallets? In a nutshell, UPI transactions are direct bank to bank transfers while digital wallets act like intermediaries between accounts. UPI transactions can take place between any two banks whereas digital wallet transactions can only occur between two accounts in the same digital wallet app. Read this to understand more differences between the two.
The graph below shows UPI payment growth skyrocketing for PayTM since December 2020. This can largely be explained by the union government's step up and campaigns towards digital transactions as well as secure and inclusive payment methods. The trend is also indicative of the heightened trust in digital payments amongst Indian consumers who are now increasingly turning towards UPI payments for more frequent and higher value payments. Also rallying consistently in India are net banking or internet browser based transactions.
Today, UPI has more than 297 participating banks and over 4.6 billion monthly transactions.1 India's consumers are quick to adopt this method of payment given its ease of use, speed and secure nature.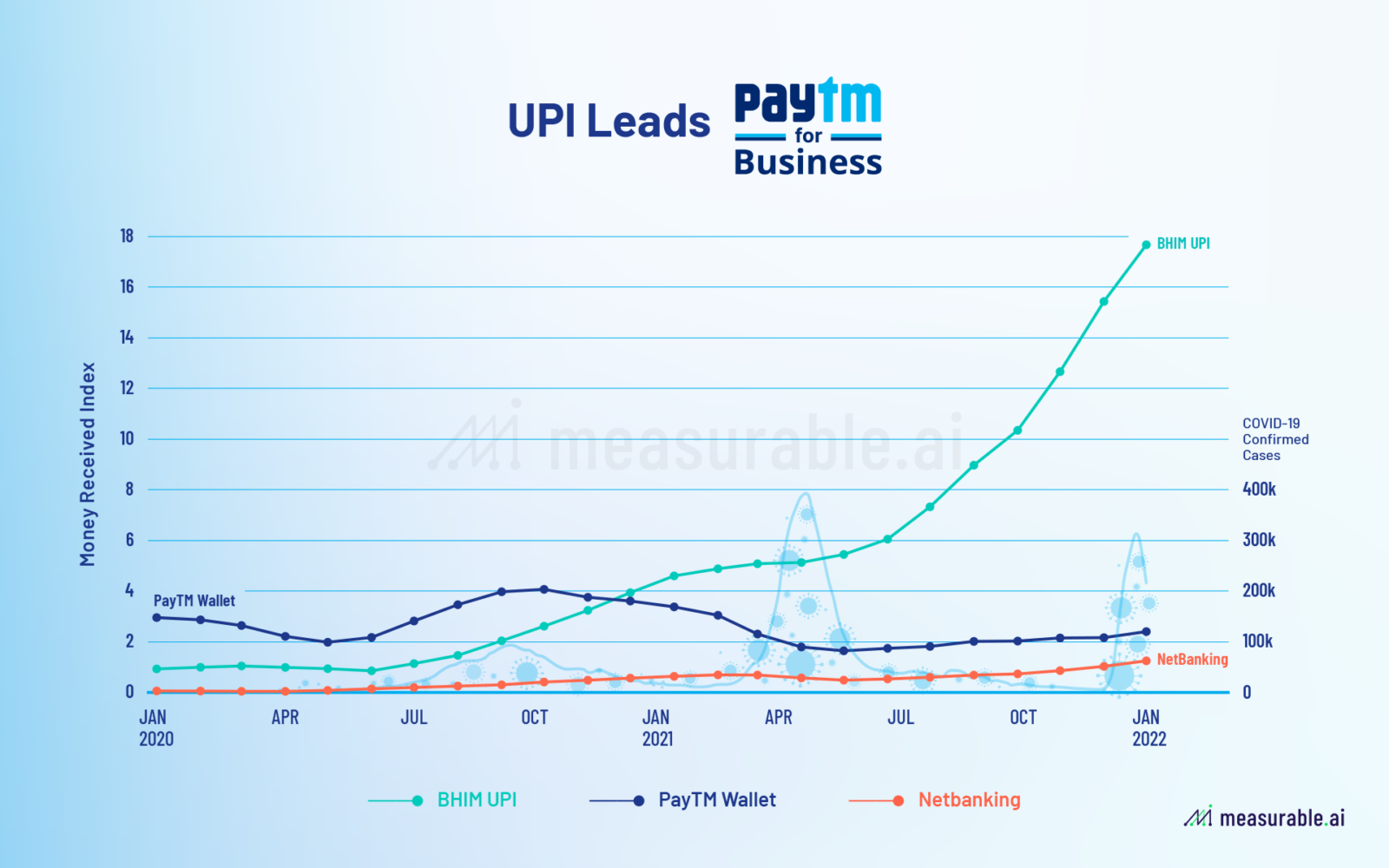 As for the most used credit cards linked to PayTM, State Bank of India ('SBI') took the lead, followed shortly by HDFC Bank, ICICI Bank and RBL Bank.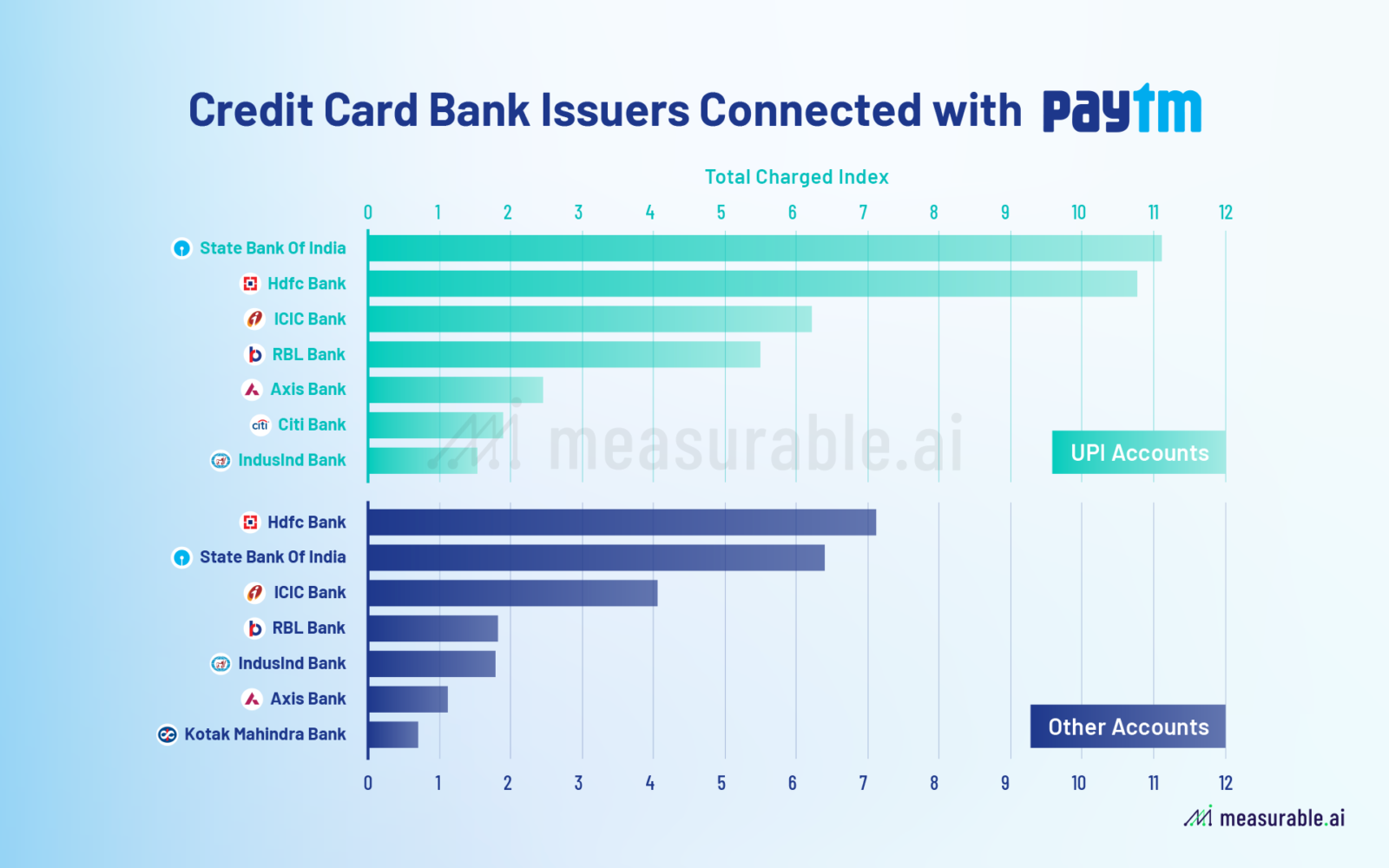 Within the mobile/tv bill payment category, JIO, Airtel, and Vodafone were the market leading providers for PayTM's user base.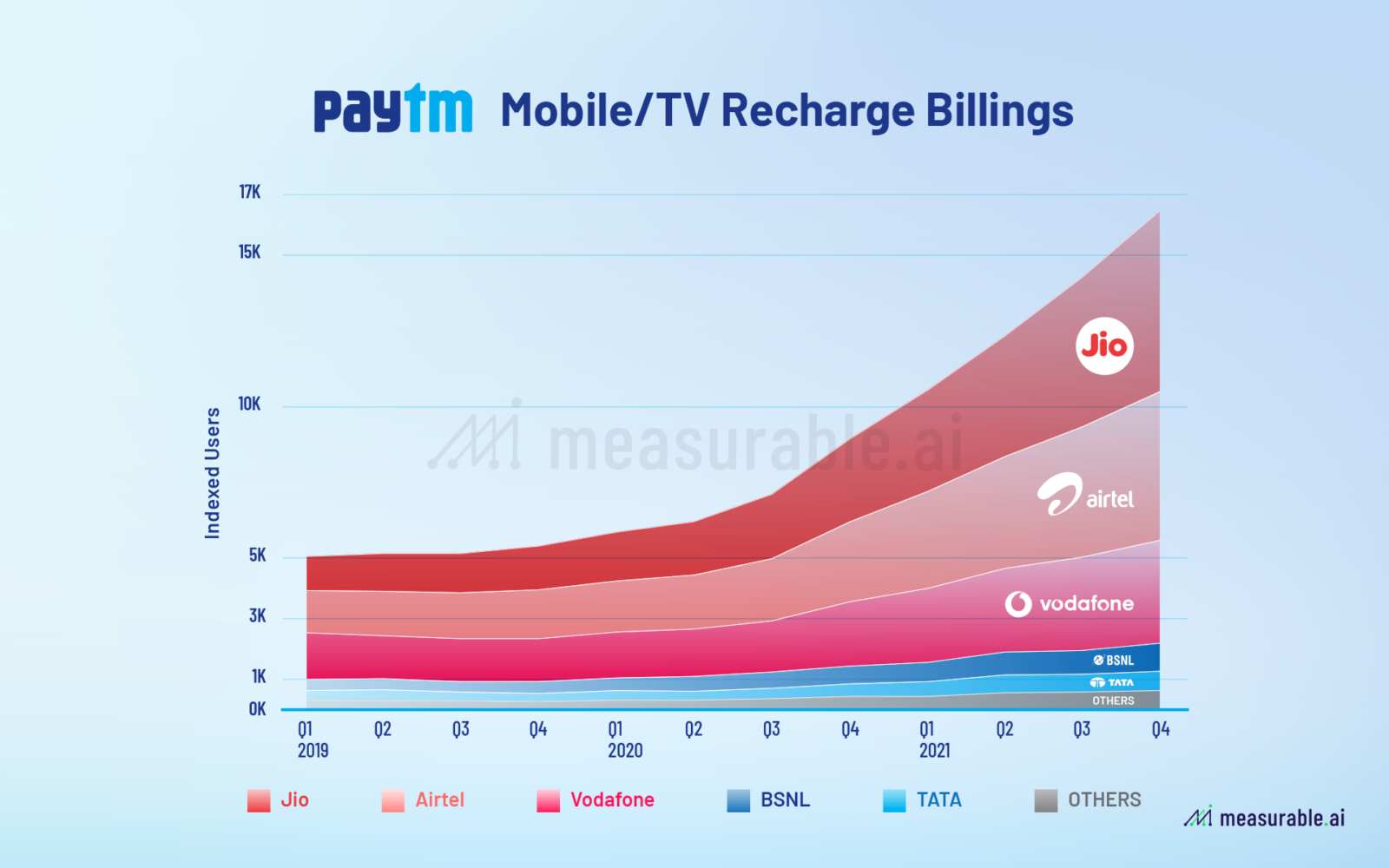 Moving on, a close competitor of PayTM worth mentioning is Phone PE, another large digital payment platform in India leading on all key metrics which includes value and volume of transactions, registered users as well as merchant coverage.
PhonePe Transaction Overview
Looking at Measurable AI's PhonePe data, after the covid April 2021 lockdown, people in India were opting to use digital online wallets more to send and receive money.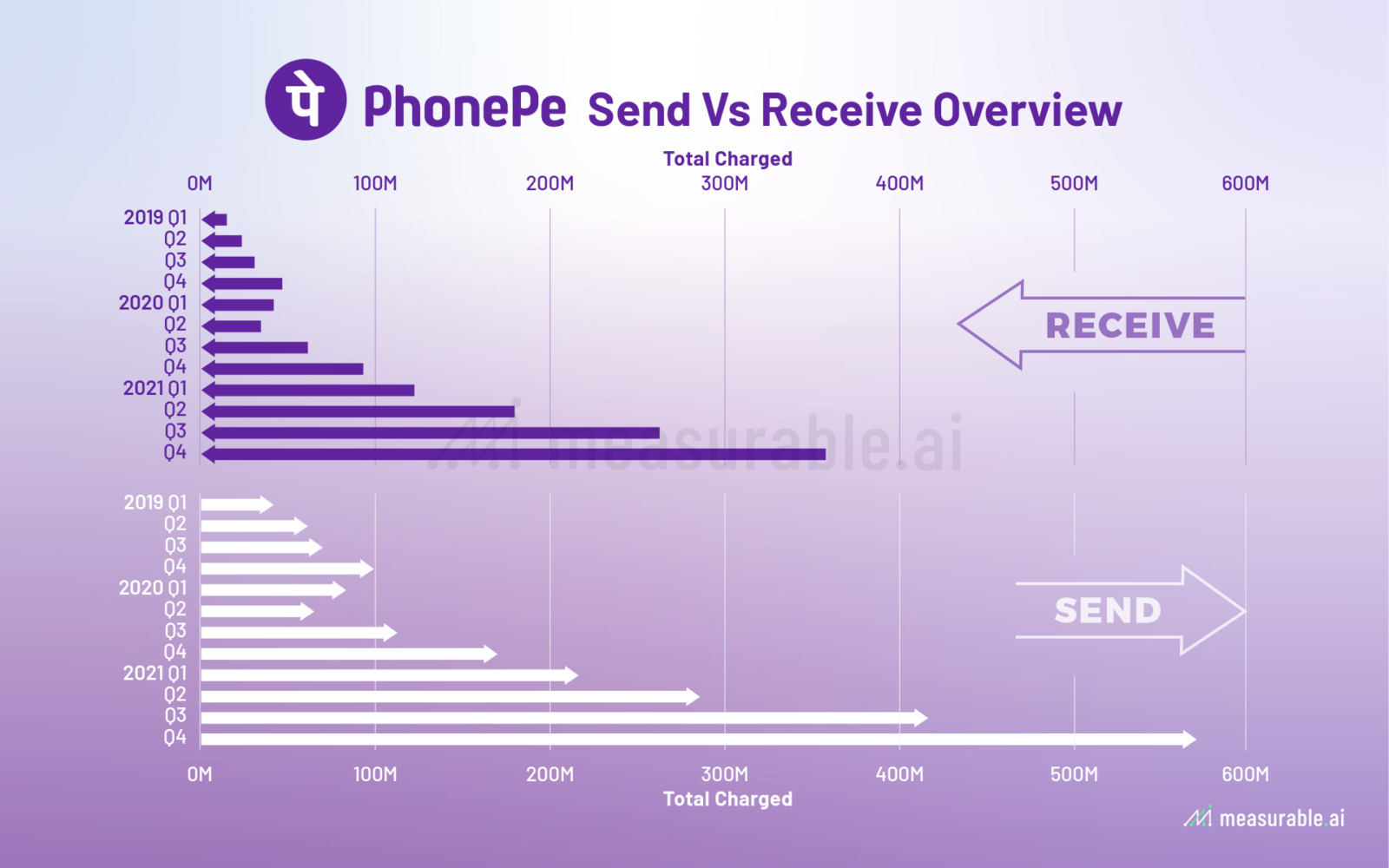 Like PayTM, the State Bank of India remains the most popular bank when it comes to transacting for PhonePe users. This is followed by HDFC bank and then Canara Bank.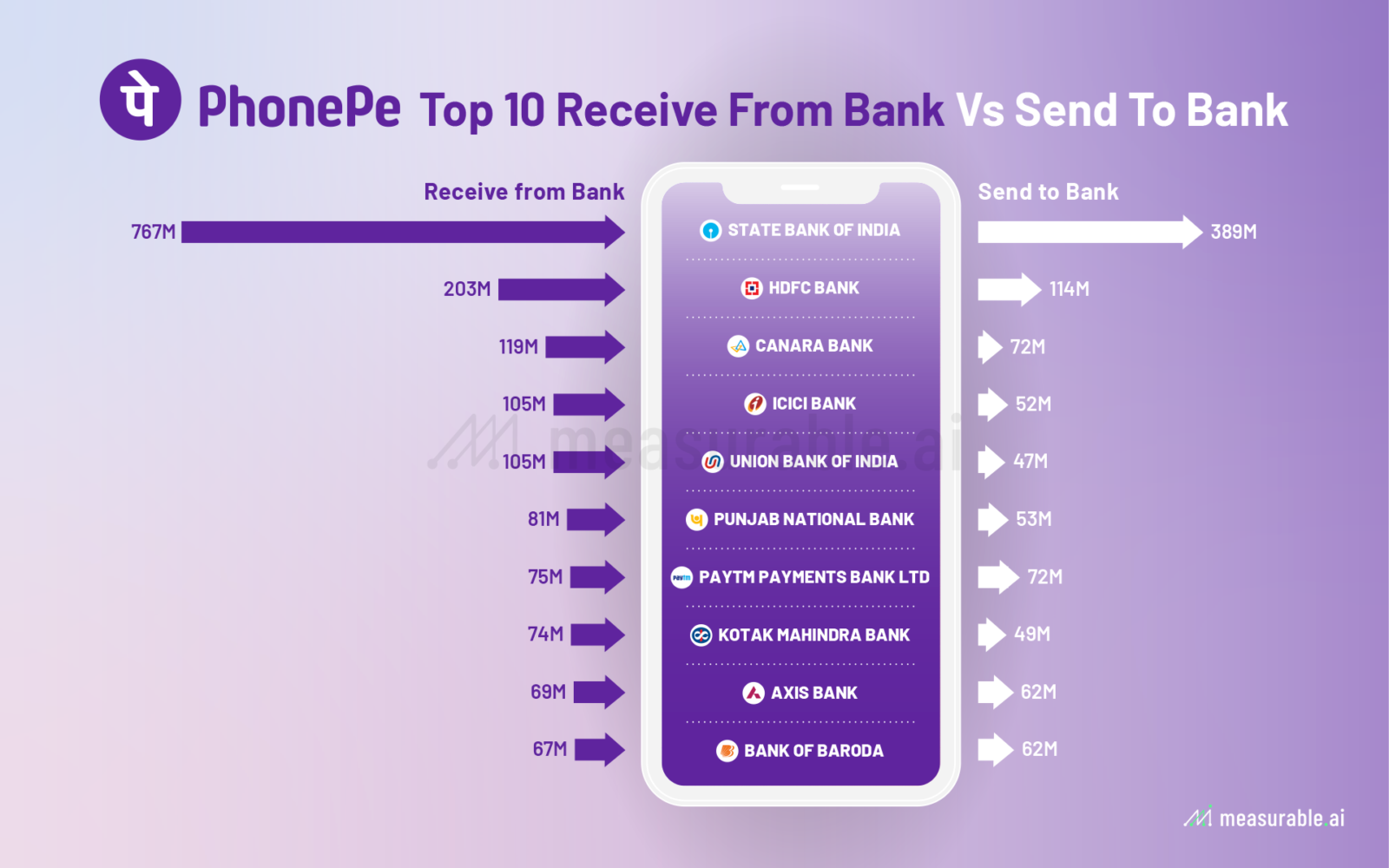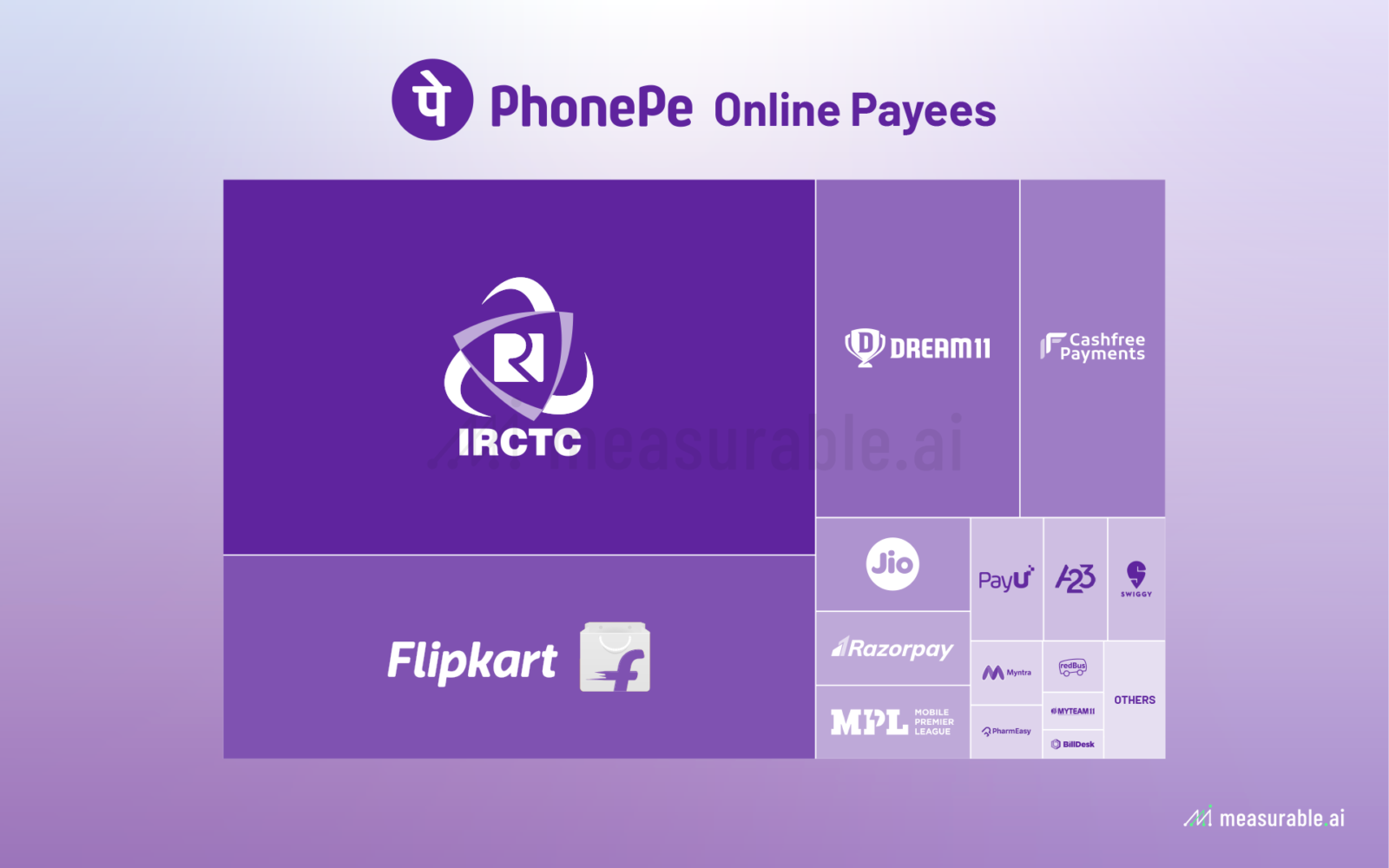 As the cost of data and internet in India falls, its population of 1.4 billion is coming online at a rapid pace. This bodes well not only for digital mobile payment companies like PayTM and PhonePe, but also for India's e-commerce companies such as Flipkart, Amazon, and Blinkit (formerly Grofers) – companies we also have extensive datasets for.
It is not surprising to see huge amounts of capital flooding into the digital payment sector in India. According to research firm Tracxn, venture capital and private equity firms have invested $6.4 billion so far this year in Indian fintech companies. Investors are drawn to the migration of this massive population to apps or mobile QR codes for many purchases, a drastic change in an economy that's traditionally been dominated by cash. With smartphone users forecasting to hit 800 million in the next five years in India, this trend will only continue on an upward trajectory, giving the key players a significant boost to their businesses.
Interested in our Indian online payments dataset or granular data for digital Indian companies? Contact us at [email protected] if you would like to learn more about our data offering.
Read our previous article on Zomato vs Swiggy.
About Us
Michelle Tang is a digital marketer and partnerships manager for Measurable AI with a passion for data analytics. She enjoys storytelling with insights and trends derived from Measurable AI's very own e-receipts data.
You can reach her at [email protected]
Measurable AI provides actionable consumer insights based on billions of alternative data for emerging markets.
*The content is for informational purposes only, you should not construe any such information or other material as investment advice. Prior written consent is needed for any form of republication, modification, repost or distribution of the contents.