2021 Brazil Food Delivery: iFood continues to lead with over 80% Market Share
Ola, let's talk about the food delivery market in Brazil. With Brazil covering almost half of the Latin America food delivery market, it is definitely the most important battlefield for on-demand food delivery companies.
According to Measurable AI's e-receipts data panel in Brazil: iFood, Rappi and UberEats are currently the three major players in the Brazil food delivery market. As of Q2 2021, iFood leads the market with over 80% market share, and UberEats comes next with around 10%. UberEats had a higher market share from March to July in 2020 at over 25%, but the momentum stopped soon after.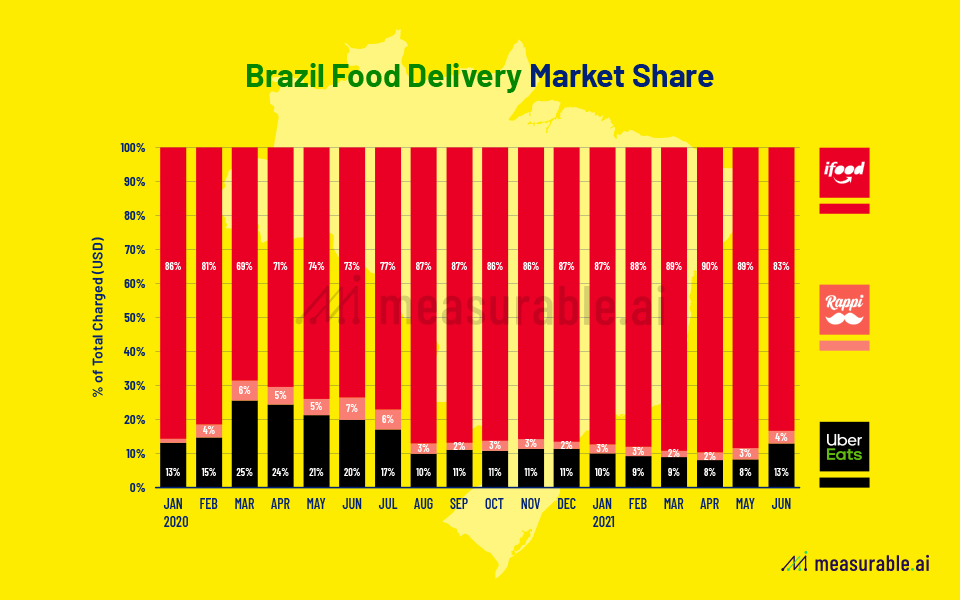 Thanks to the granularity of Measurable AI's e-receipts data, we can see that geographically iFood covers most cities and regions in Brazil, especially in Brazil's financial center Sao Paulo. UberEats focuses on most major cities in Brazil. Rappi's orders, however, cover the least regions across the country. Outside the metropolitan area, iFood also owns the most complete geographical coverage in the rural areas. Illustrated in the map below, we can even see that iFood is the only food delivery provider in some regions of Brazil.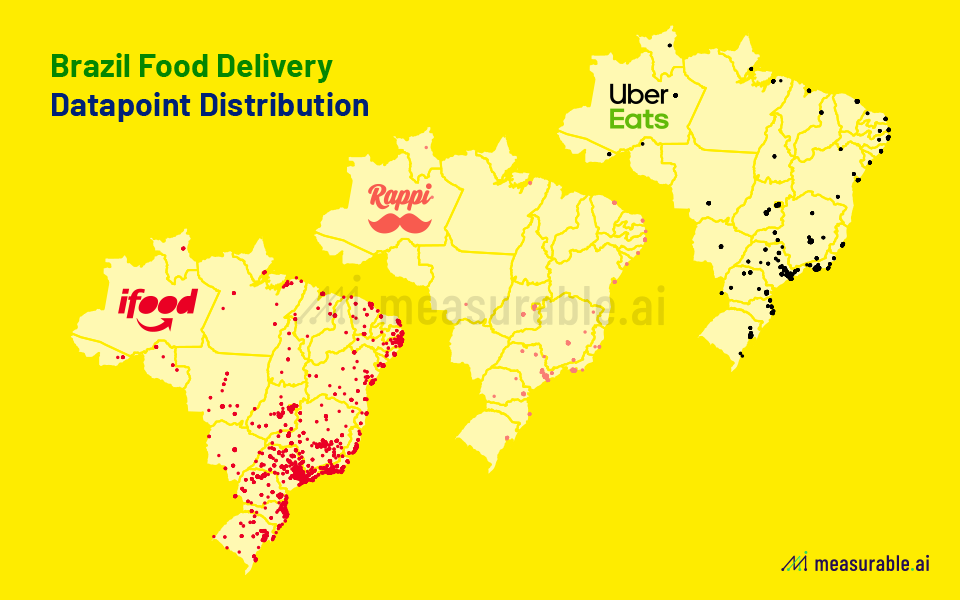 Customer behaviour also differs among the three services. On the basis of average order value ('AOV') alone, Rappi ranks first with the highest average order value at almost USD$13 in June last year, and remains to be the highest among all players with an average spend of around USD $9.9. Rappi's high delivery fee probably contributes to its loftier AOV; the company charges over USD$1.5 for each delivery, while its rival iFood charges only half its price at around USD$0.6. iFood's users spend on average less than USD$9 per order, while UberEats' users tend to pay around USD$7 per order.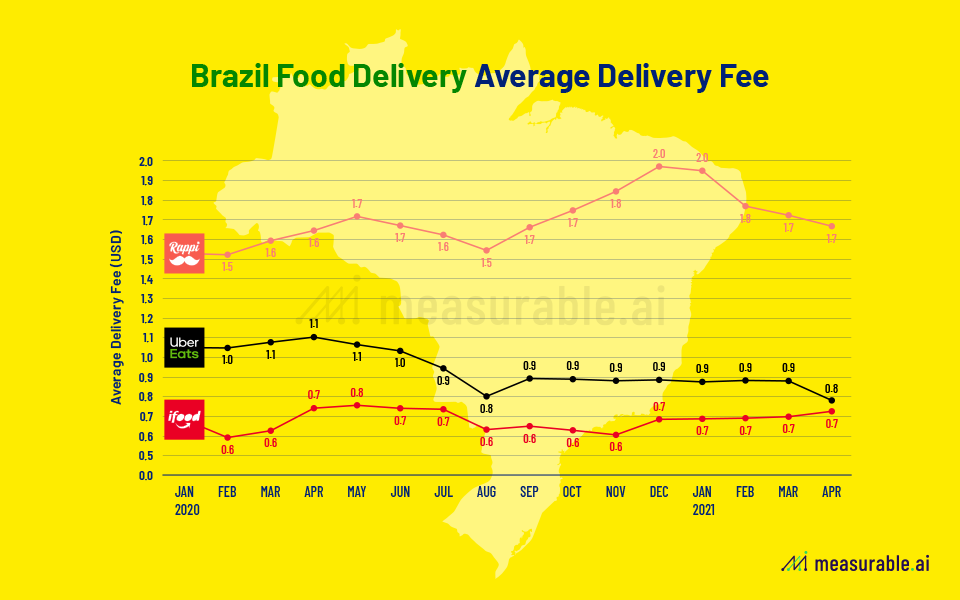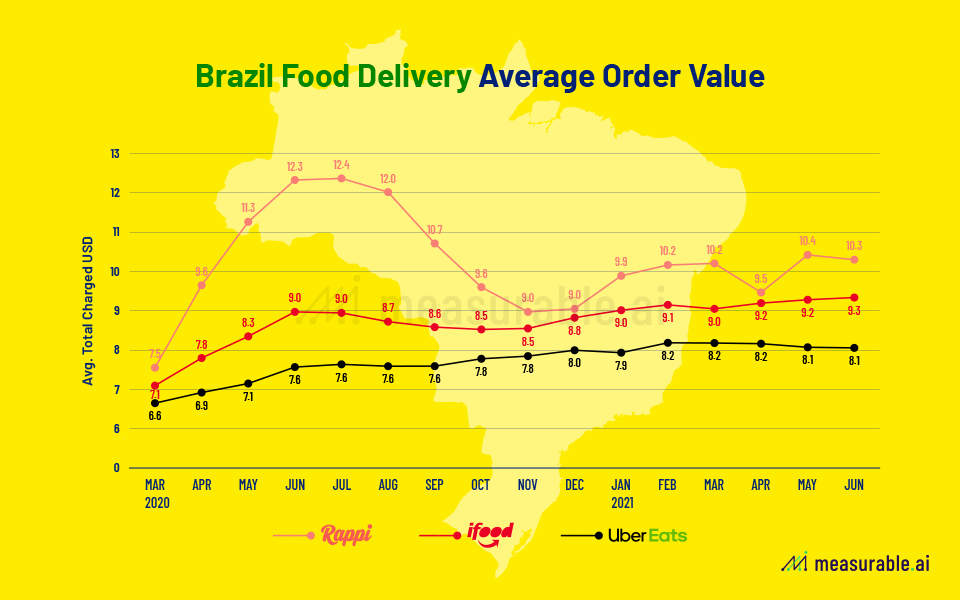 Just like many other regions we've studied before (read our latest research on India's Food Delivery Market), international food tech behemoth companies like Delivery Hero and UberEats also take a bite in Latin America's food delivery market by investing or acquiring local services. Delivery Hero acquired Glovo's Latin American operations, and also bought Colombian local service Domicilios.com (who later became part of iFood). Foreign services that are running their own apps in Latin America include Didi Food, UberEats, and some other fast food chains. However, ultimately the winners go to local companies so far: iFood takes the crown in Brazil, while Rappi wins in Mexico and Colombia. The competition is still going on with new food tech startups and e-commerce giants like Mercado Libra or Magazine Luiza joining the race of on-demand grocery deliveries.
Interested in finding out more about the food delivery sector? Talk to us for more detailed, transactional datasets on the food delivery industry in more markets.
ABOUT US
Measurable AI provides actionable consumer insights based on billions of e-receipts data for emerging markets.
Charlie Sheng is a serial entrepreneur and a dedicated communicator for technology. She enjoys writing stories with Measurable AI's very own e-receipts data. You can reach her at [email protected]
This Content is for informational purposes only, you should not construe any such information or other material as investment advice.
Prior written consent is needed for any form of republication, modification, repost or distribution of the contents. Please contact [email protected]