The Roller Coaster of Food-Delivery Companies in Asia (I)
Even before the pandemic, the food-delivery industry in Asia was growing insanely fast with big players trying to take over new markets every month. After the outbreak, these companies finally prove that food-delivery is a necessity in life. However, the food delivery war is still going on, and moving even faster than it was.
Based on Measurable AI's e-receipts data panel across the emerging markets, we have seen some new changes in market share, and user behaviour among some biggest players in food delivery in Asia.
1) Foodpanda is gaining momentum in Asia Pacific with a solid Q1
Though each company has its own focus market, Foodpanda (FWB: DHER) manages to keep its part in all three major markets in Asia Pacific. In Hong Kong, the market share of Foodpanda had a significant increase, growing from 37% to 49% YOY. In Singapore, Foodpanda began to catch up in market share since April 2020, against Grab. In Taiwan, Foodpanda and Ubereats are very close in terms of monthly order volume, but the former still manages to keep a 17% growth in market portion YOY.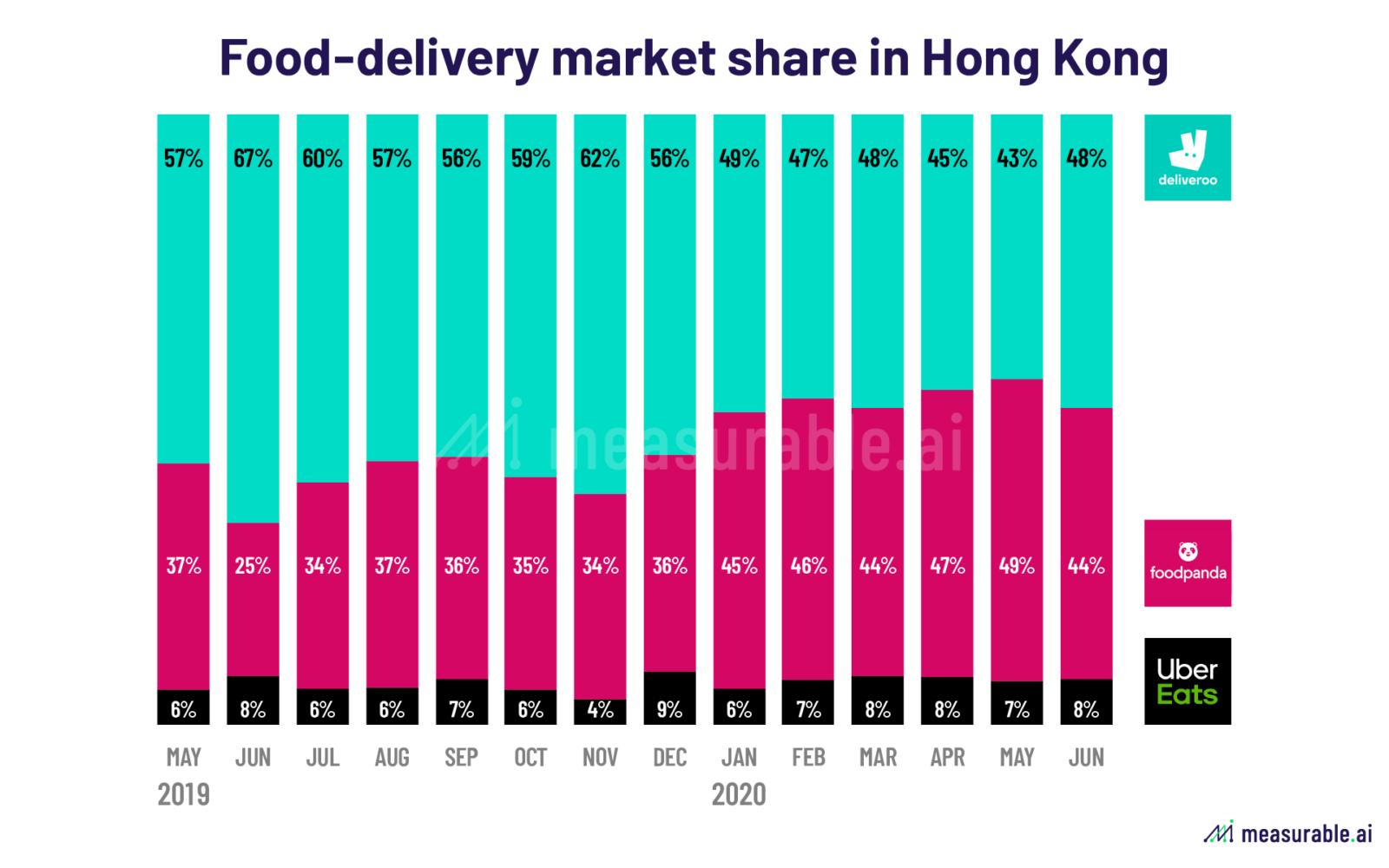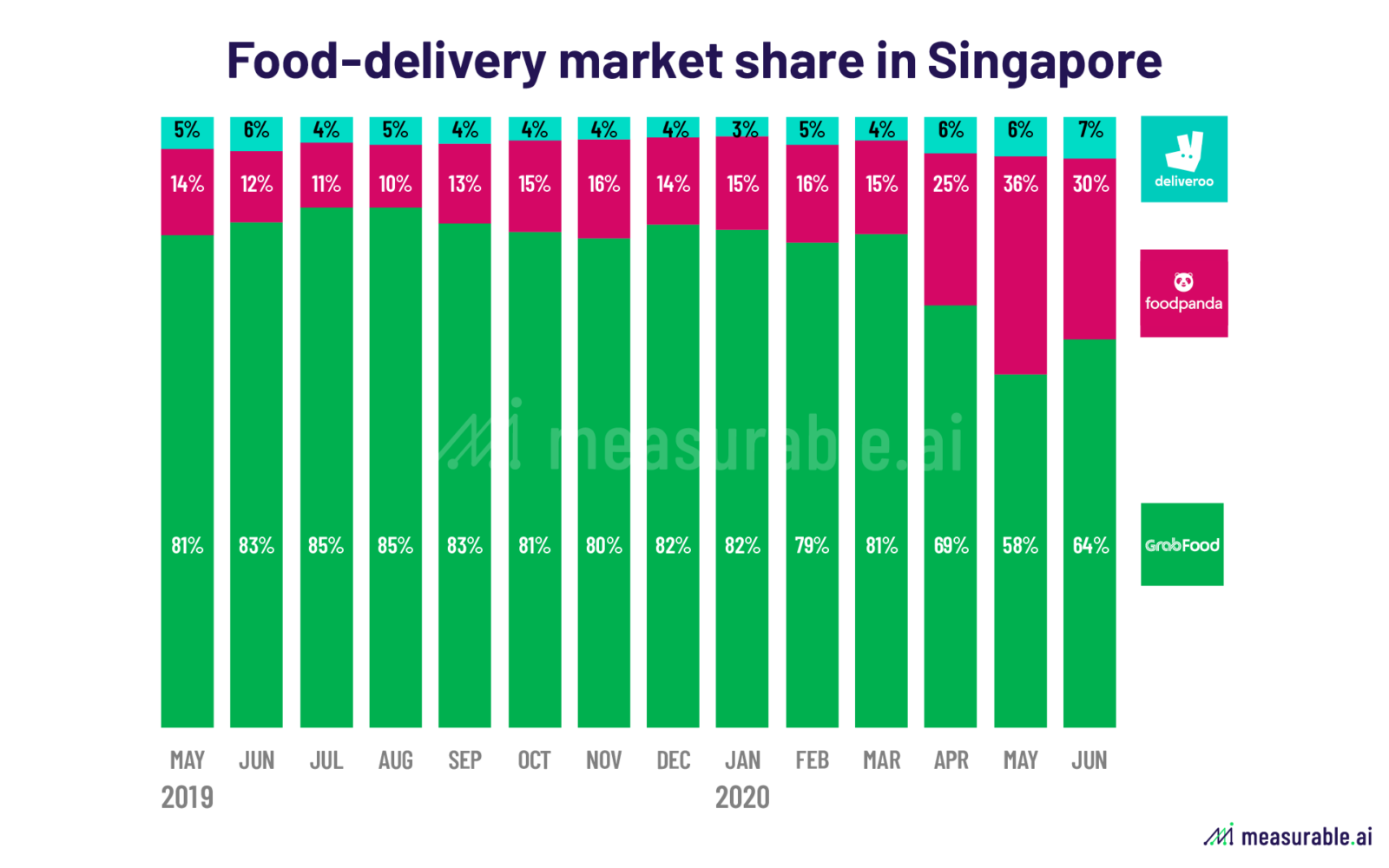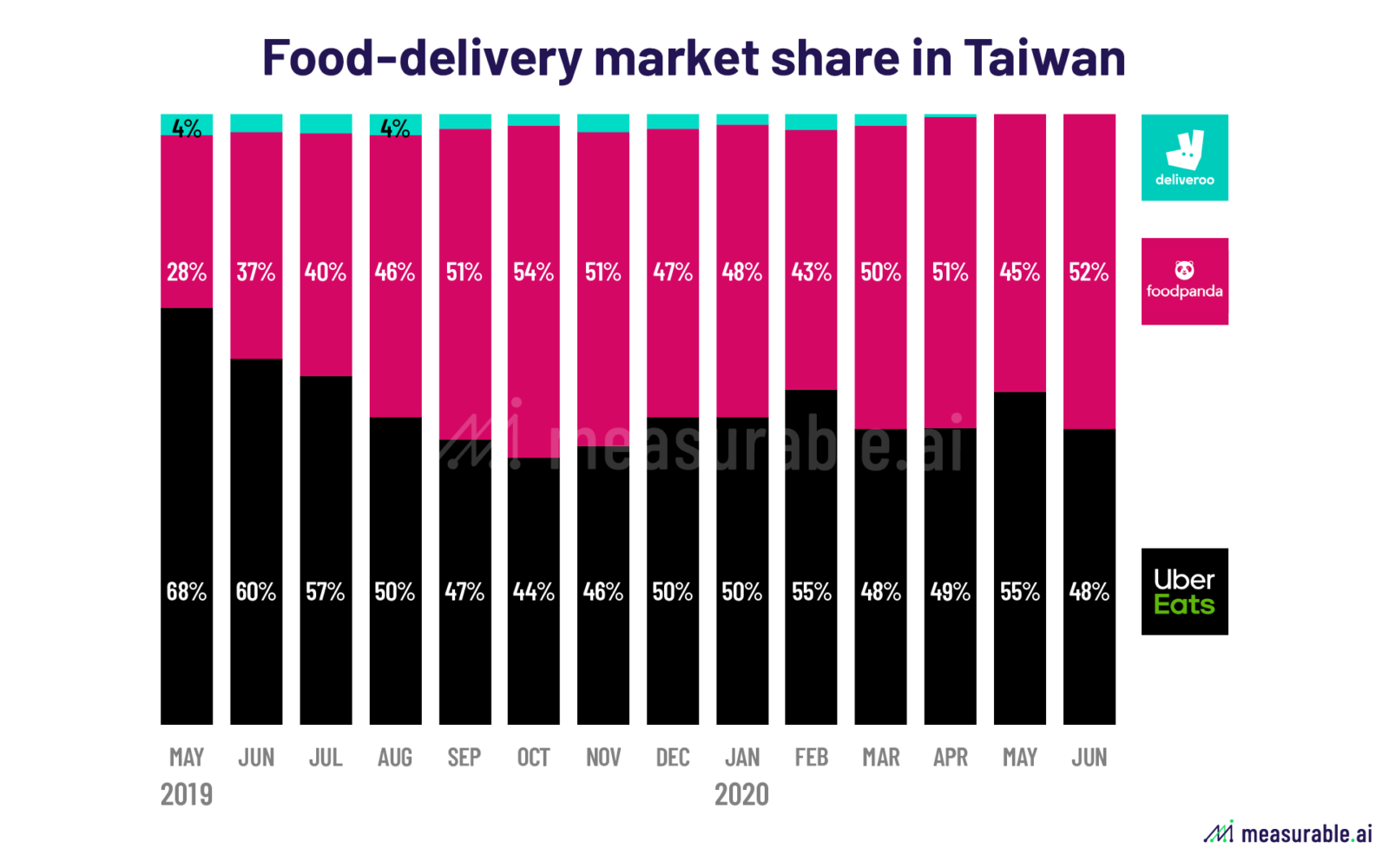 The growth rate of order volume for FoodPanda surged in Q1, 2020 when the outbreak was most serious in Hong Kong, and peaked to around 28.4% in February, and 48.6% in March. Compared to its biggest competitor Deliveroo, Foodpanda sustained its momentum after the easing of the lockdown.
In the most recent months, both Deliveroo and Ubereats are showing sluggish downtrend after the peak month; Interestingly, Foodpanda was the only one who didn't fall back to where they were before the pandemic.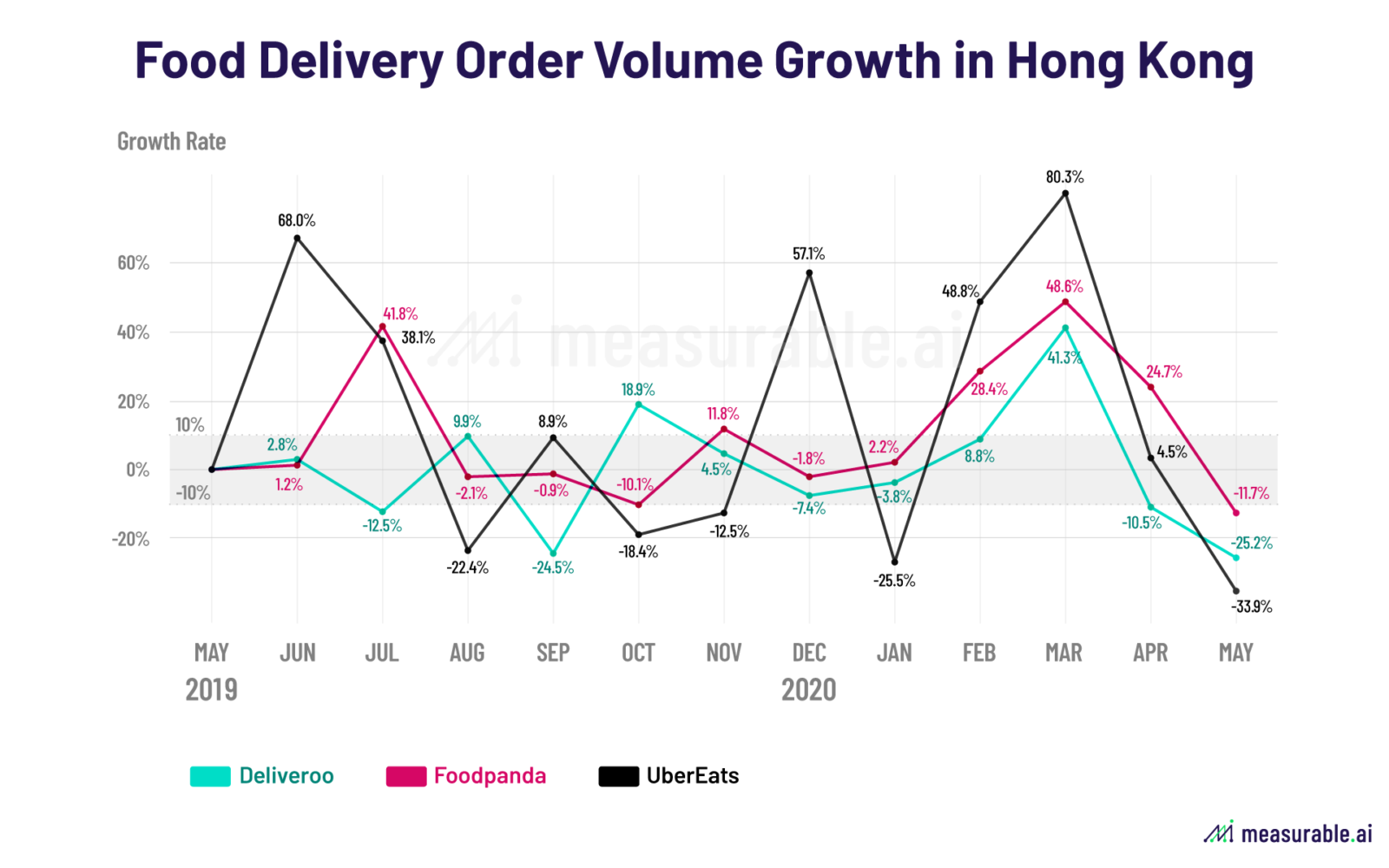 2) Deliveroo in delimma: Different Story in Each market
After over 4 years of efforts, Hong Kong is now one of Deliveroo's biggest markets in Asia Pacific. It started with a leading 57% of the market share in May 2019. After that, Hong Kong suffered continuous protests and unexpected clashes when streets and malls would have to be closed sometimes.

According to our previous report on Hong Kong Television Network (HKEX: 1137), Hong Kong's very own e-commerce website, people in Hong Kong still preferred the old-fashioned way of shopping in brick and mortar stores despite the turmoil. The situation for food delivery was almost similar, the order volume of the three food delivery companies didn't see any significant increase until the Covid-19 happened.

However, when people are locked at homes, preferences are shown. Deliveroo and Foodpanda used to share almost similar order volume over the past 9 months, but Foodpanda quickly took off in February. In March 2020, both experienced a surge in growth rate, but Deliveroo soon lost the uptrend and started to drop in April, followed by courier's strike for new pay policy and users' boycott. 
In the same month, Deliveroo announced its exit in Taiwan market. It started with around 4% of market share in May 2019, but have been suffering from dropping until its exit. In Singapore, currently Deliveroo remains small, but with a steady growth trend. In most recent month, the growth rate is over 50%, although still after Foodpanda.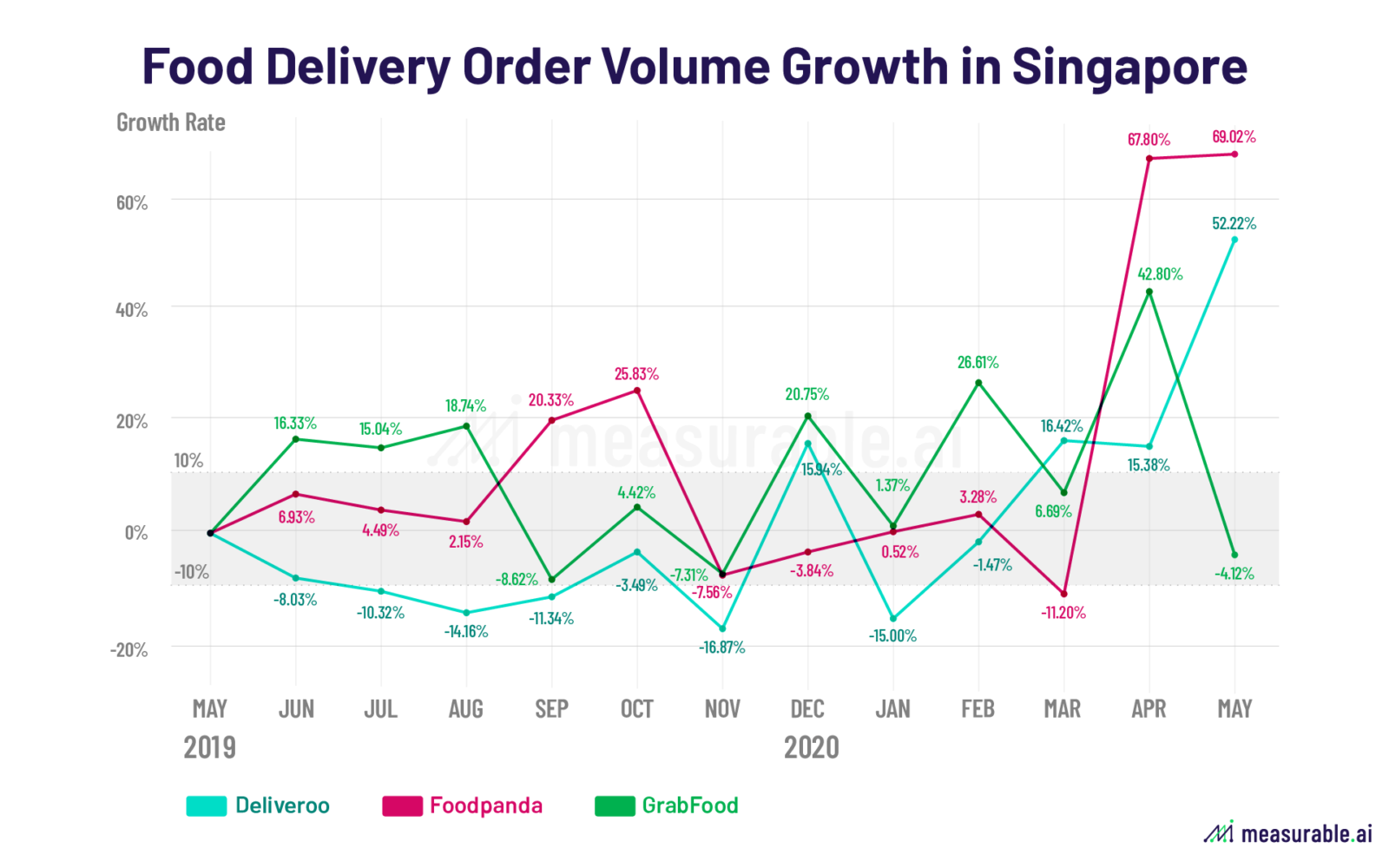 3) Order Comes with the LockDown
Food delivery orders increase when the pandemic situation is worsening. Take Singapore as an example, different from what we have seen from the Hong Kong and Taiwan's order volume chart, it had some volume growth in March, but the peak only happened in April and May, when Singapore's situation got worse and literally started its lockdown.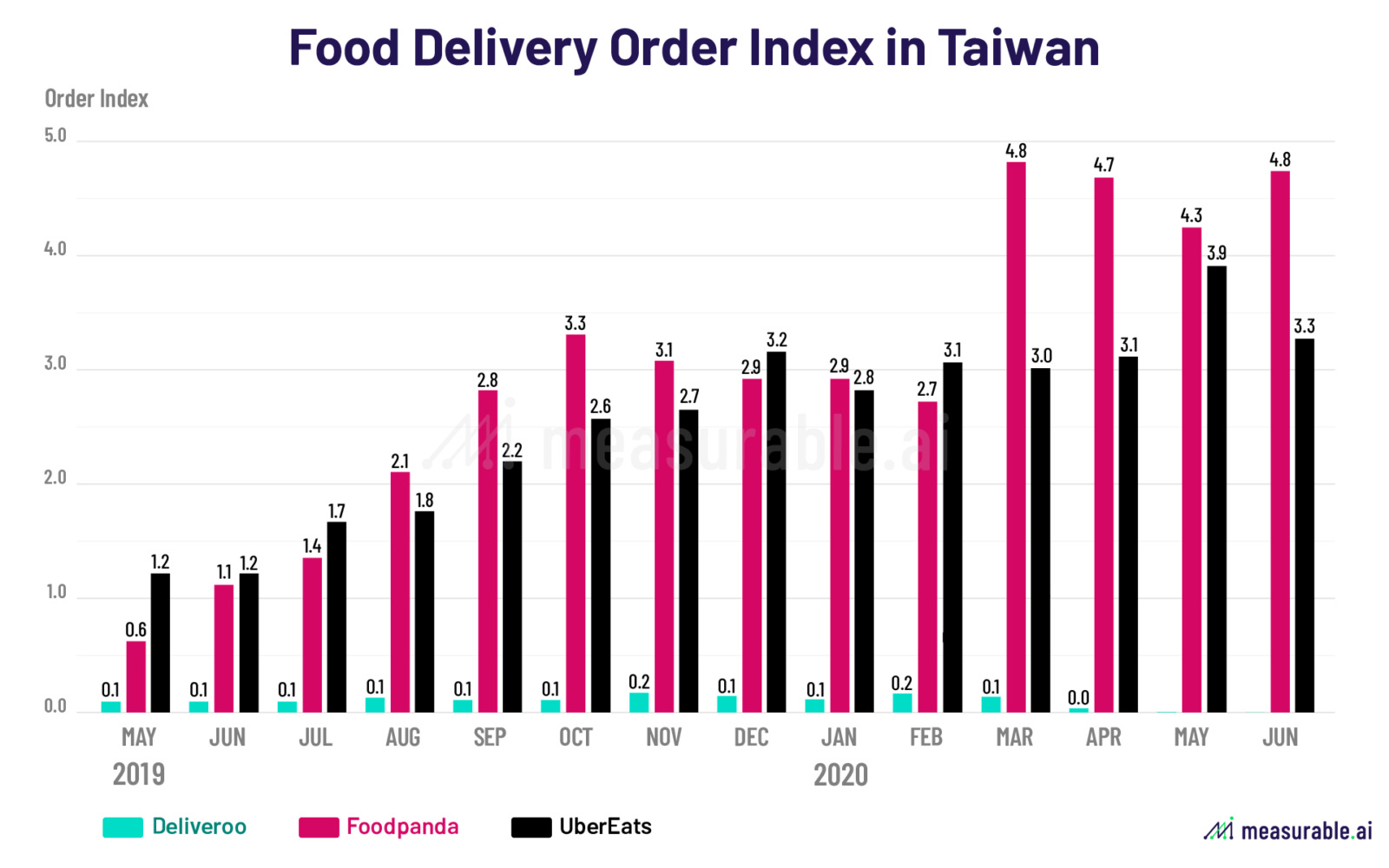 When the new lifestyle of the social distancing situation remains as it is, alternative ways of getting food in safer ways also emerged, for example, demands for online groceries shopping or prepared meal kits are also growing.
Some companies are already doing that, by offering more types of merchandise to deliver other than just orders from restaurants.

The food delivery war in different markets will still be going on with various situations to deal with. Measurable AI will keep publishing the researches on this particular industry. Stay tuned!
Read The Roller Coaster Goes On: Food-Delivery Companies in Asia (II)
Talk to us for for more interesting datasets on food-delivery industry.
ABOUT US
Charlie Sheng is a serial female entrepreneur, and a dedicated communicator for technology. Charlie writes stories in trends in the tech industry, with Measurable AI' real-time transactional data panel.
You can reach her at [email protected]
Measurable AI provides actionable consumer insights based on billions of alternative data for emerging markets.
*The Content is for informational purposes only, you should not construe any such information or other material as investment advice