2019 Rewind: Top 10 Highest Grossing Mobile Games
Happy 2020! 2019 is definitely a huge year for mobile apps and games, with 120 billion downloads all across the globe from both Apple App Store and Google Play, a 5% increase from last year. Thousands of mobile apps benefit from the growth and here are the top 10 games that pulled in the most.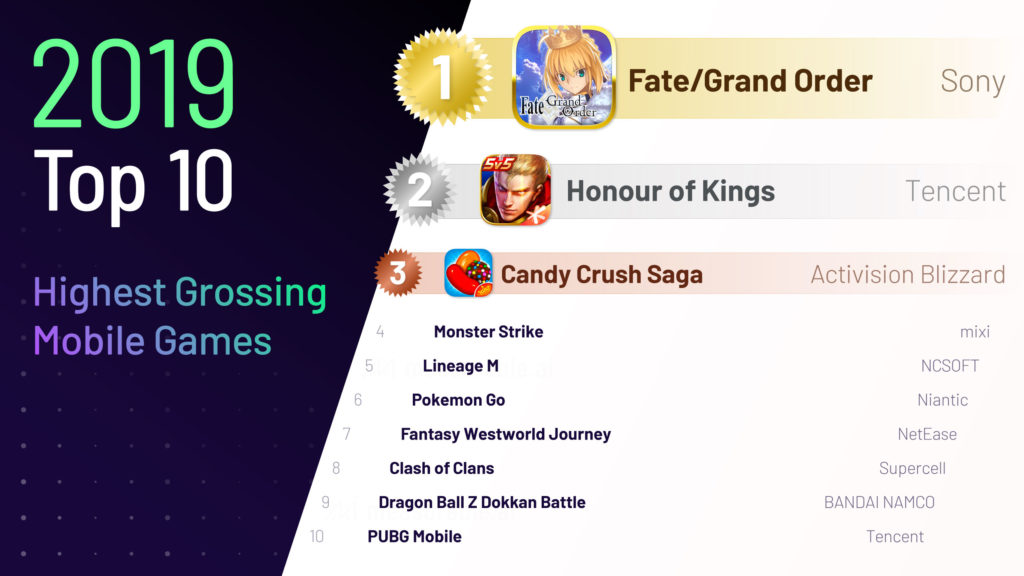 The No.1 game "Fate/Grand Order" might not sound familiar to many of you, but it is definitely a phenomenon in East Asian countries including Japan, China and Korea. The Japanese game was inspired by the well-loved PC game "Fate/Stay Night" and launched back in 2015. Having continuously grabbed the top spots of the highest grossing ranking in the Japanese App Store, a.k.a. one of the largest app markets in terms of revenue, it is not surprising to the industry that FGO would peak the yearly international chart, defeating strong competitors like the all-time classic Candy Crush Saga.
Overall, Japanese games are doing an extraordinary job with 3 other titles "Monster Strike", "Lineage M", and "Dragon Ball Z Dokkan Battle" within the top 10.

Mega-hits like "Candy Crush Saga" and "Pokemon Go" continue to slay with ever-growing popularity and user loyalty, while games like "Clash of Clans" and "PUBG Mobile" develop "Battle Pass" mode to encourage consumer spending.

Chinese representative "Honour of Kings" succeeds with large user population and constant expansion to the overseas market through its international version "Arena of Valor", collaborating with DC characters like Batman, Joker and Wonder Woman. Meanwhile, "Fantasy Westworld Journey" focuses mainly on the local market with its average user spending being 10 times that of "Honour of Kings".
Though not on the list, beloved titles such as "Fortnite" and newbie "Call of Duty: Mobile" also score high with 1.8 and 1.16 billion cross-platform revenue respectively.