[$MTCH $FB] Bye Tinder, Hello, Facebook Dating?
Social media giant Facebook (Nasdaq: FB) finally enters the game of dating app. Earlier this month, Facebook has launched in the United States its very own dating service "Facebook Dating". Leading dating service provider Match Group (Nasdaq: MTCH), owner of Tinder and Hinge, records a major drop in stock price since Sep 6, the day after the launch. Can the latecomer really turn the table on the industry leader?

"Facebook Dating" is available as a new tab within the original Facebook app. Hence, existing Facebook users do not have to download a new application nor to pay a single penny to enjoy the new service.

The huge user base Facebook already got is one of its greatest strengths. Facebook executives mentioned that the platform currently has over 200 million users who are identified as single. Even just a tiny percentage of those members join the newly started service, Facebook Dating might get ahead of Tinder in a short time.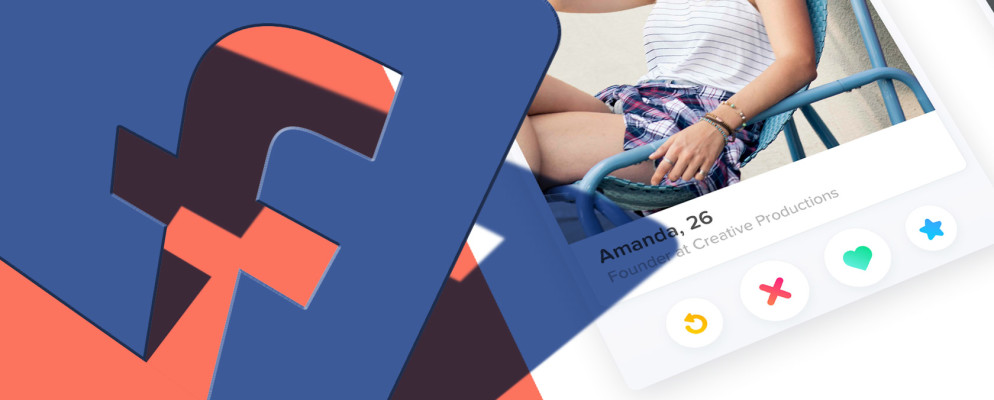 Facebook also claims that it will find the perfect match for you, given the enormous amount of data it has gathered on every user's feed. Interested users are required to set up a separate Dating Profile to start the service. You can also choose to remove friends of friends in the list of potential matches to avoid awkwardness, which appears to be surprisingly common on Tinder.

Another great thing about Facebook which Tinder fails to do, is the "Secret Crush" feature. Users on Facebook Dating can mark their Facebook friends as Secret Crush, and when the other person also does that to you, you two are matched. What a trouble-free way to secretly confess to your long-time crush, I mean, who doesn't ever have a crush on your schoolmates or friends?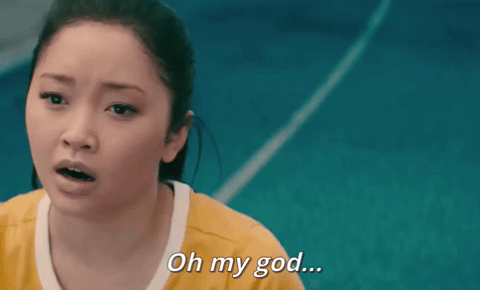 Facebook is also integrating its another popular social platform Instagram, which is enjoyed by many teenagers. The comprehensive combination of various social media and a useful dating service may be more appealing to young people than a simple dating app like Tinder.

Recently, report shows that Tinder's engagement rate is dropping. Also from Measurable AI, we might see Tinder's number of paying users drops since the week (Week 37) Facebook launches Facebook Dating. Many say that Tinder and Match.com is facing the biggest challenge ever.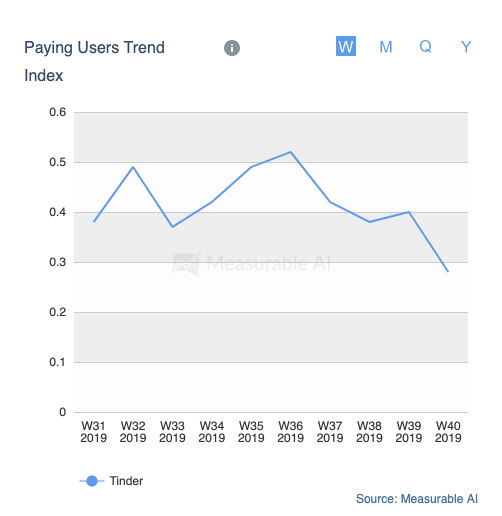 Meanwhile, despite the shrinking number of paying users, Tinder's sales is still going strong with its high average user spend. According to MAI's Sales Trend Index, the total in-app purchase revenue of Tinder increased in September after the slight slip in August. From the table, we can see that Tinder's average user spend is two times its company-mate Hinge, indicating how it still leads the industry in terms of income.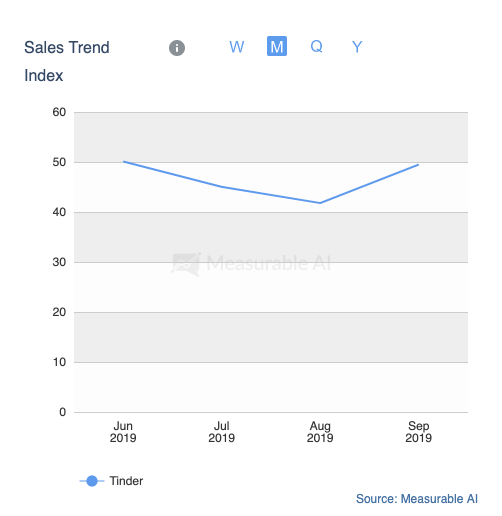 Tinder is also trying very hard to maintain its leadership by introducing new features like the brand-new interactive video show "Swipe Night". Measurable AI believes that the beloved dating app will not lose its crown to Facebook yet, provided the firm foundation of it. Investors do not have to worry too much for Match group in short term.
About Measurable AI
Measurable AI is your data powerhouse that provides accurate, real-time and actionable consumer insights. By scanning and identifying billions of actual online spender's email receipts, Measurable AI transforms them into valuable consumer insights, which updates daily right after the purchases happen.
Cara Lui is a blog-writer specializing in analytical industry trends and new discoveries of Mobile Apps with the assistance of the MAI Insights' real-time online consumer data panel.