[$NFLX] Will Netflix's retention rate helps it go through the price war?
In the year of 2019, Netflix has to watch the arrival of Apple TV Plus, Disney Plus, WarnerMedia and more similar services, following its first biggest drop in subscriber number and stock.
It might be a good thing though, for almost every company that has contents to offer has officially joined the game. It's finally clear for us to see how this competition would go.
Every time there is a new live-streaming service launch, they're coming after Netflix with a cheaper package. In August, Disney announced a $6.99/month package or a $12.99 bundle for Disney+, Hulu, and ESPN+. Soon after, Apple decided to offer its own live-streaming subscription for only $4.99/month, and free for users who purchase new Apple products. Not alone to say Amazon's Prime Video is already cheaper than Netflix for $10/month. The fact that Netflix just raised its membership price to $12.99 in April this year made it look really bad in this game.
However, even though the 2-dollar-raise did have Netflix lose some US customers, it's still one of the fastest-growing players in this space. According to Measurable AI's data dashboard, Netflix's user retention in the US has been very steady compared to other peers, even after years.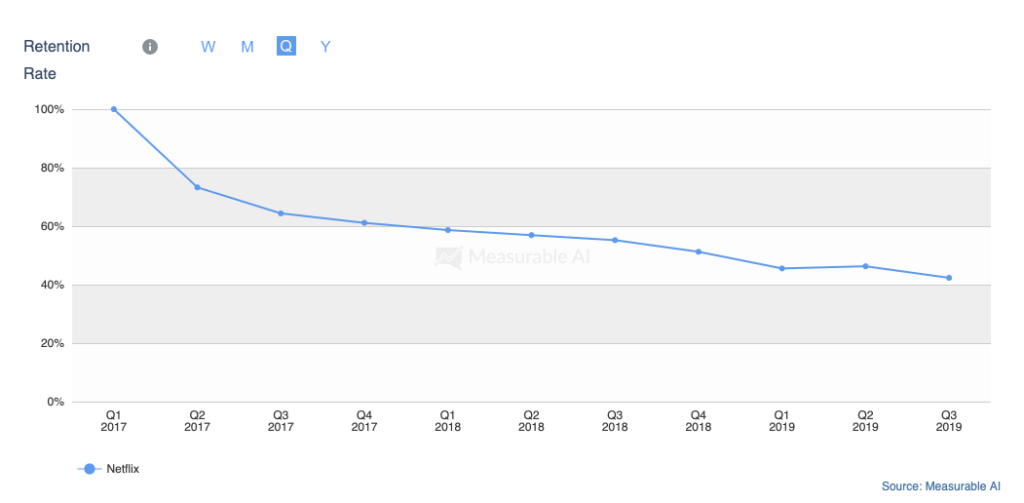 If Netflix can keep this retention rate as it goes, it still can win this game. After all, a long-term retention rate sounds much stronger than a short-term rise in subscribers due to price promotion. But how will its competitors' retention rate look like? Will users stay for the price or the contents? Let's keep looking.
About MAI Insights
Measurable AI is your data powerhouse that provides accurate, real-time and actionable consumer insights based on alternative data. By scanning and identifying billions actual online spender's email receipts, Measurable AI transforms them into valuable consumer insights, which updates daily right after the purchases happen.
Charlie Sheng is a serial female entrepreneur, and a dedicated communicator for technology. Charlie specializes in trends and insights for the App Industry, with MAI Insights' real-time online consumer data panel. You can reach her at [email protected]