[$NFLX] Any Chance for Hulu To Win Under Netflix's Dominance?
From the most-discussed dramas to award-winning movies, Netflix seems to be dominating the video streaming industry with its extraordinary content. However, this does not automatically make Netflix the industry leader. Its closest American rival Hulu is also growing strong and definitely worth looking into.
Currently, Hulu is only available in the United States and Japan. According to MAI intelligence, although Netflix has a much higher revenue with its global penetration, Hulu's average paying user spend is consistently higher than that of Netflix throughout the years, indicating the potential of the US-focused streaming service.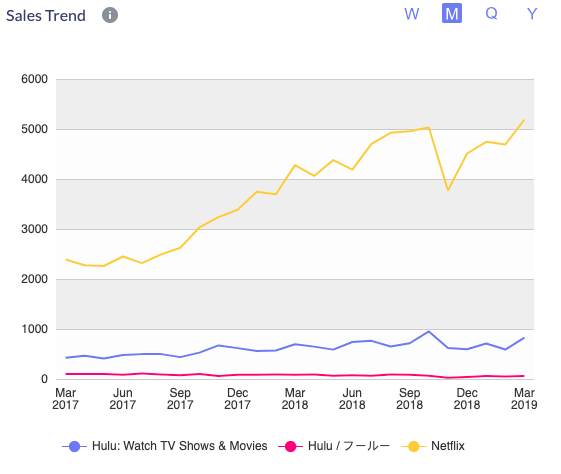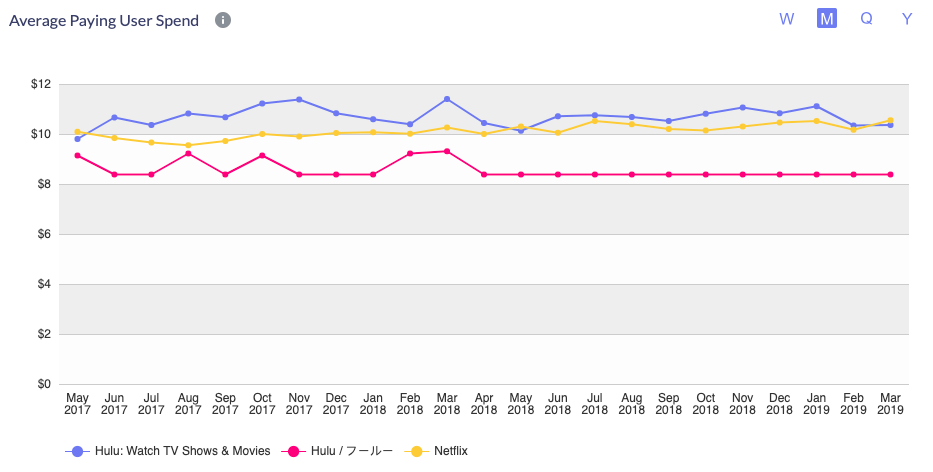 Content-wise, Hulu provides numerous programs such as dramas and movies just like Netflix. But while Netflix invests a high proportion of costs on its self-produced dramas, Hulu specializes in TV contents. With its connections to television channels NBC, FOX and ABC, the streaming platform stores the most up-to-date range of TV programs. Some of the shows' newest episodes can even be found on Hulu as soon as the day after being aired in cable TV. Besides replaying television programs, Hulu also provides a live TV option for users to stream programs live on mobile devices. Although Hulu might not be able to compete with Netflix in terms of the quantity of content, further cooperations with cable channels might help absorbing the demand of TV lovers.
Another biggest strength of Hulu would be its affordable price. Since February 2019, the price of Hulu's starting plan cuts from $7.99 to $5.99, broadening the gap with Netflix's basic $8.99 plan. According to MAI intelligence, the $5.99 plan is the most popular item within Hulu, accounting for 34.9% of all orders. This shows us how the market longs for cheaper video streaming options. Hulu might therefore target customers with smaller budgets and provide multi-screens plan as an even better bargain.

Also, as Hulu is only available in the US and Japan at the moment, a business expansion to nearby regions might be another way to gain more exposure for the platform. As shown in MAI's data, Netflix's paying users are quite evenly distributed among different regions outside the US. Hulu might choose to expand in countries where the video streaming leader has not rooted in that much, such as Southeast Asian countries Thailand and Vietnam.
With Disney taking full control of Hulu in May 2019, we may expect more exclusive Disney content on the platform including the well-loved Marvel series. The new content from the giant studio might better-equipped Hulu in its war against Netflix.
About MAI Insights
Measurable AI is your data powerhouse that provides accurate, real-time and actionable consumer insights. By scanning and identifying over 20 Billion actual online spender's email receipts, Measurable AI transforms them into valuable consumer insights, which updates daily right after the purchases happen.
Cara Lui is a blog-writer specializing in analytical industry trends and new discoveries of Mobile Apps with the assistance of the MAI Insights' real-time online consumer data panel.