Zomato vs Swiggy – Who Leads the Food Delivery Race in India?
With Swiggy's recent $1.25 billion dollar raise from SoftBank, Zomato's acquisition of Ubereats last March for $206 million, Amazon's forage into the food delivery sector, plus the recent IPO of Zomato, India's online food delivery market is surely heating up and garnering a lot of worldwide attention and heavy investments.

At Measurable AI, we analyse millions of email transactions to produce actionable consumer insights for corporations and financial institutions who wish to stay ahead of their peers in today's competitive market. Recently we wrote an article on the food delivery market in Hong Kong. On the back of our unique e-receipt data, we now take a deeper look at the Indian food delivery market. We will focus mainly on the giants Swiggy vs. Zomato, as well as Ubereats (which got acquired by Zomato in January 2020).

Indian Online Food Delivery Industry Overview
The global online food delivery market, estimated to be about USD 113 billion in 2020, is one of the few industries which are growing double digit CAGR. In India alone, the online food delivery market was worth around $US 4.66 billion in 2020 and is one of the fastest growing sectors attracting a lot of heavy investments. Compared to the year before, the market size was around $US 2.9 billion. By 2026, the industry is forecasted to be worth US$ 21.41 USD with a staggering CAGR of 28.95% during 2020-2026.
So on what basis can this rapid growth be explained? One factor propelling the accelerated growth of India's online food delivery market for sure are the changing lifestyle and eating habits of its local population. Hectic schedules compounded with growing disposable income levels in India are pushing people towards ready-to-eat food at a cheaper rate. The one-click, on demand feature has popularized food delivery options amongst busy urbanites. Also, the rising digitalization among millennials and the increasing proportion of working women plus the prevalence of double-income families who prefer eating out has driven online food delivery trends in India.
Last but not least, the Covid-19 lockdowns have indubitably impacted the industry. We will take a look at how Covid impacted the Indian online food delivery business below. Interestingly enough, while the impact has been negative at first, post lockdown we witnessed some interesting trends such as order volumes surpassing pre-covid volumes of last year and the propensity to choose online payment methods instead of cash.
Who Generates More Revenue in the Indian Food Delivery Market?
First, let's take a look at who is leading sales in India. Since January 2019, Zomato has always dominated the market in terms of revenues. As can be seen below, Zomato had a much wider lead over Swiggy and managed to keep up its sales momentum until the beginning of April 2020. This is when Covid struck and the nationwide lockdowns began.
It was not until the end of May 2021, that Swiggy sales caught up with Zomato's and the two competitors became more on par.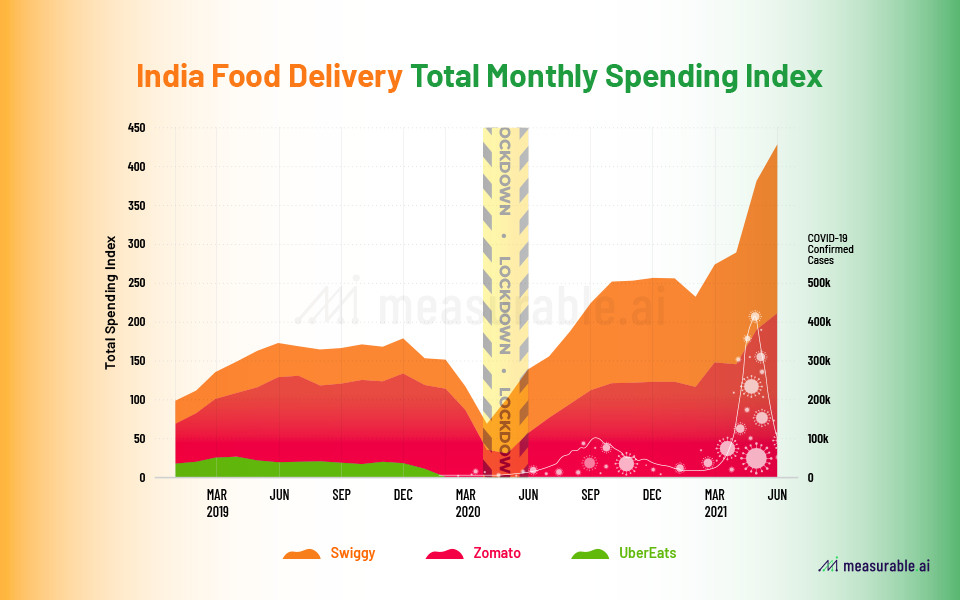 In terms of average monthly spend amongst the players, we gathered that Swiggy users would spend more per transaction than Zomato users. Pre-covid, the average spend on Swiggy was roughly 220-250 Rupees (US$ 3-5). Spending seems to have picked up by a whopping 30% during the 2nd stage of the lockdown (around late April/May) with average transaction values hovering at around 300-350 Rupees (US$ 4-5).
We attribute the first drop in spending due to most restaurants shutting down during the first lockdown in late March 2020. Consumers had shied away from online food ordering due to apprehensions on safety and a general preference for home-cooked food. After a month or two of lockdowns however, things have picked up again and recovery has been fast. We attribute this largely due to the prolonged boredom from eating at home and the desire to eat outside again along with the re-opening up of restaurants for food delivery service.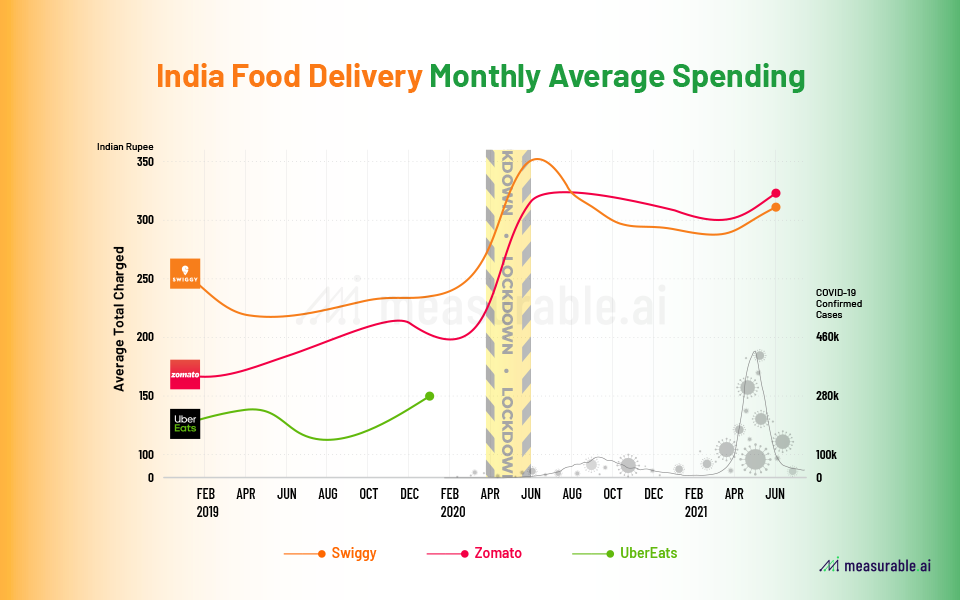 How Are Users Distributed in the Indian Food Delivery Market?
The graph below illustrates an index of the monthly users across the three players and how they stack up against one another since January 2019 up until June 2021. It seems that the pandemic has helped both companies improve their user economics and add more consumers as the frequency to dine out has dropped.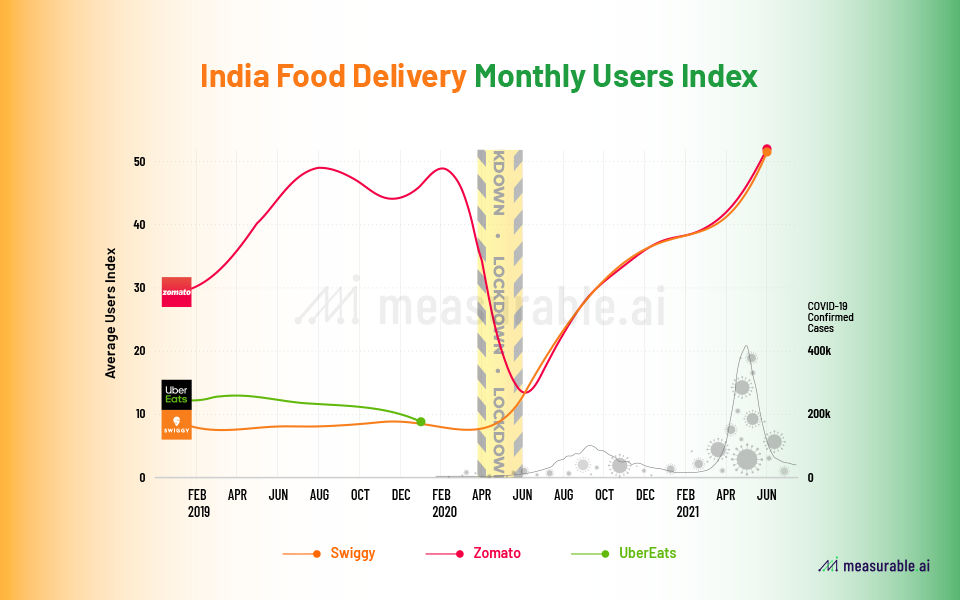 Initially, Zomato has always taken the lead pre-Covid. From our data, Zomato suffered the biggest drop in users from the pandemic. This can be attributed to the abrupt nationwide lockdown whereby more than 95% of restaurants suspended their services.
Also, Zomato acquired UberEats in January 2020 and there may have been some handover friction (we suspect some users may have switched to Swiggy). We noticed that after the lockdown ended in May 2021, the number of online delivery users picked up rapidly again as restaurants resumed their services and the frequency to dine out dwindled. Instead, the urge to dine outside got substituted by ordering food delivery online.
Transaction Volumes and Covid Impact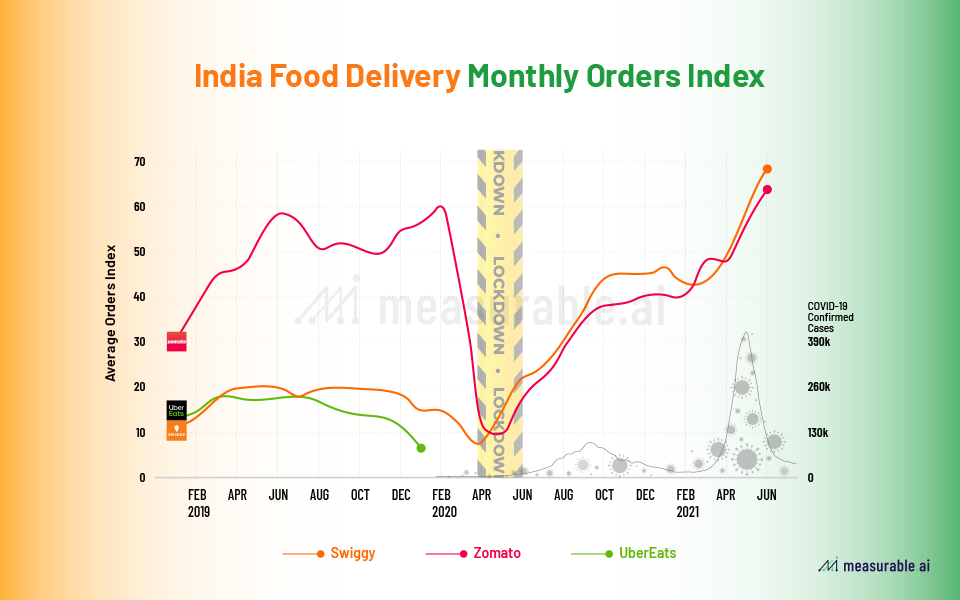 The impact of covid has evidently damaged delivery volumes for most online platforms. From our consumer panel, Zomato has always taken the lead in order volumes but during the abrupt nationwide lockdown, they experienced a 70% sharp decline in order volumes (along with a massive drop in users as highlighted in the section above). This is not surprising given that the lockdown (beginning 24 March 2020) resulted in more than 95% of restaurants listed on delivery platforms closing doors for food delivery.
The lockdown also resulted in an exodus of migrant workers from the big cities to their hometowns. Don't forget that these migrant owners form the bulk of the delivery fleet for online food delivery operators in India. As such, it was inevitable that when the lockdown was lifted, the delivery operators were faced with a supply problem and needed time to get things up and running again.
Lastly, unlike the US and Europe, where the alternative to dining-out is primarily delivery, in India, the alternative can be either delivery or cooking at home. Cooking at home was particularly favored in the early pandemic days as a delivery boy from one of the major delivery operators tested positive for covid. As a result, this hurt consumer sentiment and trust in the safety of food delivery operators, thereby triggering a shift towards home cooking.
As illustrated above, it was not until September 2020, that the food delivery volumes returned to ~60-80% pre-covid time. Volumes have picked up on the back of stringent safety measures put in place by delivery operators to win back customer trust. Furthermore, to add to their topline due to a decreased customer base, delivery operators have tried to venture into adjacent categories like grocery, pharma and alcohol delivery.­
What may surprise you from the insights we gathered from our consumer panel is that Swiggy is slightly leading Zomato in terms of order volumes post-covid. Why is this so? We dive into our data and realise that this is in parallel with Swiggy's delivery fees being lower – sometimes free – and more aggressive than Zomato's post lockdown.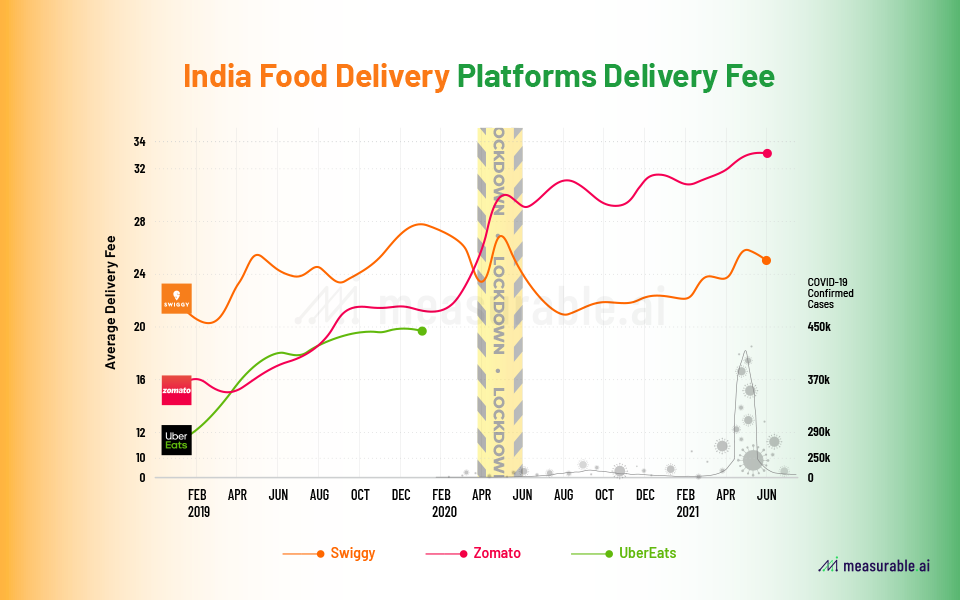 Which App is More Popular?
When it comes to app popularity, we noticed that pre-covid lockdowns, Zomato dominated the market with over 70% of users in the online food delivery market. Swiggy and UberEats, on the other hand, had a combined market share of less than 30%. There seems to be little overlap in the user base amongst the players.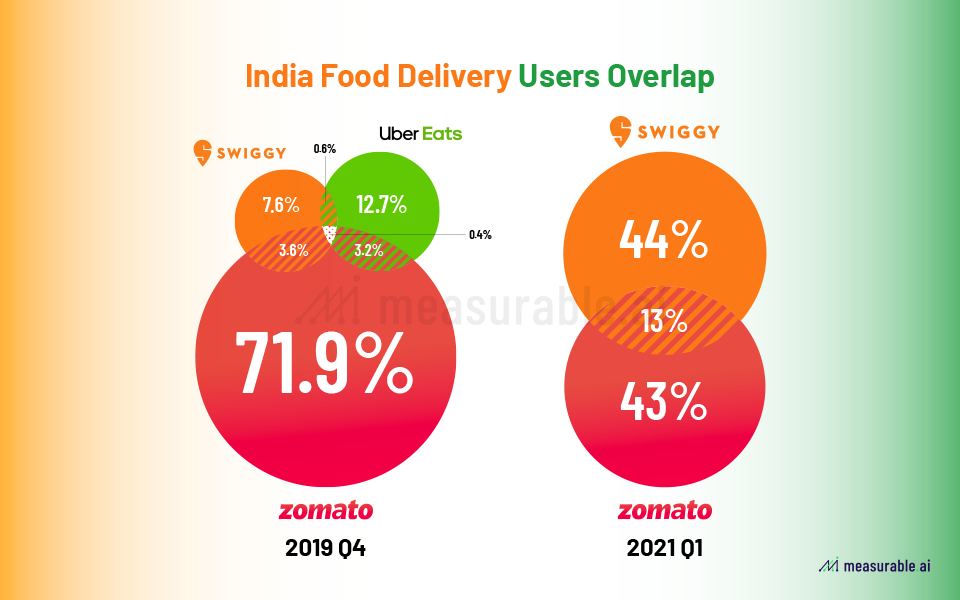 When it comes to app popularity, we noticed that pre-covid lockdowns, Zomato dominated the market with over 70% of users in the online food delivery market. Swiggy and UberEats, on the other hand, had a combined market share of less than 30%. There seems to be little overlap in the user base amongst the players.
Come post-covid lockdown though, Swiggy seems to have emerged stronger with roughly the same market share as its rival Zomato (this is even when Zomato has acquired UberEats!). Our data revealed that in 1Q21, Swiggy and Zomato shared roughly ~13% of the same user base.
So why and how did Swiggy suddenly emerge so victoriously right after the lockdown? As mentioned above, we believe this has to do with Swiggy lowering its delivery fee more aggressively than Zomato.
Payment Methods
In terms of payment methods, for Zomato alone, we noticed that post-covid, more people are choosing to pay online via the app as opposed to using cash. Particularly in the second wave of covid (April-May 2021), there was a rapid increase in online payment methods in lieu of cash. (N.B. If you are interested in our online payment data, we have data on PayTM and PhonePe).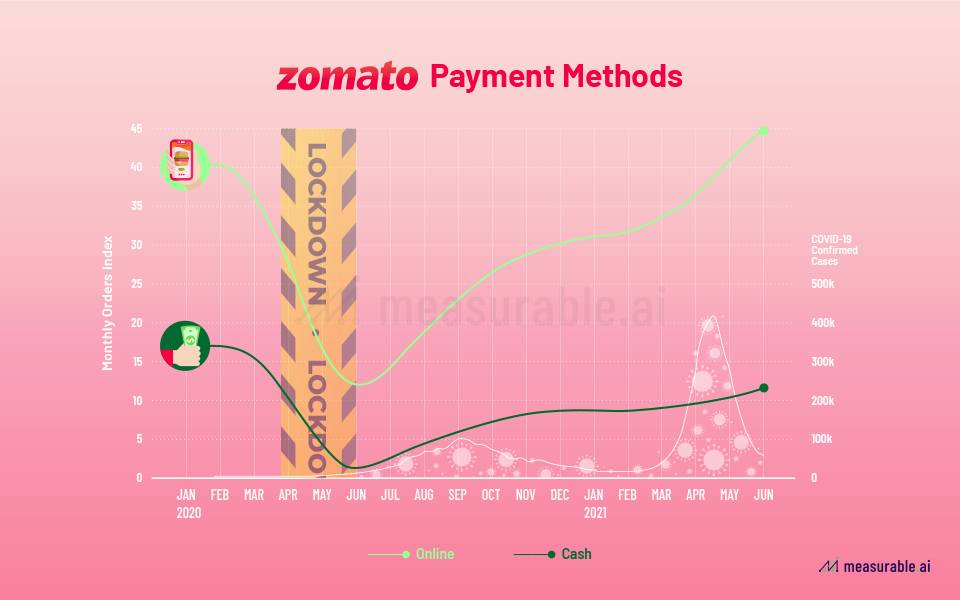 Which Hours are People Most Hungry and Which Dishes are Most Desirable?
Just for fun, we decided to take a look into our granular data to see which hours stirred the most hunger among the Indian food ordering population and which dishes were the most popular.
Delving into our data, it looks like their lunch time is later than what we are used to in Hong Kong, with orders spiking at 1-2pm (intermittent fasting anyone?). Dinner time orders peak at the 8-9pm mark.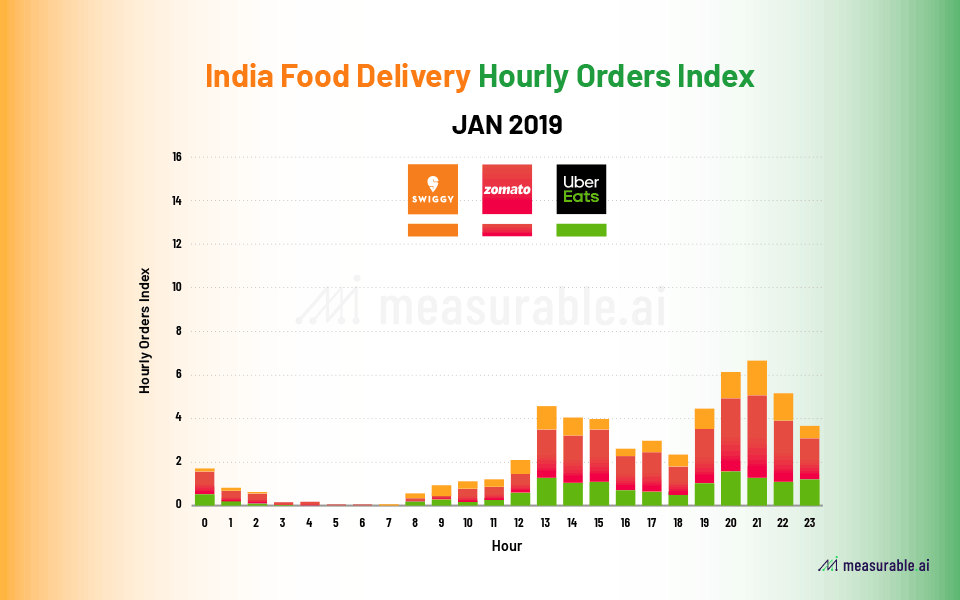 When it comes to the most favored dishes amongst Indians, it looks like Chicken biryani wins the race across all three players. This is closely followed by Masala Dosa and then the Butter naan. I guess keto isn't so popular in India.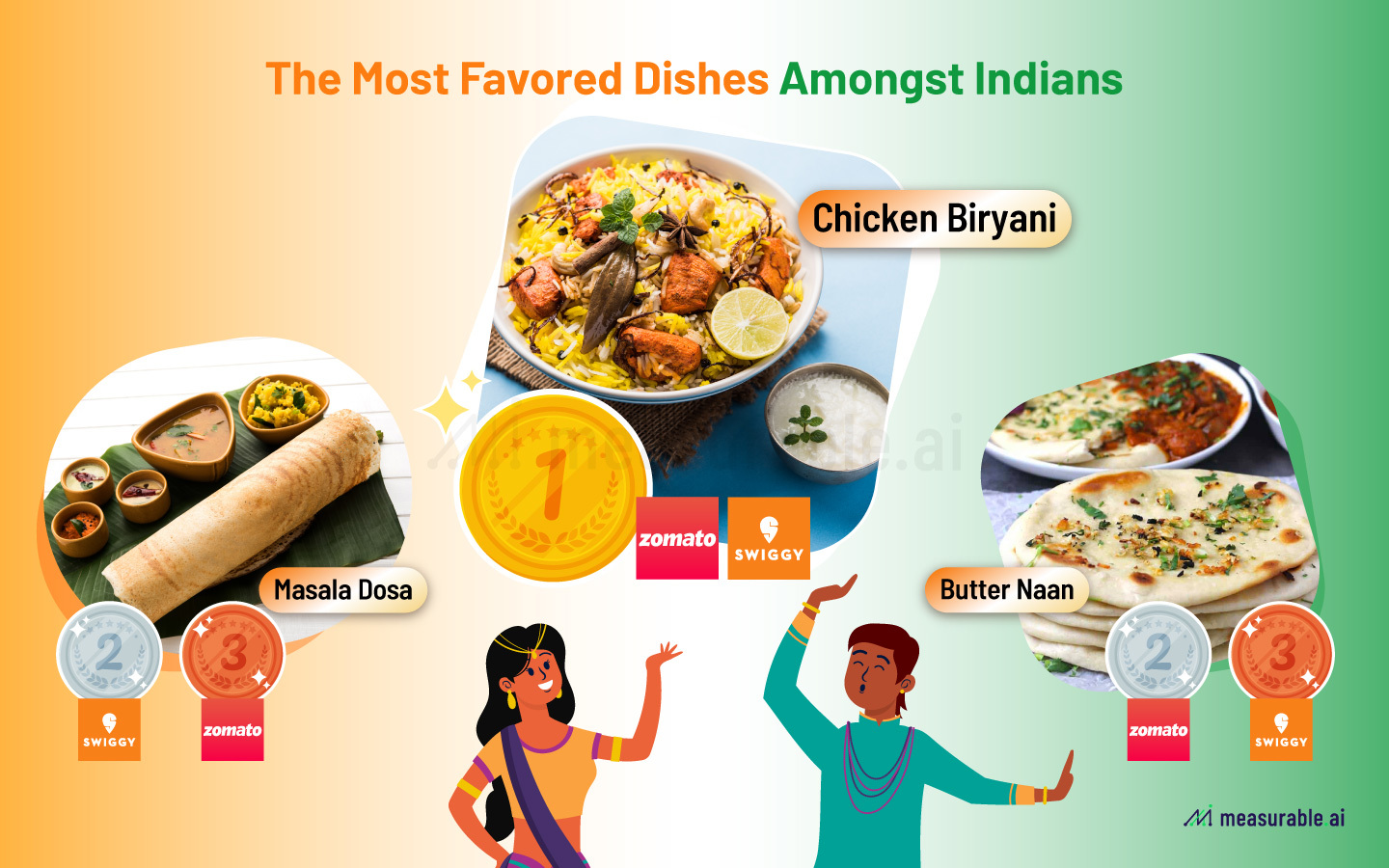 Conclusion
The Indian online food delivery market is surely undergoing revolutionary times with much consolidation and sizable investments from tier-1 investors. The Indian food delivery market is almost like a duopoly, where both Swiggy and Zomato will continue to operate as independent aggregators. However, while both Indian food tech giants are flush with funds and pass the US$ 1 billion mark, the upcoming fight is no more about market share but expansion into adjacent sectors.
Both companies are diverging on how to take their businesses forward. Zomato has chosen to deepen its focus on B2B services for restaurants, while Swiggy is going all-in and investing its energy into new non-food categories like Swiggy Go and Instamart.

Stay tuned for our upcoming article in this exciting space. If you can't wait or want more insights, don't hesitate to write to us now at [email protected] to make use of our granular dataset for more informed and actionable consumer insights.
About Measurable AI
We are pioneers in gathering and parsing transactional email data for emerging markets with a strong focus on Latin America, the Middle East and South East Asia. We analyse billions of transactional emails and our clients are major players in the e-commerce, ride sharing and food delivery space.
For more information, please visit www.measurable.ai.
*The content is for informational purposes only. You should not construe any such information or other material as investment advice
Prior written consent is needed for any form of republication, modification, repost, or distribution of the content. Please contact us at [email protected].
About Swiggy
Founded in 2014 with headquarters in Bangalore, Swiggy is India's largest online food ordering and delivery company with operations in more than 100 Indian cities.
In 2019, Swiggy expanded its general product deliveries under the name Swiggy Stores and it launched an instant pickup/go service called Swiggy Go. The service is used for a diverse array of items, including laundry and document or parcel deliveries to business clients and retail customers. In 2020, Swiggy also launched InstaMart to delivery grocery and household items in less than 45 minutes.
For more information, please visit https://www.swiggy.com.
About Zomato
Zomato recently went public in July. The company was founded in 2008 in India and now has a presence in over 24 countries and 10,000 cities. In April 2020, due to rising demand for online groceries amid the COVID-19 pandemic, Zomato launched its grocery delivery services named Zomato Market in 80+ cities across India.
To date, Zomato has acquired 12 startups globally, the most notable and recent one being its acquisition of UberEats India in January 2020, and acquired a 9.3% stake in Grofers, the online grocery store in India.
For more information, please visit https://www.zomato.com.