Coronavirus: Travel Giant Ctrip Suffers from Booking Cancellation
Before the pandemic started, China was supposed to experience its annual ritual Spring Festival Travel Rush (Chunyun) and officials were expecting around 3 billion air plane and train trips. Every year during this longest holiday of the nation, the number of outbound tourists would grow as well. Things are too different this year.

According to Measurable AI's datasets for transactional email receipts, there's been a drastic drop in airline and hotel bookings across top travel platforms.

The COVID-19 brought China's travel giant Ctrip or Trip.com ($TCOM) to a halt. Tourists had to cancel their hotel bookings. For domestic trips, hotel chains were requested to stop business. For outbound trips, Chinese citizens had to face travel bans from many different countries.

Based on our data panel, we aggregated the cancellation email receipts for hotel bookings on Ctrip. It shows that users canceled their trips a lot in 2020. The cancellation rate of hotel booking on Ctrip surged hugely in January, and it went even higher in February.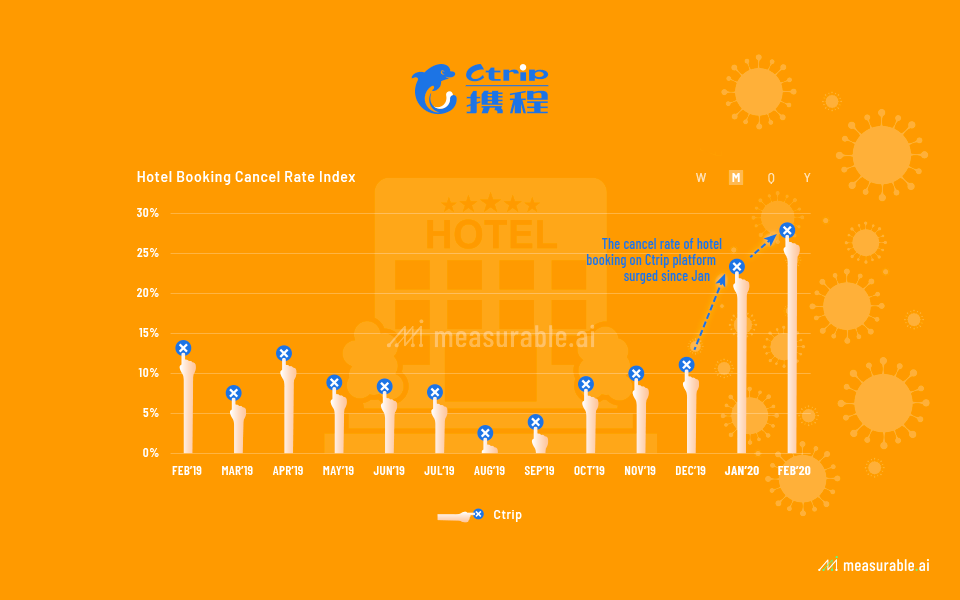 Hotel bookings made up around 40% of Ctrip's third-quarter revenue, however, this space is getting crowded. Without the pandemic, Ctrip had already been challenged by its domestic competitors like Alitrip from Alibaba, and Meituan Dianping, a food-delivery giant.
For air ticket bookings, the situation is worse.

Users stopped booking new airline tickets in February. Even though China has encouraged citizens to return to work if possible, traveling on a plane still remains a dangerous No. According to Measurable AI's data dashboard, the number of air ticket bookings in February hit a new low.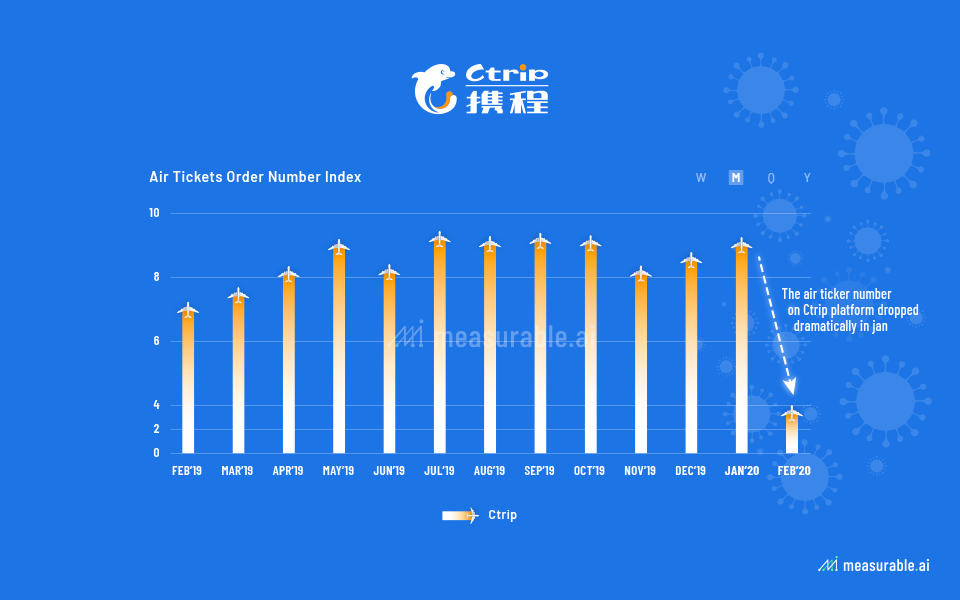 The company rebranded itself in 2017 to ingratiate Ctrip with international travelers, which also brings more business competitors to itself. Even though Ctrip's domestic market share is slowly shrinking, it still finds its niche in this space – outbound Chinese tourism. According to Bloomberg, Ctrip now makes up a quarter of its total sales from outbound Chinese visitors, from under 15% five years ago. As the coronavirus pandemic goes on, both inbound and outbound China trips are mostly like to remain a downturn.

About Us
Measurable AI provides actionable consumer insights based on billions of alternative data for emerging markets. By scanning and identifying billions actual online spender's email receipts, Measurable AI transforms them into valuable consumer insights, which updates daily right after the purchases happen.
Charlie Sheng is a serial female entrepreneur, and a dedicated communicator for technology. Charlie specialises in trends and insights for the tech industry, with MAI Insights' real-time online consumer data panel. You can reach her at [email protected]

*The Content is for informational purposes only, you should not construe any such information or other material as investment advice