How Tencent's Top Games Reacted during Coronavirus Outbreak
The impact of the coronavirus outbreak is starting to hit the tech industry in many ways. This week, world's biggest mobile trade show Mobile World Congress had to cancel. The MWC is known for being one of the most important shows where top phone manufacturers launch new phones, and has always had a big Chinese presence.

Despite the fact that some tech companies had to shut down corporate offices, factories, or retail stores across China, companies whose businesses are not always dependent on brick and mortar stores are getting a break.

Tencent's two popular mobile games Honor of Kings, and PUBG Mobile continued to stay on China's top mobile game chart regardless of the brutality outside the virtual world.

According to Measurable AI's purchase receipts dataset of Tencent, the number of in-app-purchase sales for both two games on iOS surged in January, and the number peaked in the third and fourth week of the month respectively.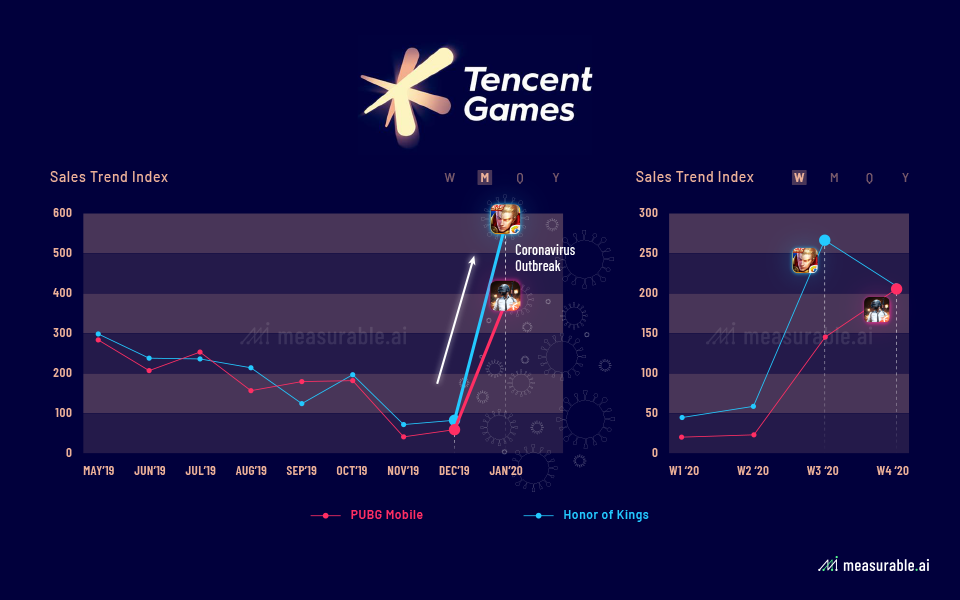 Honor of Kings launched earlier and had earned more than $1.93 billion in 2018, and about $1.43 billion on iOS last year. However, according to our data on user average spend, players of Honor of Kings are spending less now, compared to that of PUBG Mobile.
PUBG Mobile officially launched in May last year when Tencent finally got a gaming licensing for that. According to Measurable AI, the average paying user spend was around USD $18 during the first month of its launch. However, in the last month during the coronavirus outbreak, that number rose to USD $ 67, while for Honor of Kings, it's only USD $35.

According to Measurable AI's average spend chart, even though both games saw a surge in the recent month, the number of spend from PUBG Mobile players is still a lot higher.
In terms of specific in-app-purchase items, players of PUBG Mobile spent a lot more now during the coronavirus month. Around 34% of its sales come from a 6480-credit item in the game that costs USD $99.99.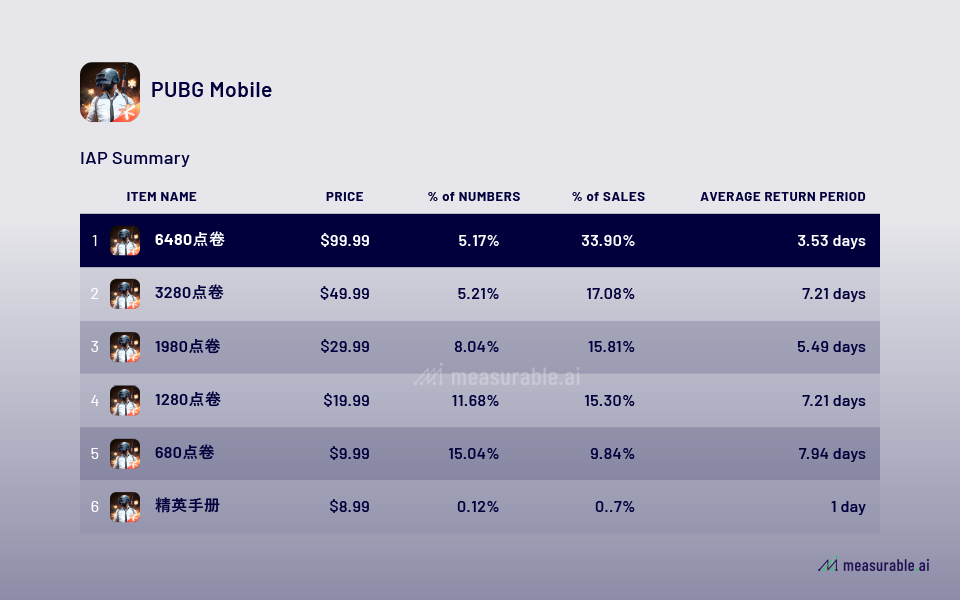 As of today, Honor of Kings, and PUBG Mobile are still the top 2 grossing games on China's App Store. More data reports tracking coronavirus and its impact will be coming soon.

About Us
Measurable AI provides actionable consumer insights based on billions of alternative data for emerging markets. By scanning and identifying billions actual online spender's email receipts, Measurable AI transforms them into valuable consumer insights, which updates daily right after the purchases happen.
Charlie Sheng is a serial female entrepreneur, and a dedicated communicator for technology. Charlie specialises in trends and insights for the App Industry, with MAI Insights' real-time online consumer data panel. You can reach her at [email protected]