[$IQ] iQiyi saw a subscription boost amid Coronavirus Crisis
As of today, the city of Wuhan has been on lock down for 14 days. Outside the quarantine zone of the whole Hubei Province, people in China are not travelling around or gathering for dinner like what they used to during the Chinese New Year. People are advised to avoid going out.
Most local governments and companies have asked their employees to stay home and the date for returning to work are yet to be announced. Moreover, people can not just exit home or anywhere they are easily due to serious travel restrictions in China at the moment. Even if they have to, it would not be safe.
This means hundreds of millions of Chinese have been staying at home for almost two weeks, and they still need to for longer.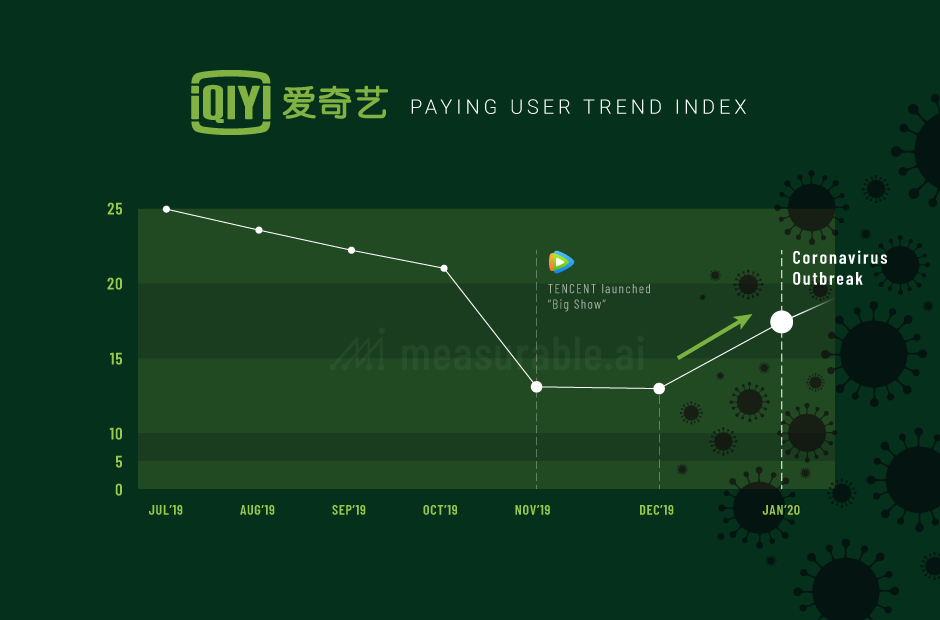 On the first day the coronavirus news came out, Chinese related stocks on cinemas, restaurants, and shopping malls that gather crowds in a room are severely affected. China's streaming giant iQiyi($IQ) also dropped rapidly for the fact that it invested hugely in some holiday movies which should have been in theatres during the Chinese New Year if not for the situation right now.
However, the company's own service didn't go down with the virus crisis. For people are now more or less locked at home, the options for entertainment are limited. Video streaming services like iQiyi and Tencent Videos are life savers to people who can't go out.
Measurable AI's datasets for iQiyi's purchase receipts indicated that number of iQiyi's subscribers has grown fast by around 30% within a month. Before that, iQiyi was actually experiencing a drop from October to December during which its biggest rival Tencent Video launched some viral content such as "Joy of Life", a huge success which earned 300 million views within first 5 days.
Currently iQiyi has two popular shows on exclusively on the platform. People are not talking about it like it's entertainment amid the severe crisis going on, but the number of viewship is growing every day.
According to our previous research, Chinese users of video streaming services are not that loyal. When we see all the users throughout one year, it shows that user overlap among the three biggest video streaming services are huge. Users switch to different platforms a lot for new contents or services.
More data reports tracking coronavirus and its impact will be coming soon.

About Us
Measurable AI provides actionable consumer insights based on billions of alternative data for emerging markets. By scanning and identifying billions actual online spender's email receipts, Measurable AI transforms them into valuable consumer insights, which updates daily right after the purchases happen.
Charlie Sheng is a serial female entrepreneur, and a dedicated communicator for technology. Charlie specialises in trends and insights for the App Industry, with MAI Insights' real-time online consumer data panel. You can reach her at [email protected]asurable.ai